Seafood Expo Global (SEG) is set for April 25-27, 2023, in Barcelona, Spain. It is the largest trade show within the seafood industry, attracting visitors from more than 150 countries. The event hosts decision-makers and purchasers who dominate the seafood industry in Europe as well as around the world making it a cost-effective way to connect with existing customers, launch new products, meet new buyers, and evaluate trends.
Food Export–Northeast is again organizing a pavilion for suppliers of Northeast seafood at Seafood Expo Global 2023. Pavilion registration is now open. Every company that exhibited in the 2022 pavilion quickly renewed for 2023, demonstrating how beneficial this show is for connecting with existing and new customers.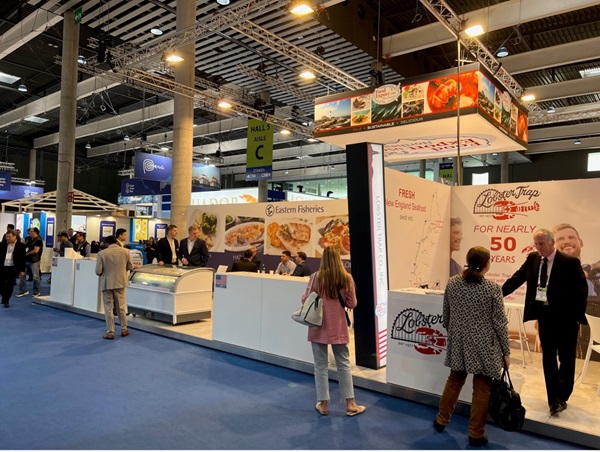 Reduce Show Costs with the Branded Program
Additionally, if you are exhibiting within Food Export's pavilion, Food Export–Northeast may be able to offer reimbursement of up to 50% for certain expenses, including marketing, travel, and exhibition costs. As funding is already in strong demand for 2023, apply now to ensure funding is set aside for your company. If you have questions about the Branded Program and want to learn more about the marketing activities that are reimbursable, explore our new online resource guide – it's a one-stop-shop for all program essentials. 
Map Out Your Show Presence Early 
If you're heading to Barcelona with us in April, and want to start planning how to grow your export business while you're on the ground, Food Export–Northeast offers a wealth of resources and tools, including: 
Country Profiles: Discover new markets with our market intelligence reports. Country Profiles can be a valuable resource to help make informed decisions when determining if a market is a good fit for your seafood products. 
Webinars: Take advantage of our educational webinars providing up-to-date exporter intelligence on specific markets, logistics, trade financing, documentation, how to meet and follow-up with foreign buyers and much more.
Export Essentials: Whether you're new to exporting or need to refresh your skills, this free online training course provides a comprehensive, flexible approach to learning the fundamentals and logistics of exporting.
Want to learn more about the opportunity to exhibit at the 2023 Seafood Expo Global? Visit our website or get in touch to discuss.  
About Food Export US–Northeast 
With its extensive programs and educational offerings, Food Export USA–Northeast (Food Export–Northeast) is recognized as the preeminent expert and cost-effective resource for Northeast seafood and agricultural suppliers looking to sell their products overseas. Founded in 1973, Food Export–Northeast is a non-profit organization that works collaboratively with its 10 member states' agricultural promotion agencies from Connecticut, Delaware, Maine, Massachusetts, New Hampshire, New Jersey, New York, Pennsylvania, Rhode Island and Vermont, to facilitate trade between suppliers and worldwide importers and to promote the export of food, agricultural and seafood products from those states. Since its founding, the organization has helped Northeast seafood suppliers gain access to a broad range of export markets, supported overseas in-market educational and promotional programs and offers emerging suppliers access to funds to help grow their export business. The organization is funded through the Market Access Program (MAP), administered by the USDA's Foreign Agricultural Service.
Learn more about us and what we do for the Northeast seafood industry here.  Contact us.