In a time of uncertain international trade relationships, now is the perfect opportunity to look at diversifying your export plan and start thinking about new potential markets to target. Our 2019 Branded Program year is now open so you can still add new markets to your application for the upcoming year!
We understand that every product is different and has diverse potential in international markets so it can be difficult to know where to start.  We highly recommend reviewing our Market Builder, Food Export Helpline, and Export Advisor Program services to help you get a handle on which markets to focus on.  You can also check out our Food Show PLUS! services offered at a number of 2019 international trade shows as a way to explore new markets. 
Of course education is the foundation of any new plan and Food Export has a number of Educational Resources available to you.
Export Essentials – An 11 module course designed to help small and medium-sized companies understand the processes involved in exporting consumer-oriented, value-added food products. 
Join us on August 23rd for our next Live Webinar "A Cup of Coffee in Aisa" with our In-Market Representatives from 3 hot markets: Korea, Japan, and Taiwan. There will be a live Q&A after a presentation on current hot trends in each market.
Tariffs
There has been a lot of information in the news the past few months about tariffs.  And while there has been much speculation many details are still unknown at the moment.  At Food Export-Midwest and Food Export-Northeast, our mission continues to focus on market development and helping U.S. companies find export success through all of our programs and services.
Below are a few helpful links to GAIN (Global Agricultural Information Network) Reports from the Foreign Agricultural Service that provide very specific information regarding the current tariff situation with U.S. products in Canada, Mexico, China.
First thing to do is conduct research into the foreign markets you are currently exporting to and see if there are any tariffs in effect on your product's HS Code.  Remember that trade barriers vary from market to market and product to product, an issue in one market may be non-existent in another.  Additionally, please let us know if you experience any challenges or concerns as a result of new tariffs or current trade climate by reaching out to your Liaison. While we are not in a position to change policy, it's helpful to know what our suppliers are experiencing. 
There are a large number of countries where the trade situation hasn't changed, and there are still plenty of opportunities to diversify and grow your export sales!

Take a look at our recently released 2019 Activity Calendar to see what opportunities are available to you in the coming year through Food Export – Midwest and Food Export – Northeast.
Free Trade Agreements
One way to start researching alternative countries for exporting is to learn about the countries with which the United States currently has a Free Trade Agreement.
A Free Trade Agreement or FTA is a signed agreement between at least two countries to lessen trade barriers and tariffs to help increase the trade of goods and services between countries. Countries where the U.S. enjoys a Free Trade Agreement are a great place to look to diversify your export sales, and we have 2019 activities in many of these countries!

According to the United States Trade Representative the United States currently has Free Trade Agreements (FTA's) in effect with 20 countries.
The U.S. currently participates in 2 FTA's that involve multiple countries, the North American Free Trade Agreement or NAFTA which is an agreement between Canada, Mexico, and the United States.  As well as the Dominican Republic-Central America FTA or CAFTA-DR which includes Costa Rica, the Dominican Repbulic, El Salvador, Guatemala, Honduras, Nicaragua, and the United States.
Every FTA is different. They each have different rules and regulations.  But they are definitely worth exploring and can be a very valuable asset in your international marketing plan for exports.
Market Spotlight: The Middle East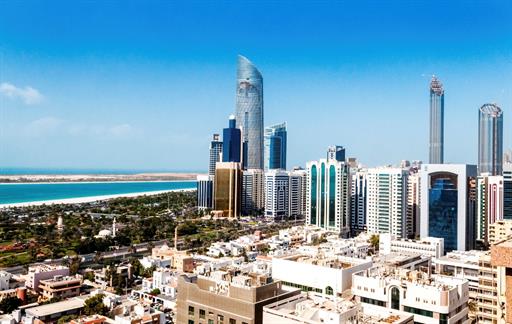 A country doesn't always need an FTA to be advantageous for U.S. exporters.
One region of the world that can get overlooked for exporting is the Middle East.  If you have not explored the potential for your products in the Middle East now is a great time to start!  Many of their markets have incredibly low barriers to entry for food companies. 
The six countries that make up the Gulf Cooperation Council (GCC-6) are Bahrain, Kuwait, Oman, Qatar, United Arab Emirates (UAE), and Saudia Arabia.  As all 6 countries exist in an arid desert climate they have to rely almost entirely on agricultural imports to survive.
According to our In-Market Representative Hovig Kizirian:

"The advantages for U.S. exporters of consumer ready food products to the region are numerous. They include:
A high quality image of U.S. products

High regional per capita incomes

Broad familiarity with U.S. culture

There is an increasing interest in U.S. products, as well as an increasing number of tourists to Bahrain, Oman and the U.A.E. in particular

There are also consistently low tariffs, a flat 5% on all imported processed food products. If a product is imported to one country it can also be imported to another country without having to incur the tax again. There are very few barriers to trade in the Middle east."
The UAE and Saudi Arabia are currently the 14th and 19th largest markets respectively from the U.S. for consumer foods and are frequently in the top 10 of most major processed food export categories. Their import share is well over 75% of the region's total.  Also keep in mind that both the UAE and Saudi Arabia are major import hubs that then redistribute goods into the other GCC countries.   
Take a look at our Country Market Profiles page to learn more about the markets available in the Middle East for exporting.
Gulf Cooperation Council (GCC-6) Market Profile
*includes Bahrain, Kuwait, Oman, Qatar, U.A.E., Saudi Arabia
United Arab Emirates Market Profile


The best way to learn about any market is to travel there and see it in person.  Not only does this help significantly when establishing initial relationships with buyers, but there is no better way to get an understanding of the market than experiencing it for yourself.  

There is still time to join us this December for our upcoming Focused Trade Mission to the United Arab Emirates and Kuwait.  Two missions, back to back, sign up for both before September 10th and each mission is only $525!  *Registration for both missions must occur on the same transaction to be eligible for the discount. If one of the mission registrations is cancelled, the discount is forfeited for the remaining mission.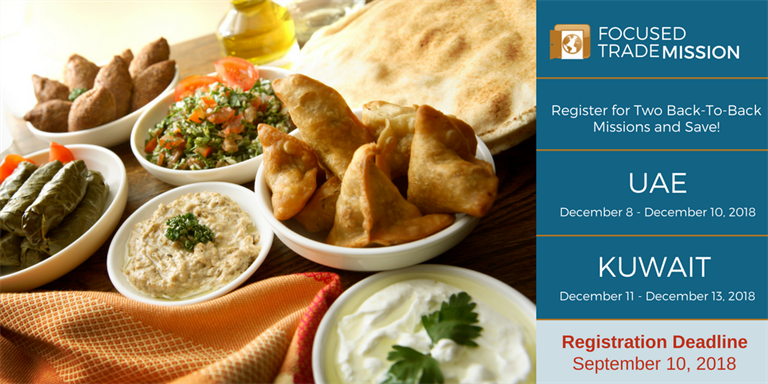 Resources
Below are a list of resources to help you in determining which foreign markets will be the most advantageous to target in your International Marketing Plan for export sales.
FAS Commodities & Products – https://www.fas.usda.gov/commodities
FAS Countries & Regions – https://www.fas.usda.gov/regions
United States Trade Representative – Trade Agreements – https://ustr.gov/trade-agreements
United States Trade Representative – Countries & Regions – https://ustr.gov/countries-regions