Farm Bill
The H.R. 2, Agriculture and Nutrition Act of 2018 (Farm Bill) has officially passed through the House and the Senate and has been signed into law by President Trump.
The 2018 Farm Bill has been in the news for months with several rounds of negotiations, voting, and delays.  The Senate passed the bill on December 11th, quickly followed by the House the following day on December 12th, and it was signed into law by President Trump on December 20th.  
The Farm Bill is an important piece of legislation, renewed every 5 years, that covers a wide variety of issues in the agricultural industry for the U.S. The passing of the bill secures the future of the Market Access Program (MAP) administered by the USDA's Foreign Agricultural Service (FAS), which funds the overseas promotion of U.S. ag products.
Market Access Program
Each year the MAP program funds $200+ million dollars to help U.S. small businesses increase their overseas marketing and promotional efforts to increase trade and sales. Part of this funding goes to Food Export – Midwest and Food Export – Northeast to be distributed through our Branded Program and various Market Entry Activities.
Evidence shows that the MAP program is among one of the most effective and successful of all U.S. private-public partnerships, in fact a recent study showed that MAP and FMD (The Foreign Market Development program also funded by the Farm Bill) accounted for 15 percent of U.S. ag export revenue generated between 1977 and 2014, totaling $309 Billion.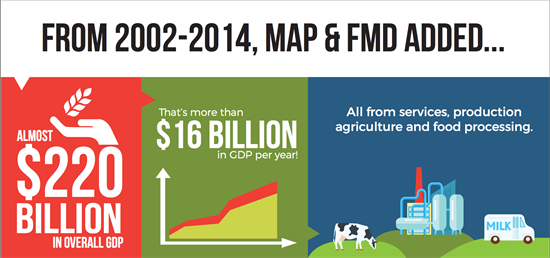 You can learn more about how and why Export Market Development works at www.agexportscount.com.
Food Export-Midwest & Food Export-Northeast
The funding Food Export-Midwest and Food Export-Northeast receive from MAP is critical to helping U.S. small businesses export their value-added processed food and ag products.  Read about the real world day to day difference this funding is making for suppliers on our Success Stories page.
Below are links and stats from our 2017 Annual Reports to show how much of an impact just 1 year of funding for Food Export-Midwest and Food Export-Northeast can create.
Food Export-Midwest 2017 Annual Report
170 New Participants
1,876 Participants Registered in our Programs
18,477 Contacts with new Buyers
$363,046,137 in actual export sales generated
$479,847,262 in projected export sales
Food Export-Northeast 2017 Annual Report
140 New Participants
1,421 Participants Registered in our Programs
13, 264 contact with new buyers
$785,536,677 in actual export sales generated
$1,231,307,795 in projected export sales
Every dollar that is allocated to Food Export-Midwest and Food Export-Northeast is used to help small businesses market and promote their products in a world of increasing competition and challenges. 
2019 Activity Calendar
Our 2019 Activity Calendar is now live on our website.  Here you can see the variety of programs and services we are able to make available to our suppliers because of the funding received from the MAP program.  2018 was our busiest year yet with a record number of requests for funding from suppliers in both regions and we expect 2019 to be just as busy due to the current trade climate.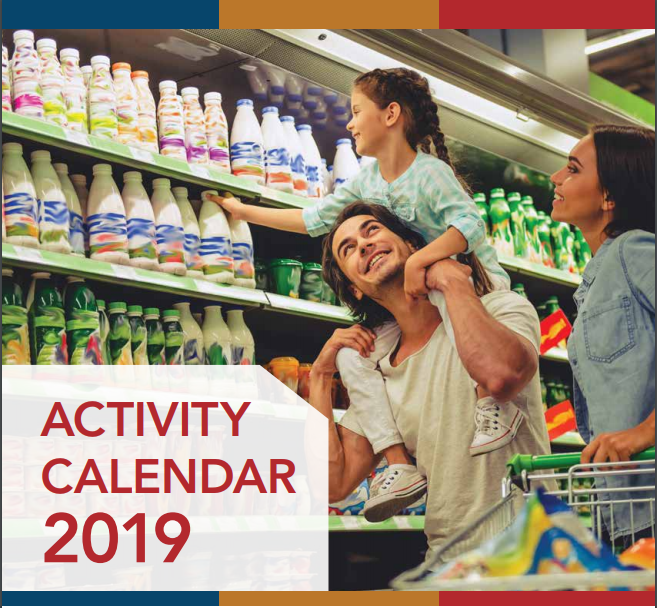 ATP
Not part of the Farm Bill but still a significant development in funding that happened in 2018 was the announcement of a Trade Mitigation Program authorized by President Trump.  The program is intended to help mitigate some of the issues resulting trade and tariff issues with various markets around the globe. 
Part of the program is the Agricultural Trade Promotion Program , a one-time $200 million program administered through FAS whose aim according to the September 4, 2018  USDA press release is to "assist American agricultural exporters in identifying and accessing new markets and to help mitigate the adverse effects of other countries' restrictions."
Food Export-Midwest and Food Export-Northeast have both submitted ATP applications and are eagerly awaiting funding announcements in early January.  Many of the small U.S. suppliers that we work with in the Midwest and Northeast regions have been severely impacted by the tariff situation and we are hopeful about the potential the ATP program has to help assist them in finding new and creative ways to export their products.
2019 Funding Announcements
We look forward to early January when FAS will announce the MAP and ATP allocations and we will be able to report the levels of funding that Food Export-Midwest and Food Export-Northeast will have to distribute.