by Veronica Wade, Branded Program Coordinator, Food Export – Midwest

Several of our recent blogs have explored new and creative ways to utilize your Branded Program funding in the now travel restricted world of exporting due to COVID-19 including label modifications, marketing support for your importer, and selling through e-commerce. In this blog we will explore the opportunities you have for using the Branded Program to help update your website to reach a wider international audience.

As we slowly begin to reopen and adjust to the "new normal" of social distancing and contactless distribution, having a website that extends your brand's reach into domestic and international markets is more important than ever before. It is a great way to showcase your product and to control the brand narrative effectively.
The Food Export – Midwest and Food Export – Northeast Branded Programs are great resources to help small U.S. agricultural businesses with website development by reimbursing up to 50% reimbursement of eligible costs.
If you are a participant in the Branded Program, ask yourself the following questions:
Does my website cater to a foreign audience?
Does my website promote the US origin of my product (with a statement like "Made in USA")?
Is my website or website content managed by an outside vendor?
Did I pay to have someone translate the website (or certain pages)?
Did I pay to have banners, ads, or other graphics designed for the international website?
If you answered yes to these questions, then you are halfway there! Reach out to your Branded Program staff contact to learn more about the necessary documentation to start your reimbursement process.
You may be wondering, "How can I show that my website targets a foreign audience?"  A few common examples include:
URL ending in the country's domain (for example, .ca or .cn)
Foreign-language product catalogs or sell-sheets
Content written in a foreign language
Translation functionality to change the website language
A portal or webpages dedicated to export, international distributors, 'where to buy' internationally, etc.
There are many creative ways to show your website is for an international audience! Here is an example of one Branded Program participant's reimbursable website, targeting the Chinese market. You can see the "Made in USA" graphic on the right hand side, promoting the U.S. origin of the company's baby food products.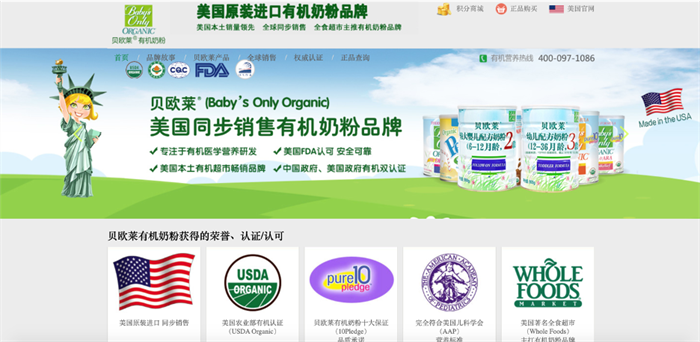 For more information about utilizing your Branded Program funds in this way, reach out to a Branded Program team member today. Always remember our staff is just a phone call and click away!