Mexico is a natural market for U.S. suppliers thinking of exporting their food and agricultural products.
The geographical advantage of a long land border and a long history of bilateral trade between the two countries allows U.S. suppliers many opportunities to establish relationships with Mexican buyers.
Free Trade Agreement
In 2018 the United States announced that it was working on a tri-lateral trade agreement between Mexico and Canada called the United States – Mexico – Canada Agreement or USMCA for short.
The deal has yet to be finalized or implemented but it is expected that the final version will have many benefits for U.S. exporters of food and agricultural products.  We will keep you updated as this agreement is finalized and any changes that it brings to the U.S. – Mexico trade landscape.
Market Overview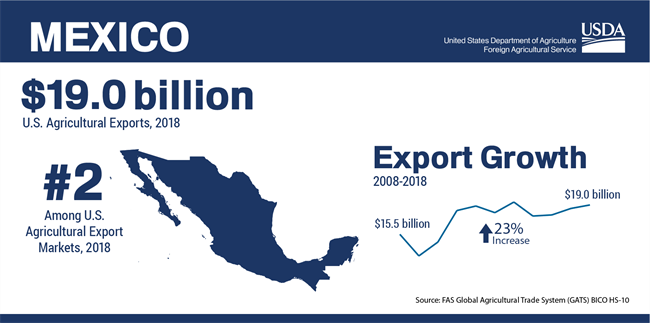 The USDA's Agricultural Trade Office (ATO) in Monterrey reports that Mexico continues to be one of the largest and fastest growing markets for U.S. agricultural products.
In 2018 the USDA's Foreign Agricultural Service ranked Mexico as the #2 destination for U.S. ag exports with a total of $19 Billion dollars in U.S. agricultural exports, a 23% increase over the last 10 years.
Mexico is the 2nd largest export market for consumer ready products
——————————————————————————————-
U.S. exports of consumer-ready food products added up to $8.3 Billion in 2017
——————————————————————————————–
In 2017 Mexico imported $5.8 Billion worth of U.S. processed foods, an increase of 2% and the 2nd highest ranking in the world.
Top processed food exports to Mexico in 2017 included: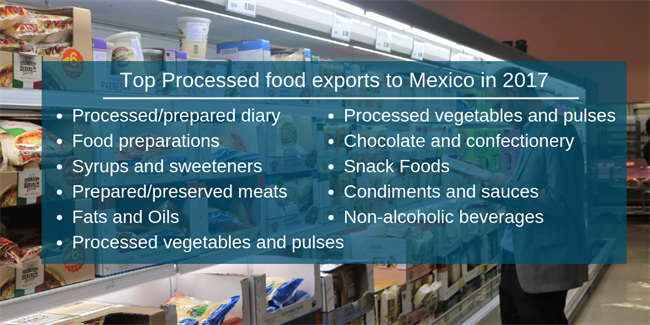 Advantages to U.S. exporters
There are many advantages for U.S. suppliers exporting to Mexico, we've highlighted several of them below.
The U.S. and Mexico are highly integrated economies and Mexicans are familiar with U.S. business practices
Mexican consumers recognize U.S. brands and labels and associate them with high, consistent quality and value
The Mexican peso continues to be relatively stable in its relation to the U.S. dollar, making unexpected price fluctuations less likely
Major retailers are developing increasingly sophisticated distribution systems, which will provide more space and better cold chain technology for high value imports
Continued growth in almost all of the processed food industry in Mexico, will increase the need for inputs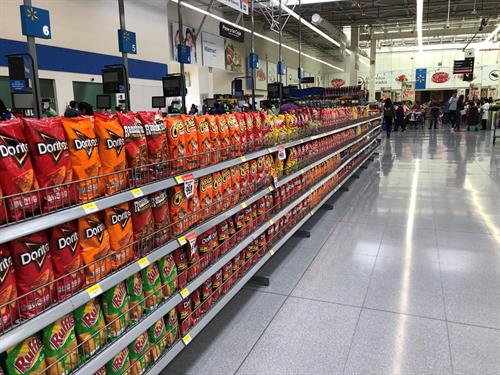 Retail Sector
In the video below our In-Market Representative for Mexico Raul gives an overview of some of the food trends you can find in the Retail Sector.
The landscape of the Mexican retail market is evolving.  A more educated population, expansion of urban lifestyle in small cities, credit availability, and the growing Double Income No Kids (DINK) couples, open up possibilities to import products of high quality and value. As a result of these changes retailers are expanding their high-end formats so imported products are most attractive for consumers.
——————————————————————————-
By the year 2022, the retail sales in the packaged food market in Mexico is expected to reach US$53.5 billion, a growth rate of 8.7%
——————————————————————————-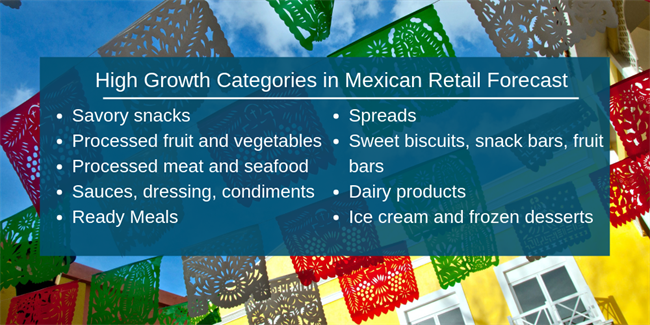 Food Service Sector
Mexico is an attractive market for international food service companies.  The food service industry in Mexico includes the hotel, restaurant, and institutional (HRI) sectors. 
Restaurants are the biggest segment by number of outlets.  However because of the socioeconomic categories it targets, hotels are often a better opportunity for imported products. There are many diverse export opportunities for U.S. suppliers of food and beverages that are interested in this market, especially in the restaurant and hotel sector because of a growing number of foreign and domestic tourists that visit Mexico.  The National Restaurant Chamber (CANIRAC) divides the Mexican restaurant market into four categories:
Fine dining and full service restaurants: higher priced establishments targeting middle to high end consumers
Casual dining restaurants: affordable, family friendly dining outlets
Fast food: known chains like McDonald's, Burger King, KFC, Subway, Panda Express, etc.
Quick and casual restaurants: coffee shops, independent restaurants, street and mobile outlets (kiosks, stalls, etc.)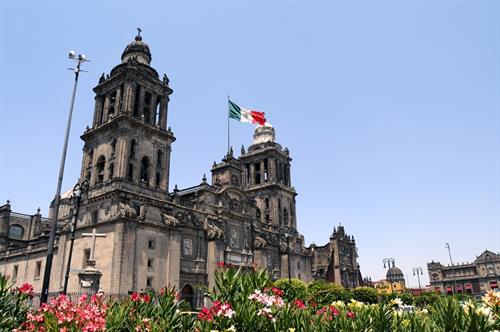 New concepts in restaurants and hotels with non-traditional cuisines, particularly Asian (Thai, Chinese, Japanese, Indian etc.) are consolidating throughout the country.  Mexican consumers have a strong and growing preference for oriental cuisine. 
The following products have high sales potential in the hotel food service segment, but it is important to highlight that the volumes required might be small, so exporters should take this into account.
Meat (pork and beef), cold cuts
Salmon, crab, lobster and other seafood products that Mexico does not produce
Gourmet products including artisanal cheeses, breads, olive oil and pastries
Organic foods especially produce
Specialized food products for specific food-styles (Thai, Korean, Mediterranean, etc.), including dressings and salsas
Food-Processing Sector
Mexico has a relatively strong food processing industry, growing at a rate of almost 4%, and with a market value of almost US$135 billion as of 2016.
Leading Mexican brands have well-developed national distribution networks, are well positioned in the market, and enjoy high brand awareness with very loyal consumers. However, a new class of Mexican consumers is demanding products that are healthy, convenient, and innovative.  So food processors are adapting to these new demands, including establishing relationships with foreign food processors.
The majority of the food processing sector in Mexico is dominated by multinational (both domestic and foreign) corporations, but there is a large and growing opportunity for small to medium companies to participate in this industry.
Key market drivers for the food processing sector include:
Increasing interest in healthy foods & increasing demand of organic foods and natural ingredients
Increasing demand for convenience foods and prepared meals, due to the growth of urban cities and more women entering the work force
Increasing demand for gourmet and sophisticated food products. Consumers are looking for new food experiences and are open to trying new exotic flavors and ethnic foods.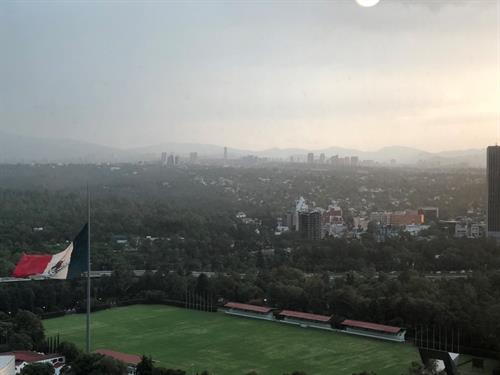 Private label products are popular among the masses and in lower socioeconomic levels since they offer unit prices which are significantly lower than those of the leading brands while maintaining good quality.
Best prospects for U.S. exporters in the food processing sector include:
Healthy processed foods – low sodium, low-fat, reduced sugar
Premium products  – claiming better quality and product innovation
Gourmet foods – sauces, condiments, artisanal cheeses
Ethnic foods – Asian food, Lebanese food, European food, etc.
Dairy products – distinctive formulation of yogurts, segmentation of milk products
Ingredients for the processed food industry,
Convenience foods such as ready-to -eat meal helpers
Frozen foods
Market Builder
Thinking of exporting to Mexico but want to do more research first?  Take advantage of our Market Builder program which provides customized research to help your company  uncover potential in international markets. 
Upcoming Activities
We have a number of upcoming activities still open for registration in Mexico for 2019!  Read below to see which one might be a fit for you and your product.
Food Show PLUS! at BARRA MEXICO 2019

Focused Trade Mission to Mexico for Feed Ingredients

Focused Trade Mission to Mexico for Private Label, Food Service, and Retail Products

Our In-Market Representative for Mexico shares some information about our upcoming Focused Trade Mission to Mexico for Private Label, Food Service, and Retail Products.
Food Show PLUS! at Food Technology Summit & Expo 2019


Buyers Missions – Mexican Buyers attend our Buyers Missions all over the U.S.
Success Stories                    
See how other U.S. suppliers found success exporting their products to the Mexican Market in the Success Stories below!
Focused Trade Mission Increases Sales for Illinois Supplier
Focused Trade Mission to Mexico Initiated Partnerships & Export Sales for New York Company
Food Export Resources

Enter New Markets
Market Builder – Mexico

Export Education
Mexico Food Trends Update

                             
                                 
                                 
Other Resources
Foreign Ag Service GAIN Report: Exporters Guide
Foreign Ag Service GAIN Report: Food Service – Hotel Restaurant Institutional
Foreign Ag Service GAIN Report: Exporting to Mexico – Managing Issues at the Border