In September, the Food Export–Northeast team was back in person at Seafood Expo Asia (SEA), which was held for the first time in Singapore. Thousands of seafood industry professionals from Asia and across the globe were in attendance to look for new suppliers, products, and to explore trends at the three-day event.
"Singapore is a new location for this show," said Colleen Coyne, Seafood Program Coordinator, Food Export–Northeast. "It's an excellent meeting place for Southeast Asia seafood trading because the city is such a strategic gateway for international trade. Singapore also happens to be at the epicenter of a robust seafood market and has a high per capita global seafood consumption average – 22 kilograms per person annually – and imports 90% of its food requirements."
There were 209 exhibitors from 42 countries represented at the show. Many new countries participated in the three-day expo including Bangladesh, Italy, Latvia, New Zealand, Norway, Peru, Saudi Arabia, the United Kingdom, and Yemen. Various regional and national pavilions from countries like Argentina, Papua New Guinea, and Japan brought their localized flavor to the seafood community.
Coyne continued, "Asia is an important market for Northeast US seafood suppliers given consumer preference for high quality, premium, sustainable, and natural products. It was also great to see so many buyers from new countries at the show."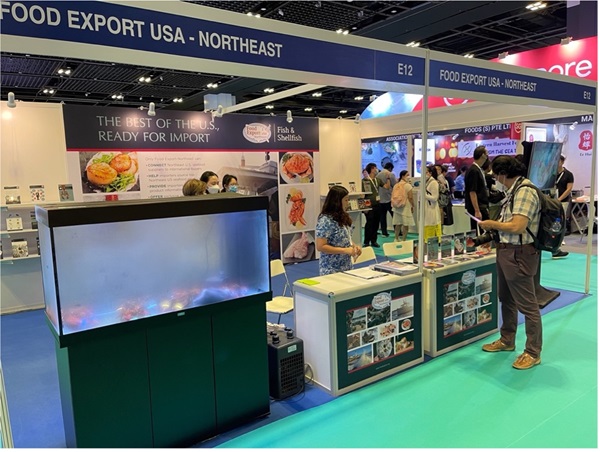 Activity at the Food Export–Northeast Booth  
The Food Export-Northeast booth featured information on a variety of Northeast seafood products including American lobster, oysters, Jonah crab and Atlantic Sea Scallops.  
"Our goal at a show like Seafood Expo Asia is to connect with targeted importers, distributors and buyers with a specific focus on the hotel, restaurants, and institutional (HRI) sector to promote Northeast US seafood products," noted Coyne. 
Two Northeast suppliers also exhibited at the show and utilized Food Show PLUS!™ services. The suppliers, with the help of the on-the-ground team, were introduced to importers interested in live American lobster, clams, oysters and even seafood sauces. 

Seafood Expo Asia Results – Trade Leads Captured

Nearly 100 buyers stopped by the Food Export-Northeast booth over the three days: 55 from Singapore and the Southeast Asia region, and the remainder from Korea, Africa, Papua New Guinea, France, and Australia. The visiting buyers were extremely interested in Jonah crab, American lobster, American oysters, and Atlantic Sea Scallops. The onsite team took note of the buyers' product interest. These trade leads are then vetted by the Food Export-Northeast In-Market Representative Network to determine their quality before ever being shared with suppliers. 
Each visitor also received a collection of the new species-specific buyers' toolkits to use as a resource when considering importing Northeast US seafood.
If you're interested in exploring in-depth market and country profiles, visit here. To speak to a Food Export Northeast market expert, contact us at info@foodexport.org. 
---
About Food Export USA–Northeast With its extensive programs and educational offerings, Food Export USA–Northeast (Food Export–Northeast) is recognized as the preeminent expert and cost-effective resource for Northeast seafood and agricultural suppliers looking to sell their products overseas. Founded in 1973, Food Export–Northeast is a non-profit organization that works collaboratively with its 10 member states' agricultural promotion agencies from Connecticut, Delaware, Maine, Massachusetts, New Hampshire, New Jersey, New York, Pennsylvania, Rhode Island, and Vermont, to facilitate trade between suppliers and worldwide importers and to promote the export of food, agricultural and seafood products from those states. Since its founding, the organization has helped Northeast seafood suppliers gain access to a broad range of export markets, supported overseas in-market educational and promotional programs, and offers emerging suppliers access to funds to help grow their export business. The organization is funded through the Market Access Program (MAP), administered by the USDA's Foreign Agricultural Service. Learn more about us and what we do for the Northeast seafood industry here.  Contact us.