by Ciara Quattlebaum, Branded Program Associate, Food Export – Northeast
International sales are more important than ever to grow your business and diversify risk from the U.S. domestic market. Marketing support is essential to grow those international sales. Food Export's Branded Program recognizes marketing's essential role and helps make it possible by reimbursing Midwest and Northeast food and agricultural suppliers for 50% of their international marketing expenses
In this blog series we feature a new industry segment each month and give specific examples per industry segment of how suppliers can utilize the Branded Program to the fullest of its potential.
In this blog we will highlight how U.S. Seafood companies can utilize the Branded Program.
Popular Seafood Promotions
In the niche seafood industry, there are a variety of marketing and promotional activities that are eligible for reimbursement in Food Export's Branded Program. Below are just  a few of the eligible activities that can be reimbursed to program participants.
Trade Show Advertisements and Exhibits
The most common Branded Program reimbursement expense submitted by seafood companies are trade show expenses.
Here are a few booth costs that are eligible for reimbursement through the program:
Booth fees
Booth design
Booth Construction
Advertisement
Booth supply/materials shipment 
Please note that design, construction, and advertisement services must be completed by contractors, and not company employees.
You can see a few examples of Seafood company activities related to trade shows that we have reimbursed for in the past below.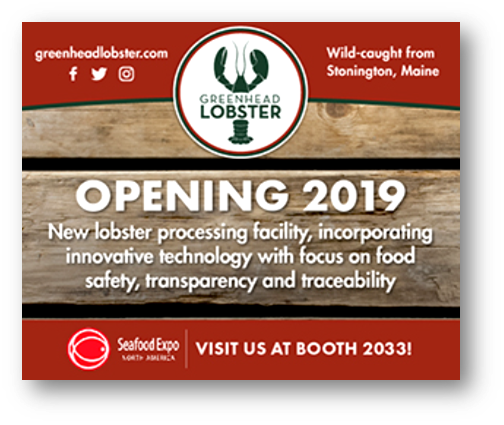 An advertisement for Greenhead Lobster's booth at Seafood Expo North America in 2019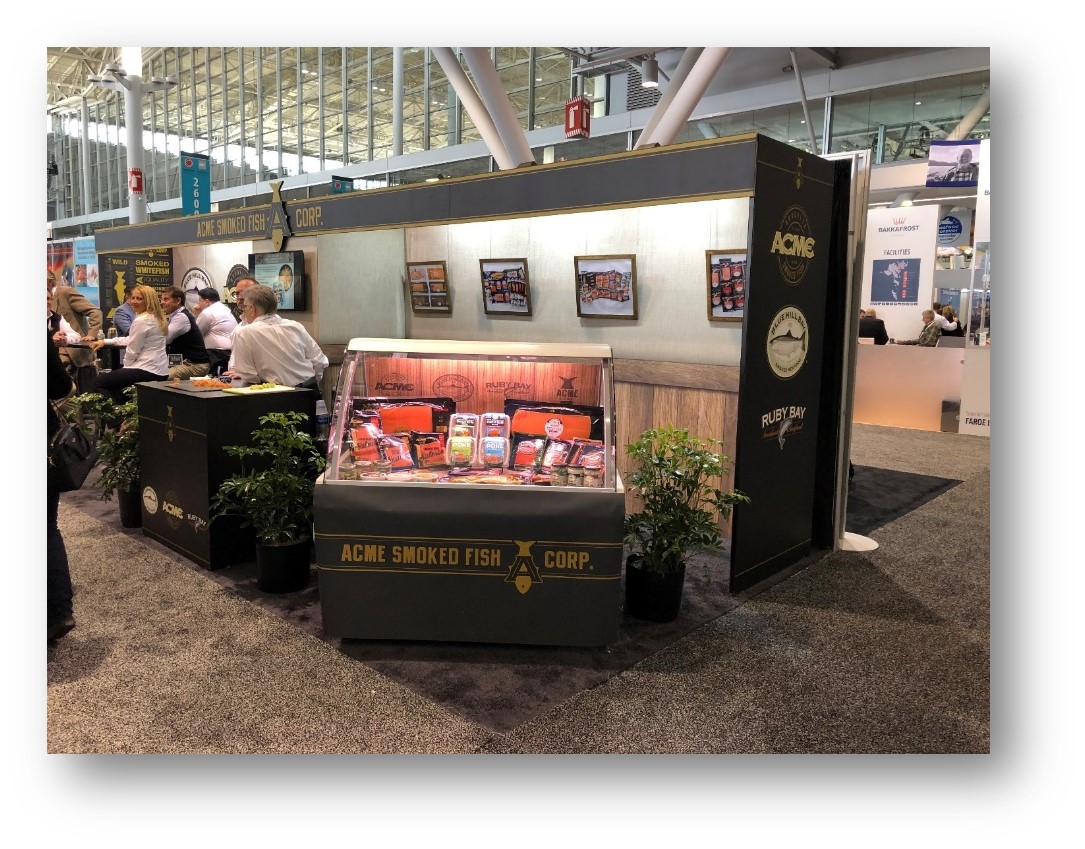 A photo of the ACME Smoked Fish booth at a trade show
Professional Seafood Chef Cooking Demonstrations & Technical Seminars
One of the more unique ways that we have seen seafood companies use the Branded Program is through professionally catered cooking demonstrations.
These demonstrations are held abroad and a number of spectators/samplers are invited to participate. During a demonstration, observers can learn about the seafood industry, learn how to prepare seafood, and taste-test the finished products themselves!
The eligible expenses in this type of activity can include:
Space/equipment rental
Taste-testing supplies
Contracted abor
Promotional material
Sell sheets
Giveaway items
And more!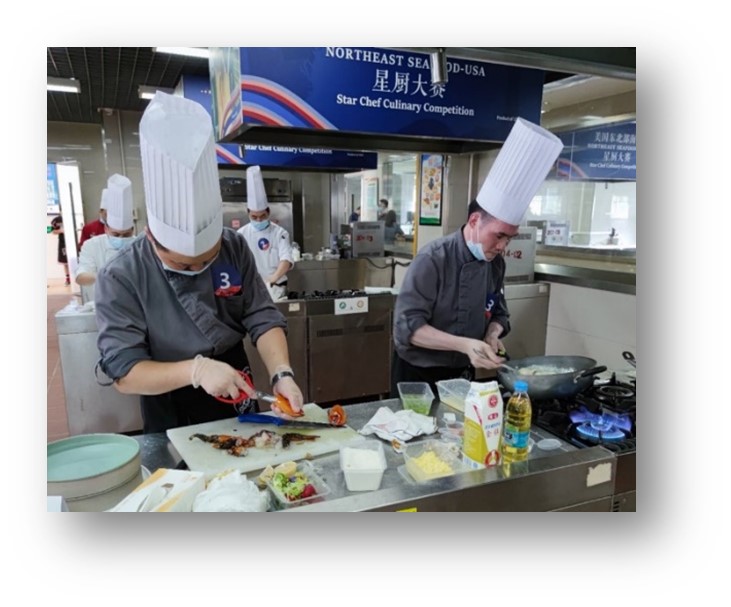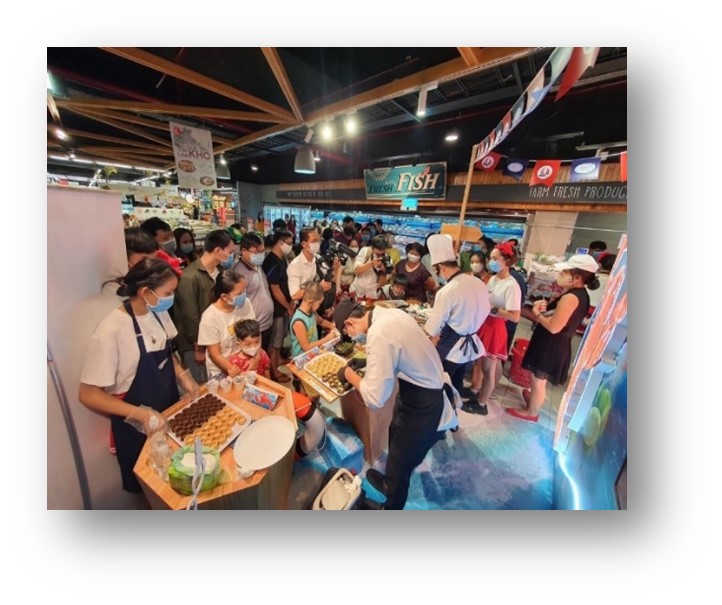 Video Production
With a growing demand for food source transparency, many seafood companies have recognized the benefit of offering an exclusive look into their value-adding process. Video offers the ability to show their unique product and process at the same time in a way that is engaging to global consumers.
High-quality video production can be pricey, thankfully the Branded Program is here to help!  There are a number of ways to get reimbursed for your video production efforts. Below is a great example of a brief seafood production video for which nearly all production and international distribution costs were eligible in the Branded Program!
Want to learn more about how to get reimbursed for Video Production?  Watch this recent video from our Branded Team that gives a helpful overview.

Informative Literature & Catalogs
With a steady demand for strong origin stories and reliable production transparency between manufacturers and consumers, seafood manufacturers often educate potential business partners and consumers on production processes to increase awareness of the seafood products, procesess and preparation.
Here is an example of a seafood brochure prepared for seminars and trade shows: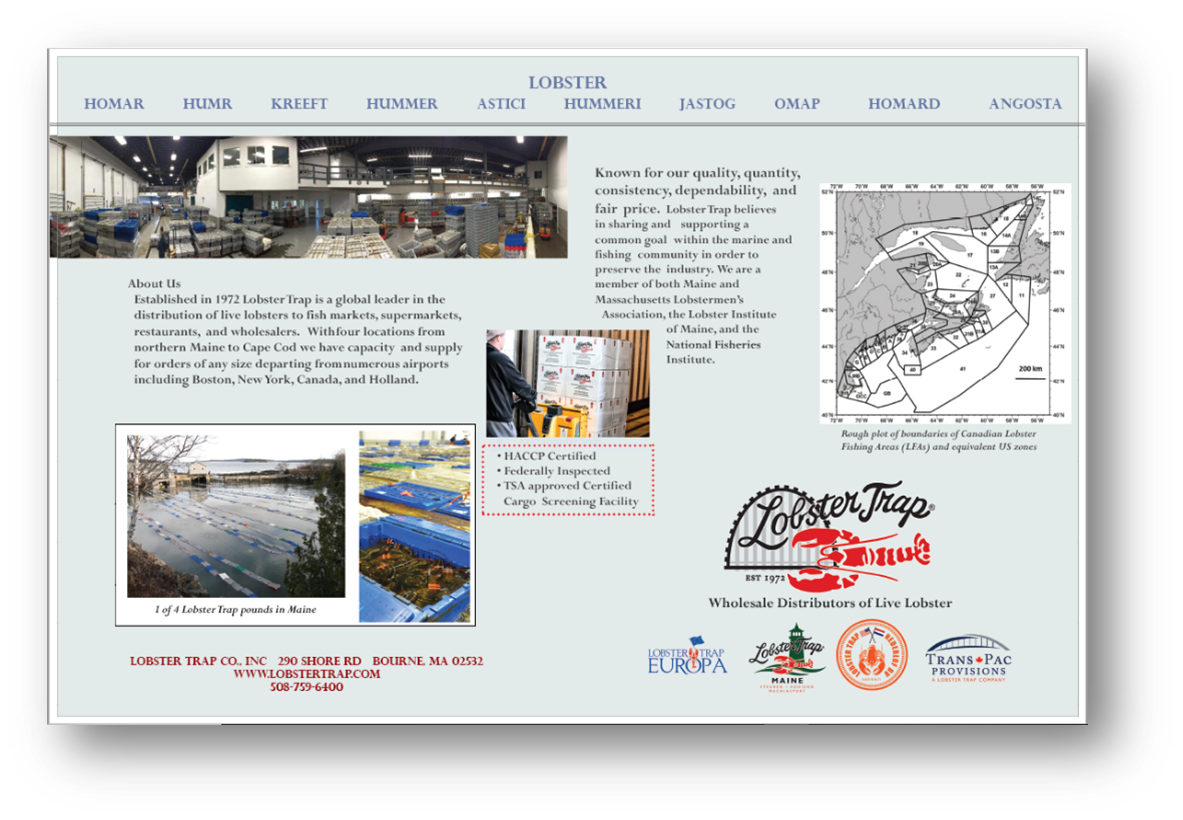 Foreign Market-Compliant Labeling
In addition to the optional marketing and promotional expenses that can be reimbrused in the Branded Program, any expenses involving labeling or package modifications that are required in order to meet a foreign market's seafood import regulations, are eligible for reimbursement! This includes:
Foreign label/package language translation and unit conversion
New package /containter design
Foreign nutritional label printing
Foreign-compliant label stickering labor costs
Remember: In order to be eligible for reimbursement in the Branded Program, all labor expenses must be done by contractors, not employees of the company.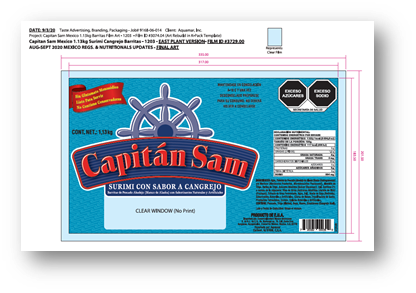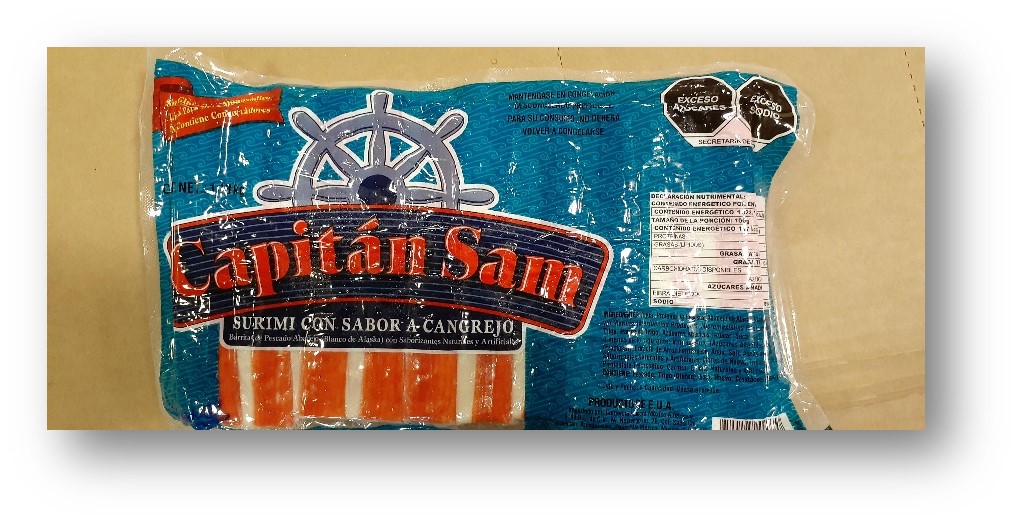 How Can We Help
Are you promoting U.S Seafood products in foreign markets? We'd love to work with you! Get started today with a pre-qualification here.
Also make sure to check out our Seafood Program page and the recent blog posts from our Seafood Newsletter to learn more and stay up to date with news and events for the Seafood industry.