Food Export – Midwest and Food Export – Northeast have made export education an integral part of our ongoing missions. We showcase this through many of our programs and services. 
Three of the best ways to get started with your export education are through the following programs we offer: live and recorded Webinars, Export Essentials Online, and the Food Export Helpline™
Below we highlight these three programs and give you some useful information when starting your Export Education journey.
WEBINARS
Food Export offers a wide variety of educational webinars. Webinars provide up to date exporter intelligence for companies regarding specific markets, logistics, trade financing, documentation, how to meet and follow-up with foreign buyers and much more. The best part? Food Export's webinars are FREE to interested individuals.
LIVE
Each month our team puts together several LIVE webinars with experienced speakers that you are able to attend and interact with in real time.  Keep an eye out on our Webinars page to see what topics we have coming up.
Don't have time to sit down and attend the live webinar? All registrants will receive access to a recording of the event, be sure to register so you can access the recording.
RECORDED
In addition to our LIVE webinars we have an extensive library of recorded webinars on a variety of industry topics that can be accessed on our website 24/7. Below are a few recorded webinars that our team recommends:
How to Prepare for Meetings with Foreign Buyers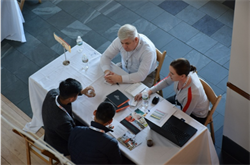 This webinar provides a unique learning opportunity for new-to-export companies as well as a refresher for experienced companies on how to successfully prepare for upcoming meetings with international buyers. Topics covered include:
Selecting the right buyers and countries for your products
Resources and tools to help you prepare
Key information and materials to have with you
Tips and best practices for on-site meetings
Incoterms 2020 entered into force on January 1st 2020. In this webinar we provide an overview of Incoterms 2020 including the challenges in their proper use, changes to the new Incoterms and how to use them properly. Topics covered include: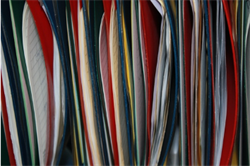 Overview of Incoterms
Anticipated Changes that did not Happen
Challenges of Using Incoterms
Review of Noteable Changes to Incoterms 2020
New Incoterm: DPU – Delivered at Place Unloaded
Expansion of Incoterms FCA – Free Carrier
Changes to Cargo Insurance and Security Clauses
Export Essentials: Pricing Your Products for Export Markets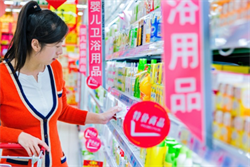 This webinar helps prepare U.S. suppliers to tackle one of exporting's most important challenges. Topics covered include: 
Export Sales Development Planning
Understanding Pricing
Developing Export Pricing
Q & A session with the presenter
Tips and Tricks for Sample Shipments
Every year hundreds of samples of food products either get stuck in customs, returned to shipper or just disappear. The reasons are as varied as the products and countries they go to. This webinar discusses the most common problems in shipping samples overseas and outline recommendations for a smooth delivery to the potential customer. Topics covered include: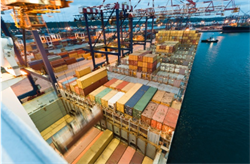 Differences between domestic and international shipping
Importance of reading the food export regulations in advance
Communicating with the buyer and the shipping company
Following instructions and recommendations
Creating the perfect proforma invoice for the sample
Making sure all the documents match each other 
EXPORT ESSENTIALS ONLINE
Another component of our online education services is Export Essentials Online.
This is a collection of 11 online web-based learning modules that you can access to learn the end-to-end process of how to become and exporter. Already have exporting experience?  That's great! You don't have to go in order from 1 to 11, though we recommend you do.  You can start with any of the modules and take them on your own time.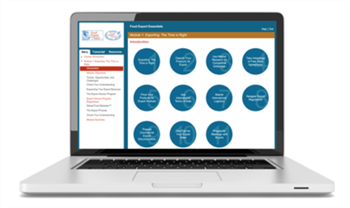 Like our Webinars, the Export Essentials online can be accessed from anywhere you have an internet connection! The on-demand training aspect gives you flexibility to continue your education on your own time and around your busy schedule.
Export Essentials Online was just updated at the beginning of 2020 to reflect all of the most recent changes and trends in exporting.
FOOD EXPORT HELPLINE™
Whether you're new to exporting or have experience there are always specific issues and questions that are unique to your company, products, and export markets. With the Food Export HelplineTM, you'll speak with an industry expert who'll put more than 34 years of experience to work for you. There are no canned answers, only insightful, customized advice specifically for you.
Get an inside look at the Food Export Helpline™ in the video below.