May is World Trade Month!
World Trade Week was officially established in 1935 by President Franklin Delano Roosevelt and occurs annually during the third full week of May. The United States Department of Agriculture (USDA) and their Foreign Agricultural Service (FAS) celebrate during the entire month of May by putting the spotlight on U.S. trade efforts around the globe. You can read the USDA press release about World Trade Month that highlights a few examples of how the department works each and every day to promote global trade for U.S. agriculture here. 
According to this infographic from FAS the value of U.S. Agricultural Exports in 2018 was $139.6 Billion, a 42% increase in the past 10 years.  That's definitely something worth celebrating!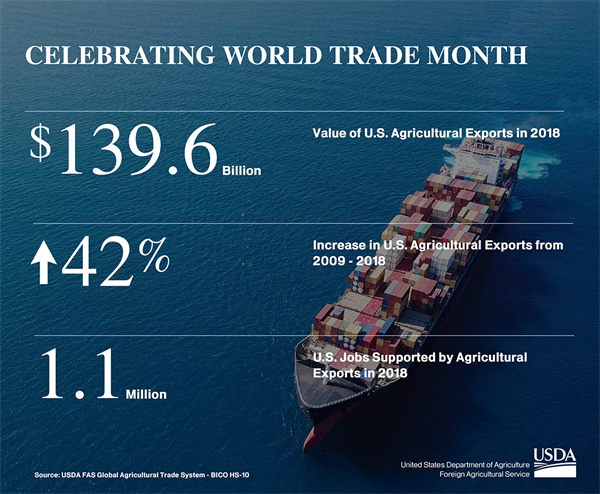 At Food Export – Midwest and Food Export – Northeast our mission has always been to help promote the export of food and agricultural products from the Midwestern and Northeastern regions of the United States.  There are many tactics and events we utilize to help increase the visibility of U.S. products and suppliers around the world.   One of the things we focus heavily on is educating foreign buyers about the opportunities they have to purchase U.S. products.
This year to celebrate World Trade Month we wanted to highlight some of the tactics that we are currently using to increase Buyer Education around the globe.
In-Market Representatives
Food Export has spent years developing a network of overseas In-Market Representatives (IMRs) all around the globe.  These reps are local marketing experts with food industry experience who provide on-the-ground help in assisting Food Export to implement its large array of programs, services, and events.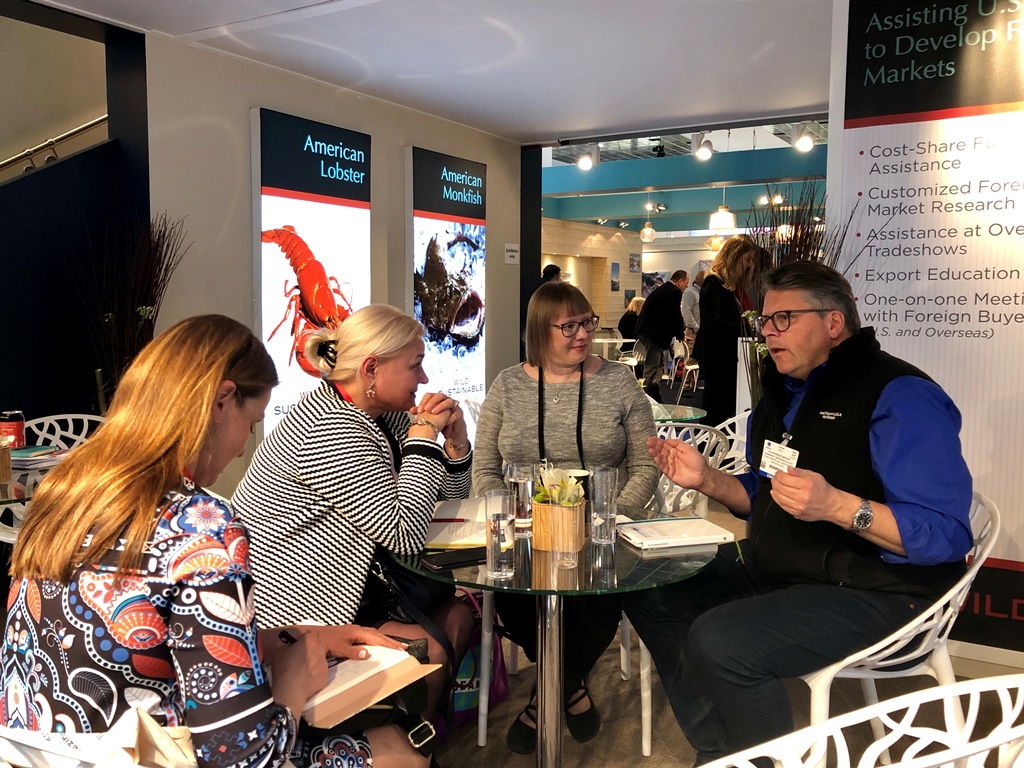 IMR's stay in touch with the food industry through regular contact with buyers in their market and by attending a variety of trade shows in their home market as well as the U.S.  In some cases they have had relationships with local buyers for years, which puts them in a very unique position to be able to educate the buyers on the opportunities that Food Export can offer them to expand their businesses. 
From trade leads to participating in our one-on-one meetings at Focused Trade Missions and Buyers Mission, to helping facilitate our Food Show PLUS! Tradeshow enhancement services, our IMR's work all year long to continually build relationships with buyers in their market and keep them up to date with all the possibilities they have in procuring U.S. products.
Trade Leads
One of the ways that we increase international buyer's exposure and knowledge of U.S. products is through our Trade Lead service. Any of our U.S. suppliers that have participated in past Food Export activities have the opportunity to create and maintain an online account of their available products.
This online database is then accessed by our network of IMRs when meeting with qualified international buyers throughout the year to talk about what types of products from the U.S. they are interested in.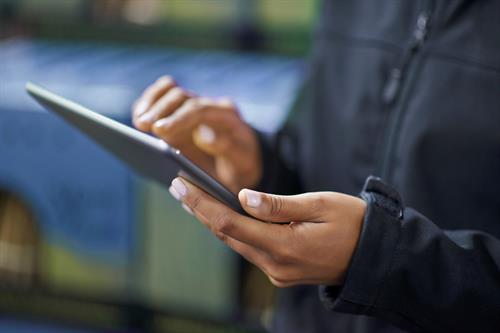 Food Export IMRs submit hundreds of trade leads as a result of these meetings with qualified buyers.  They provide Food Export with the specifics of the products of interest and Food Export staff match and distribute the leads to suppliers with appropriate products. 
The USDA/Foreign Agricultural Service offices around the globe also submit trade leads to Food Export.  Similarly, they are matched and buyer contact information is sent to suppliers with matching products. This is a fantastic low cost way to get U.S. products directly into the hands of more international buyers and to start building up markets for U.S. products around the globe. 
To gain maximum benefit of this service, supplier will want to make sure their products are updated.  For more information, please see program information on our website.
Importer Seminars
Food Export holds numerous Importer Seminars around the world to help educate foreign buyers about the variety of U.S. products available from our suppliers in the Midwest and Northeast regions as well as our programs and services.
Each seminar varies in content but a typical seminar would have an introduction from our IMR local to the market, a presentation by a Food Export staff member about our programs and services, and sometimes even a presentation by the local FAS post giving more details on the local market and explaining some of the benefits of importing U.S. products in to the market.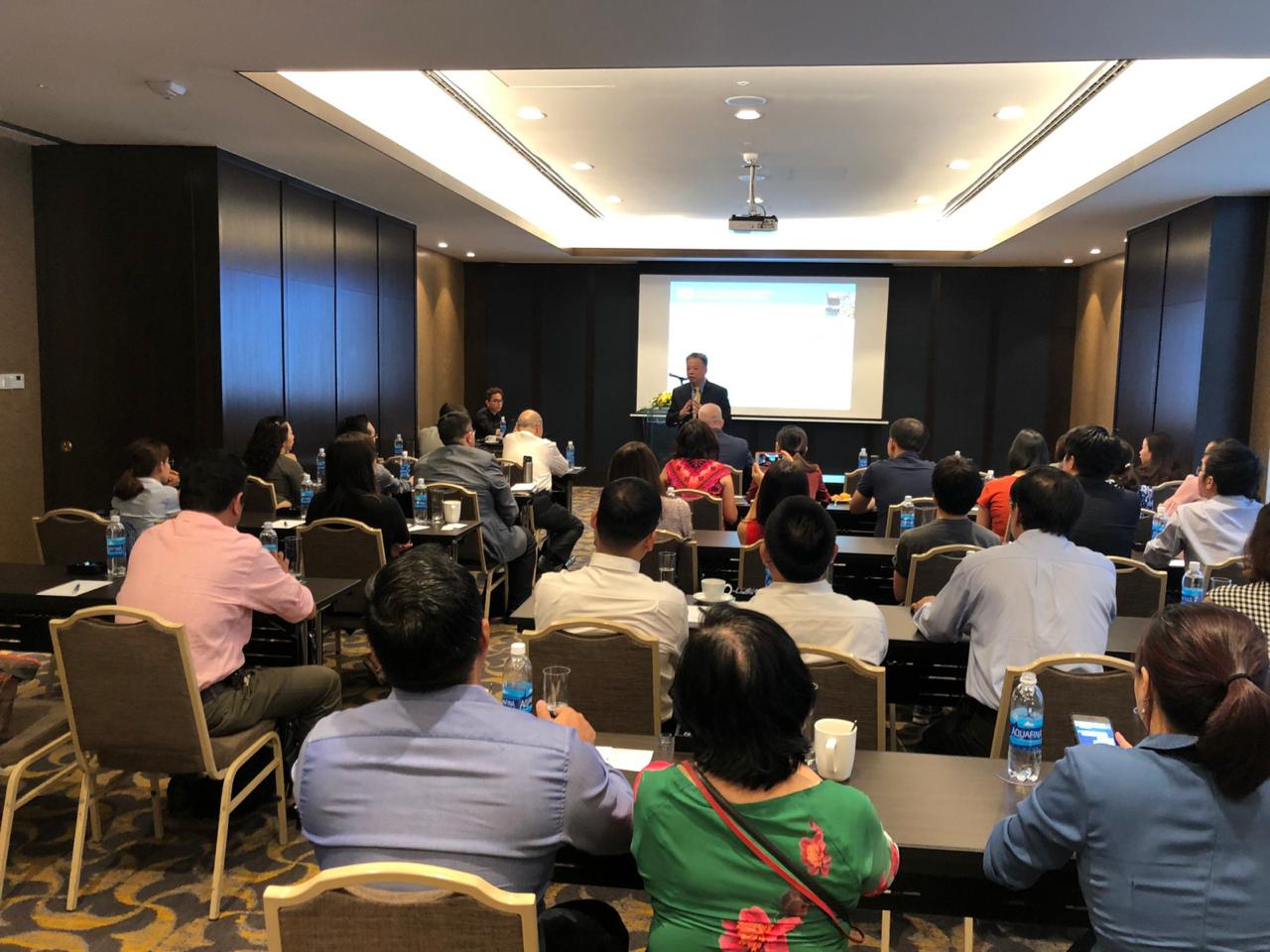 In 2019 we have a higher number of these events than ever before as a result of the Agricultural Trade Promotion Program (ATP) funding that we received earlier in the year.  We view this as a fantastic opportunity to help educate buyers about who we are, what we do, and how they can meet with U.S. suppliers at our various events.
We are currently still in the process of planning Importer Seminars for 2019.  Here is a list of where we currently have events planned.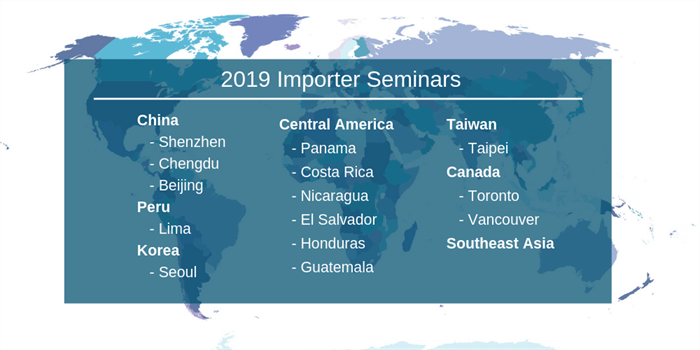 These seminars help our local In-Market Representative both make new and support existing buyer contacts that may lead to trade leads, nominations to attend future buyers missions or trade missions.  Our investment in these seminars strengthens our ability to make future connection between U.S. suppliers and international buyers well into the future.
Stay tuned throughout the year as we announce additional Importer Seminars!
Branded Program
The Food Export Branded Program is a great way for U.S. companies to receive reimbursement on their international marketing efforts.  Often the importers we meet in various countries around the globe have qualified U.S. suppliers that they already work with in our regions who aren't familiar with Food Export or our programs and services.
When the importers understand how the Branded Program can assist U.S. suppliers in things like label modifications, website and social media marketing, in store demos, and more, they see that the support that small companies may receive to promote their products and are more open to partnering with them to import their products.
Learn more about the Branded Program in the intro video below.
Food Export's efforts of educating international buyers about U.S. products is ever growing and changing as the industry evolves.  New tactics are always being creating and explored as we further try to encourage and facilitate the growth of U.S. products in the global marketplace.
Follow us on Social Media throughout the month of May as we share statistics and info about Food Export's programs and services impact on exports for World Trade Month!
Happy World Trade Month!