This month, Food Export–Northeast is sharing an interview series with In-Market Representatives from three different Asian countries. In this interview with Food Export–Northeast's In-Market Representative Francis Lee, he discusses why Vietnam is becoming increasingly more interested in importing live seafood. Read on to learn about the newest seafood culinary trends in Vietnam and what suppliers can do to take advantage of the growing Vietnamese import culture.
Q: As an In-Market Representative for Food Export-Northeast, what have you found to be some of the most effective promotional activities for Northeast U.S. seafood in your market?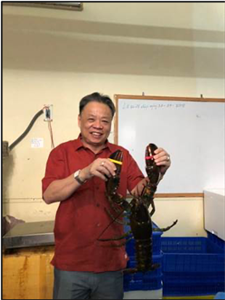 A: In Vietnam, the most effective promotional activities are cooking demonstrations in retail outlets (e.g., supermarkets and restaurants), sample promotions where chefs introduce and demo new seafood recipes, and seminars/presentations at food service locations (e.g., hotels, restaurants, and supermarkets) where buyers can learn about importers. These seminars introduce a variety of Northeast U.S. seafood products and their specifications, allowing Food Export–Northeast to provide examples of other countries buying products for reprocessing into other frozen products.
These activities have proven to be good ways to increase awareness of the Northeast U.S. seafood industry and the interesting seafoods that would be a good addition to the existing Vietnam market.

Francis Lee, Vietnam In-Market Representative,
Food Export–Northeast

Q: What is the value for suppliers of having someone in-market focused on promoting Northeast U.S. seafood?
A:  In-Market Representatives have experience promoting Northeast U.S. seafood products and hold deep background knowledge on the market. These skills help match new U.S. suppliers with importers and streamline import information communication between both parties. In-Market Representatives work hard to build strong relationships with retailers and importers, serving as suppliers' "eyes and ears" on the ground to ensure their always kept up to date on market demand and importer needs.

Q: What seafood trends (one to three) are you seeing in your market for 2020? What's driving those trends?
A: Besides e-commerce, the three most novel seafood trends I'm seeing in Vietnam are live, frozen, and dried seafood demand. This is due to a number of considerations:
Consumers love eating live seafood.
Vietnamese living standard has increased and the middle-class has grown. This has caused an increase in consumption of imported live seafood.
Importing Northeast U.S. lobster is cheaper than buying local lobster.
Many other North American seafoods are not available in South China sea and are considered rare.
These are all things Northeast U.S. suppliers should consider when reviewing export opportunities into Vietnam.
Q: What U.S. seafood products are most in demand in your market and why?
A: King crab, geoduck, American lobster, and salmon. These products are considered high value because they're not available in our waters.

Q: What is the food culture like in Vietnam as it pertains to seafood?
A: In general, the Vietnamese people love to eat seafood. Consumers prefer live lobster over any other kind of seafood from North America. When buying in grocery stores, consumers love to cook their Northeast U.S. seafood with a Vietnamese flair such as adding garlic or cheese and steaming the food; we don't boil our seafood. In contrast, there is also a large percentage of Vietnamese consumers that prefer to eat imported seafood in restaurants.

Q: What do consumers in your market want and what are the qualities that Northeast U.S. seafood can deliver on?
A: The quality of Northeast U.S. seafood is good. Consumers are seeking more new products and recipes to enjoy. This means that more information, such as seminars, local food advertising or working with a food blogger, could help increase awareness of Northeast U.S. seafood suppliers and their products.
Q: For exporters (suppliers) that are new to your region, what are some key considerations they should keep in mind as they explore opportunities, especially if they can't travel to the market?
A: They should be export ready and have some basic information before they arrive in Vietnam to conduct one-on-one meetings. This will help prepare them for Vietnam export requirements and will move meetings along more swiftly.

Q: What Food Export–Northeast services would you recommend suppliers leverage to connect with buyers in Vietnam? 
A: I recommend doing a focused seafood trade mission in Vietnam to showcase their product and meet with local buyers. In-Market Representatives like myself can help setup a Northeast U.S. seafood showcase in a Hanoi hotel to introduce species to local importers.
Want to learn more about how In-Market Representatives can help you grow your export business? Visit the Food Export–Northeast website to learn about our services.
---
About Food Export USA – Northeast 
With its extensive programs and educational offerings, Food Export USA–Northeast (Food Export–Northeast) is recognized as the preeminent expert and cost-effective resource for Northeast seafood and agricultural suppliers looking to sell their products overseas. Founded in 1973, Food Export–Northeast is a non-profit organization that works collaboratively with its 10 member states' agricultural promotion agencies from Connecticut, Delaware, Maine, Massachusetts, New Hampshire, New Jersey, New York, Pennsylvania, Rhode Island and Vermont, to facilitate trade between suppliers and worldwide importers and to promote the export of food, agricultural and seafood products from those states. Since its founding, the organization has helped Northeast seafood suppliers gain access to a broad range of export markets, supported overseas in-market educational and promotional programs and offers emerging suppliers access to funds to help grow their export business. The organization is funded through the Market Access Program (MAP), administered by the USDA's Foreign Agricultural Service.
Learn more about us and what we do for the Northeast seafood industry here.  Contact us.