According to an USDA Foreign Agricultural Service report entitled, "US Lobster Leads Summer Cooking Trend," Lashonda McLeod Harper, Director of the Agricultural Trade Office (ATO) in Beijing, collaborated recently with Chefs Andrea Susto and Rain Xing from Michelin star restaurant, Opera Bombana, to create cooking videos that showcased both Chinese and Western cuisine. The cooking demonstration videos were designed to help show Chinese consumers simple and tasty ways to prepare American lobster at home. 
In addition to American lobster, a variety of U.S. products, including Sunkist citrus, wines from Washington and California, as well as California almonds, were featured in the videos. 
Newcomer to the Beijing restaurant scene, Chef Andrea Susto created a delicious main course using American lobster. His recipe for American lobster with citrus zest and basil puree captured the seasonal flavors of summer. While Chef Susto got to cooking, Director Harper provided consumers information on where American lobster is harvested.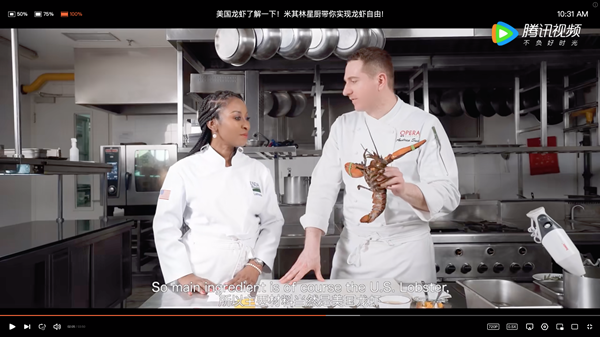 See the video here. 
Chinese cuisine is known for bringing the maximum heat with an array of spices. Chef Rain Xing, a Beijing native, created a true Chinese-style sweet and sour American lobster that emphasized the lobster's delicate taste but also incorporated some spice to give the dish some kick.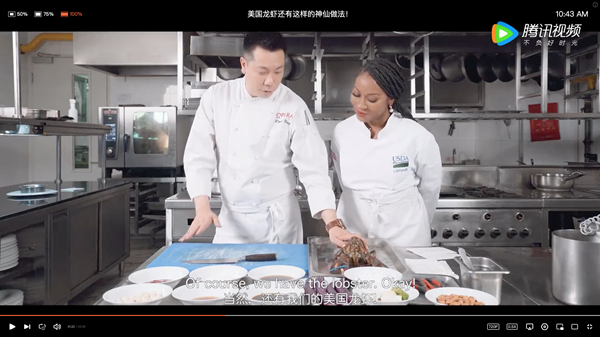 See the video here. 
The cooking videos launched during China's Dragon Boat Festival in June and within one month received well over 1.1 million views on major Chinese social media platforms including Blibli and TikTok. According to the USDA report, "As COVID-19 has continued to alter consumer lifestyles, livestreaming and short video platforms have had a major impact in China's hotel, restaurant, and institutional food service sector. Platforms such as TikTok, KuaiShou, and XiaoHongShu are primary resources for young and affluent consumers seeking trendy information. ATO Beijing is successfully tapping into these platforms by using partners and online influencers to engage local consumers." 

About Food Export USA–Northeast 
With its extensive programs and educational offerings, Food Export USA–Northeast (Food Export–Northeast) is recognized as the preeminent expert and cost-effective resource for Northeast seafood and agricultural suppliers looking to sell their products overseas. Founded in 1973, Food Export–Northeast is a non-profit organization that works collaboratively with its 10 member states' agricultural promotion agencies from Connecticut, Delaware, Maine, Massachusetts, New Hampshire, New Jersey, New York, Pennsylvania, Rhode Island and Vermont, to facilitate trade between suppliers and worldwide importers and to promote the export of food, agricultural and seafood products from those states. Since its founding, the organization has helped Northeast seafood suppliers gain access to a broad range of export markets, supported overseas in-market educational and promotional programs and offers emerging suppliers access to funds to help grow their export business. The organization is funded through the Market Access Program (MAP), administered by the USDA's Foreign Agricultural Service.
Learn more about us and what we do for the Northeast seafood industry here.  Contact us.