Food Export–Northeast has secured a stand at the Taiwan International Fisheries & Seafood Show being held at the Taipei Nangang Exhibition Center on December 3, 2020 through December 5, 2020. The stand will be staffed by Food Export–Northeast's In-Market Representative for the Taiwan market who will be promoting Northeast US seafood products, with a focus on American lobster and Jonah crab products to importers and end-users.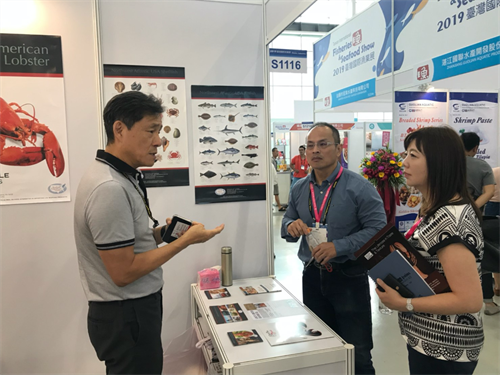 Food Export–Northeast's In-Market Representative for Taiwan, Steven Chu, speaking with members of the trade at the 2019 Taiwan International Fisheries & Seafood Show.
How Suppliers Can Participate for Free
If a supplier is interested in this no-cost opportunity to promote your company and products in Taiwan, please send 30 copies of your promotional material(s) to the address below by no later than November 6, 2020:
Food Export USA – Northeast
Attn: Suzanne Milshaw
One Penn Center
1617 JFK Boulevard, Suite 420
Philadelphia, PA 19103
These marketing materials will be distributed to importers during the trade show and our In-Market Representative will collect trade leads to share with suppliers following the show. If you know of local importers who may be interested in learning more about American lobster and Jonah crab products, our In-Market Representative would be happy to issue an invitation to them, giving them the opportunity to see and taste these products.
For more information or to provide an import lead, please contact Colleen Coyne, Seafood Program Coordinator for Food Export–Northeast.
---
About Food Export USA – Northeast 
With its extensive programs and educational offerings, Food Export USA–Northeast (Food Export–Northeast) is recognized as the preeminent expert and cost-effective resource for Northeast seafood and agricultural suppliers looking to sell their products overseas. Founded in 1973, Food Export–Northeast is a non-profit organization that works collaboratively with its 10 member states' agricultural promotion agencies from Connecticut, Delaware, Maine, Massachusetts, New Hampshire, New Jersey, New York, Pennsylvania, Rhode Island and Vermont, to facilitate trade between suppliers and worldwide importers and to promote the export of food, agricultural and seafood products from those states. Since its founding, the organization has helped Northeast seafood suppliers gain access to a broad range of export markets, supported overseas in-market educational and promotional programs and offers emerging suppliers access to funds to help grow their export business. The organization is funded through the Market Access Program (MAP), administered by the USDA's Foreign Agricultural Service.
Learn more about us and what we do for the Northeast seafood industry here.  Contact us.