The Food Export–Northeast team and our Singapore In-Market Representative, Lieu Marketing, have developed creative programs to engage Singapore's hotel, restaurants, and institutional (HRI) food sector. The goals? Encourage greater use of these products on local HRI menus and introduce more consumers to these tasty Northeast US seafood products, ultimately driving demand.
Recently our team worked with six well known chefs from across the Singapore HRI and Asia Cuisine magazine to develop a series of videos and articles featuring delicious recipes for these two popular Northeast US seafood products. The videos and articles in a recent issue of Cuisine and Wine Asia Magazine showcased six beautiful recipes developed by each chef, as well as their individual perspectives on why American lobster and sea scallops from the Northeast US are so unique in taste and menu adaptability.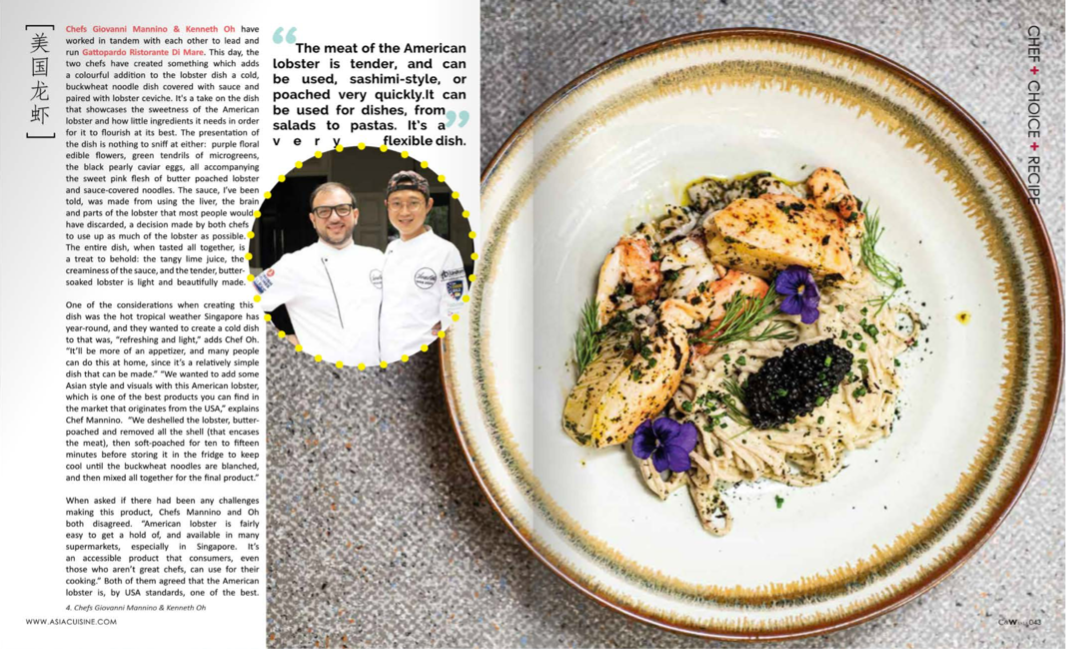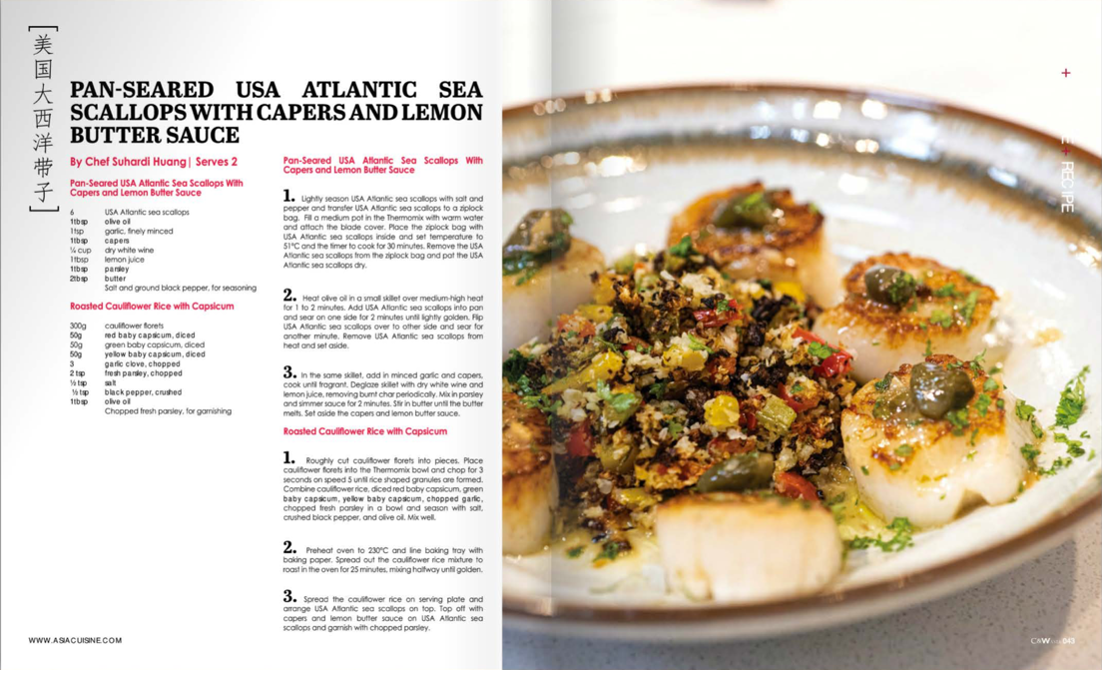 Meet the Singaporean Chefs Who Loved Northeast U.S. Seafood
Shannon Batten, Executive Chef at Hilton Singapore, created a Pesto Rosso Lobster recipe using live lobster. In Batten's video, he notes the high quality of American lobster and pays homage to the cold water of the Northeast US for the meat's delicious taste. Watch Chef Batten's video below.
Sam Chin, Executive Chef at VUE at OUE, presents his Chlorophyll Batter Shallow Fried American Lobster Tail recipe using live lobster. Chin goes through the process of preparing the lobster step-by-step and shows how to maintain its flavor from start to finish. Watch Chef Chin's video below.
Partner Chefs, Giovanni Mannino and Kenneth Oh of Gattapardo Ristorante Di Mare, introduce their Lobster Ceviche recipe with cold buckwheat noodles. Watch Chef Mannino and Chef Oh's video below.
Javed Ahamed, Chef at Punjab Grill Marina Bay Sands, shares his Tava sea scallops and coconut kefir sauce recipe, and gives a brief history of the rise in consumer interest of sea scallops over the last century. Watch Chef Ahamed's video below.
Darwin Wong, Chef at Restaurant Beurre, demonstrates how to make his USA Atlantic sea scallop recipe with brown butter mousseline and potato espuma. Wong notes that sea scallops' texture is what makes them so delicious. Watch Chef Wong's video below.
Suhardi Huang, Chef for Wheatout Private Dining, highlights his pan-seared scallop with capers lemon butter sauce recipe, talking about how sea scallops are tender but firm with a delicious flavor profile. Watch Chef Huang's video below.
To learn more about Food Export–Northeast's work to educate international markets about Northeast US seafood products and its support of Northeast US suppliers, visit our website.
---
 About Food Export USA – Northeast 
With its extensive programs and educational offerings, Food Export USA–Northeast (Food Export–Northeast) is recognized as the preeminent expert and cost-effective resource for Northeast seafood and agricultural suppliers looking to sell their products overseas. Founded in 1973, Food Export–Northeast is a non-profit organization that works collaboratively with its 10 member states' agricultural promotion agencies from Connecticut, Delaware, Maine, Massachusetts, New Hampshire, New Jersey, New York, Pennsylvania, Rhode Island and Vermont, to facilitate trade between suppliers and worldwide importers and to promote the export of food, agricultural and seafood products from those states. Since its founding, the organization has helped Northeast seafood suppliers gain access to a broad range of export markets, supported overseas in-market educational and promotional programs and offers emerging suppliers access to funds to help grow their export business. The organization is funded through the Market Access Program (MAP), administered by the USDA's Foreign Agricultural Service.
Learn more about us and what we do for the Northeast seafood industry here.  Contact us