In November, Chef Barton Seaver, author and sustainable seafood expert, along with Emily Lane, a member of the Food Export–Northeast Seafood Program team, packed their bags and began a week-long journey to showcase the value and versatility of American lobster products. The tour would take them to three international markets, with Singapore as their first stop. The Southeast Asian country is known for its vibrant restaurant scene and imports nearly 124 thousand metric tons of seafood annually.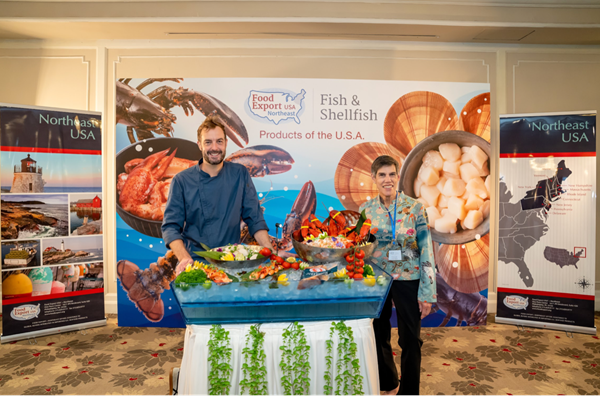 The Food Export—Northeast American Lobster Products Culinary Masterclass and education session took place at Goodwood Park Hotel on November 15, 2022. More than 50 guests attended including chefs, importers, distributors, and journalists. To demonstrate that American lobster products are convenient and easy-to-use while also capable of adding appeal and value to menus in the region, Chef Seaver prepared five delicious tasting courses that integrated Southeast Asian ingredients and flavors paired with American lobster knuckle and claw meat, and tails. U.S. Atlantic sea scallops were also featured in the menu and discussion. Below were the tasting courses:
American Lobster and Atlantic Sea Scallop Sausage with Seasoned with Chinese 5-Spice and Chilli, Served with Shredded Daikon, Mint, Cilantro, and Chilli Padi
Tea-Smoked American Lobster Knuckles and Wing Bean Salad with Shaved Radish, Pomelo Chilli Padi, Cashew and Calamansi Dressing 
Laksa with Lime and Herb-Marinated American Lobster Claws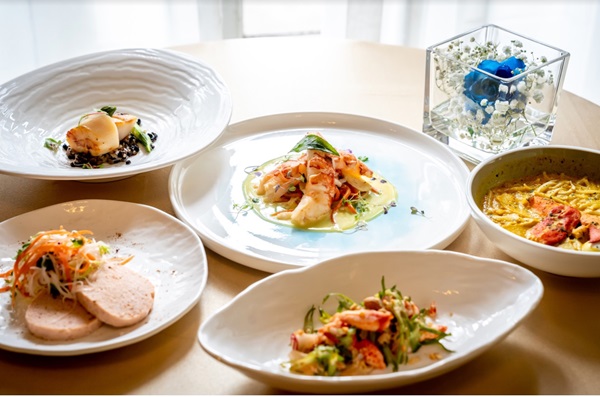 When the first course arrived at tables, Chef Seaver gave a short presentation and talked about how he designed the tasting menu using local ingredients and diverse lobster products. He also highlighted the flavors of the lobster products and why each was the perfect usage for the dish.  Watch Chef Seaver's presentation here.
Prior to serving the five courses, guests enjoyed a presentation and discussion about American lobster products with Emily Lane, who is extensively knowledgeable about the product and has marketed it globally for years. Highlights of her presentation included sustainable harvesting practices, an overview of the production region and the different value-added lobster products highlighting their convenience and consistent quality.  Watch Emily Lane's presentation here.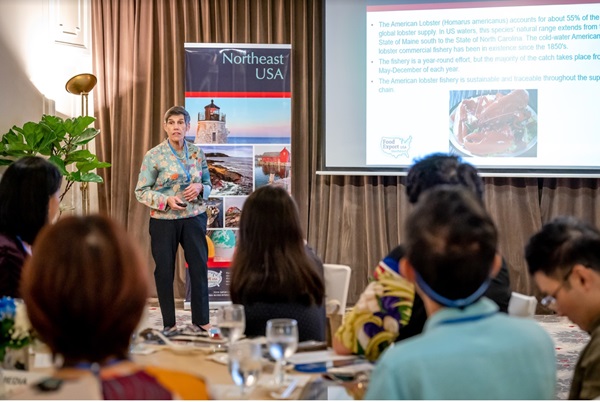 At the conclusion of the event, guests were asked to take a short survey. Top line results are below:
75% of guests were interested in being connected to Northeast U.S. lobster suppliers 
Products of greatest interest to attendees were:
1) American Lobster Tails (87.5%)
2) Frozen Whole American Lobsters (75%)
3) American Lobster Claws & Knuckle Meat (75%)
4) HPP American Lobster Products (62.5%)
5) Minced Lobster Meat (12.5%)
Before heading to Dubai, the next stop on the international tour, Chef Barton Seaver and Emily Lane also visited the Culinary Institute of America in Singapore to educate current culinary students about American lobster products.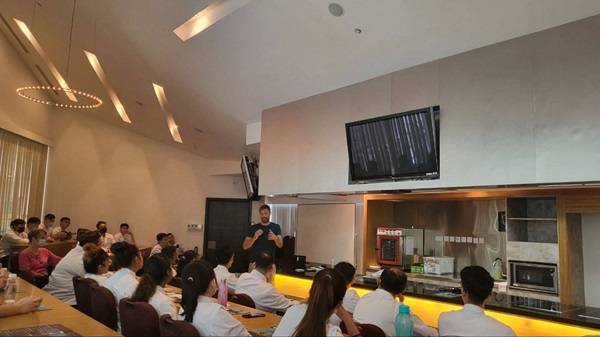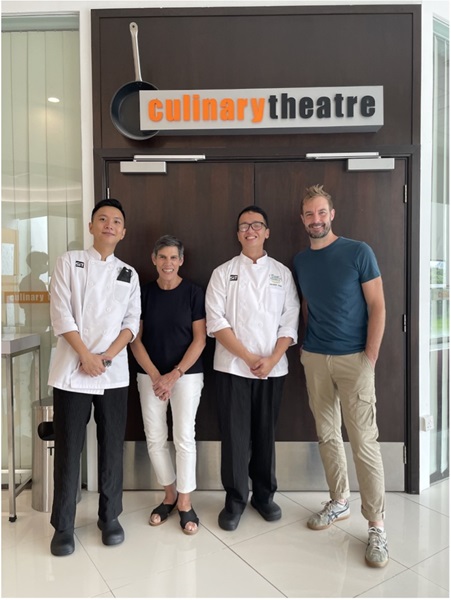 Learn about the stop in Dubai here.
Learn about the stop in Paris here.
About Food Export USA–Northeast 
With its extensive programs and educational offerings, Food Export USA–Northeast (Food Export–Northeast) is recognized as the preeminent expert and cost-effective resource for Northeast seafood and agricultural suppliers looking to sell their products overseas. Founded in 1973, Food Export–Northeast is a non-profit organization that works collaboratively with its 10 member states' agricultural promotion agencies from Connecticut, Delaware, Maine, Massachusetts, New Hampshire, New Jersey, New York, Pennsylvania, Rhode Island and Vermont, to facilitate trade between suppliers and worldwide importers and to promote the export of food, agricultural and seafood products from those states. Since its founding, the organization has helped Northeast seafood suppliers gain access to a broad range of export markets, supported overseas in-market educational and promotional programs and offers emerging suppliers access to funds to help grow their export business. The organization is funded through the Market Access Program (MAP), administered by the USDA's Foreign Agricultural Service.
Learn more about us and what we do for the Northeast seafood industry here.  Contact us.