This month, Food Export–Northeast is sharing an interview series with In-Market Representatives from three different Asian countries. In this interview with Food Export–Northeast's In-Market Representative from Taiwan, Stephen Chu, he shares a few recommended export activities to help suppliers grow their business opportunities in his country. Read on to find out what his recommendations are.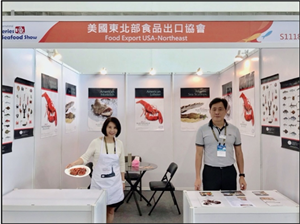 Q: As an In-Market Representative for Food Export–Northeast, what have you found to be some of the most effective promotional activities for Northeast U.S. seafood in your market?

A: In-store demonstrations and product sampling are the most effective promotional activities to raise awareness of Northeast U.S. seafood products in the retail sector, while menu co-op promotions and educational sessions help promote products in the foodservice sector.
Steven Chu & staff member,
Taiwan In-Market Representative, Food Export–Northeast
Q: What is the value for suppliers of having someone in-market focused on promoting Northeast U.S. seafood?
A: In-Market Representatives work on behalf of suppliers to explore market trends and opportunities firsthand, connect suppliers directly with potential buyers, and help facilitate appropriate activities to introduce, promote, and educate on Northeast U.S. seafood products.
Q: What seafood trends (one to three) are you seeing in your market for 2020? What's driving those trends?
A: With a Free Trade Agreement being signed with New Zealand and Central America, Taiwan is increasing rock lobster imports at no tariff. Additionally, with the U.S.-China trade war, supply volume of American lobsters increased accordingly at more affordable prices. As a result, we've seen more frequent sales promotions featuring lobsters.
With consumption of lobster growing over the past few years, foodservice providers are more willing to handle lobsters. Consumers generally know the price and value of lobster meals and purchase them for specific dates or special occasions, yet many have been misled about origin of the lobster.  Since Taiwan is an island surrounded by sea, seafood is a common staple for daily diets. Given concerns over price and freshness of Taiwan seafood, U.S. and other country imports dominate the market over regional products.
Q: What U.S. seafood products are most in demand in your market and why?
A: Taiwanese consumers see American lobster as a high-end seafood product because of the unique claws. Therefore, it is one of the most popular and well-known seafood products in Taiwan.
Q: What is the food culture like in Taiwan as it pertains to seafood?
A: Taiwanese consumers include popular seafood species in their daily household diets. While whole lobsters are preferred, many Taiwanese consumers can only enjoy a whole lobster in restaurants for special occasions or seasonally due to its higher price. There is an opportunity to increase promotion of frozen American lobster in the Taiwanese retail sector so it can be enjoyed all year round.

Q: What do consumers in your market want and what are the qualities that Northeast U.S. seafood can deliver on?
A: Consumers prefer familiar seafood products that are fresh, clean, safety grade, easy to prepare, and affordably priced.
Q: For exporters (suppliers) that are new to your region, what are some key considerations they should keep in mind as they explore opportunities, especially if they can't travel to the market?
A: Learn about import regulations and specific documentation required. Suppliers not only have to provide product specifications, pricing, and packaging, but also offer samples if importers request them for testing.
Q: What Food Export–Northeast services would you recommend suppliers leverage to connect with buyers in Taiwan? 
A: Online services like Market Builder, Virtual Consultation, and Lead Qualification, as well as participating in Food Show PLUS! are valuable for suppliers to take advantage of.
Steven Chu will be representing Northeast U.S. seafood activities at the Taiwan International Fisheries & Seafood Show in September. Leads generated at this event will be shared with the industry.
Want to learn more about how In-Market Representatives can help you grow your export business? Visit the Food Export–Northeast website to learn about our services.
---
About Food Export USA – Northeast 
With its extensive programs and educational offerings, Food Export USA–Northeast (Food Export–Northeast) is recognized as the preeminent expert and cost-effective resource for Northeast seafood and agricultural suppliers looking to sell their products overseas. Founded in 1973, Food Export–Northeast is a non-profit organization that works collaboratively with its 10 member states' agricultural promotion agencies from Connecticut, Delaware, Maine, Massachusetts, New Hampshire, New Jersey, New York, Pennsylvania, Rhode Island and Vermont, to facilitate trade between suppliers and worldwide importers and to promote the export of food, agricultural and seafood products from those states. Since its founding, the organization has helped Northeast seafood suppliers gain access to a broad range of export markets, supported overseas in-market educational and promotional programs and offers emerging suppliers access to funds to help grow their export business. The organization is funded through the Market Access Program (MAP), administered by the USDA's Foreign Agricultural Service.
Learn more about us and what we do for the Northeast seafood industry here.  Contact us.