The Busan International Seafood & Fisheries Expo, which took place November 2-5, 2022, is South Korea's largest seafood-oriented trade show with approximately 350 exhibitors and over 10,000 visitors annually. Food Export-Northeast exhibited at the show, and its Korean In-Market Representatives, Kristie Park and Ken Yang, were on hand to connect with potential buyers and collect qualified trade leads for the Northeast seafood industry. Additionally, samples of American lobster products were shipped to the show so that buyers could have direct access to the products. 
Following the show, we asked Park a few questions, and she provided the below insights:
"Korean seafood buyers who visited the Food Export-Northeast booth showed interest in the displayed U.S. lobster. In fact, the displayed samples captured the attention of Korean buyers. Importers were most interested in frozen whole cooked lobster and frozen lobster tails."
Park also noted that demand for U.S. Atlantic Sea Scallops and clams has increased recently in Korea. "Traditionally, Korea has imported scallops and clams from Japan, but we're currently seeing growing interest in using U.S. scallops and clams from chefs and the Hotel, Restaurant, and Institution Management (HIR) sector."
Her advice to Northeast seafood suppliers: "Contact your Korean buyers and provide them regular updates on harvest, price, and trends to build stronger relationships. Buyers are always looking for the most up-to-date information when considering purchasing decisions."
Interested in learning more about the South Korean market? Explore this market profile. 
Below are images from the Busan International Seafood & Fisheries Expo.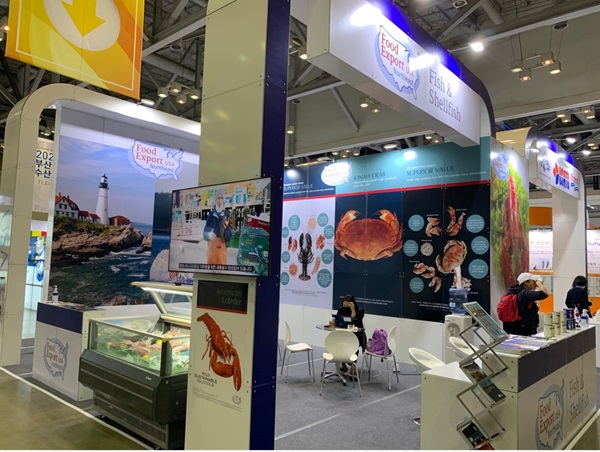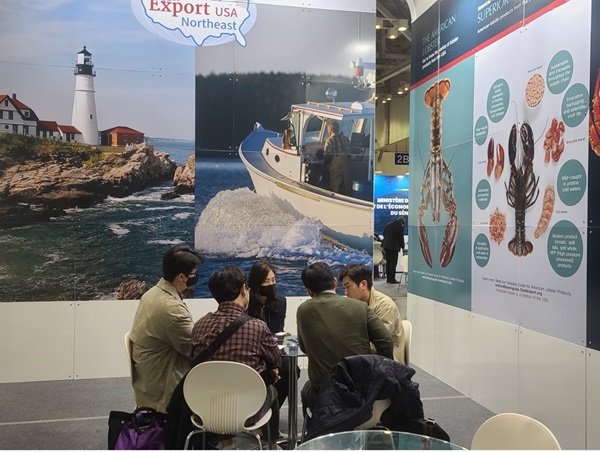 About Food Export USA – Northeast 
With its extensive programs and educational offerings, Food Export USA–Northeast (Food Export–Northeast) is recognized as the preeminent expert and cost-effective resource for Northeast seafood and agricultural suppliers looking to sell their products overseas. Founded in 1973, Food Export–Northeast is a non-profit organization that works collaboratively with its 10 member states' agricultural promotion agencies from Connecticut, Delaware, Maine, Massachusetts, New Hampshire, New Jersey, New York, Pennsylvania, Rhode Island and Vermont, to facilitate trade between suppliers and worldwide importers and to promote the export of food, agricultural and seafood products from those states. Since its founding, the organization has helped Northeast seafood suppliers gain access to a broad range of export markets, supported overseas in-market educational and promotional programs and offers emerging suppliers access to funds to help grow their export business. The organization is funded through the Market Access Program (MAP), administered by the USDA's Foreign Agricultural Service.
Learn more about us and what we do for the Northeast seafood industry here.  Contact us.