As international export markets begin recovering from the COVID-19 pandemic, it is important to stay up to date on how your target markets are doing.
Food Export-Midwest and Food Export-Northeast have developed a new blog series that will bring you front-row insights from our network of In-Market Representatives (IMRs). Each blog will focus on one international market and give an overview of the recovery efforts in that market. This time we'll examine the largest economy in Europe – Germany.
---
This week's spotlight is all about Germany. Learn about the changes that took place in this market as a result of COVID-19 and practical tips that our In-Market Representative (IMR) for Europe, Jens Hombeck of MK2, has to offer to U.S. exporters looking to enter or re-establish themselves in the market. 

1. What is the situation in your market regarding pandemic recovery at present?
With the start of the vaccination campaign in early 2021, the general situation in Germany has improved step by step with most business and public life returning to a form of normality. As of September 2021 slightly over 51 million inhabitants (61% of the population) are fully vaccinated. The goal to completely re-open the market without any restrictions is expected to be achieved once Germany reaches a vaccination rate of 80%.
Concerns over a possible fourth wave related to the fast-spreading Delta variant are overshadowing positive trends and developments in recent months. Even with large-scale easing of regulations, there are still control measures in place including travel limitations, strict guidelines for larger events like trade shows, conventions or concerts and requirements for a negative test or a proof of vaccination. 
In the second quarter of 2021, Germany registered overall economic improvement in all market segments. While private household consumption grew by 3.5% compared to the first quarter, national investments increased 1.8% fueled by loosening pandemic control measures. Exports, one of the major drivers of the market's economy, recorded an increase of 0.5% while imports rose by 2.1%.   Overall, Gross Domestic Product (GDP) increased by 1.6% compared to the first three months of the year and 9.8% in comparison with the second quarter 2020. For 2021, forecasters predict a growth of around 3-3.5% while, for 2022, 4% could be possible.
2. How is that playing out in the food sector? What are you seeing in the retail sector? Foodservice sector? Is there anything to note in specific industry sectors such as feed, pet food or seafood?
The impact of the COVID-19 crisis on the food sector in Germany varies greatly between the retail and HRI sectors. Retail benefitted from the crisis as the closure of restaurants forced consumers to cook at home. A category that came out particularly strongly was e-commerce and quick-commerce. Quick-commerce is the delivery of small orders to consumers within a short time window from order, such as 1 – 2 hours.  While still holding a comparably minor share of the overall sales value of food and beverages in retail, the e-commerce sector recorded double-digit growth rates in 2020 and the first half of 2021. Food showed a particularly significant increase of 70% in value over the prior year. It can be expected that this momentum will carry over to post-pandemic times with continuous growth of online sales.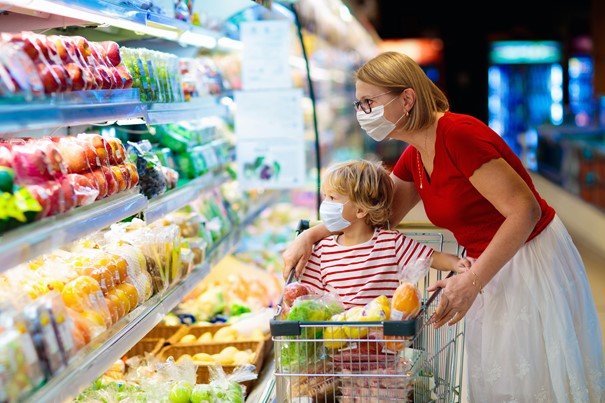 The HRI market took a hard hit with forced closures and massively reduced business during the pandemic. It is expected that it will take at least until 2022 before the sector recovers and long-term effects of the crisis remain hard to predict.
Categories benefitting from the situation were storable and convenience options both contributing to gains in the frozen food segment including seafood. Another category that grew in 2020 was the pet food sector; as the number of pet owners increased, demand developed accordingly.
The pandemic fueled the health trend with consumers naturally becoming more concerned about the impact of nutrition on their health. Together with environmental concerns related to food production, concern for health will impact purchasing behavior in years to come. Sustainability remains a key subject for the food industry and will become even more evident as the EU's Farm to Fork strategy advances. You can read more about Europe's Field to Fork Strategy in this July 2020 blog post. 
3. Have there been any structural changes in the market – ex. consolidations or ongoing issues related to imports (ex. testing) of which U.S. suppliers should be aware?

In the beginning of the pandemic, the market experienced some structural challenges resulting from different developments.
First, there was a global shortage of container space following the reduction of world trade in first months of the pandemic disrupting the regular flow of international containers combined with reduced workforces at important ports worldwide that act as trading crossroads in regular times.
Aside from potential supply shortages, manufacturers in Europe also faced challenges following from infection control measures leading to reduced capacities and temporary plant shutdowns. That led not only to limited output but also to full warehouses and dropping demand for raw materials in many sectors.
Another concern in the first half of 2020 affected German farmers as travel bans hindered seasonal workers from Eastern Europe to enter the market for harvest season of strawberries or asparagus threating availability and pricing.
By now, most of these constraints have been resolved and the processing output of the manufacturing and farming industry comes close to pre-pandemic levels.
4. What trends or developments have you seen in your market during the pandemic that you think are most likely to continue into the recovery and post-recovery period?

As mentioned above, the pandemic changed buying patterns and consumption behavior contributing to sales channels like quick commerce and the delivery sector, which will likely continue to grow in the future. An increasing number of grocery order services are competing for market share offering almost immediate doorstep deliveries. While these new shopping experiences are convenient for consumers, profit margins for operators are low and it will be interesting to see how the sector develops and if the market will experience consolidation of leading players.
In addition, domestically produced foods have increased their popularity during the pandemic and the existing buy local movement has seen grown.
One example of consumers' consciousness toward health, sustainability and social responsibility is the reduction in meat consumption.  The purchase volume of meat substitutes increased by 32% in year 2020 and will continue to rise steadily.
Also, there is a lasting change in consumer patterns when it comes to frequency of weekly food purchases. For brick-and-mortar stores, there is a trend towards one-stop-shopping and a filled shopping cart. That way, shoppers reduce number of store visits and thereby the risk of an infection. How and if this trend translates into post-Covid times is difficult to project as prior to the pandemic, especially younger customers tended to do daily grocery runs or at least visit supermarkets several times per week.
5. Could you share some practical marketing tips for U.S. suppliers to best position themselves to take advantage of the trends/developments you identified above?
Health, innovation, convenience and environmentally-conscious consumption are major drivers influencing the food market in addition to customary factors like household budgets and pricing.
The growing importance of sustainability and ecologically balanced production should be taken into account when planning to introduce new products to the market. Innovation is key and consumers expect a company's socially and environmentally responsible production to be reflected in the company image and product presentation. 
Closely related to the above is the demand for foods contributing to health and fitness.  These were already a growing category prior to COVID-19 and have increased popularity in past months. Meat replacements are booming resulting both from environmental as well as health concerns. It can be expected that this market will continue its positive development in the near future offering promising business potential.
Suppliers should keep an eye on the growing e-commerce market. While sales numbers of traditional retail always look tempting, partnering with start-ups and smaller web shops to get a foothold in the market can be beneficial and built the foundation of a successful product launch in Germany.
** Read more about Europe's Field to Fork Strategy in this July 2020 blog post. 
---
Want to know more about the German market? 
Check out the Food Export's Germany Country Profile for further details.
Do you have specific questions for our market expert?
Consider a 30-minute video Virtual Consultation.