As Food Export–Northeast sought to step-up its marketing of American lobster and Jonah crab products globally in early 2020, we brought on the help of Emily Lane, President of Blue Lobster Consulting, LLC to add her hands-on expertise to the Food Export–Northeast seafood team. Emily's engagement has been crucial to the roll-out of a number of key initiatives:
Developing online buyers' guides and educational videos for live and processed American lobster and Jonah crab products
Training and acting as an ongoing resource for Food Export's network of In-Market Representatives on these products
And handling logistics for sample shipments allowing key buyers qualified by Food Export's In-Market Representatives to evaluate these products for potential importation
"Emily's extensive knowledge about American lobster and Jonah crab, and her hands-on experience of marketing these products globally, made her the perfect partner to help guide the development of our new American Lobster Product and Jonah Crab Buyer's Guides," said Colleen Coyne, Seafood Program Coordinator for Food Export–Northeast. "As suppliers look to expand markets for American lobster and Jonah crab products overseas, these tools are extremely valuable in helping to educate buyers about their use, taste, and available product forms, especially Jonah crab which is a relatively new export product."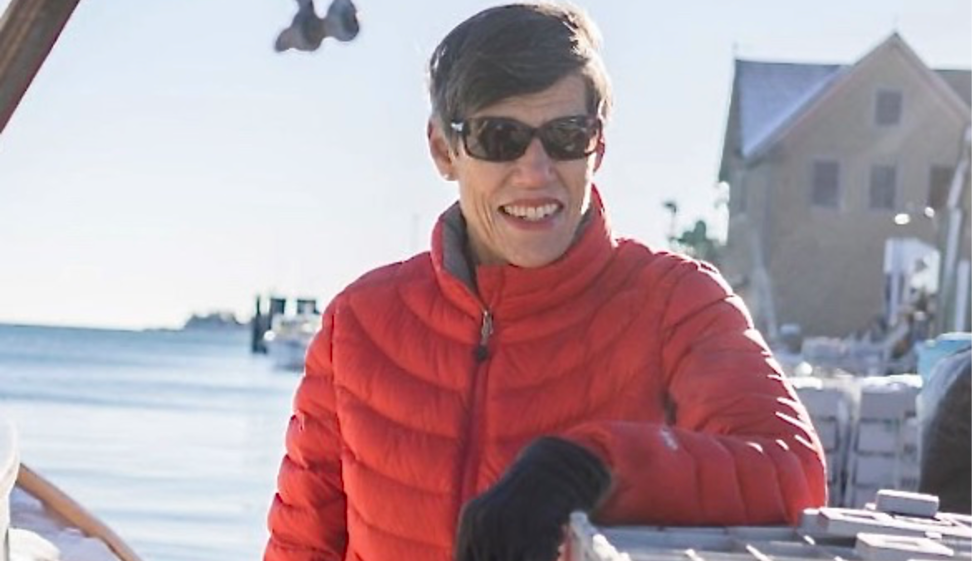 35 Years of Hands-On Northeast US Seafood Industry Experience
As a long-time coastal Maine resident, Emily has lived and breathed processing and export marketing of American lobster and Jonah crab for over three decades. Her career spans five seafood companies where she managed processing facilities, developed new seafood products, expanded export markets, coordinated all company international logistics and documentation, and developed educational programs and workshops for international buyers. Emily has also held leadership positions on many municipal, state, and federal boards and councils including the Maine Lobster Advisory Council, Maine Lobster Marketing Collaborative, National Seafood Marketing Coalition, and Maine Lobster Dealers Association.
Today, Emily chairs the Board of Trustees for the Island Institute, a nonprofit organization that supports and sustains Maine's island and coastal communities and works collaboratively with communities, state, and federal entities to develop solutions to economic, social, and environmental challenges.
Emily's Diverse Skillset Strengthens Overseas Marketing Efforts for Northeast US Seafood
With Emily's unique skills as both a former educator and export marketer for these seafood products, she serves as a valuable resource for Food Export–Northeast's In-Market Representative training and educational activities.
For example, in the summer of 2020, Food Export–Northeast partnered with Emily to develop two training webinars on processed American lobster and Jonah crab. The webinars were designed to educate our international on-the-ground team on the value and key differentiators of the two products–most notably sustainable harvesting practices, key landing states, processed product formats, and handling and nutritional information.
Learn more about the webinars here. To compliment the training webinars, the Food Export–Northeast team, with the help of Emily, has developed an American Lobster Products Buyer's Guide and Jonah Crab Buyer's Guide that help answer buyer questions about available product forms, sustainability, and use. Check out the comprehensive buyer's guides here.
"We look forward to continuing our partnership with Emily. It's been great to have another incredibly knowledgeable resource helping to shape our materials and educate our In-Market Representatives. Her perspective and expertise are invaluable," concluded Coyne.
 Visit the Food Export–Northeast website to learn more about our promotional opportunities and marketing activities.
---
About Food Export USA – Northeast 
With its extensive programs and educational offerings, Food Export USA–Northeast (Food Export–Northeast) is recognized as the preeminent expert and cost-effective resource for Northeast seafood and agricultural suppliers looking to sell their products overseas. Founded in 1973, Food Export–Northeast is a non-profit organization that works collaboratively with its 10 member states' agricultural promotion agencies from Connecticut, Delaware, Maine, Massachusetts, New Hampshire, New Jersey, New York, Pennsylvania, Rhode Island and Vermont, to facilitate trade between suppliers and worldwide importers and to promote the export of food, agricultural and seafood products from those states. Since its founding, the organization has helped Northeast seafood suppliers gain access to a broad range of export markets, supported overseas in-market educational and promotional programs and offers emerging suppliers access to funds to help grow their export business. The organization is funded through the Market Access Program (MAP), administered by the USDA's Foreign Agricultural Service.
Learn more about us and what we do for the Northeast seafood industry here.  Contact us.