Food Export–Northeast's In-Market Representatives (IMRs) and promotion partners got creative in 2021 to reach consumers and seafood buyers in new ways and grow sales for Northeast seafood suppliers. With uneven pandemic recovery efforts and various countries experiencing change at different paces, seafood promotional efforts were targeted in markets experiencing accelerated regional recovery. In those markets, Food Export–Northeast's IMRs mostly focused promotions in the hospitality and restaurant sector, with a few novel promotions centered around online retail. With a number of year-end promotion results still anticipated, Food Export–Northeast can report that these activities have currently generated more than $2 million in estimated combined sales for American lobster, Jonah crab and Atlantic Sea Scallops.
Let's look back at the success Food Export–Northeast's global team saw in 2021 across Taiwan, China, Poland, and Germany.
Guangdong, China – 7 Fresh Promotion
From February 25-March 25, 2021, China's IMR worked with five of the 7 Fresh stores in Guangdong on a live American lobster promotion. The stores hosted a live streaming event with a well-known Chinese food blogger with an audience of five million tuning in. The joint online and offline promotion yielded sales $127,286 in sales for live lobster. 
Krakow, Poland – HORECA Promotion
Food Export–Northeast was invited by the USDA/FAS Office of Agricultural Affairs in a special promotion of US foods in collaboration with the HORECA GASTROFOOD Trade Fair in Krakow, Poland.  The two-day online event in late April 2021, called HORECA Krakow Culinary Discoveries of America, focused on highlighting American lobster, as well as US agricultural products, and is considered this year's largest event for American food products in the Polish market. Overall, the Food Export–Northeast and USDA FAS Warsaw teams considered the event successful in driving interest in American lobster and helping Polish industry professionals understand the origins and attributes of Northeast US seafood products. Learn more about the promotion in the Food Export–Northeast May 2021 blog post.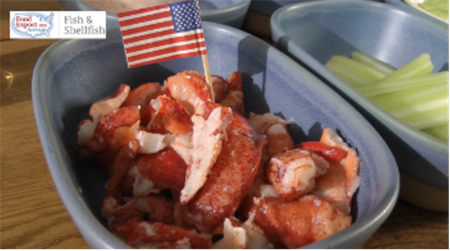 Hong Kong, China – Yata Supermarkets Promotion
Between April 16-May 9, 2021, eight Yata Supermarket retail stores hosted a promotion for American lobster and sea scallops that included in-store tastings with local key opinion leaders (influencers) and POS materials. Sales totaled $490,000 for both products.
Berlin, Germany – Grillwalker Promotion
To raise awareness in Germany about the versatility of American lobster and encourage consumers to purchase and try it at home this summer, Food Export­–Northeast's German In-Market Representative, Alexander Wever, organized a promotion to replace the traditional bratwurst offered by Berlin's iconic Grillwalkers with split American lobster tails. A Grillwalker wears a portable grill mounted on a harness. Between May 17th through 21st, Grillwalkers located around a major Berlin train station made tasty, grilled American Lobster tails on buns for customers to enjoy while roaming around the city. Hundreds of visitors came out to participate and got a delicious taste of American Lobster. Learn more about the promotion in the Food Export–Northeast June 2021 blog post.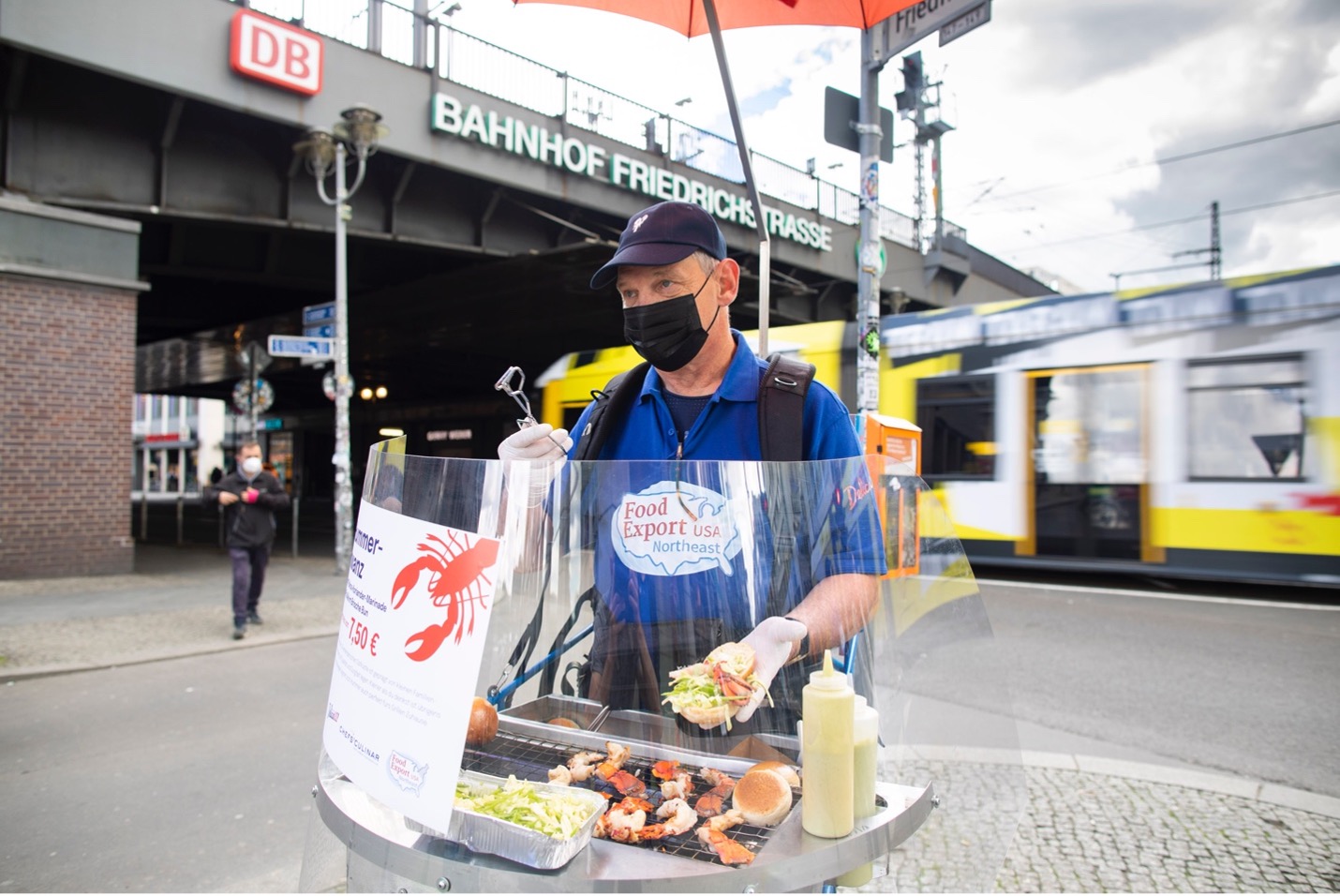 Hong Kong, China – AnnieFood Promotion
AnnieFood, an online farmers market, hosted a retailer promotion from July 8-August 8, 2021, for American lobster and Jonah crab. The promotion included banner ads on their website and utilized influencers to get the word out across Hong Kong. Sales totaled over $259,000 for American lobster and more than $69,000 for Jonah crab.
Beijing, China – Two Red Lobster Promotions
At the Red Lobster outlet in Beijing, the team hosted a menu promotion for American lobster between July 9-August 9, 2021. The promotion featured both in-restaurant dining and delivery options. Red Lobster utilized influencer videos and POS materials to sell over $100,000 in American lobster that month alone. Between September 10-October 10, 2021, the menu promotion was replicated, with the addition of in-store decorations and banner ads on the restaurant app, OpenRice. The second promotion brought in over $314,000 in lobster sales.
Hong Kong, China – DayDayCook Promotion
To capitalize on the growing food ingredient, take home pack trend, Food Export–Northeast's Hong Kong In-Market Representative launched an online promotion featuring American Lobster tails with DayDayCook, a multimedia food platform, to encourage Hong Kong consumers to try this Northeast US seafood delicacy and learn how to cook it themselves from the comfort and safety of their homes.
The online promotion, which ran from July 30-August 31, 2021, featured American lobster in three different ingredients packs consumers could choose from and generated approximately $100,000 in sales. The recipes included in the packs were:
1.    Steamed Garlic American Lobster Tail
2.    American Lobster Tail with Thai Basil and Cheese in Pumpkin Sauce
3.    Baked American Lobster Tail with Cheese
Learn more in the September blog post.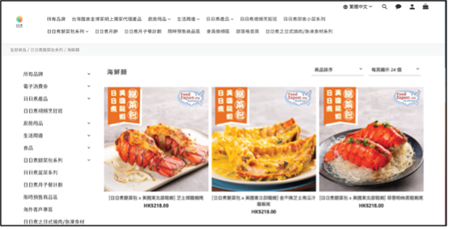 Taipei, Taiwan – Ocean Fresh Promotion
Our Taiwan In-Market Representative worked with Seafood & Meat Restaurant, a restaurant run by seafood importer, Ocean Fresh, focusing on high-end live seafood and meat pairings. At the restaurant entrance there are large tanks of live American lobster and various other species, so consumers can see the freshness of the seafood as they sit down to dinner. The July through September hybrid promotion promoted American lobster both in store and as a delivery/takeout option (takeout example shown below). Ocean Fresh also educated consumers about the importance of sustainability and place of origin for the seafood they were consuming. At the conclusion of the promotion, the restaurant owner said it brought in new business and remained profitable despite the pandemic struggles. In total, the restaurant purchased over $220,000 of American lobster.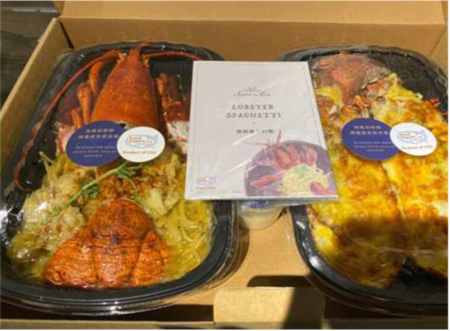 Hong Kong, China – Butcher Club Promotion
The Butcher Club, a specialty online meat and protein retailer, held a promotion for American lobster and sea scallops between September 16-October 16, 2021. The online retailer placed banner ads, posted on Instagram, and worked with over 20 micro influencers to introduce these Northeast US delicacies to their customers. The retailer considered the promotion a big success as they didn't carry scallops before the promotion. Both products – American lobster and scallops – grossed over $210,000 and over $52,000 respectively, and Butcher Club kept both products on after the promotion concluded.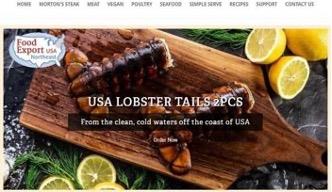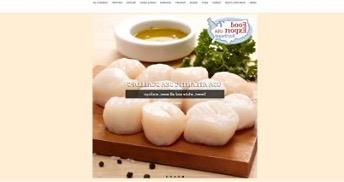 Guangzhou, China – Four Restaurant Promotion
From September 16-October 17, 2021, the China promotion office selected four different neighborhood seafood restaurants across the city to host a live American lobster promotion. Food Export–Northeast supported the promotion with materials including table cards, banners, social media posts, WeChat advertisements, and media outreach. Sales totaled over $240,000 for the four participating restaurants.
China (Countrywide) – Yonghui Supermarkets
With China purchasing and consuming the largest quantity of seafood in the world (45% of global consumption volume), it remains a top target market for Northeast US lobster suppliers. Working with our China In-Market Representative, SMH International, Food Export–Northeast collaborated with Yonghui Superstores supermarket chain, headquartered in Fuzhou, China with 1,035 locations across the country, to host an online and in-store promotion to market live American lobster to Chinese consumers as they celebrated Chinese Valentine's Day. In-store promotions were held in 30 stores in East and South China, in conjunction with targeted online advertising and a live-stream event yielding impressive results. Learn more in the Food Export–Northeast October 2021 blog post.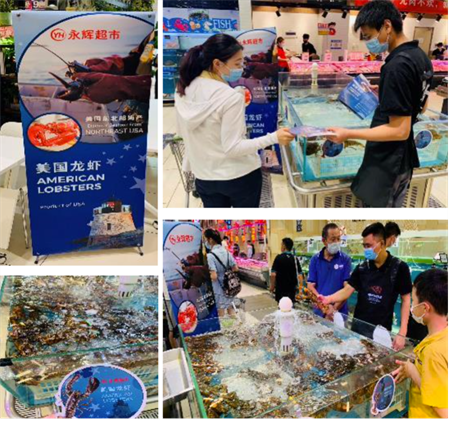 Guangzhou, China – Chef Competition 2021
Food Export–Northeast Seafood partnered with the Global Chinese Star Chef Innovation and Development Association (GCSCIDA) and the Food Culture Program to host a chef competition on December 6, 2021, at the Guangzhou Marriott Hotel. Two-person chef teams from 20 premier hotels participated to create 40 dishes featuring American lobster. Prizes were awarded, including champion, first runner-up, second runner-up and merit. The Westin Guangzhou won the competition, followed by Hyatt Regency Guangzhou Zengcheng, Park Hyatt Guangzhou, Sheraton Guangzhou Hotel, Guangzhou Marriott Hotel Tianhe and Sheraton Zhongshan Hotel. Three Influencers were invited to the competition and tasting dinner to live stream from the event, and an announcement was sent to the media resulting in 20 online articles resulting in 13.3 million impressions. After the competition, 95% of participants expressed interest in adding American lobster to their menus. The competition was successful in raising awareness for American lobster with consumers and with chefs as a high-quality ingredient.
Seafood Promotions Pending Results
In addition to all the successful promotions shared above, Food Export–Northeast is expecting results from four other Chinese promotions in the coming months, including:
Hong Kong -–Chef Stage Kitchen lobster menu promotion at three outlets from October 25 – November 25.
Guangzhou – MISE promotion: Menu promotion of lobster with three pizza restaurants from Nov 20th – Dec. 19th.  Food Export–Northeast supported digital advertising on the restaurants' app, KOL, POS materials at the restaurants. 
Guangzhou and Shenzhen – OGGI Promotion: November 28 – Dec 28 – menu promotion with POS materials, special menus and social media. 
Chengdu – Essence of Europe Restaurants Promotion: The promotion was at  four restaurants located in Chengdu from Dec 5 – 25 and featured live lobster.  
Are you an exporter of Northeast seafood interested in receiving cost-share assistance to conduct your own seafood promotions in 2022? Get in touch or visit the Food Export–Northeast website to learn more about our programs.
______________________________________________________________________
About Food Export USA – Northeast 
With its extensive programs and educational offerings, Food Export USA–Northeast (Food Export–Northeast) is recognized as the preeminent expert and cost-effective resource for Northeast seafood and agricultural suppliers looking to sell their products overseas. Founded in 1973, Food Export–Northeast is a non-profit organization that works collaboratively with its 10 member states' agricultural promotion agencies from Connecticut, Delaware, Maine, Massachusetts, New Hampshire, New Jersey, New York, Pennsylvania, Rhode Island and Vermont, to facilitate trade between suppliers and worldwide importers and to promote the export of food, agricultural and seafood products from those states. Since its founding, the organization has helped Northeast seafood suppliers gain access to a broad range of export markets, supported overseas in-market educational and promotional programs and offers emerging suppliers access to funds to help grow their export business. The organization is funded through the Market Access Program (MAP), administered by the USDA's Foreign Agricultural Service.
Learn more about us and what we do for the Northeast seafood industry here.  Contact us.