As climate change has caused the American lobster fishery to move northward, areas such as Rhode Island and Massachusetts that once harvested American lobster, are no longer able to do so as viably.  As that fishery diminishes, another that was once merely considered bycatch of the lobster industry, Jonah crab, appears now to be an emerging growth opportunity for Southern New England harvesters, especially as processing capacity develops.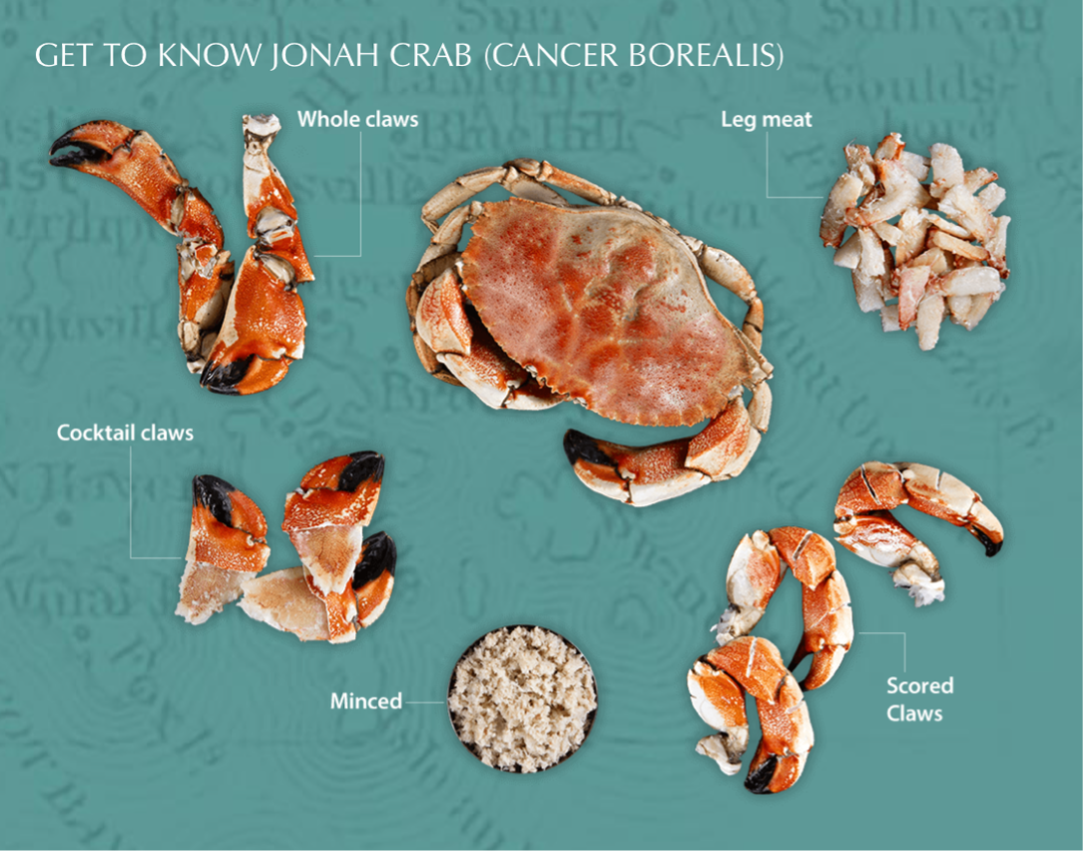 To help educate and generate awareness with international buyers for this delicious product, Food Export–Northeast has developed a comprehensive online, interactive go-to resource about Jonah crab, outlining its value, versatility, and convenience for the international foodservice and retail markets. The Buyer's Guide  website features:
A downloadable toolkit detailing the history of and superior value of the species, how it's harvested, nutritional value, processing and product availability.
Three short videos with Barton Seaver, a leading sustainable seafood authority, chef and author. He explores the different product formats, the value of placing the ingredient on menus, and how the international market is getting a taste for this emerging fishery that is helping to sustain Northeast fishing communities.
Ongoing Updates to Be Made to Product Buyer's Guide
The Jonah Crab Buyer's Guide is part of an ongoing project to build a unique library of resources for Food Export–Northeast In-Market Representatives to utilize in buyer conversations as they work to expand global markets. In 2021, Food Export–Northeast plans to expand this online resource to include oysters and scallops and is also in the process of translating many of the resources into multiple languages. You can view the guide here.
Visit our website to learn more about our promotional opportunities and marketing activities.
---
About Food Export USA – Northeast 
With its extensive programs and educational offerings, Food Export USA–Northeast (Food Export–Northeast) is recognized as the preeminent expert and cost-effective resource for Northeast seafood and agricultural suppliers looking to sell their products overseas. Founded in 1973, Food Export–Northeast is a non-profit organization that works collaboratively with its 10 member states' agricultural promotion agencies from Connecticut, Delaware, Maine, Massachusetts, New Hampshire, New Jersey, New York, Pennsylvania, Rhode Island and Vermont, to facilitate trade between suppliers and worldwide importers and to promote the export of food, agricultural and seafood products from those states. Since its founding, the organization has helped Northeast seafood suppliers gain access to a broad range of export markets, supported overseas in-market educational and promotional programs and offers emerging suppliers access to funds to help grow their export business. The organization is funded through the Market Access Program (MAP), administered by the USDA's Foreign Agricultural Service.
Learn more about us and what we do for the Northeast seafood industry here.  Contact us.