Recently, Food Export–Northeast partnered with Wenzhou Pullman Panjin Oriental Ginza – a hotel in Wenzhou, China – to create a special menu promotion featuring Northeast US scallops and American lobster. While the promotion isn't complete yet, we wanted to share how it came to be, what the goals are, and how things are going in Wenzhou.
Overview of Promotion in Wenzhou
Wenzhou, located in the Yangtze River Delta Region, is one of the leading cities in Zhejiang province in coastal Southeastern China. Wenzhou is known as the hometown of seafood in China due to its geographic location. In Wenzhou, seafood is a big part of the diet, making it an ideal location for a menu promotion as China emerged from COVID-19 restrictions. We chose to work with Wenzhou Pullman Panjin Oriental Ginza to conduct a month-long promotion of American lobster and Northeast US scallops. The goals of this promotion are to:
1)    Increase consumption of Northeast seafood products in the East China market
2)    Educate local residents about what makes Northeast US seafood unique and delicious
3)    Drive consumer sales to encourage the hotel to continue using Northeast US seafood products in future menus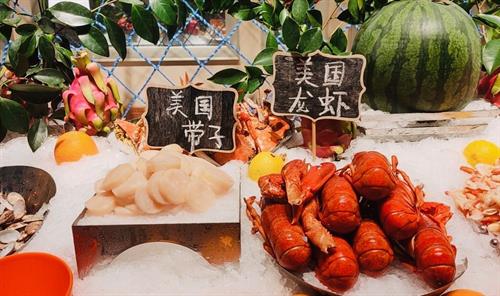 For all of June, both seafood products are featured on the hotel's buffet restaurant menu, accompanied by a range of marketing materials including posters, menu cards, flyers, and table mats to help attract more diners and create buzz among consumers. Additionally, Food Export–Northeast bolstered marketing efforts for the event by inviting two foodie social media influencers to try the seafood and post about the event for their three million followers to see.
To meet the goal of better educating local consumers about Northeast seafood, recipe books are being distributed to diners and the Food Export–Northeast lobster handling videos are being shown in the western lounge of the hotel.
So far, the event has garnered some great feedback like, "I really like the taste of American lobster!" and "I love American lobsters so much because they are both big and rich with excellent taste."
---
About Food Export USA – Northeast 
With its extensive programs and educational offerings, Food Export USA–Northeast (Food Export–Northeast) is recognized as the preeminent expert and cost-effective resource for Northeast seafood and agricultural suppliers looking to sell their products overseas. Founded in 1973, Food Export–Northeast is a non-profit organization that works collaboratively with its 10 member states' agricultural promotion agencies from Connecticut, Delaware, Maine, Massachusetts, New Hampshire, New Jersey, New York, Pennsylvania, Rhode Island and Vermont, to facilitate trade between suppliers and worldwide importers and to promote the export of food, agricultural and seafood products from those states. Since its founding, the organization has helped Northeast seafood suppliers gain access to a broad range of export markets, supported overseas in-market educational and promotional programs and offers emerging suppliers access to funds to help grow their export business. The organization is funded through the Market Access Program (MAP), administered by the USDA's Foreign Agricultural Service.
Learn more about us and what we do for the Northeast seafood industry here.  Contact us.