Market Overview
Australia has proven to be an appealing and profitable market for U.S. companies for many years. Apart from an extremely strict quarantine regime, it offers few barriers to entry, a familiar legal and corporate framework, and a sophisticated – yet straightforward business culture. It is a prosperous and industrialized nation with a stable economy.  Underpinning Australia's strong economy is its open and transparent trade and investment environment, and trade and economic links with emerging economies, particularly Asia. It is important to understand and appreciate Australia's cultural differences as the long and successful history of U.S. suppliers in the market suggests great potential in expanding this market.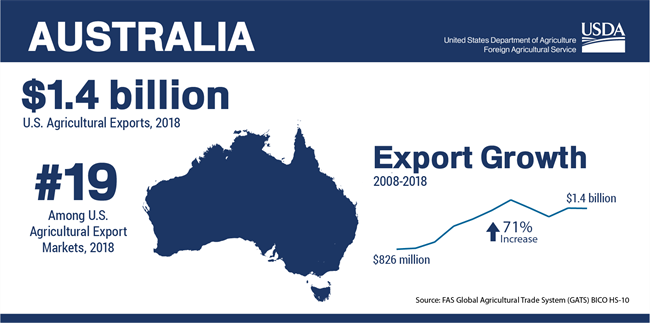 In 2018 the U.S. accounted for $1.4 billion of Australia's total food related imports. As the Australian economy continues to expand the market presents a unique and excellent opportunity for U.S. exporters. Australia has an internationally competitive agricultural sector that exports over 60% of its output. The market is very "Americanized" with most U.S. food categories compatible with Australian tastes, providing many opportunities for U.S. exporters.
Free Trade Agreement
The U.S. and Australia have a Free Trade Agreement that has been in force since January 2005. This agreement provides some advantages for U.S. products, which are well regarded as high quality with good value in the Australian market.
The U.S.–Australia Free Trade Agreement provides several distinct advantages for U.S. products as tariff rates for many U.S. food products exported to Australia are now zero.  
You can learn more about this FTA on the USTR website page for the U.S.-Australia FTA.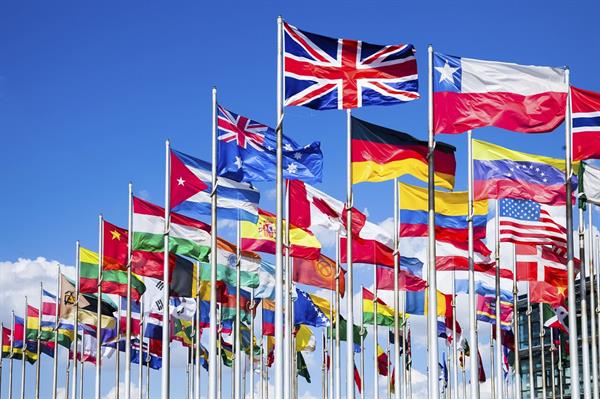 Advantages and Challenges
As with any potential export market there are a variety of both advantages and challenges to keep in mind when exploring the Australian market:  
Strengths
U.S. culture well accepted and similar to Australia
No language barriers
U.S. products have excellent image and acceptance
Northern hemisphere seasonal advantage for fresh foods, fruit and vegetables
Weaknesses
Australia has strict quarantine requirements for fresh products. Import permits are required for fresh produce and some products are prohibited
Australia is a significant producer of similar agricultural products
Australian labeling and advertising laws are different from the U.S., which may require some changes to food labels
Opportunities
The U.S./Australia Free Trade Agreement enables a majority of U.S. products to enter Australia tariff free
Australian consumers constantly seeking new tastes and cuisines
Strong dining out culture provides opportunities to supply the consumer foodservice sector with new products
Ageing population presents opportunities in the institutional food service sector
Threats
'Buy Australian' campaign is significant
A focus on fresh local food by many restaurants and cafes provides advantages to local producers and suppliers
Retail Sector
The majority of Australia's imports in the retail sector are sourced from their closest neighbor, New Zealand.  Following them the United States is the second largest supplier. Health, wellness, and the environment continues to be key purchasing factors for Australian consumers and as seen with many international markets the demand for organic, healthy, and natural products in Australia continues to grow rapidly.
Portion sizes are increasingly important as consumers want quality over quantity and they expect packaging to be informative and environmentally responsible. Consumer aspirations, both personal and social, along with product developments by suppliers and retailers, continue to be important influences on shopping choices.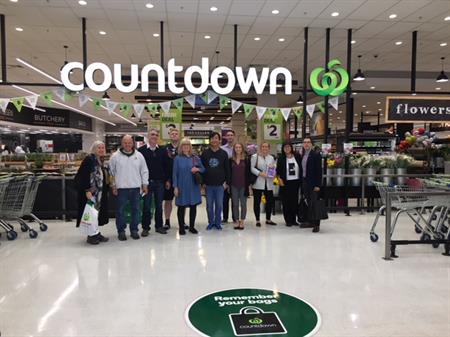 Supermarket and grocery store expenses continue to be the main avenues for consumer purchasing in this market and with a share of 68% compared to dining out and other food related expenses. Australia's economy continues to be strong and the market presents an excellent opportunity for U.S. exporters who are ready for the market.
Similar to Canada the most effective way to enter the Australian market is through a distributor, importer, agent, or broker who can target specific food categories or merchandise managers at major wholesalers and supermarket chains.  
The top 10 ingredients being avoided by Australian consumers are: Antibiotics/hormones in animal products; MSG; artificial preservatives; artificial flavors; artificial sweeteners; foods with BPA packaging; artificial colors; sugar; GM foods; and sodium.
Food Service Sector
Australia's commercial foodservice sector (i.e. full-service restaurants, fast food outlets, caterers, etc.) is a competitive market and the institutional foodservice sector (i.e. hospitals, schools, residential care facilities, etc.) continues to grow because of an ageing population. By far the largest proportion of the food service sector in this market is commercial foodservice, which consists of more than 70,0000 outlets.   Dining out is a way of life for most Australians and it is estimated that more than one-third of Australian households' total food and non-alcoholic beverage budget is spent on eating outside of the home. Almost two-thirds of Australians eat out at least once per month for breakfast, brunch, lunch or dinner. Causal dining (i.e. fast food outlets) is the most popular style of dining.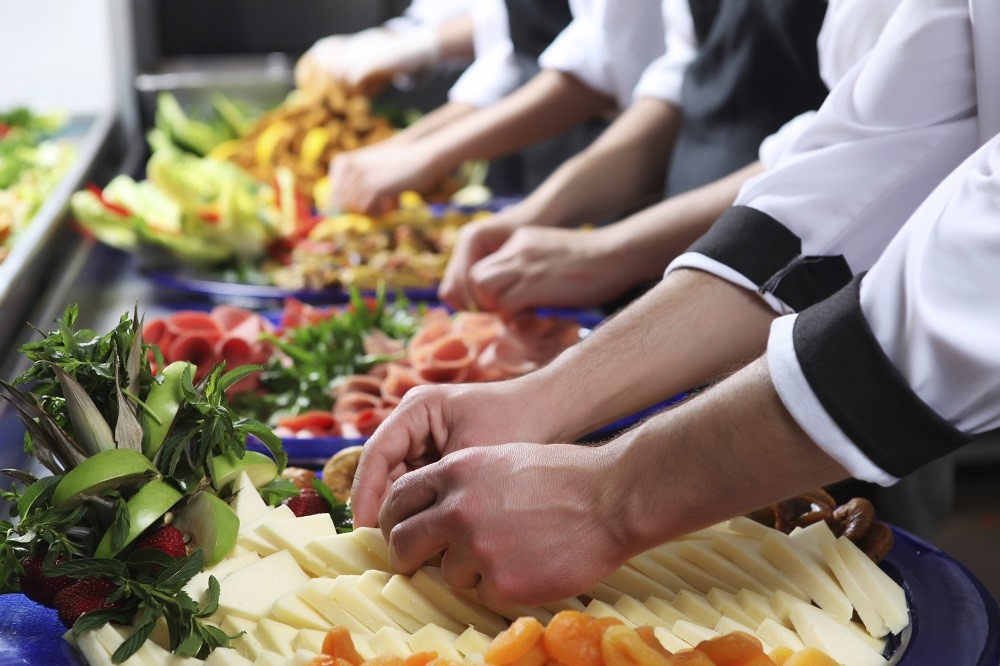 The multicultural population of Australia is important to keep in mind as it is fueling increased demand for an ever-expanding menu of ethnic foods and specialty ingredients. While at the same time asking for simpler and healthier choices.
Due to Australia's large geographic size and high transportation cost, exhibiting at trade shows is the most cost-effective way for U.S. companies to meet potential partners. For the Foodservice sector the best show is the Foodservice Australia show which is targeted specifically at the foodservice industry.
Best Product Prospects
Organic, healthy, and natural products trend in Australia continues to grow rapidly.  Although Australia is a large producer of organic raw products, it does not have the manufacturing capacity to satisfy demand for processed organic products.  Prospects are excellent for organic and natural products and ingredients. Australian's want to eat healthier but need help to make it happen and are willing to pay more for foods and beverages that don't contain unhealthy ingredients.
Food Processing Sector
The Australian manufacturing sector has recently experienced some rebalancing in terms of sectors, products, technologies and supply chains in response to long-term local and global shifts. Manufacturing has been expanding since 2016 with recent growth most evident in food, beverages and groceries manufacturing and sectors connected to their supply chain.
Australia's food, beverage and grocery sectors account for over 1/3 of the country's total manufacturing sector. The largest number of companies are in the fresh produce sector, followed by food and beverage manufacturing and grocery (non-food) manufacturing.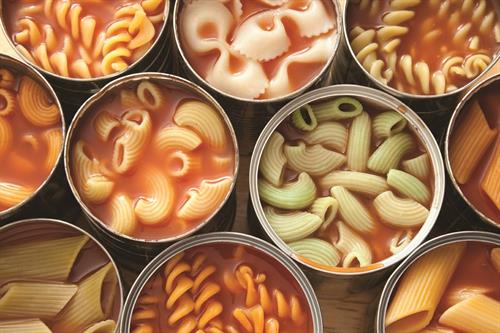 There are many opportunities for imported products in the Australian food processing market and many ways in which to gain market access.  The majority of food ingredient imports move through a third party in the form of an import agent, trader or wholesaler.  The majority of food processors in Australia use import agents to source product as well as buying direct from other processors or producers. Due to the size of the U.S. market, U.S. manufacturers are able to develop a range of products far beyond that which can be achieved in Australia.  This enables U.S. exporters to deliver innovative product lines that are otherwise not available like innovative food colors and flavors.
Market Builder
Learn more about the potential for your products in the Australian market with our Market Builder program which provides detailed and customized market research for you and your product to help your company uncover potential in international markets!



Upcoming Activities
Explore the Australian market with Food Export as your guide! See the activities we have in the market for our 2020 Program Year below.
Focused Trade Mission to Australia June 24 – 25, 2020

We are hosting back to back trade missions to New Zealand and Australia!  You can register for one or both of the missions depending on your interest in the neighboring markets.
Food Show PLUS! at Fine Food Australia September 6 – 10, 2020

Fine Food is the largest food, beverage and equipment show in Australia and this region and presents U.S. exporters with the most efficient and cost-effective way to enter the Australian market. Australia is a very large country and internal transportation is expensive and time consuming. Fine Food offers an opportunity for U.S. exporters to access a 'one-stop-shop' for entry to the Australian market because a large number of the major importers, distributors, etc., exhibit at the show. The show is held every September alternating between Melbourne and Sydney. This year the Fine Food Show is in Melbourne, September 10-13, 2018.
Food Export-Midwest and Food Export-Northeast have attended the show and had a booth for the past few years.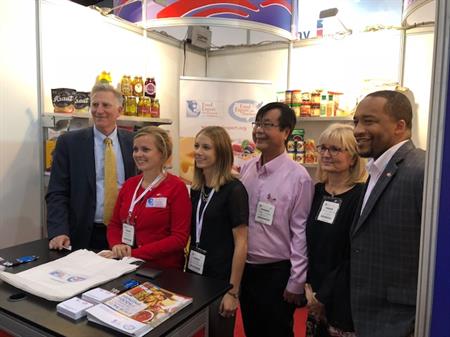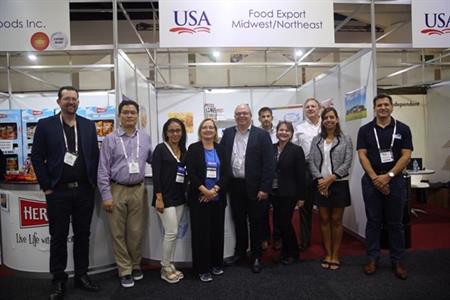 Resources
Global Food Marketer January/February 2018
FAS GAIN Reports
Australia: FAIRS Export Certificate Report
Australia: Food Service – Hotel Restaurant Institutional
Australia: Food Processing Ingredients