Market Overview
The United Arab Emirates (U.A.E.) is a federation of seven emirates in the Middle East including: Abu Dhabi, Dubai, Sharjah, Ajman, Umm Al-Qaiwain, Fujairah, and Ras Al-Khaimah.  The individual emirates together founded the U.A.E. in 1971 and since then has evolved into the second largest economy in the Arab world.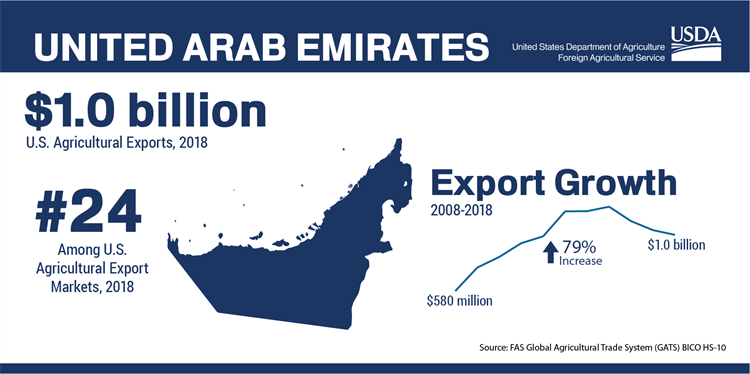 U.S. exports of consumer ready food products totaled $779.5 Million in 2018.
U.S. exports of processed foods totaled $401.4 million in 2018.
The desert landscape of the U.A.E. means that the majority of foods have to be imported to feed the population, and therefore groceries tend to be very expensive in the country compared to others.  It is important to note that the standard of living in the U.A.E. is one of the highest in the world. The population has continued to rise at a significant pace and foreign citizens currently make up around 80% of the total population.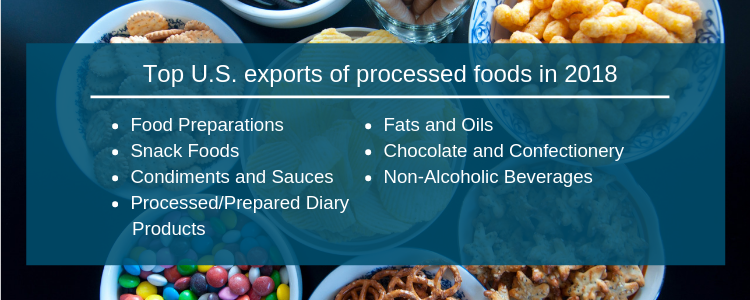 Retail Sector
Euromonitor has estimated 2018 retail sales in the U.A.E. packaged food market to reach nearly $5.7 Billion, a 33% and nearly $1.4 Billion increase since 2014. That is the 3rd highest historical growth rate of Food Export markets after Vietnam and Guatemala.  Sales of packaged food in the U.A.E. market is forecasted to reach nearly $7.7 Billion by 2023, an increase of $1.5 Billion or 26%.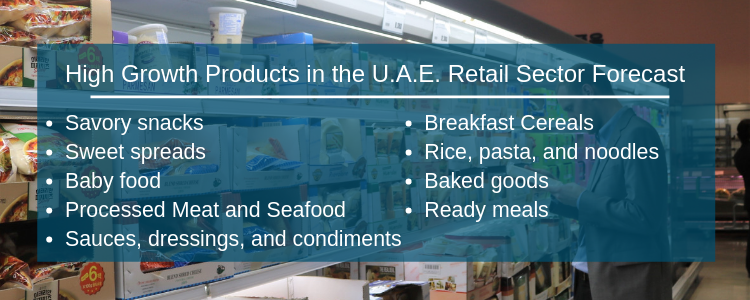 The international trend of opting for healthier and better foods continues to grow in the U.A.E. as more people look for alternatives such as organic, vegan, and gluten free offerings.
In 2018 the first discounter opened in the country, with four locations, one in Dubai, one in Ajman, and two in Sharjah.  Prior to this the U.A.E. did not have any discounters. Convenience stores remain as one of the fastest-growing grocery retail channels in the market in 2018.  These outlets have adapted well in terms of customizing their offerings to the residential neighborhoods in which they are located.  Many are including a large number of healthier options, with items such as fresh foods and vegetables gaining shelf space, optimizing the store's ability to appeal to a range of consumer segments and demographics.
Food Service Sector
Due to rising concerns regarding health and wellness among U.A.E. consumers, the food service industry has begun to see the development of functional food items with more food service operators introducing gluten-free options under regular menu items.  It has also led to food service operators offering premiumization in their menus by using ingredients such as organic grass-fed meat, organic vegetables, olive oil, avocado, etc. and labelling the calorie intake for menu items.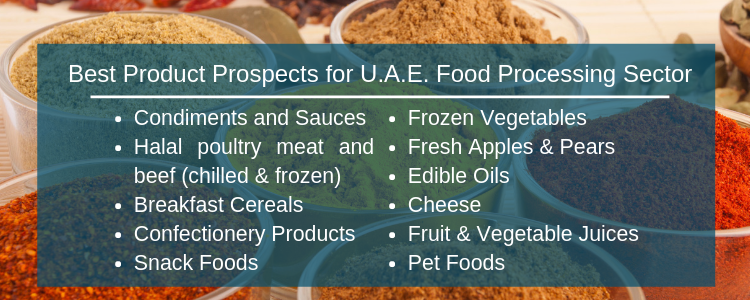 Rapidly developing tourism and diversity in the population makes the U.A.E. a very attractive market for expansion for both big and small international companies from all over the world.  The country continues to prepare for Expo 2020 and is attracting a global tourist audience that will help support a positive turnaround within the consumer food service industry.  The opening of various projects in the capital city of Abu Dhabi has also gained global attention, which will likely drive investment in new concepts while raising the profile of the U.A.E as a provider of unique culinary experiences.
Food Processing Sector
At last report almost 430 food processing firms operated in the U.A.E., and a small number of food processors operate in other Gulf countries such as Kuwait, Oman, and Qatar.  This sector consumes much of the bulk, intermediate, and semi-processed products that the U.S. sells to the region.  U.S. ingredients are mainly used in the following categories: flour and bakery products, vegetable oil, canned beans, carbonated and non-carbonated beverages, chicken franks, manufactured snack foods and reconstituted juices.
Two soybean crushing facilities currently operate in the U.A.E.  Local dairies and poultry farms are not large enough to meet the local demand, so a number of local companies reconstitute dairy products from milk powder, primarily sourced from Europe, New Zealand, and Australia.  It is expected that an increasing number of multinational food companies will look to link up with local processors.
While food processors often started small, the U.A.E.'s strategic location, excellent ports, and strong infrastructure have helped many to expand.  Some locally produced foods are of very high quality with competitive prices compared to imported products.  As the number of food processing companies in U.A.E. continues to increase, locally produced products are likely to compete directly with imports of consumer-ready foods, while boosting demand for ingredients and other raw materials.
Market Builder
Want to explore the export potential for your products in the U.A.E. but looking to do more research before you proceed? Take advantage of our Market Builder program which provides detailed and customized market research to help your company uncover potential in international markets!
Read more about the program on our website and in our recent blog.



Upcoming Activities
Explore the U.A.E. market with Food Export as your guide!
Interested in visiting the U.A.E. market in person?  We have a number of upcoming events happening in 2019 and 2020 that you can participate in!  Click the events below to learn more and see if they might be a good fit for you and your product.
Focused Trade Mission to Dubai – December 7 – 9, 2019

Food Show PLUS! at yummex Middle East – October 28 – 31, 2019

Food Show PLUS! at Gulfood Manufacturing – October 28 – 31, 2019

Food Show PLUS! at Middle East Organic & Natural Products Expo Dubai – December 2 – 5, 2019

Food Show PLUS! at SIAL Middle East – December 9 – 12, 2019

Food Show PLUS! at Gulfood 2020 – February 15 – 20, 2020

Feed Show PLUS! at VIV MEA 2020 – March 8 – 11, 2020


Success Stories
Hear from those who have gone before you and already found success in the U.A.E. market.  Read their full Success Stories below!
Successful Trade Mission Expands Exports to U.A.E. and Kuwait for Missouri Supplier

Export Sales to the United Arab Emirates
Vermont Supplier is Streaming Maple Syrup to Global Consumers

Resources
Don't forget to check out some of the other resources that are available for U.S. suppliers looking to export to the Middle East!

Enter New Markets
Market Builder – Middle East

Export Education
Country Profile – United Arab Emirates

Videos
United States Trade Representative – United Arab Emirates
FAS – U.A.E. FAIRS Export Certificate Report
FAS – U.A.E. FAIRS Annual Country Report