USDA's Office of Agricultural Affairs, OAA, in Panama City, reports that Panama is one of the top markets for U.S. consumer-oriented products in Central America.  You can see in the infographic below that U.S. agricultural exports to Panama have increased 59% in just last 10 years! There are significant export opportunities in the market for the right suppliers and products.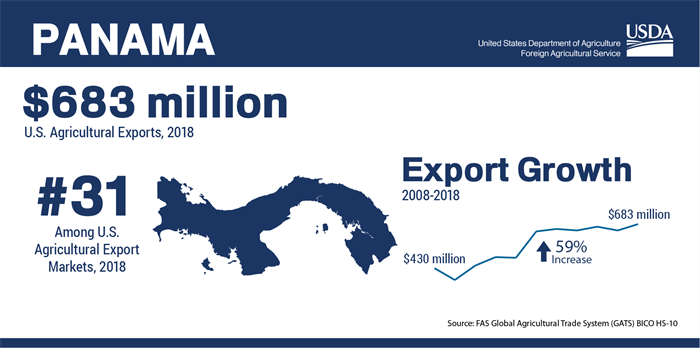 Market Overview: The Largest Export Market in Central America for Processed Food Products
Over the past decade Panama's economy has been growing much faster than other countries in the region.  They currently have the highest per capita GDP on a Purchasing Power Parity(PPP) basis in the region at $25,4000.  Consumer-oriented food products continue to be the most important category of U.S. agricultural exports to Panama.  They totaled $398.4 million in 2018, 52.8% of the agricultural total and up 6% from the same period in 2017. 
In recent years, the focus and consumption of more health-conscious foods has significantly contributed to the increase of U.S. exports of consumer-oriented products to Panama.  Another important factor is the increase in dual-income households which has contributed to the growing demand for ready-to-eat frozen and prepared foods.
Panama is the largest export market in Central America for processed food products from the U.S., importing $394.1 million in processed foods from the U.S. in 2018, up 8% and nearly 60% of the agricultural total.
Top processed food exports to Panama in 2018 included:
Food preparations
Processed/prepared dairy products
Distilled spirits and other alcoholic beverages
Non-alcoholic beverages
Snack foods
Prepared/preserved meals
Processes/preserved vegetables and pulses
Chocolate and confectionery
Beer and wine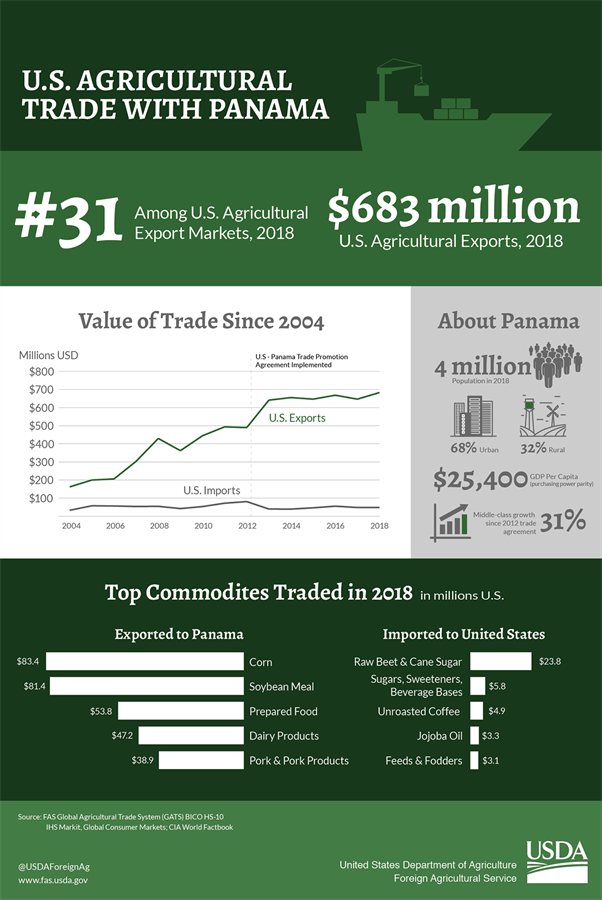 Click to enlarge infographic
Free Trade Agreements
The U.S.-Panama Trade Promotion Agreement (TPA) entered into force on October 31, 2012.  U.S. agricultural exports have clearly benefitted as a result of the agreement. You can learn more about the TPA agreement on the website of the Office of the United States Trade Representative.
Panama currently also has Free Trade Agreements in force with Canada, Central America (Costa Rica, El Salvador, Guatemala, Honduras, and Nicaragua), Chile, Colombia, European Union (EU), Mexico, Peru, and Taiwan.  They are also in negotiations for a Free Trade Agreement with South Korea.
Retail Sector
Euromonitor has estimated that the retail sales of packaged food products reached nearly $1.9 Billion in 2018. 
This is an increase of $339.5 million or 22.1% from just 4 years ago.  They also forecast that the packaged food market will grow to $2.4 Billion by 2023, an increase of $444.3 million or 22.5%. There is clearly a lot of potential for U.S. suppliers of packaged food products in Panama in the next few years. 
Supermarkets and hypermarkets have performed well in the past few years and that trend is expected to continue.  Many of the existing modern grocery retailers have plans to expand to other areas of the country.  It is also expected that supermarkets will start diversifying and offering services such as pharmacies, wine aisles, cafeterias, etc.  making them more likely to continue attracting a loyal client base. With the ongoing change in tastes and preference heading toward healthy organic produce, vegan products, etc. supermarkets are likely to face increased competition from specialty stores.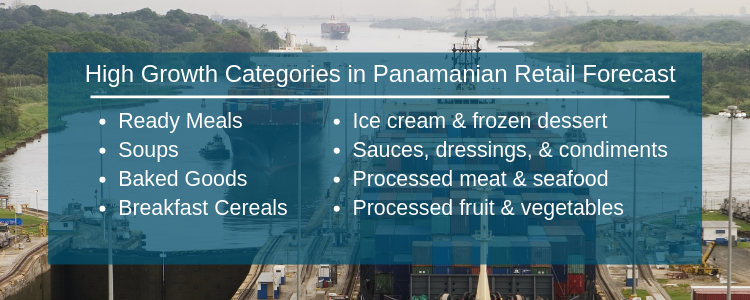 Best Product Prospects:
Panamanians have been consuming more convenience and healthy foods than ever before.  This has resulted in good prospects for U.S. food exports such as low fat, low sodium, gluten free, sugar free, fresh fruits, organic foods, processed fruits (especially canned), snack foods, processed canned vegetables, and frozen processed products.
Food Service Sector
Panama continues to be an attractive market for U.S. food products, especially in the food service sector.
The country's major logistical facilities, such as the Panama Canal and ports on both the Atlantic and Pacific Oceans, make it an important hub in the Americas.  Major hotels, fine restaurants, and international corporations have a home in Panama as does a huge expat community all of which fuel the demand for imported U.S. food, beverages, and agricultural products. Panama's tourism sector has seen tremendous growth over the last 10 years prompting the construction of many new hotels, restaurants, and convention centers.  
Best Product Prospects: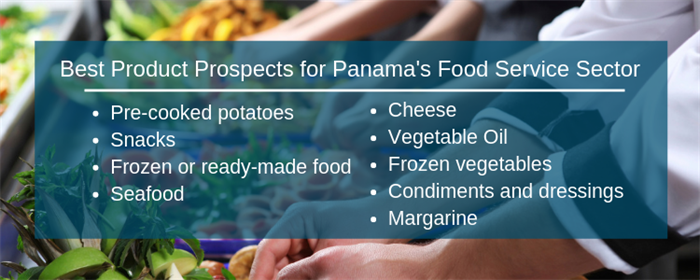 High value products offer good market opportunities in Panama, especially ready-made or convenience food, wholesome and healthy products. 
Food Processing Sector
The food processing ingredients market in Panama has an estimated value of $110 million, with U.S. products holding a 60% market share.  The food processing industry has experienced a steady growth of over 10% during the last couple years, due to the increase in tourism and foreigners relocating to Panama.  The beverage and food industries constitute one of the main manufacturing and export sectors of the economy, and the U.S. Panama Trade Promotion Agreement (TPA) is helping facilitate more investment opportunities.
With Panamanian consumers demanding more convenience and healthy food products than ever before this trend has resulted in good prospects for U.S. exports of fresh fruits, organic foods, healthy food products such as gluten free, low carb, low sodium, low sugar, low fat, processed fruits and vegetables, and snack foods.  Processed canned fruits and vegetables generate strong import demand, because most of the food products found in the supermarkets are not processed locally.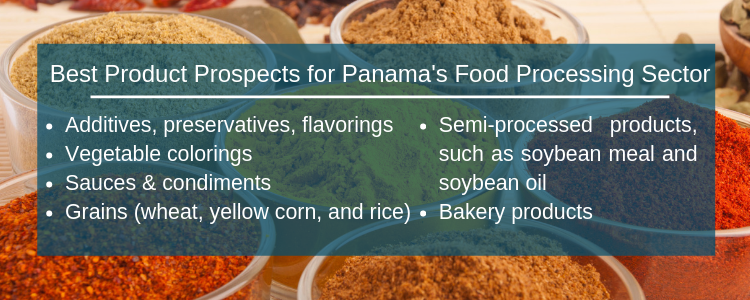 Market Builder
Considering exporting to Panama but looking to do more research before you proceed?  Take advantage of our Market Builder program which provides detailed and customized market research to help your company uncover potential in international markets!
Read more about the program on our website and in our recent blog.

Upcoming Activities
Explore the Panama market with Food Export!
Interested in visiting the Panamanian market in person?  We have an upcoming Focused Trade Mission happening in October for U.S. suppliers to travel to the market and explore the export possibilities for their products first hand.
Focused Trade Mission to Panama – October 29 – 30, 2019

Success Stories
Learn from those who have gone before you with these Success Stories about Food Export suppliers that have found export success in Panama.
Finding Repeating Success at Midwest Buyers Mission

First-Time Market Sale for New York Supplier

Food Export Resources


Enter New Markets


Export Education 
Panama Country Profile


Export Intelligence Video Series
Consider the Caribbean
Central America (Costa Rica, Honduras, Nicaragua, Panama)
Other Resources
FAS – Panama Exporter Guide
FAS – Panama Retail Foods Guide
FAS – Panama Food Processing Ingredients Report
FAS – Panama Food Service – Hotel Restaurant Institutional Biennial Report
USTR – U.S. – Panama Trade Promotion Agreement