In a recent post, we featured marketing activities that are eligible for 50% reimbursement under the Branded Program that don't require traveling overseas! This week, we'd like to highlight one expense in this category – label and packaging development done to comply with the importing laws of a foreign country.
In many markets, labeling and packaging regulations can evolve quickly or even drastically requiring U.S suppliers to be ready to update their packaging to comply with the importing laws of these countries. This can be a sizable investment for a company whether they are attempting to enter the market for the first time or to maintain their presence in the market.
The Branded Program can help cover costs associated with the design and production of the compliant labels including expenses like translation, graphic design, plates, printing, and labor costs. A participant can be reimbursed for up to a one-year supply of modified packaging per SKU (per market).
An example of New York based supplier Rosina with labels modifications from English on the left to Spanish on the right.
In lieu of a complete label or package redesign, the design and printing of stickers applied to existing labels to get them to comply with a country's regulations are also eligible. The labor to apply the stickers is reimbursable provided it is outsourced (in house costs are not eligible). 
Common Pitfalls
All package and label modifications must comply with the guidelines of the Branded Program. There are some common requirements participants sometimes miss which unfortunately results in the denial of claims. To avoid this, pay special attention to the following requirements.
U.S. Origin Statement
Like all other marketing activities covered under the Branded Program targeting an international audience, the modified packaging must include the US origin statement. If this requirement is not met, all claims associated with the label modification will be denied. There is a short list of markets that are exempt from this requirement, please check out page 18 of the Branded Program manual or ask your Branded team for more information.

Timing
All activity related to package and label modifications must be done within the same program year (invoicing, payments and label modification). For example, if the printing of plates, labor and payment were all done in the 2019 Branded Program year – the label modification expense cannot be submitted in the 2020 Program year.  We understand this can be a little unclear for participants, but the Branded team is happy to talk through the particulars of your situation and answer any questions on the timing of your label modifications.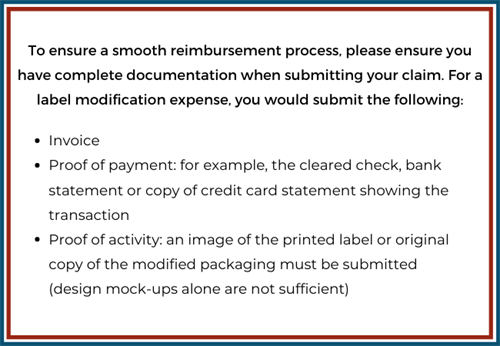 When in doubt, ask!
We understand label modification activities have a lot of moving parts and represent a significant investment for our participants. While the Branded Program team is not able to provide market-specific label advice or advise on the compliance of your labels, we are here to assist with navigating the eligibility of your expenses under our program to help you get reimbursed.
We can answer questions specific to your situation including if your U.S. origin statement is acceptable.  You can always get in touch with your Branded Program contact or email MW_claims@foodexport.org and NE_claims@foodexport.org.