This month, Food Export–Northeast is sharing an interview series with In-Market Representatives from three different Asian countries. In this interview with Food Export–Northeast In-Market Representatives Kristie Park and Ken Yang, we learn about Korea's in-demand seafood products and a few recommended ways for suppliers to engage with In-Market Representatives to grow their business in this region. Read on to learn what trends are emerging in Korea.
Q: As In-Market Representatives for Food Export–Northeast, what have you found to be some of the most effective promotional activities for Northeast U.S. seafood in your market?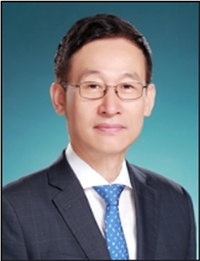 A: There are numerous activities that could help effectively promote Northeast U.S. seafood in Korea. First, retail promotion at hypermarkets and online shopping malls could help increase seafood sales, especially for American lobster. The sales professionals would speak about Northeast U.S. seafood (e.g., American lobster) to encourage consumers to buy at their site directly. Second, it would be effective for public relations activities and advertisements to be released concurrently through the media (e.g., online newspapers) and websites during retail promotions. These activities will help increase Korean consumer awareness on Northeast U.S. seafood products. Third, social media marketing is a great tool to share information on U.S. seafood. Events can be promoted through social media marketing to maximize efforts
Ken Yang, Korea In-Market Representative,
Food Export–Northeast
Q: What is the value for suppliers of having someone in-market focused on promoting Northeast U.S. seafood?
A: The In-Market Representative is responsible for keeping close relationships with major retail seafood buyers, encouraging them to purchase Northeast U.S. seafood products and providing positive information on U.S. seafood constantly across their market. In-Market Representatives communicate with local seafood buyers and follow up with leads quickly to encourage new relationships with suppliers.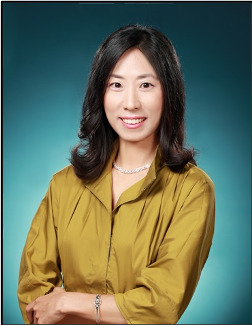 Q: What seafood trends (one to three) are you seeing in your market for 2020? What's driving those trends?
A: First, demand for convenience foods has been increasing as more women are working and the number of single member households is increasing. Korean consumers are more interested in looking for precooked, prepared, and preserved foods. Therefore, processed, ready to eat and ready to cook seafood products, meal kits, and seafood home meal replacements are getting more popular.
Second, there is more demand for seafood snacks in the Korean market. Consumers are interested in buying high-protein, healthy seafood snacks.
Kristie Park, Korea In-Market Representative, 
Food Export–Northeast
Third, it's observed that new seafood menus are being developed by restaurant chefs. The consumption of seafood is increasing every year in Korea, and local consumers are enjoying newly developed seafood menus accordingly.
Q: What U.S. seafood products are most in demand in your market and why?
A: Korea's import of seafood products is increasing every year, amounting to $5.8 billion in 2018. Imports from the U.S. totaled $261 million. According to the statistical data of Ministry of Agriculture, Food and Rural Affairs, Korea's top seafood imports from the U.S. include (see chart below):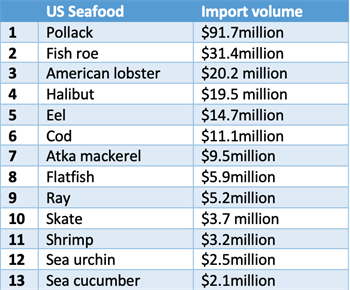 Q: What is the food culture like in Korea as it pertains to seafood?
A: Most families and young couples enjoy lobster for special occasions, especially on Valentine's Day and around Christmastime at restaurants. To enjoy American lobster all year round, the price needs to be competitive. To this end, there should be more promotional marketing activities to support sales of American lobster. Food Export – Northeast can help seafood suppliers with cost-share funding to conduct promotions.
Q: What do consumers in your market want and what are the qualities that Northeast U.S. seafood can deliver on?
A: Korean consumers consider U.S. seafood products to generally be of high quality, but also higher in price compared to that of competing countries. The U.S. is the fourth largest exporter of seafood to the Korean market. Korean consumers place high value on freshness, place of origin, taste, low cost, and food safety when they make decisions on purchasing seafood products.
Q: For exporters (suppliers) that are new to your region, what are some key considerations they should keep in mind as they explore opportunities, especially if they can't travel to the market?
A: If U.S. suppliers cannot travel to Korea, they need to identify potential Korean importers and distributors and communicate with them closely. Immediate and appropriate follow-ups with their inquiries is very important to make new export sales in Korea. In-Market Representatives like ourselves can help with this process.
Q: What Food Export–Northeast services would you recommend suppliers leverage to connect with buyers in your market? 
A: If the U.S. suppliers can travel to Korea, the Food Show PLUS! service at Seoul International Seafood Show and Busan International Seafood & Fisheries Expo (BISFE) would be the appropriate activity to take part in to meet with prospective partners and buyers. If they cannot travel to Korea, the online Market Builder service or participation in the Boston Seafood Buyers Mission would be ideal to meet with Korean seafood importers.
Want to learn more about how In-Market Representatives can help you grow your export business? Visit the Food Export–Northeast website to learn about our services.
---
About Food Export USA – Northeast 
With its extensive programs and educational offerings, Food Export USA–Northeast (Food Export–Northeast) is recognized as the preeminent expert and cost-effective resource for Northeast seafood and agricultural suppliers looking to sell their products overseas. Founded in 1973, Food Export–Northeast is a non-profit organization that works collaboratively with its 10 member states' agricultural promotion agencies from Connecticut, Delaware, Maine, Massachusetts, New Hampshire, New Jersey, New York, Pennsylvania, Rhode Island and Vermont, to facilitate trade between suppliers and worldwide importers and to promote the export of food, agricultural and seafood products from those states. Since its founding, the organization has helped Northeast seafood suppliers gain access to a broad range of export markets, supported overseas in-market educational and promotional programs and offers emerging suppliers access to funds to help grow their export business. The organization is funded through the Market Access Program (MAP), administered by the USDA's Foreign Agricultural Service.
Learn more about us and what we do for the Northeast seafood industry here.  Contact us