Food Export–Northeast works with government and industry partners across the globe to promote Northeast US seafood products in foreign markets. These partnerships are extremely valuable because they can provide insights or perspectives into a market that are broader than what our In-Market Representatives may have. To highlight how these partnerships work, we recently interviewed Kate Snipes, Agricultural Counselor for the United States Department of Agriculture (USDA) Foreign Agricultural Service (FAS) office in France. We discussed her unique role in promoting Northeast US seafood products in France, how she advises us on seafood trade relations and market trends, and how the French market has been affected by the pandemic.
Q: Tell us a little bit about yourself. How long have you been in your role as Foreign Service Personnel for the USDA?
A: Originally from Pennsylvania, I have been working with the USDA in various agency roles since 1994. I have held roles in a few posts around the world, including Mexico and one stint in Africa. In early 2017, I was fortunate to land a role in France.
Q: How do you support Food Export–Northeast on seafood sales expansion in France?
A: As soon as I arrived at my post, I quickly realized how important US seafood sales are in France. During my time in France, I've worked with numerous businesses and organizations, like Food Export–Northeast, to help support US seafood sales across the region. Some examples of these promotional activities include: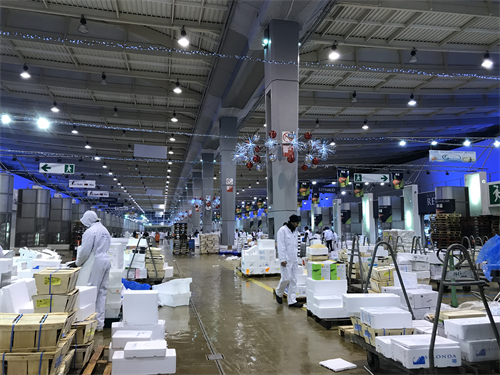 Q: To what extent is the French market reopening? What does this look like?
A: As with most parts of the world, the pandemic has affected the French market in many ways. France was among the first European countries to announce strict and long-lasting lockdowns to slow down the infection rate – Paris' lockdown and safety protocols in specific sectors lasted until July, dramatically affecting indoor dining. Today, events and gatherings remain limited to a 50-person maximum, and the government has announced a drastic drop in economic growth for 2020, affecting most sectors including the hotel and restaurant industries. However, French food retailers and online stores remain an exception. The retail sector, including home delivery and online sales, is reporting strong sales numbers and the value of American lobster and scallops remain near the top for products.
Q: What food trends do you see emerging during COVID-19 that you think would be important for Northeast US seafood suppliers to know about?
A: The French seafood market is one of the most dynamic and important markets in Europe. Consumption of seafood in this nation of 66 million people is 34 kilograms per capita (nearly 75 pounds) – up from 30 kilograms (66 pounds) just 20 years ago. France ranks third in seafood consumption in Europe, behind Spain and Portugal. France is a strong seafood market, but country is adjusting to changing consumer dynamics and demographics. Across the EU, a new generation of customers is taking over the retail and food landscape with interests shifting from a shopping behavior driven by price and personal preference, to more conscious shopping led by environmental and climate protection concerns. Sustainability ratings for seafood companies will play an increasingly important role for consumers. My team foresees a growing number of customers preferring to buy local over imported goods, with the goal of reducing their carbon footprint. In the short-term, COVID-19 has amplified the "Buy French" message with the government calling for citizens to focus on French production and support of local businesses. However, the demand for seafood is greater than the country's supply and therefore, there will continue to be export opportunities. This is an opportunity for Northeast US suppliers to market themselves as sustainable, healthy, and delicious seafood product providers.
Q: How are American food producers staying engaged with French buyers during this uncertain time?
A: While these past few months have been very difficult, French importers remain optimistic about the possibility of sales recovery between now and the end of the year. Retail remains strong and may make up for some of the losses. Suppliers can remain engaged by building relationships, holding conversations, and working with partners to promote their brands.
Q: Are there any ways food producers/suppliers have gotten creative over the last six months that are resonating with French buyers?
A: We have not seen a dramatic shift in supplier strategies over the course of the pandemic. However, in the last month, there has been more interest in introducing processed and ready-to-eat products into supermarkets to take advantage of the growth in retail sales. 
Learn more about how Food Export–Northeast collaborates with international partners and our In-Market Representatives to provide suppliers with valuable trade insights and relationship building opportunities for new markets.
---
About Food Export USA – Northeast 
With its extensive programs and educational offerings, Food Export USA–Northeast (Food Export–Northeast) is recognized as the preeminent expert and cost-effective resource for Northeast seafood and agricultural suppliers looking to sell their products overseas. Founded in 1973, Food Export–Northeast is a non-profit organization that works collaboratively with its 10 member states' agricultural promotion agencies from Connecticut, Delaware, Maine, Massachusetts, New Hampshire, New Jersey, New York, Pennsylvania, Rhode Island and Vermont, to facilitate trade between suppliers and worldwide importers and to promote the export of food, agricultural and seafood products from those states. Since its founding, the organization has helped Northeast seafood suppliers gain access to a broad range of export markets, supported overseas in-market educational and promotional programs and offers emerging suppliers access to funds to help grow their export business. The organization is funded through the Market Access Program (MAP), administered by the USDA's Foreign Agricultural Service.
Learn more about us and what we do for the Northeast seafood industry here.  Contact us.