With China's market slowly reopening, Food Export–Northeast recently engaged our Chinese market In-Market Representative to develop and host a chef seminar series. The series focuses on educating chefs, food and beverage purchasing managers, and seafood importers about the quality, flexibility, and adaptability of American lobster and scallops to Chinese cuisine.
Six-Part Chef Seminar Series Currently Underway
The Chef Seminar series is taking place from mid-August to mid-September across six Chinese regions: Shenzhen, Changsha, Fuzhou, Chongqing, Shanghai, and Hangzhou. At each event, 20 to 40 key seafood chefs, importers, and retailers have been invited to a two-part event where attendees are introduced to Northeast seafood products in a formal educational presentation and then served American lobster and scallops to exemplify how these products can be used in Chinese cuisine.
"We expect these events to help garner new interest and leads from global chefs and industry professionals for American lobster and scallops," said Roger Zhang, In-Market Representative for the Chinese market. 
Food Export-Northeast has set the following goals for the events:
Introduce 180 seafood traders, importers, and retailers to Northeast seafood
Encourage at least one importer to carry Northeast US seafood for local consumption after each event;
Conduct at least one retail/foodservice promotion in the area after each event;
And encourage use of Northeast US seafood products on at least one local restaurant menu.
First Event of the Series: Shenzen
On August 19, we hosted the first seminar of the series in Shenzen, China – a major sub-provincial city on the East Bank of the Pearl River Estuary on the Central Coast of Southern Guangdong province. The chef seminar concluded successfully with 44 key traders at the gathering, and 50 guests at the chef seminar, including 45 chefs and 5 seafood importers. Guests spoke highly of the taste and quality of the American lobster and scallops served, leading to promising relationship-building opportunities with local traders and importers.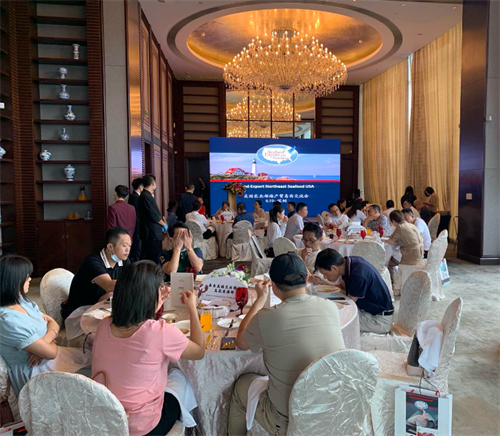 "This event helped to remind and inspire industry professionals from the region that the Northeast US is a significant supplier of these sought-after seafood products," concluded Zhang.  
For more information on how Food Export–Northeast works with our In-Market Representatives to design engaging promotional events in burgeoning markets, visit our website.
---

About Food Export USA – Northeast 
With its extensive programs and educational offerings, Food Export USA–Northeast (Food Export–Northeast) is recognized as the preeminent expert and cost-effective resource for Northeast seafood and agricultural suppliers looking to sell their products overseas. Founded in 1973, Food Export–Northeast is a non-profit organization that works collaboratively with its 10 member states' agricultural promotion agencies from Connecticut, Delaware, Maine, Massachusetts, New Hampshire, New Jersey, New York, Pennsylvania, Rhode Island and Vermont, to facilitate trade between suppliers and worldwide importers and to promote the export of food, agricultural and seafood products from those states. Since its founding, the organization has helped Northeast seafood suppliers gain access to a broad range of export markets, supported overseas in-market educational and promotional programs and offers emerging suppliers access to funds to help grow their export business. The organization is funded through the Market Access Program (MAP), administered by the USDA's Foreign Agricultural Service.
Learn more about us and what we do for the Northeast seafood industry here.  Contact us.