The Branded Program can be a great support to your export business by providing 50% reimbursement on international marketing expenses. To be reimbursed, we require documentation to meet the program regulations. In this blog series, we'll take a deep dive into some of the more in-depth types of claims and documentation, which will help you take full advantage of the program. You'll also find examples and links to further information.
Travel Claims
Along with tradeshow booth costs, foreign packaging and labeling, and international advertising, one expense Branded Program companies can get reimbursed for is their travel costs to pre-approved international tradeshows and pre-approved trade missions. Like other reimbursement claims, you will need to provide invoices, proof of payments, and pictures of the activity to be reimbursed for it. Unlike most other types of expenses though, travel claims require more documents that are not required for other types of claims. We will go over these unique requirements below.
Before You Travel
Before you start to book your travel arrangements there are a few things you will need to do:
Make sure this international activity is in your Branded Program country marketing plan. (If not, please contact the Branded Program manager to get it added)
Log in to FoodExport.org and submit a pre-travel notification. (1 for each traveler, maximum of 2 travelers per event)  
Booking Airfare
This is often a point of confusion when trying to get reimbursed for travel claims. Please see below requirements:
Must fly on an eligible carrier

Flights on U.S. carriers are eligible for reimbursement
Flights on EU carriers are eligible if you are traveling to, traveling from, or stopping in the EU.
Flights on Japanese, Australian, and Swiss carriers are eligible if you are traveling to or from those markets and there is no City Pair Rate.
(city pair rates can be found here: https://cpsearch.fas.gsa.gov/cpsearch/search.do)

Must Have Same Origin and Destination

All additional stops in the itinerary must be for eligible, approved tradeshows and/or trade missions. If not, see directions below on providing a quote.

Eligible days of lodging and per diem reimbursement are two days before the start of the show through one day after the show. Your flights can be within a reasonable travel window.
PLEASE NOTE: We reimburse up to Y class economy tickets. You may fly business class, economy plus, etc. but you will need to provide a comparable flight quote for an economy ticket. Please see below guidelines for that.
How to Pull a Comparable Flight Quote
(Must be done before the flight):
1. Determine your eligible travel dates. These dates run from two days before the show starts through one day after the show ends.
2. Immediately before or after you purchase your actual flight, conduct a second search using the same airline you booked your other flight with.
3. Search for a roundtrip with the following parameters:
a. From your city of origin to the city of the tradeshow and back.
b. Arriving in the tradeshow city 2 days before the show starts and leaving 1 day after the show ends.
c. Flying in economy class (if you are able to search by fare class code, please use fare class code Y).
4. Select outbound and returning flights based on these parameters.
5. Once you've selected the flights, print out the screen showing the flights, pricing, travel dates, origin/destination cities, and economy class status. Save this for your records.
6. After your trip, submit both your actual flight itinerary and printed quote as claim documentation. We will reimburse the lesser of the actual ticket flown or the quote for the eligible travel.
Per Diem
– Per Diem Expenses for Meals and Lodging Per diem rates are published for both "lodging" costs and "meals and incidentals" (M&IE) and are based on the local city and country. Federal per diem rates are updated monthly and are available at https://aoprals.state.gov/web920/per_diem.asp.
– Lodging: Travelers are reimbursed 50% for eligible lodging costs. Reimbursements are based on the actual lodging costs up to the maximum per diem allowance. Dates must correspond with tradeshow exhibit or trade mission dates. The per diem rate for the location of lodging, not the location of the tradeshow or trade mission, is utilized to calculate reimbursement.
– Days of travel: The eligible lodging and per diem days include two days prior to the tradeshow and one day after.
– Meals and Incidentals Expenses (M&IE): Meals and incidentals expenses are reimbursed based on the Federal per diem rate only, no receipts need to be submitted. On the first and last eligible days (travel days), the reimbursement is based on 75% of the per diem rate. For the remaining days, the reimbursement is based on the full per diem rate. The per diem rate for the location of lodging, not the location of the tradeshow or trade mission, is utilized to calculate reimbursement
Required Documentation
Airline Itinerary/Invoice
We must receive a document from the hotel that shows your check in/ out dates as well as the nightly room rate. If you were charged by a travel agency, travel website, or similar service provider, we require that you still obtain documentation from the hotel itself dated after your stay that verifies your check in/out dates, name of guest, and nightly room rate with tax.
Booking through a third-party booking site? Your reservation email is not enough to receive reimbursement. Please obtain a folio/receipt from the hotel upon checkout, indicating that your stay matches the reservation information.
Booking through Airbnb or similar site? Please obtain a certification that your stay matches your reservation from the apartment owner. This can usually be done through the app or website. The apartment owner's review of your stay suffices as well. This document must be dated after the completion of your stay.
Proof of Payment
You must provide a copy of your proof of payment for hotel and airfare. Any of the previously mentioned approved forms of payment are acceptable (see page 27 of the Branded Program Exporter Manual for more information).
Proof of Activity
For a tradeshow, we require a booth photo that has a "Made in USA" origin statement visible. If the tradeshow has a USA pavilion, your company's booth must be part of it.  A list of contacts made at the event must be submitted as well. For a trade mission, please include your schedule and a list of contacts made.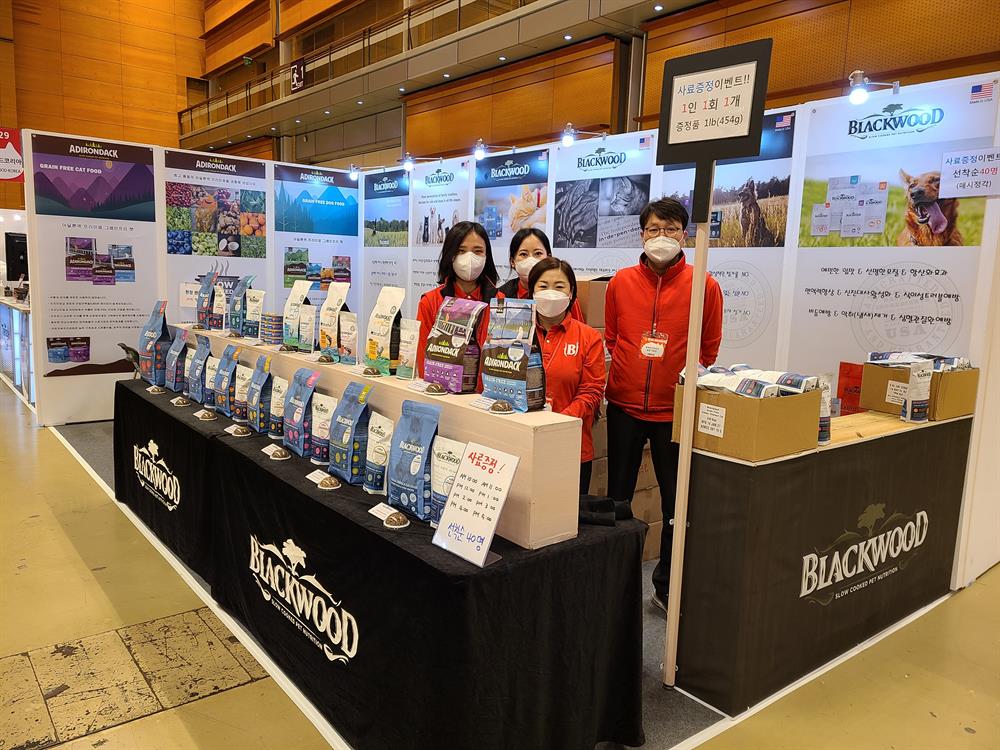 Example of a booth at an international trade show that was reimbursed for having the Made in the USA logo and American flag as you can see in the top right of their booth background.
As always if you have any questions about submitting claims, please reach out to the Branded Program team. This travel guide is also available to provide more clarification should any questions arise.