To raise awareness in Germany about the versatility of American lobster and encourage consumers to purchase and try it at home this summer, Food Export­–Northeast's German In-Market Representative, Alexander Wever, organized a promotion to replace the traditional bratwurst offered by Berlin's iconic Grillwalkers with split American lobster tails. A Grillwalker wears a portable grill mounted on a harness. Between May 17th through 21st, Grillwalkers located around a major Berlin train station made tasty, grilled American Lobster tails on buns for customers to enjoy while roaming around the city. Hundreds of visitors came out to participate and got a delicious taste of American Lobster.
"It's really important to engage consumers and show them how they can enjoy American lobster at home and on the grill this summer," said Wever. "It was a fun way to encourage trial and also show the versatility of this iconic Northeast US seafood. Ultimately, we want consumers to realize that they can incorporate American lobster into their home menus more often and that it can be easily prepared and enjoyed in a variety of ways at an affordable price."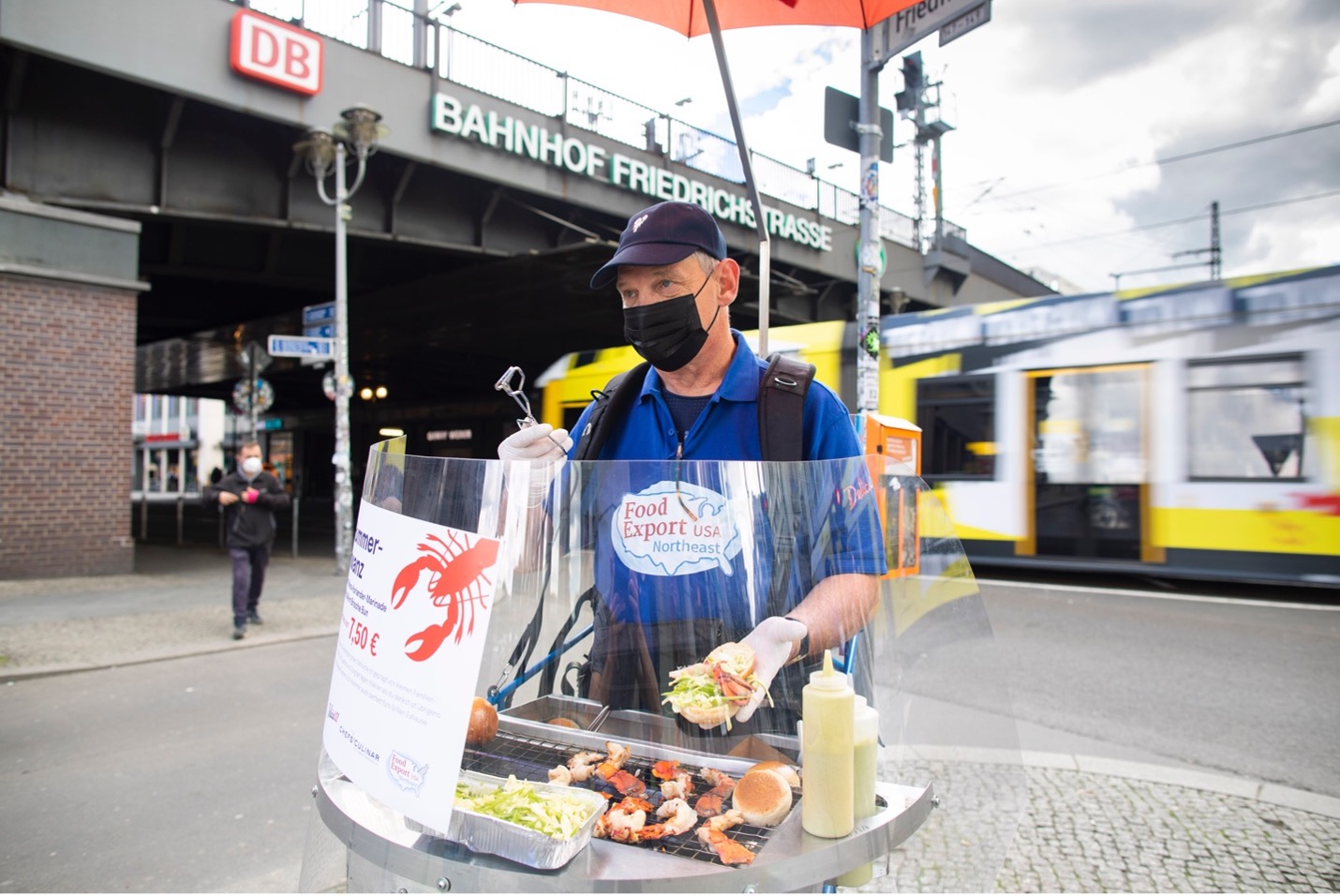 Pre-Promotion of the Grillwalker American Lobster Event
To help spread the word about the Grillwalker promotion prior to the event, the USDA/Foreign Agriculture Service's Office in Berlin included a post on their DelicioUS! site to help educate German consumers about American Lobster origins, sustainable harvesting practices, its high quality, delicious taste, and various uses. Additionally, Wever worked with a local public relations firm to promote the event in print, on radio, television and on social media through influencer partnerships like @berlinfoodstories.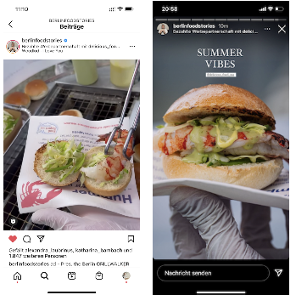 Results for the Grillwalker Promotion
The five-day promotion resulted in:
732 American Lobster tail buns sold
20+ news outlets (print, TV, and radio) featured a story about the event

One of the newspapers wrote, "Hummer macht happy!" (Translation: Lobster makes you happy!)

30 public social media profiles shared numerous posts and multi-image stories
Two exciting visits from Robin Quinville, the U.S. Chargé d'Affaires to Germany, and Kim Sawatzki, the USDA/FAS Agricultural Counselor for Germany
Food Export received multiple contacts from other foodservice outlets interested in sourcing lobster or collaborating on future Northeast lobster promotions.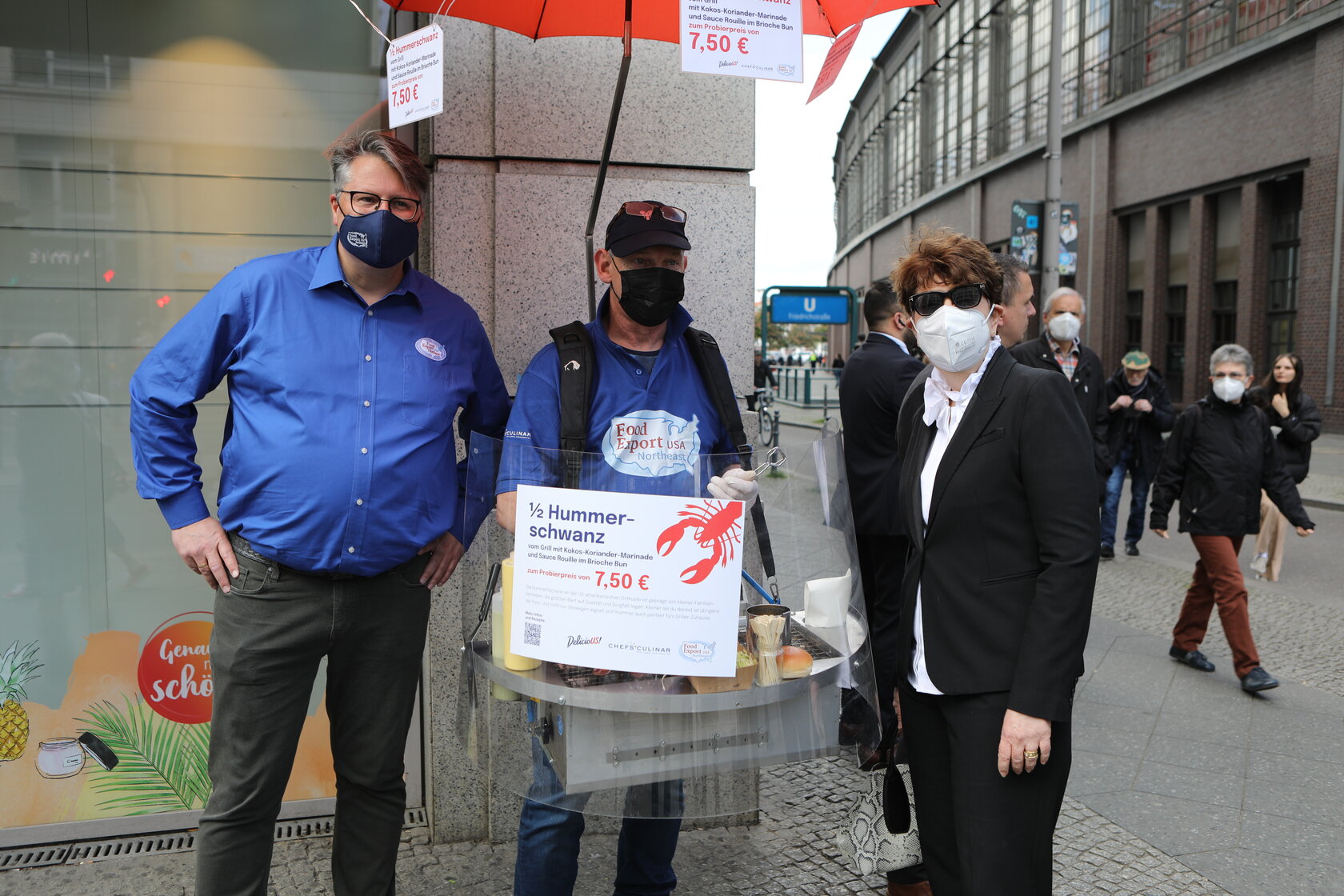 It's estimated that the articles, paid placements, partnerships, and social media posts reached over 8 million consumers to help share the story of the Northeast US coast and encourage new people to try American Lobster for themselves. Most importantly, the promotion showed how unique and versatile the product is, encouraging consumers to purchase American Lobster and cook it at home. To learn more about Food Export–Northeast's work to educate international markets about Northeast US seafood products and its support of Northeast US suppliers, visit our website.
---
 About Food Export USA – Northeast 
With its extensive programs and educational offerings, Food Export USA–Northeast (Food Export–Northeast) is recognized as the preeminent expert and cost-effective resource for Northeast seafood and agricultural suppliers looking to sell their products overseas. Founded in 1973, Food Export–Northeast is a non-profit organization that works collaboratively with its 10 member states' agricultural promotion agencies from Connecticut, Delaware, Maine, Massachusetts, New Hampshire, New Jersey, New York, Pennsylvania, Rhode Island and Vermont, to facilitate trade between suppliers and worldwide importers and to promote the export of food, agricultural and seafood products from those states. Since its founding, the organization has helped Northeast seafood suppliers gain access to a broad range of export markets, supported overseas in-market educational and promotional programs and offers emerging suppliers access to funds to help grow their export business. The organization is funded through the Market Access Program (MAP), administered by the USDA's Foreign Agricultural Service.
Learn more about us and what we do for the Northeast seafood industry here.  Contact us