To raise awareness for American lobster products in France, which imports 66% of the seafood the country consumes, Paris was the final stop on the multi-country tour for Chef Barton Seaver and Food Export—Northeast Seafood Program Team Member Emily Lane. More than 30 chefs, importers, distributors, and journalists attended the American Lobster Products Culinary Masterclass and education session on November 21, 2022, at the acclaimed Albert de Mun School.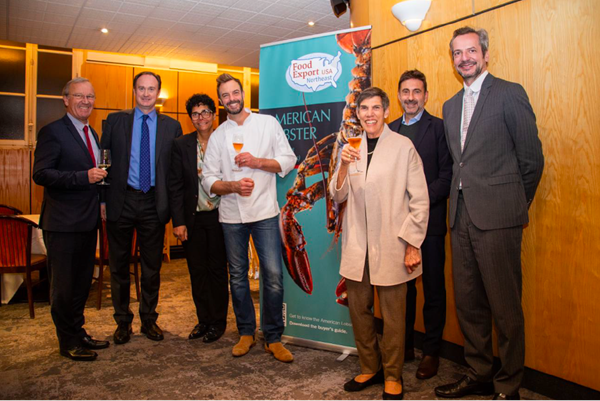 (L-R) Albert du Mun Paris School Director Patrice Hauchard, USDA/FAS Paris Agricultural Counselor David Leishman, Albert du Mun Paris School Assistant Director Magdala de Baulieu Caussimon, Chef Barton Seaver, Food Export Seafood Team Member Emily Lane, Food Export In-Market Seafood Representative for Southern Europe Felipe Macías, and USDA/FAS Paris Marketing Specialist Laurent J. Journo celebrate a successful introduction of American lobster products to Parisian chefs.  Photo credit: Osmany Tavares

During this third stop of the tour, Chef Barton Seaver continued delighting attendees with his amazing culinary experience, creating delicious courses that put American lobster products at the center of the plate. Chefs tasted the variety of flavors and textures available from different parts of American lobster (tail, claw, knuckle, and minced meat), which led to discussion and questions about preparation techniques to gain inspiration for how to use the products in their restaurants. 
Below were the Paris tasting courses:
American Lobster Cotechino with Herbes de Provence and Pistachios with Salad of Pistachio, Persimmon, Jalapeño, Micro Cilantro
Smoked American Lobster Claws with Shaved Fennel, Endive, Red Bell Pepper, Radish, and Whipped Tahini Dressing
American Lobster Claw and Knuckle Ceviche with Red Onion, Toasted Sliced Almonds, Grapes, Ginger, Orange Zest, Cumin, Mint and Espelette Oil
Butter-Poached American Lobster Tail (coriander infused butter) Roasted Sweet Potatoes, Cilantro, Mole, Roasted Cherry Tomatoes
Guests were also treated to a detailed presentation by Emily Lane, an American lobster products expert. Her presentation highlighted the sustainability, value, and versatility of American lobster products.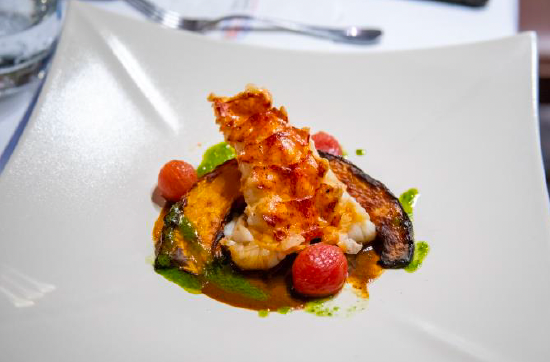 Photo credit: Osmany Tavares

Students from the Lycée Albert de Mun School were on hand to help Chef Seaver in the kitchen and had an opportunity to contribute to the event. They created French macaroons and baked delicious bread for the guests to enjoy. While students got hands-on-experience preparing food items for a high-end event, this next generation of French chefs were also able to learn about American lobster products from two incredible experts. 
Resounding Reviews 
The event was a huge success and chefs and journalists raved about the possibilities for American lobster products in the French market. Chef Jean-François Bury of Cabane started testing dishes with American lobster products soon after the seminar and shared his creations on his social media channels.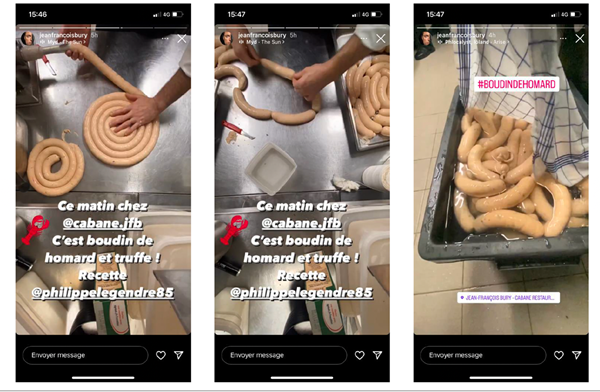 Learn about the stop in Dubai here.
Learn about the stop in Singapore here.
About Food Export USA – Northeast 
With its extensive programs and educational offerings, Food Export USA–Northeast (Food Export–Northeast) is recognized as the preeminent expert and cost-effective resource for Northeast seafood and agricultural suppliers looking to sell their products overseas. Founded in 1973, Food Export–Northeast is a non-profit organization that works collaboratively with its 10 member states' agricultural promotion agencies from Connecticut, Delaware, Maine, Massachusetts, New Hampshire, New Jersey, New York, Pennsylvania, Rhode Island and Vermont, to facilitate trade between suppliers and worldwide importers and to promote the export of food, agricultural and seafood products from those states. Since its founding, the organization has helped Northeast seafood suppliers gain access to a broad range of export markets, supported overseas in-market educational and promotional programs and offers emerging suppliers access to funds to help grow their export business. The organization is funded through the Market Access Program (MAP), administered by the USDA's Foreign Agricultural Service.
Learn more about us and what we do for the Northeast seafood industry here.  Contact us.