Dubai is home to hundreds of nationalities and recognized for being one of the world's most diverse business and travel destinations. With a large foreign population (90%), Dubai hosts an eclectic mix of cultures and food and is fast becoming a culinary hot spot. To further seal its place on the global culinary map, the first-ever Michelin Guide for Dubai was unveiled this past summer. 
As an emerging culinary hot spot, Food Export—Northeast is targeting Dubai with promotion to educate chefs, importers and distributors on the breadth, quality, and availability of American lobster products. On November 17, 2022, at the beautiful seaside restaurant Aprons and Hammers, more than 35 guests gathered to attend the Food Export—Northeast American Lobster Culinary Masterclass with Chef Barton Seaver, acclaimed author and sustainable seafood expert, and an education session delivered by Emily Lane, a member of the Food Export Seafood Program team. This was the second stop on a multi-international market tour for the duo.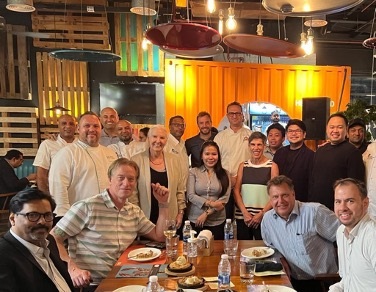 With so many different palates to please in Dubai, Chef Seaver designed tasting courses for the guests that integrated flavors from around the globe to pair with the different American lobster products in each dish. The goal was for chefs to better understand how they can use a diverse array of American lobster products on their menus and ultimately add appeal for restaurant goers and value to their food businesses. Below are the courses chefs tasted and experienced: 
American Lobster Cotechino (sausage) with Pistachio and Za'atar Spice with Persimmon/Jalapeno/Cilantro Salad
Roasted Butternut Squash and American Lobster Claw Meat with Lime, Mint, and Labneh
American Lobster Knuckle Meat with Salad of Crunchy Pita, Roasted Cherry Tomatoes, Seared Red Onion, Grapes, Almonds, and Citrus
Butter and Cumin-Grilled American Lobster Tail with Roasted Sweet Potatoes, Radishes, Crispy Chickpeas, and Chermoula Sauce
Tasting a product is critically important to chefs when they are considering adding it to their menu, but so is learning about its origin, sustainability (harvesting and production), and versatility. Seafood Program Team Member Emily Lane gave an informative presentation on American lobster products to the group. She also spoke with attendees individually throughout the event to answer questions and capture any potential leads and requests for more information. When Chef Barton wasn't in the kitchen, he, too, visited guest tables to provide more detail on each course, gather product feedback and answer questions.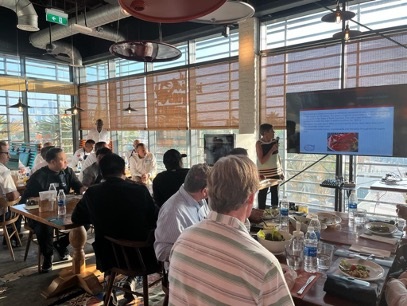 At the conclusion of the event, participants provided the following feedback: 
American lobster was enthusiastically received by the attendees, and they asked to be connected to Northeast U.S. suppliers of these products. 
Chefs and importers showed a high interest in American lobster products 
Importers would like the seminar repeated in other Gulf Cooperation Council (GCC) countries to share the information with their customers.  
One of the key next steps for Food Export's In-Market Representatives in each of the seminar markets is to follow up on leads from the seminar. Once that follow up is complete, trade leads from buyers interested in American lobster products will be submitted to U.S. suppliers. Chef attendees will also be connected to importers offering American lobster products.  
Learn about the stop in Paris here.
Learn about the stop in Singapore here.  
About Food Export USA – Northeast 
With its extensive programs and educational offerings, Food Export USA–Northeast (Food Export–Northeast) is recognized as the preeminent expert and cost-effective resource for Northeast seafood and agricultural suppliers looking to sell their products overseas. Founded in 1973, Food Export–Northeast is a non-profit organization that works collaboratively with its 10 member states' agricultural promotion agencies from Connecticut, Delaware, Maine, Massachusetts, New Hampshire, New Jersey, New York, Pennsylvania, Rhode Island and Vermont, to facilitate trade between suppliers and worldwide importers and to promote the export of food, agricultural and seafood products from those states. Since its founding, the organization has helped Northeast seafood suppliers gain access to a broad range of export markets, supported overseas in-market educational and promotional programs and offers emerging suppliers access to funds to help grow their export business. The organization is funded through the Market Access Program (MAP), administered by the USDA's Foreign Agricultural Service.
Learn more about us and what we do for the Northeast seafood industry here.  Contact us.