In Part 2 of the year-in-review, we will look at the results of retail seafood promotions undertaken by Food Export–Northeast in China and Hong Kong during 2022. Last year, Food Export–Northeast supported 16 retail promotions, including in-store, online, and combinations of both channels, resulting in a return of nearly US$20 in Northeast U.S. seafood sales for every $1 invested. 
Below are highlights of three successful promotions in China and Hong Kong. To learn about promotional activity outcomes in the HRI sector in these markets, read Part 1 of this series. 
China Grocer Drives Nearly US$480k in American Lobster Sales 
China is one of the largest seafood consuming countries in the world, and in 2022 Food Export– Northeast targeted Fujian Province, located on the southeastern coast of the country, for a retail promotion. The province is populated with high-wealth consumers who love seafood. 
Food Export–Northeast collaborated with Yonghui Supermarket chain, headquartered in Fuzhou, China, with 1,035 locations, to market American lobster to Chinese consumers. In-store promotions were held in 15 stores located in Xiamen and Fuzhou, in conjunction with influencer and media outreach. 
"Yonghui Supermarket has been an incredible promotional partner for us, consistently delivering impressive results for American lobster suppliers," said Colleen Coyne, Seafood Program Coordinator, Food Export–Northeast.
To drive sales and build consumer interest in American lobster, Yonghui Supermarket launched the promotion on March 31, 2022. It featured: 
Social media influencers to launch the promotion and show consumers how to prepare two recipes using American lobster at home. 
Outreach to news outlets to generate media coverage. 
Visual marketing materials including wobblers or shelf clings, branded décor throughout the stores, and selfie photo frames to engage shoppers to help spread the word.
Product promoters dressed in American lobster aprons advising on product usage and helping consumers with their purchases.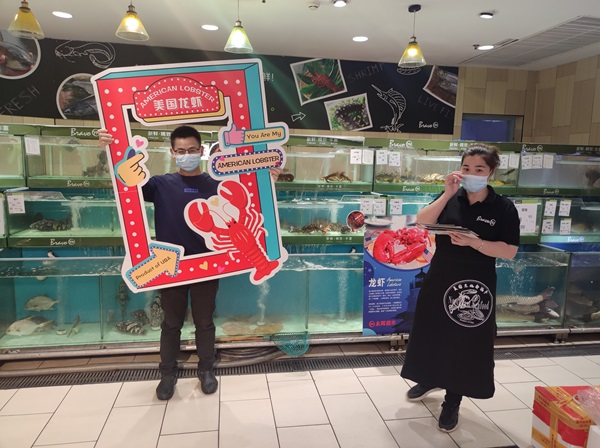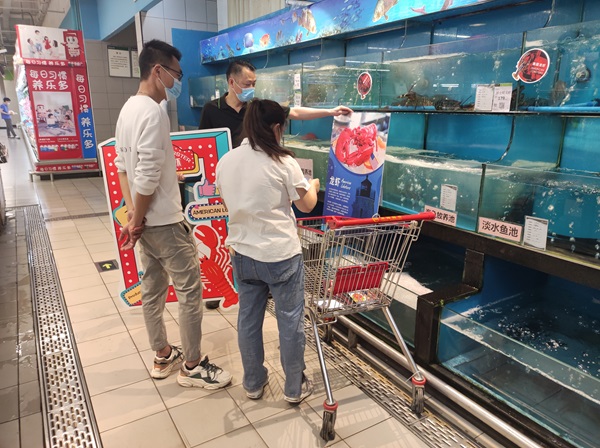 More than 21 million impressions were generated from 20 media placements and social media videos produced by a local influencer with 1.26 million followers. Over the month-long promotional period, American lobster was in high demand at the participating Yonghui stores, which resulted in 11,500 kg of American lobster sold totaling US$478,400. 

Meeting Consumers Online in Hong Kong to Build Sales for Northeast Seafood  
E-commerce sales surged dramatically around the globe during the pandemic, and that trend is expected to continue to climb for the foreseeable future, especially in Hong Kong. In 2021, online retail sales reached nearly HKD$23billion and is projected to double by 2026. 
With more consumers ordering their food through e-commerce channels and eating it at home, Food Export–Northeast partnered once again with AnnieFood, an online store selling premium seafood and meat products. The April 4–25, 2022, promotion was timed to kick off on the heels of a government program designed to stimulate consumer spending.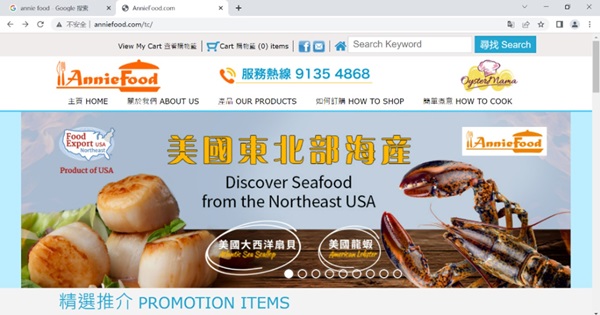 To attract consumers and generate sales for both American lobster tails and U.S. Atlantic sea scallops, Food Export–Northeast launched a digital advertising campaign on AnnieFood.com linking to products and recipes: Baked American Lobster & U.S. Atlantic sea scallops with garlic butter, and fried American lobster with ginger & scallions. Additionally, a post was published on the Facebook page of Ufood, a news and media website with 750,000 followers to entice consumers. The post, which included recipe imagery and a link to AnnieFood.com, generated over 60,000 impressions. 

The results were strong. During the e-commerce promotion, a total of US$242,985 in sales were generated for 2,500 kg of American lobster and 720 kg of U.S. Atlantic sea scallops.  

New Partnership with Innovative, High-Tech, Consumer-Focused Beijing Supermarket Chain 
Consumers in Beijing value quality foods and will pay premium prices to ensure they have access to the best ingredients. To build awareness with Beijing consumers for American lobster, Food Export–Northeast partnered with Hema Fresh, an innovative supermarket retail chain founded in 2015 that is changing the way Asian consumers shop. The high-tech chain offers easy app-based and online ordering as well as a fully integrated smartphone in-store shopping experience that starts with QR code scannable product information on every label to automated check-out enabled RFID tags and digital payment systems. Additionally, the "new retail" chain focuses on offering its shoppers superb quality fresh food—particularly seafood—that they can have cooked on the spot to enjoy in store or at home.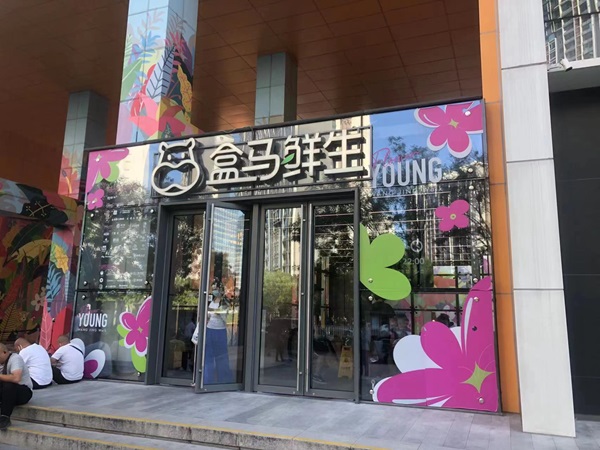 "Hema Fresh is a new promotion partner for us and the chain is really focused on cultivating new consumer shopping habits," said Coyne. "The store's customer base is exactly the type of consumer we want to attract." 
From August 15 to September 15, 2022, consumers visiting the eight participating Hema Fresh stores in Beijing were immersed in highly visual displays designed to attract shoppers to live lobster tanks and product promoters passing out educational materials and answering questions about the unique and sustainable qualities of American lobster.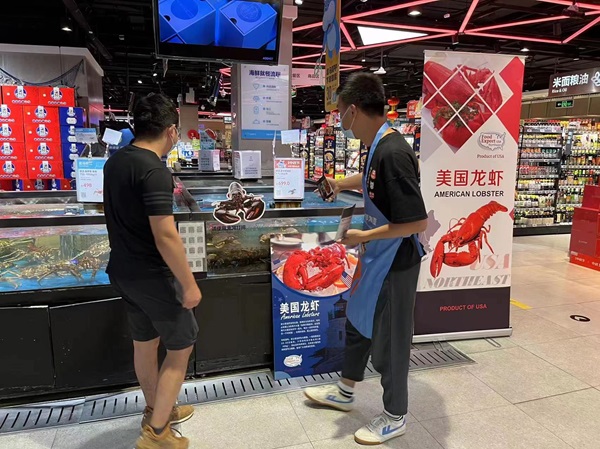 Hema Fresh reported that sales of American lobster at the chain's participating eight stores saw significant increases during the promotional period. At the conclusion of the 32-day promotion, 9,547 kg of American lobster was sold totaling US$384,739 in sales. Hema Fresh Beijing plans to continue selling Northeast American lobster because of the strong sales and shopper interest. 
About Food Export USA–Northeast 
With its extensive programs and educational offerings, Food Export USA–Northeast (Food Export–Northeast) is recognized as the preeminent expert and cost-effective resource for Northeast seafood and agricultural suppliers looking to sell their products overseas. Founded in 1973, Food Export–Northeast is a non-profit organization that works collaboratively with its 10 member states' agricultural promotion agencies from Connecticut, Delaware, Maine, Massachusetts, New Hampshire, New Jersey, New York, Pennsylvania, Rhode Island and Vermont, to facilitate trade between suppliers and worldwide importers and to promote the export of food, agricultural and seafood products from those states. Since its founding, the organization has helped Northeast seafood suppliers gain access to a broad range of export markets, supported overseas in-market educational and promotional programs, and offers  emerging suppliers access to funds to help grow their export business. The organization is funded through the Market Access Program (MAP), administered by the USDA's Foreign Agricultural Service.
Learn more about us and what we do for the Northeast seafood industry here.  Contact us.