As China and Hong Kong eased their strict zero-COVID policy in 2022, Food Export–Northeast made the international market a priority for awareness building for Northeast U.S. seafood, specifically American lobster, with chefs and consumers. Food Export–Northeast supported and funded 34 promotional activities in both the HRI and retail sectors in China and Hong Kong, delivering strong sales outcomes for American lobster. 
In the first part of 2022, for every $1 Food Export–Northeast invested in Northeast seafood promotional activities in China and Hong Kong, US$15 in sales resulted (results are still being calculated for the entire year). Additionally, the organization's In-Market Representative spent the year consistently generating trade leads and new contacts for suppliers.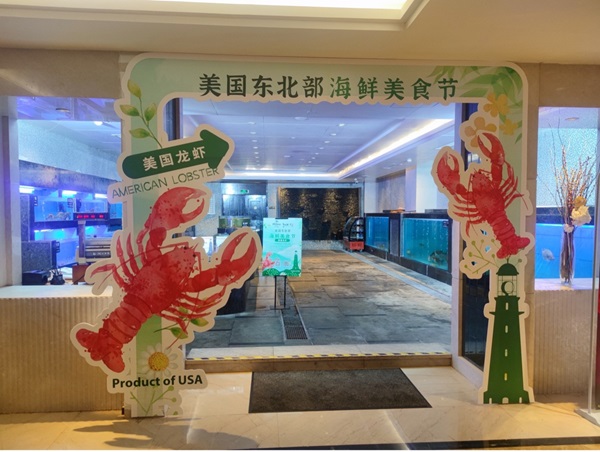 Building Awareness and Sales for American Lobster in the HRI Sector 
In 2022, Food Export–Northeast funded 10 foodservice seafood promotions in China and Hong Kong. Promotions took place at restaurants, hotels, and even a golf club, with the goal of demonstrating the adaptability of American lobster to different regional and international cuisines. Five of the promotions are complete and resulted in 11,645 kg of American lobster product sold, totaling US$793,822 in sales. For every $1 Food Export–Northeast invested in promotions in the China/Hong Kong HRI sector, US$10 in sales resulted for suppliers. 
Below are highlights of three successful promotional activations in both southern and northern China's HRI sector. Next month, we'll share promotional activity outcomes for the retail sector in part two of this year-in-review overview. 

Introducing American Lobster to High-End Hotels in Foshan
During the 2022 Chinese New Year (Jan-Feb), there was dramatic growth in traffic to restaurants in Guangzhou, with more consumers dining out as COVID restrictions eased. According to the Guangzhou Municipal Bureau of Commerce, during the holiday, restaurant sales grew nearly 80% compared with 2020, and almost 6% compared with 2019. As consumers emerged and started to dine out more, Food Export–Northeast partnered with the Hilton Hotel in Foshan, a city in the Guangzhou Province, to host an American lobster Food Festival promotion from March 1 to April 30, 2022.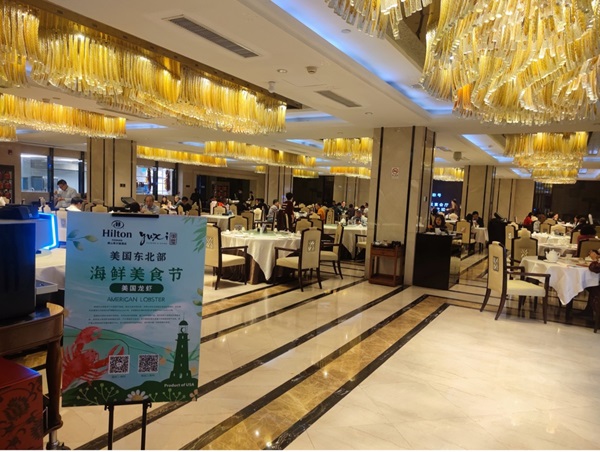 "Foshan is not a city where we've had a lot of promotional activity in the past," said Colleen Coyne, Seafood Program Coordinator, Food Export–Northeast. "Hosting a promotion in a new first-tier city in China like Foshan (the 21st largest city in the country, with about 7 million people), where seafood consumption is strong, gave us a significant entry point to start building awareness for American lobster with chefs and consumers in that particular market."
The Hilton Hotel's chef created seven unique dishes using American lobster to serve in its Yuxi Chinese Restaurant. The recipes helped consumers taste the delicacy and characteristics of American lobster in Cantonese cooking. The dishes included: 
Typhoon Shelter American Lobster
Grilled American Lobster with Double-Layer Milk
Fried American Lobster in Soy Sauce
American Lobster with Fried Glutinous Rice 
Baked American Lobster in Green Pomelo Juice 
Braised E-Fu Noodles with American Lobster
Baked American Lobster with Cheese & Butter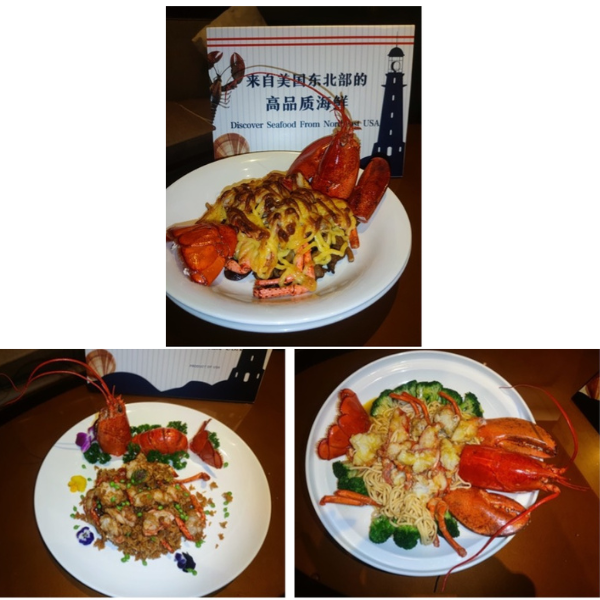 The hotel also displayed signage, menu cards and a tank of live lobsters to attract diners to the restaurant. Finally, the hotel featured a special event on March 7, 2022, and invited media outlets and a local TikTok influencer to help build excitement and engagement for the two-month promotion, which generated:  
11 million impressions from press coverage and influencer activations
American lobster sales totaling US$160,560 with 2,900 kg of product sold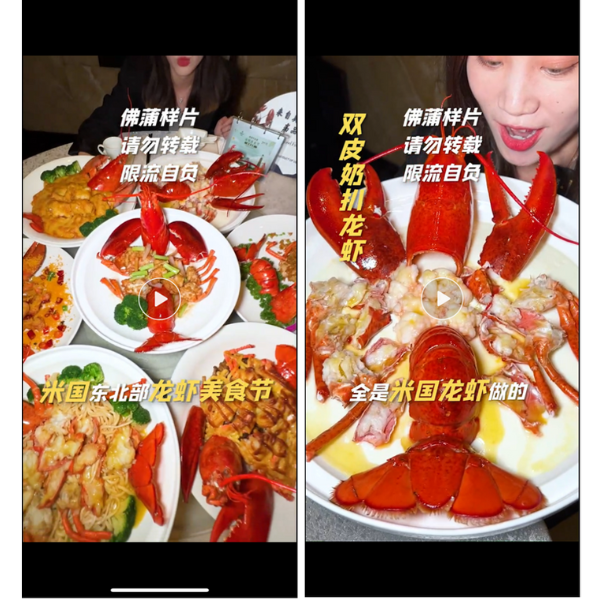 American Lobster Scores Hole in One at Northern China Golf Club
Tianjin, located in Northern China, is one of the largest cities in the country with a population of more than 13 million. It is a place where east and west culture meet; it is a large port "megacity" and the vital coastal gateway to Beijing. Its cuisine is known for placing a heavy focus on seafood prepared in a combination of Shandong, Sichuan, Huaiyang, and Zhejiang cooking methods to form a unique style of its own.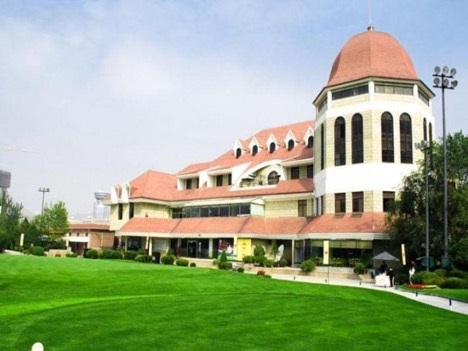 To drive increased consumption of Northeast U.S. seafood, Food Export–Northeast partnered with Tianjin Warner International Golf Club from June 18 to July 31, 2022, on a menu promotion featuring American lobster. 
The club has 500 members and hotel facilities with 25 guest rooms, a 24-hour hot spring bath and special golf-themed rooms. There are also six apartment complexes and a residential area with four 30-story buildings next to the club. Two dining options are available for the club: Green Steak House, a classic western restaurant, serving all-day meals daily; and Warner Banquet Hall, with six private rooms plus seating for 300 people. The chef team at the golf club developed five American lobster dishes for its two restaurants to serve: 
Whole American Lobster (Sashimi or Deep-Fried Head and Claw with Salt and Garlic or Mixed Congee)
Deep-Fried American Lobster with Garlic and Chill
Boiled American Lobster with Red Curry
Steamed American Lobster with Garlic and Vermicelli
Baked American Lobster with Butter and Herbs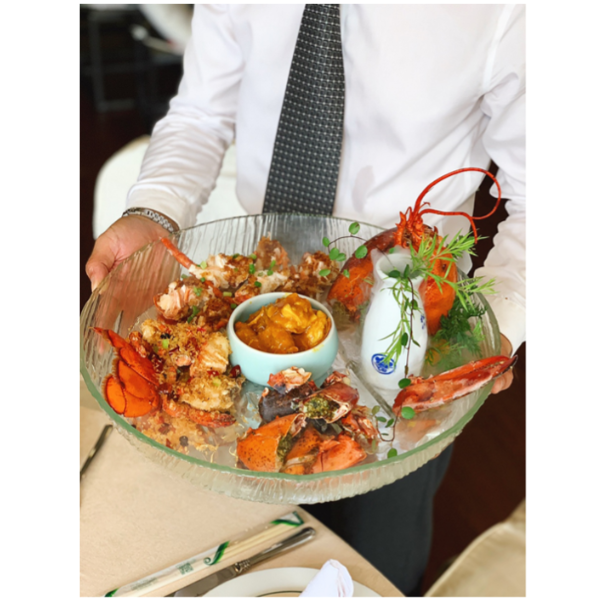 Local lifestyle and foodie influencers were engaged to post video and static image content to TikTok and Weibo generating 2.6 million impressions. During the promotion period, sales were nearly US$175,000, with 1,875 kg of American lobster sold. The golf club's members enjoyed the promotion and valued American lobster for its health benefits and rich protein.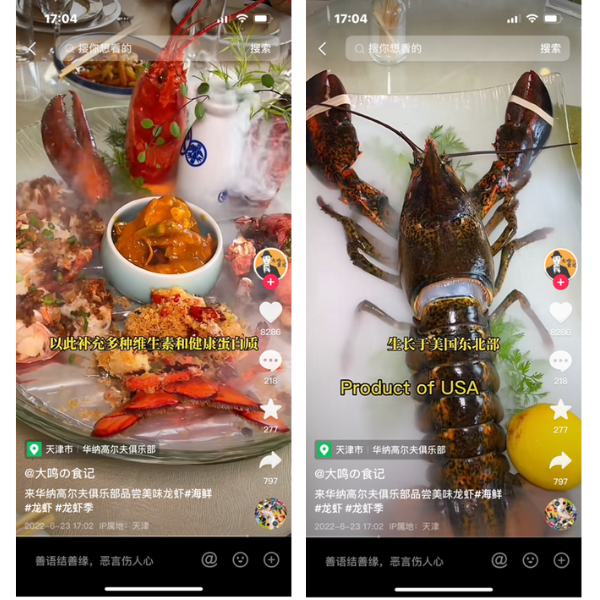 Partnership with New Luxury Hotel Brand in Nanchang
Nanchang, the capital city of Jiangxi Province, which is called the land of fish and rice, is a key transportation hub for Southeast China. Residents of the city have one of the highest standards of living within the province and favor premium, high-quality foods. To build greater awareness for American lobster in Nanchang, Roger Zhang the In-Market Representative for China and Hong Kong, explored new partner opportunities for HRI sector promotional activities. He connected with HuaLuxe Hotel and Resort, a new luxury brand under the Intercontinental Hotel brand, and partnered with them to hold an American lobster Festival from June 18 to July 31, 2022, at the hotel's three restaurants:
Fu Lin, offering classic Chinese cuisine
Xianyan, an all-day buffet-style restaurant with eastern and western cuisine
Tai Ko, a specialty restaurant with Japanese, Korean and Thai cuisine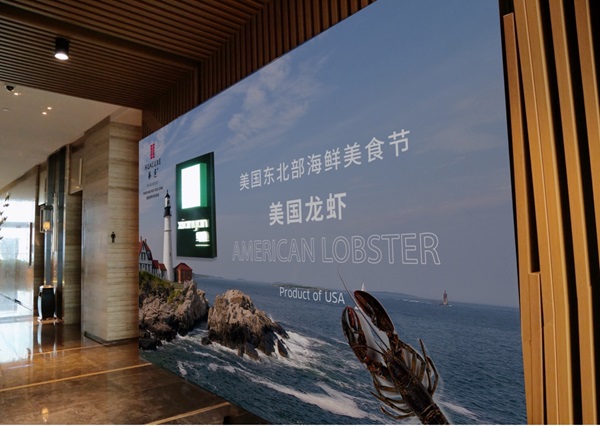 Similar to the event in Foshan, the hotel's chefs created 10 unique American lobster dishes using Jiangxi cooking methods that were served at each of the three restaurants. A variety of point-of-sale materials, like dining mats and signage decorated the dining areas to create an exciting atmosphere that would attract diners. The menu included:
Baked American Lobster with Garlic Vermicelli
Deep-Fried American Lobster
Garlic Slice Toasted with American Lobster
Japanese Fried American Lobster
Sour Soup with American Lobster
Baked American Lobster with Mixed Cantonese Sauce
Thai Fried Rice with American Lobster
Yangzhou Fried Rice with American Lobster
Mixed Sauce with Baked American Lobster
Mixed Cheese and White Sauce with American Lobster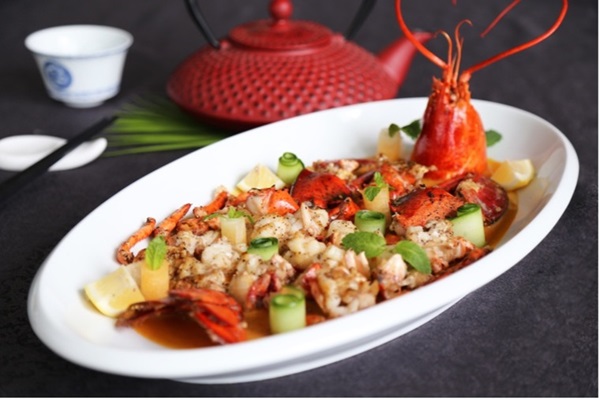 A local TikTok influencer with more than 800,000 followers was invited to sample the dishes and create video content to share on social media to excite potential diners. Additionally, 25 media outlets covered news of the promotion. Almost 24 million impressions resulted from TikTok and press coverage. Sales of American lobster during the promotion reached US$158,764 with 2,070 kg of products sold. The hotel saw profitable results from the promotion and found value in adding American lobster to its restaurant menus. Food Export–Northeast will continue to engage in the southeast China market to bring high-quality Northeast U.S. seafood products to more Chinese consumers.
Coyne concluded, "Our In-Market Representative in China and Hong Kong is incredibly creative and intent on seeking out new promotional partners. It was exciting that we were able to partner with a range of HRI players to introduce the value and versatility of American lobster to a more diverse audience." 
About Food Export USA–Northeast 
With its extensive programs and educational offerings, Food Export USA–Northeast (Food Export–Northeast) is recognized as the preeminent expert and cost-effective resource for Northeast seafood and agricultural suppliers looking to sell their products overseas. Founded in 1973, Food Export–Northeast is a non-profit organization that works collaboratively with its 10 member states' agricultural promotion agencies from Connecticut, Delaware, Maine, Massachusetts, New Hampshire, New Jersey, New York, Pennsylvania, Rhode Island and Vermont, to facilitate trade between suppliers and worldwide importers and to promote the export of food, agricultural and seafood products from those states. Since its founding, the organization has helped Northeast seafood suppliers gain access to a broad range of export markets, supported overseas in-market educational and promotional programs, and offers emerging suppliers access to funds to help grow their export business. The organization is funded through the Market Access Program (MAP), administered by the USDA's Foreign Agricultural Service.
Learn more about us and what we do for the Northeast seafood industry here.  Contact us.