by Suzanne Milshaw, Food Export Contractor 
Can you recall the feeling of learning to ride a bike as a child?  Once you reached a steady pace on flat ground you felt like you could tackle the world.  What happens, though, if you had to slow down, stop, or go down or up a hill, then all grace was gone – the bike teetering, steering out of control, braking or changing gears clumsily and trying like mad not to fall.  Are the challenges of the global logistics system anything like riding a bike?  Well, no, not really.  The global supply chain is infinitely more complex, however, when operating at a steady pace, shipping products around the globe is mostly a fluid process.  Now, since knocked out of cadence due to the pandemic, this system looks as unsteady as the young rider on the bike struggling to stay upright.
The supply chain has many critical supports for its smooth functioning.  In this blog, we'll briefly examine some of areas currently out of balance and their impacts on small and medium-sized exporters.  We will also share industry perspectives on how suppliers can best manage risk amid this difficult climate. 
What is going on and how did we get here?
Lisa Waller, Vice President of BDG International, an international freight forwarder, described the current situation this way: "The international logistics system is built for continuous movement and, since the start of the pandemic, there has been an inconsistent flow causing traffic jams that the system hasn't been able to recover from on its own.  A shut-down port across the globe can eventually cause a back-up in Chicago; sometimes it's hard to connect all the dots."
Video of the shipping vessels queued offshore key U.S. ports such as Los Angeles or Long Beach has captured the attention of the average American consumer, recently even going viral on social media sites like TikTok and Instagram.   A whole complex of conditions either aggravated or caused by the pandemic underlie this very visible situation. 
Below is a discussion of a few of the elements at play:
Decreased capacity: Port shutdowns and workforce reductions due to pandemic restrictions around the globe have caused delays in the capacity to move goods
Increased consumer demand: According to McKinsey & Company, a global management consulting company, consumer spending in 2021 is growing by 6% versus the pre-pandemic trajectory. Demand for things like home furnishings and exercise equipment have increased as production slowed due to pandemic restrictions.
Truck driver shortage: Truck drivers serve an essential role in the U.S.'s intermodal transportation system but there has been a shortage of drivers in recent years. Also due to long waits at transportation hubs like ports, drivers can "time out" of their maximum number of daily hours while waiting without reaching their destination. The pandemic has caused the existing pool of truckers to shrink through retirements and other factors at a time when the system needs more drivers. Other pandemic-related labor shortages are also at play, whether in manufacturing/processing, warehousing, or other transportation roles.
Shipping containers: A lot has been written about the shortage of shipping containers, which is a factor on some shipping routes, however a pervasive issue is shipping containers being mislocated. In some cases, they are stuck at ports or warehouses waiting to be unloaded or transshipped, impeding the processing of additional shipments while others are "grounded" in places where they're not needed at the moment.
Chassis shortages: Some of the shortage of the wheeled frames used for moving shipping containers from ports to the road or to railheads is due to them holding stuck shipping containers in ports. There's also generally been a decline in this part of the shipping business due to regulatory changes.
Scott Hoffman, President of Jade International, a freight forwarder located in Folcroft, Pennsylvania shared that while the pandemic sparked the public awareness of these issues, the foundations of this "perfect storm" are rooted in longer-term public and private shortfalls in infrastructure investment in the U.S.  There has been lack of employing new technologies, maintaining critical equipment, expanding port capacities, and retaining and building the labor force within this sector. 
Recently, the Biden-Harris Administration has brought public and private parties together with hopes of easing short-term bottlenecks, like U.S. port congestion.  Within the U.S. Congress, there is bipartisan support for legislation promising longer-term infrastructure investments in improvements of ports, freight rail lines, bridges, and roads. Hoffman noted that while short and long-term efforts in the U.S. may be helpful, ultimately, the supply chain is a global one and "glitches anywhere along the chain will create backups."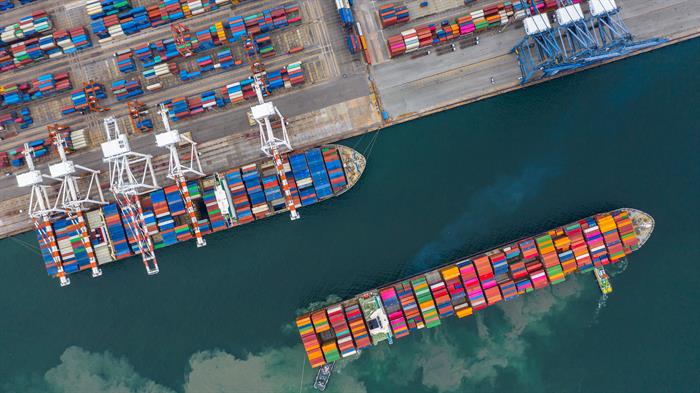 What have been the impacts on exporters?
Due to the confluence of these numerous factors challenging supply chains globally, U.S. food exporters are facing high costs and lack of dependability for getting their goods to their export markets. 
Peter Brown, Director of International Sales at First Choice Ingredients in Germantown, Wisconsin, says he's seeing three key challenges in working with their international customers – cost increases, delays, and reduced availability.  Their dairy-based flavors often serve as small, but vital ingredients for manufacturers of consumer-packaged goods, giving the product its unique flavor profile.  Since the onset of the pandemic, costs for shipping their products have doubled or tripled. Delays in receiving their raw materials have added additional lead time to production and, with freight delays, they could be in the position where the delay on their product could impact their customer's production schedule, thus raising manufacturing costs.  Peter said that the golden rule he was taught when he started in this business 30 years ago was "never to shut down your customer's production line".  Despite a current high level of uncertainty, First Choice Ingredients endeavors to maintain this principle in working with their customers.
For exporters shipping perishable products via ocean carriers, the delays in the cargo being boarded and off boarded can mean that the product arrives to its destination in unsaleable condition.  Due to this, some ocean shippers are turning away bookings for perishable products.  
Air freight is also facing pressure as there are fewer flights and more demand as some product that may have been previously shipped by ocean may now go by air.   Scott Hoffman of Jade International relayed a recent example where a U.S. manufacturer spent US$40,000 on air freight to ship a necessary input costing US$6,000 as the production line would be shut down without it. For small shipments, the increase in price to ship by air may not be a viable option. 


What are some ways that suppliers can cope with the unpredictability?
While large multinationals may be able to hire their own ships to ensure their products arrive on time, that's not an option open to small- and medium-sized food exporters.  We turned to some industry veterans to get their perspectives on how U.S. suppliers can best weather the storm and manage their risks: 
Peter Brown, Director of International Sales at First Choice Ingredients, a manufacturer of dairy flavors headquartered in Germantown, Wisconsin:
Transparency and communication with customers are important elements to customer service at First Choice. We always provide quotes based on CIF freight but break down the costs to show the product cost and the freight costs. This way it is evident to our customers how much of any increase is due to higher shipping costs. We also offer our customers the chance to arrange shipping directly if they think they can find better logistics arrangements.
When we must raise the cost of the goods due to availability of raw materials, we communicate this clearly and well in advance. While customers are not pleased, they appreciate the communication and are aware of the factors affecting pricing.
We've examined our customers' order patterns carefully. For example, if we know that a customer is producing product that will be in higher demand for Chinese New Year in February 2022, we reached out to our customer proactively in July/August 2021 to suggest they make orders so that product is produced, shipped and in their warehouse by late December. We show our attentiveness to our customers and our desire to deliver in advance of peak need.
Overall, we show our long-term commitment to our customers by being a partner, willing to dig and scramble to help them meet their needs, answering calls, being timely and transparent when there is bad news to share and coming to the situation with ideas for solving problems.
Lisa Waller, Vice President of BDG International, an international freight forwarder in Elgin, Illinois:
Pricing for shipments used to be valid for 30 days – now it is possibly valid for a few days. Be in communication with your customer and ready to make a decision quickly. As prices vary, it may make sense to have an authorization from your customer for a range of prices at which they're willing to ship so that you can move forward more quickly.
Ask your freight forwarder about and understand the impacts of storage costs (demurrage and detention).
Focus on serving your longer-term clients really well and being as stable a supplier as possible. Evaluate your capability to service new clients carefully before making commitments to ship.
Scott Hoffman, President of Jade International, an international freight forwarder in Folcroft, Pennsylvania offered these suggestions related to shipments:
Communicate with your freight forwarder early – tell them what you are trying to ship, where it needs to go and when it needs to arrive. Discuss options presented with your customer.
Have documents prepared and ready ahead of time. Realize that your freight forwarder might also be sharing a shortage of workers and have increased workload. Booking a shipment that used to take 15 minutes might now take weeks.
Stay aware of what's happening on the shipping routes you use most often. Check in with your freight forwarder to find out what the traffic is like on your most frequent shipping lanes.
When possible, avoid major ports and seek out secondary tier ports in the US and destination market, such as Dulles or Baltimore instead of JFK, or the Ports of Wilmington/Chester instead of Philadelphia, or Seattle instead of Los Angeles, where niche carriers may have a paired connection to ports like Busan, South Korea, Southampton, England or Antwerp, Belgium.
Consider whether you and your customer are open to air shipment as an alternative if time is critical and ocean options aren't viable. Remember that if you have perishable products, there still may be delays in unloading air cargo shipments that could affect your products.
Plan well ahead to arrange your shipping. If you call a freight forwarder in early November, expect that your shipment likely won't be able to leave until late November or early December.
When given a shipping date, realize that the ship will likely not sail on that very date and may only depart about two weeks later. Understand also that once it arrives to its destination, it may take another week or so to leave the pier. Work these delays into your planning.
Industry experts predict that the supply chain disruption will likely not end anytime soon.  While small suppliers have limited options, we hope that some of these suggestions will help you minimize your risks while maintaining your international customers.