The EPA has published a food recovery hierarchy to communicate the value of different strategies of waste reduction.  The preferred strategy is being more efficient so that waste food isn't generated from the start — whether that is on the farm, in a manufacturing facility, or a household. This strategy not only reduces food waste but also conserves all the resources that go into producing food. In a world where global hunger is a persistent issue only likely to grow, other strategies like feeding food waste to animals, using it for energy production, and composting are seen as less than ideal ways to dispose of edible remains. These strategies are preferred to the disposal in landfills or incinerators where greenhouse gases are produced.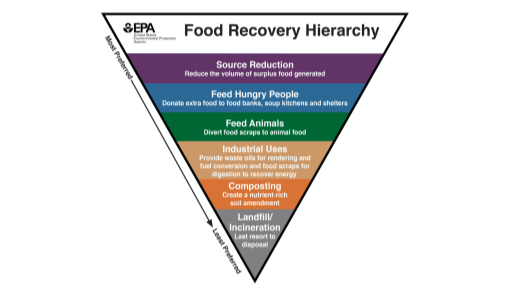 US EPA Food Recovery Hierarchy 
Finding ways to repurpose food residues inherent in the current food manufacturing processes has been gaining speed in recent years. The Upcycled Food Association, which began with 9 members in 2019, now reports over 200 members. They brought together a broad-based task force to define upcycled foods as those which "use ingredients that otherwise would not have gone to human consumption, are procured and produced using verifiable supply chains and have a positive impact on the environment." The retailer Whole Foods has named upcycling a top food trend in recent years. 
Jonathan Deutsch, Professor and Director of the Drexel Food Core Lab at Drexel University and Vice President of the Board of Directors of the Upcycled Food Foundation, has worked with entrepreneurs looking to create new food products using upcycled ingredients. "Upcycled foods are putting food to their highest potential use — providing human nutrition.  We are talking about food products, not waste, such as trim from baby carrots that are turned into dried flakes that could be an ingredient in soups.  These food residues come off the same production line as the primary product and go through a secondary production process.  We're not talking about recovering food from a dumpster.  It must be clear to the consumer that the same level of quality and safety is maintained in the production of upcycled foods." 
Understanding the potential concerns that consumers may have about the safety of upcycled products, the Upcycled Foods Association started a certification program which requires an auditable supply chain and an identification of upcycled ingredients on the packaging to ensure transparency to end-users. Its members produce a range of products from turning spent brewery grains into flours and mixes, pecan shells into flour, and fruit and vegetables that don't meet aesthetic standards into powders.   
As the upcycled industry grows, so has consumer awareness and acceptance.  Jonathan Deutsch shared that "eating upcycled food is a way that consumers vote with their wallets to stand for an environmental good in a very tangible way." However, he said that "no amount of environmental goodness and claims will make up for a bad product." When working with clients developing upcycled food products at the Drexel Food Core Lab, he stresses that "safety and deliciousness are the top priorities."  
Two U.S. entrepreneurs and Food Export program participants who have built their businesses with upcycled ingredients at their core are Anna Hammond, the CEO/Founder of Matriark Foods and Mike Oraschewsky of The Bacon Jams. Here are their stories: 
Anna Hammond, CEO/Founder of Matriark Foods 
Matriark Foods was founded with two main value propositions in mind – addressing hunger and food loss/waste. These remain the core tenets of the business, which produces products such as vegetable stocks and tomato sauces from upcycled vegetables. 
Taking inspiration from her grandmothers and all great home cooks who save remnants while cooking to make delicious broths, CEO Anna Hammond has scaled up these practices into a business — creating healthy products, utilizing produce more completely, and building a much-needed additional revenue stream for regional farmers. 
She sees the business as filling a sweet spot by manufacturing usable products at a point where the most resources have already been used to grow, harvest, transport, whether off-cuts from facilities producing celery and carrot sticks, or surplus product from farms. Matriark pays manufacturers and farmers for the remnants which cover labor and packaging costs, adding a value to products that may otherwise have been associated with a disposal cost. Her business is a positive force in making environmental and social improvements: "our products are made with a respect for all the effort and resources that have gone into making the food – from the farm to the table". 
Initially targeting the foodservice industry, Matriarck met some challenges launching just as the pandemic took hold.  Matriark adapted by finding opportunities to produce for food banks and other institutional customers. In the fall of 2022, they launched their first retail product, 3 tomato sauces, available now in Whole Foods and other Northeast retailers.   
Matriark was one of nine founding members of the Upcycled Food Association, all early pioneers of climate-friendly food. As an Upcycled Food Association certified supplier, Matriark must document that at least 10% of their products would have otherwise gone to waste; Matriark's products on average contain 80 – 90% upcycled ingredients which translates to big impact in every carton. In addition to upcycling, Matriark works with Planet FWD to do a full life-cycle analysis and pays carbon offsets for their production. "We also report all our sustainability data on each customer invoice," says Anna. "We did this from the start and now our customers ask for this information more and more." 
International buyers, including a major Canadian retailer, have shown interest in Matriark's products and Matriark plans to expand internationally in time. 
Marinara Sauce by Matriark Foods – packaging highlights that each carton diverts. 0.4 pounds of vegetables from landfills, saves 50 gallons of water and reduces 1 pound of greenhouse gases. 
Mike Oraschewsky, CEO of The Bacon Jams  
Mike Oraschewsky, CEO of The Bacon Jams, tells how a potential food waste situation turned into a business: "The first time we made bacon jam it was because I had a customer cancel a large breakfast catering event at the last minute.  I had cooked a ton of bacon already and needed to do something with it. That something became bacon jam, a novel condiment spread." 
As the product was developed, they realized that they could use pieces of bacon that didn't fit the specifications of standard consumer packs to make their product. To date, they have "rescued" over 500,000 pounds of bacon, saving these ends and pieces from going to a landfill or to lesser use than human consumption. Mike explains that the food manufacturing supply chain is very inefficient and reducing waste can be both "delicious and profitable."   
Since The Bacon Jams is selling a novel product, their primary consumer messaging has been around how to use and enjoy the product. Promoting that their products use upcycled ingredients has been a secondary advantage that resonates more and more with buyers, investors, and consumers.
Mike sees growing interest in his and other upcycled products from global buyers, especially from Canada and Europe, where end-consumers are hyper-focused on sustainability.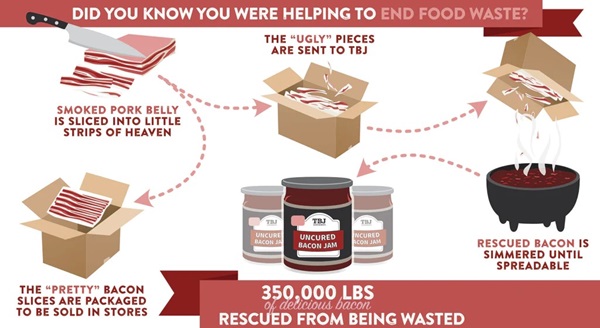 The Bacon Jams infographic showing how their products utilize bacon that might otherwise be wasted.
Jonathan Deutsch of Drexel University echoes the optimism for upcycled products in both domestic and international markets: "Upcycling has universal appeal. The U.S. has been leading the way in consumer marketing and awareness, making a market case that consumers want and will pay for upcycled products. It's a viable market opportunity."   
Read the second part of this blog, with perspectives from Food Export In-Market Representatives on tackling food waste in their markets!
 
Resources
Messy but Worth It:  Lessons Learned from Fighting Food Waste from the Food Waste Reduction Alliance 
Food Waste Reduction Roadmap Case Studies from WRAP (Waste and Resources Action Programme) 
Sustainable Management of Food from U.S. Environmental Protection Agency 
Food Loss and Waste from the U.S. Department of Agriculture 
Food Loss and Waste from the Food and Agriculture Organization of the United Nations 
Business Case for Reducing Food Loss & Waste from Champions 12.3 
Drexel News article on Drexel Food Lab study on consumer acceptance of upcycled products. 
ReFed – a U.S. NGO looking at data-driven solutions to food waste. 
Produced by Never Eaten: a Visual Guide to Food Waste by Kate Lyons, Glenn Swann and Cath Levett, The Guardian, August 12, 2015.