As international export markets begin recovering from the COVID-19 pandemic, it is important to stay up to date on how your target markets are doing.  
Food Export-Midwest and Food Export-Northeast have developed this blog series to bring you front-row insights from our network of In-Market Representatives (IMRs). Each blog will focus on one international market and give an overview of the recovery efforts in that market. This time we'll examine Singapore. 
---
This week's spotlight is all about Singapore. Learn about the changes that took place in this market as a result of COVID-19 and practical tips that our In-Market Representatives (IMRs) for Southeast Asia, Richard Lieu and Thomas Wee of Lieu Marketing Associates, have to offer to U.S. exporters looking to enter or re-establish themselves in the market.  


1. What is the situation in your market regarding pandemic recovery at present?  
Singapore wants to push on with the strategy of living with Covid-19 as the country cannot stay "locked down indefinitely".  Even though cases have increased because of the Delta variant, the symptoms for most people are fortunately mild and they can isolate themselves at home without burdening the hospitals' resources.
Eighty-five percent of the population is vaccinated and many have also received booster shots.  The Government encourages everyone to have a booster shot through constant reminders in the newspapers or through celebrity influencers.
While anxious to relax the restrictions on dining, the increase in cases has caused some measures to be tightened.  In recent months, dining out and social gatherings had been limited to groups of 2 people. As of November 10, however, dining out within a group of up to ten is allowed if all members are from the same household, which is welcome news to both restaurants and families.
The Government has been providing relief and support packages to help individuals and companies during this difficult time such as rental rebates for tenants and temporary financial support for lower and middle-income groups.
Singapore's economic recovery was affected over the last two quarters because of a resurgence in COVID-19 cases in the community.  Backed by government support and external demand, the economy has since rebounded and Singapore is expecting its economy to grow at a faster pace than previously predicted. 
Except for dining restrictions, most malls and shops are open with safe management measures and tracking strictly in place.  Only vaccinated people are allowed into malls and restaurants.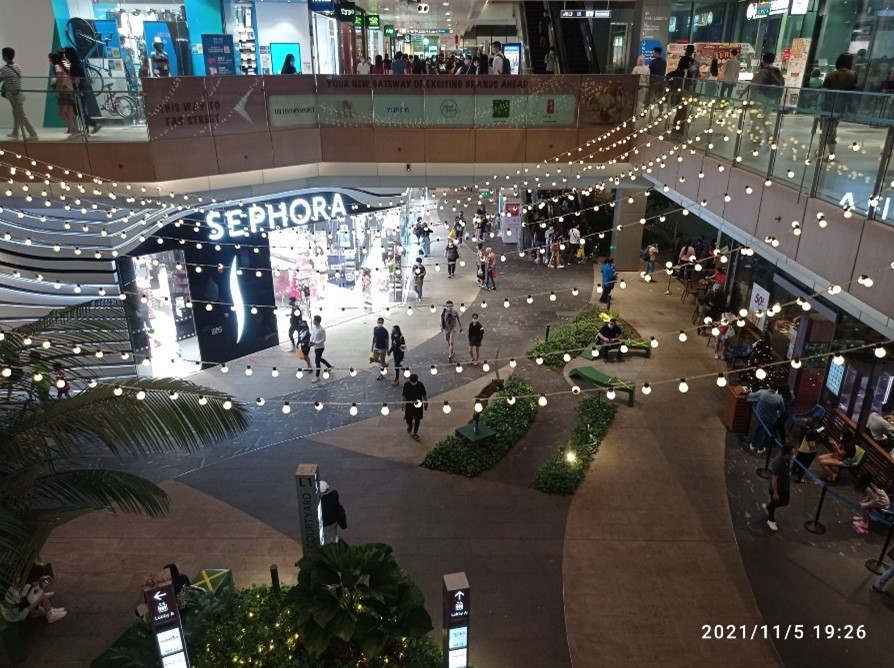 Shopping Mall with mixed tenants (food, clothing, lifestyle, health products, etc)
Singapore has announced the implementation of Vaccinated Travel Lanes (VTLs) VTL which will provide quarantine-free travel for vaccinated travelers between designated countries, including the U.S.  This expansion of travel is expected to give the economy a boost.  Countries are added on gradually and of great expectation is the opening of the border between Malaysia and Singapore from November 29. This long-awaited reopening will pave the way for workers from Malaysia to come in and for businesses between the two countries to resume.  This re-opening, however, is only for air travel and not for land travel.
2. How is that playing out in the food sector?  What are you seeing in the retail sector? foodservice sector?  Is there anything to note in specific industry sectors such as pet food, or seafood?
Singapore's HRI industry depends on tourism. However, in 2020 due to the pandemic, tourist receipts dropped 78 percent to US$3.7 billion and visitor arrivals by 85 percent to 2.7 million according to the Singapore Department of Statistics. The food and beverage sectors are badly affected due to social-distancing and capacity measures that are put in place to curb the spread.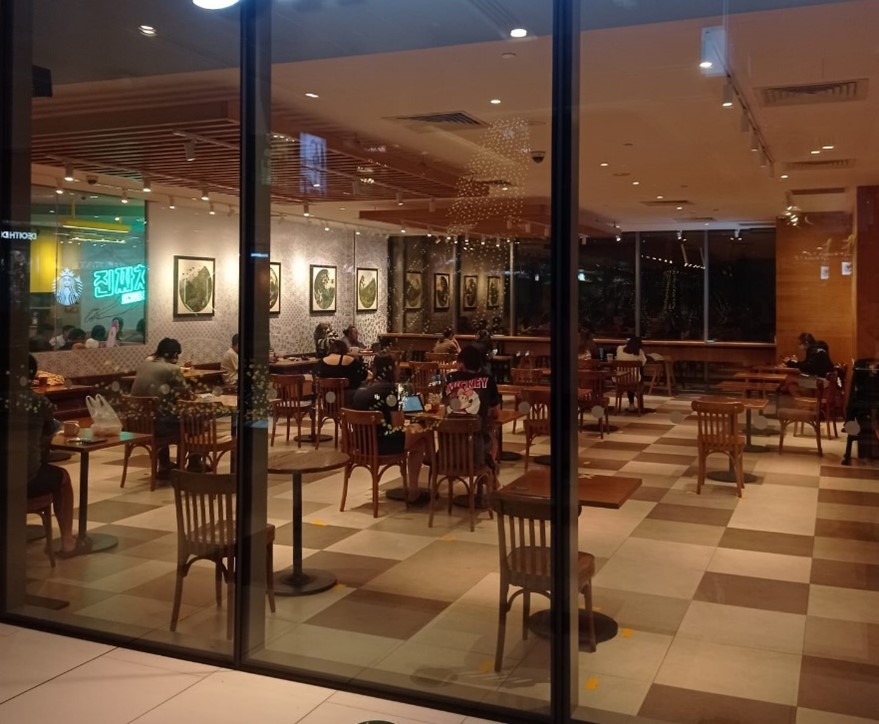 2 person rule and 1 meter social distancing in a cafe
Despite the pressure on the HRI sector, some international franchises, particularly in the fast-casual sector, have either established their first outlet or expand their presence in Singapore.
The stop/start measures that are implemented to curb the virus impacted the operations of restaurants, resulting in some closures.
The retail sector and online platforms fared better as people are wary of dining out and also because of the number of people allowed in restaurants, food courts, and open markets. Consumers therefore tend to cook at home or depend on food deliveries.  Consumers are also paying more attention to health and wellness and plant-based foods are gaining popularity.
To assist the older generation hawkers and small food and beverage (F & B) outlets, the government launched a programme to help them establish an online presence and develop a sustainable commercial model. 
With regard to seafood, consumers generally prefer fresh whole fish. Due to the pandemic, there has been an increased openness to frozen processed products in the retail and food service sectors.  A COVID-19 breakout in Singapore's Jurong Fishery Port in July disrupted the supply chain as the port was closed to curb the spread and consumers were encouraged to look at frozen seafood as an alternative.
The limited supply of imported pets due to the pandemic has caused increased prices at the same time that people working from home have more time to look after new pets. On the other hand, hit by the pandemic, more community feeders and pet owners have been asking welfare organizations for help. The Society for the Prevention of Cruelty to Animals expanded its pet food program fund in August 2020, to support the provision of pet food for pet owners whose incomes have been affected by the pandemic.
3. Have there been any structural changes in the market – ex. consolidations or ongoing issues related to imports (ex. testing) of which U.S. suppliers should be aware? 
Singapore depends heavily on imported food supplies and the government ensures that there is a steady supply of imports. The government is also looking at having more local farm products. 
Some importers are frustrated and commented that they experience shipment delays in their imports of products not only from the U.S. but other countries and this affected their ability to fulfill their customers' orders.
At the beginning of the pandemic, bakery ingredient suppliers experienced a surge in business as more people bake at home either as a business or as a hobby.
Importers are cautious about importing large volumes and are leery about high minimum order quantities (MOQs).  Some importers are looking for consolidators to avoid full container loads (FCLs) of individual products.    
Some companies in Singapore offer "break bulk" services (RDC) to companies in Southeast Asia or if they have branches, will split the container load and send off to their branches as required.
4. What trends or developments have you seen in your market during the pandemic that you think is most likely to continue into the recovery and post-recovery period?  
Work from home will continue to be the default and this will affect F & B outlets that have operations in commercial business districts. Some operations have already been forced to close because of lack of traffic.
Contactless and digital payments will gain momentum as the Singapore government is encouraging contactless payments.
The e-commerce industry will continue to grow and food delivery services will expand to cope with the increased demand for food and grocery deliveries.  Most restaurants and food outlets now have a special lane for pick-ups by food deliverers.
Online retailers also saw an increase in sales on their online platforms.
5. Could you share some practical marketing tips for U.S. suppliers to best position themselves to take advantage of the trends/developments you identified above? 
As Singapore is dependent on imported products, there is room for suppliers to enter the market.  Almost 90% of the food products are imported from several countries around the world.  If possible, suppliers should try not to insist on MOQs as importers are wary of committing to large orders currently.  Importers generally prefer to work with suppliers who can offer marketing and promotional funds and offer exclusivity, especially for new products.
Suppliers could work with importers/retailers on making their products attractive for online orders by conducting product promotions.  Several companies also use key opinion leaders (KOLs) to help market their products via social media.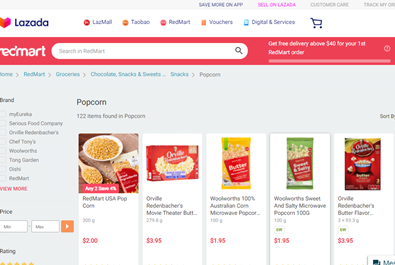 Example of product category-specific online promotion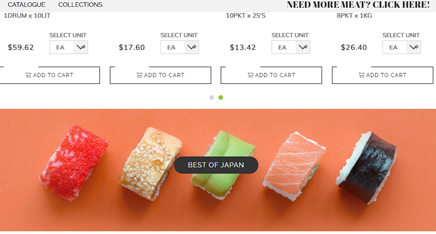 Example of country specific online advertisement

If relevant, suppliers should try and participate in Food & Hotel Asia, the largest food show in the region to introduce their products to buyers not only from Southeast Asia but also other Asian countries.  They should also take advantage of Food Export's inbound/outbound missions and programs e.g. to get a detailed analysis of competition and opportunity.
Besides working with importers, suppliers can also explore the possibility of working with online vendors who can import directly.
Want to know more about the Singapore market?   
Check out the Food Export'sSingapore Country Profile for further details.  
Do you have specific questions for our market expert? 
 
Consider a 30-minute video Virtual Consultation.