As international export markets begin recovering from the COVID-19 pandemic, it is important to stay up to date on how your target markets are doing in 2021.
In response to this need Food Export-Midwest and Food Export-Northeast have developed a new blog series that will bring you front-row insights from our network of In-Market Representatives (IMRs). Each blog will focus on one international market and give an overview of the recovery efforts in that market. This week's spotlight is all about China. 
---
This week's spotlight is all about China. Learn about the changes that took place in the Chinese market as a result of COVID-19 and practical tips that our China IMR, Roger Zhang of SMH International, has to offer to U.S. exporters looking to enter or re-establish themselves in the market. 

1.      What is the situation in China regarding pandemic recovery at present?  
China's economy is well on its way to recovering from the global pandemic, showing all-around improvements. Businesses are back and demand is growing. In particular, retail sales of consumer goods rose by 33.8% year-on-year in the first two months of 2021, according to data from China's National Bureau of Statistics.
Online retail sales reached US$ 432 billion in Q1, year-on-year growth of 29.9% and an average growth of 13.5% in two years. Among the online retail sales of physical goods, sales of food, clothing, and consumer goods increased by 30.5%, 39.6% and 21.4% respectively, with an average growth of 31.6%, 8.9% and 15.6% in two years.
More recently, during the Labor Day holiday, May 1-5, there were strong signs from a recovering tourism industry, as the holiday was lengthened by two days to make up for travel being discouraged during February's Spring Festival. According to the Ministry of Culture and Tourism, 230 million trips were taken, up 120% from the same period of 2020, and up 3.2% higher than pre-pandemic levels. Total tourism revenues were US$17.5 billion, up 138.1% year-on-year.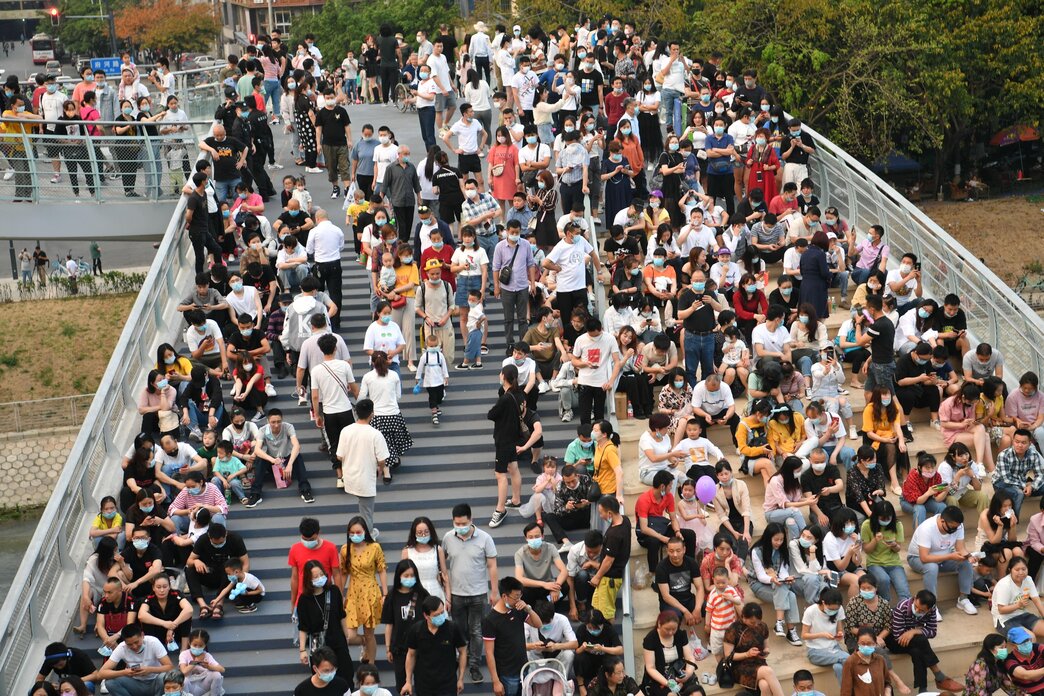 2.     How is that playing out in the food sector?  What are you seeing in the retail sector? foodservice sector?  Is there anything to note in specific industry sectors such as feed, pet food, or seafood?
COVID-19 has driven residents to focus more on health than before. People are now even more health-conscious, adopting healthier lifestyles and diets. And, with the growing of the middle class, the consumption of high-quality food products has increased significantly, especially during 2020 when the situation was most severe.
In the retail sector, there was considerable growth of high-end specialty retail stores. Examples include Beijing Hualian Group's BHG, CR Vanguard's Ole' and BLT, and many local upscale supermarkets in various cities across the nation. Usually over 70% of SKUs at these retailers are imported, with fresh foods being the most important category, varying from fresh product like fruits and vegetables to chilled/frozen items like dairy and seafood.
Another trend has been "New Retail". The idea was first brought up with by Jack Ma in 2016, the founder of Alibaba, which exploded throughout the past year. New Retail brings together online and offline (O2O) channels, aiming to provide consumers a seamless, and the best shopping experience.  Hema Fresh is a classic example of a new retail store. One feature for the store is that online orders placed via their app are guaranteed to be delivered in less than 30 minutes.
3.   Have there been any structural changes in the market – ex. consolidations or ongoing issues related to imports (ex. testing) of which U.S. suppliers should be aware? 
Imports to China increased a healthy 14.5% in the first two months of 2021 as compared to the same time period in 2020, according to the General Administration of Customs.  While the general trend is positive, Sino-US trade frictions are still a challenge for U.S. exporters.
So far, the Biden administration has not eliminated the high tariffs imposed by former President Trump on Chinese exports to the U.S. The major concern among Chinese importers of U.S. food imports was not just the price but the uncertainty of further policy changes, as well as attitudes from Chinese customs and inspection authorities.
Other challenges also exist. China has started to sign more Free Trade Agreements (FTAs) with other countries in recent years. In addition to ASEAN, Chile and New Zealand, discussions with Canada, a strong competitor for Northeast seafood, for an FTA has also been initiated. A price gap of 15 – 30% due to lower taxation is immediately recognized between U.S. products and those countries benefiting from FTAs, influencing the business of U.S. suppliers.
For non-FTA countries, especially European ones, they remain more committed to the China market due to weakened domestic consumption. Requirements on changes made to the product including flavor, package size or packaging could easily receive consent from these suppliers. In particular, agreements on exclusivity for product distribution which Chinese buyers attach great importance to for long-term market development can usually be achieved. U.S. suppliers new to exports, or new to the China market, will face great difficulties amid the competition.
4.      What trends or developments have you seen in your market during the pandemic that you think are most likely to continue into the recovery and post-recovery period?  
Strong momentum in online consumption and online platform development will definitely continue in China. And as the larger group of younger generations embrace online shopping for fresh produce products, many retailers have started to work with delivery platforms or established their own online platforms, to increase their presence online and boost online sales.  
In addition, the usage and development of digital media has accelerated due to the global pandemic. Short videos and social media/digital media have become hugely popular, as have KOLs (Key Opinion Leaders). Within this space, one of the most popular social media apps has been Douyin, China's version of Tik Tok, a short-form video app. It had 400 million active users as of January 2020. With such a huge following, it has been embraced by many brands and products as a marketing and investment platform. Since the pandemic, many brands have utilized digital media to launch all kinds of promotional activities. With the increasing number of people using smart devices to go online, the trend will only intensify in the years to come.
The food service sector suffered considerably during the past year, as lockdowns, quarantine, and more limited business. As effects of the pandemic lessened, the HRI sector has shown a strong recovery. Many restaurants have opened up and diners are now venturing out. In the food service sector, the concept of "healthy eating, healthy dining" is being heavily stressed. The incorporation of healthy ingredients into dishes is also increasing throughout the HRI sector.
5.      Could you share some practical marketing tips for U.S. suppliers to best position themselves to take advantage of the trends/developments you identified above? 
Northeast and Midwest suppliers should take advantage of the strong production capabilities of their agricultural sector and continue to communicate the core ideas of quality and health benefits of agricultural and food products from these regions.  This is critical especially under the current situation as China is importing record volumes of commodities which the Midwest and Northwest are well-known for including, soybean, meats and fruits and as Chinese consumers are embracing healthier lifestyles. Maintaining an active presence on social media platforms will also be important for Northeast and Midwest suppliers, which will help increase product awareness and ensure a solid relationship with consumers.
Due to the high tariffs and political issues in Mainland China, Hong Kong is an ideal market for U.S. suppliers to focus upon. Hong Kong has decades of history importing from the world, and has a strong affinity towards the U.S. It is also a mature market with a group of sophisticated consumers who understand imported products well. As a leading international city, Hong Kong is already familiar with many American products, which will make it easier to introduce new products or new product forms.
Last but not the least, maintaining trade relationships is very crucial to expanding business in China. With this in mind, more efforts should be spent in developing and maintaining communication with domestic traders, including importers, retailers, wholesalers, online platforms, and others, and establishing long-term cooperative relationships. SMH maintains conversations with the trade on a regular basis to better understand their needs, collect trade leads, to increase product awareness and boost sales of U.S. food products.
Want more information on the Chinese market?
See if our Virtual Consultations service is right for you!