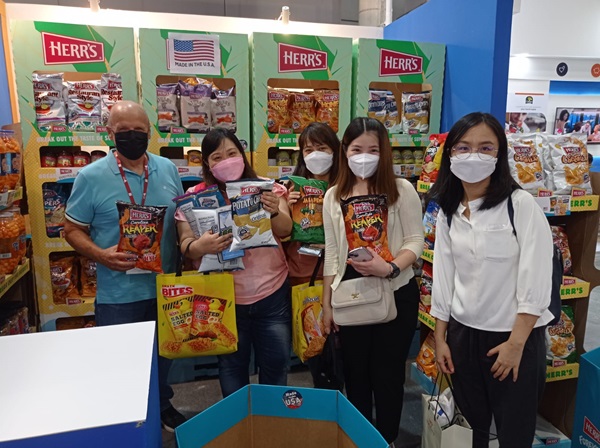 Serious snack interest at Herr Foods booth. 


Food Show PLUS!™ at Fine Food Australia 
Melbourne, Australia
September 4 – 8, 2022 
Food Show PLUS! ™ services were offered to seven U.S. suppliers at the Fine Food Australia show in Melbourne in early September.  In addition to standard Food Show PLUS! ™ services such as a pre-show retail tour, customized invitations to qualified buyers, introductions to Australian buyers and on-site assistance, suppliers at this show were able to meet with a buyer from New Zealand who was invited by Food Export.  Other special activities for this mission included a presentation on Australian import requirements and a welcome reception organized by the USDA/Foreign Agricultural Service in Australia.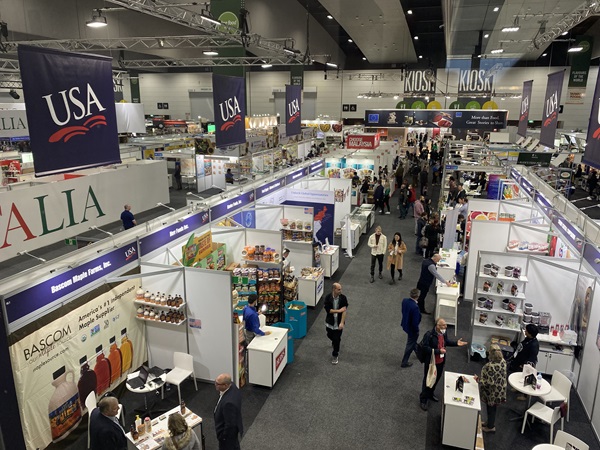 USA Pavilion at the Fine Food Australia Show 

Focused Trade Mission to Canada 
Toronto, Canada
September 7 – 8, 2022 
Food Export-Northeast's annual trade mission to Canada is a popular trade mission for first-time exporters and often an eye-opener.  With a common border and many shared customs, new exporters to Canada often think the Canadian market operates the same as the U.S.   Food Export's long-time In-Market Representative to Canada, Kathy Boyce, makes sure that the mission provides not only great business contacts but education on important market differences.   
The eight U.S. suppliers who were part of this year's mission had a chance to tour retail food sites ranging from a specialty gourmet grocer to one of Ontario province's Wine, Liquor and Beer stores.  The local USDA/Foreign Agricultural Service gave an overview of the Canadian market and a labeling expert shared about bilingual and nutrient labeling requirements.  A full day of one-on-one meetings followed.  One U.S. supplier noted: "This is the most promising mission to Canada that I have been to . . . Experience of previous missions made us better prepared for this one. I am very grateful."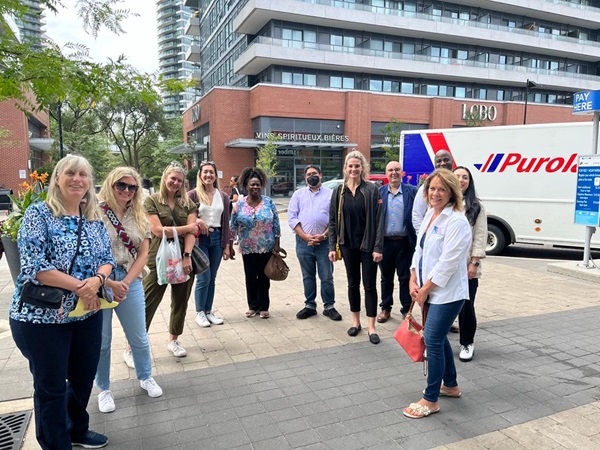 Trade mission participants enjoy a tour of Toronto retail food  
and beverage outlets before one-on-one buyer meetings. 

Plant-Based Buyers Mission at the Plant Based World Expo 
New York, NY
September 8, 2022   
Nine international buyers from diverse global markets ranging from Antigua to the United Kingdom joined Food Export-Northeast's first Plant-Based Buyers Mission.  The mission, held in conjunction with the Plant Based World Expo at the Jacob Javits Center in New York City, provided U.S. suppliers an opportunity to showcase their innovation products including egg/dairy/meat substitutes, vegan sweet and savory snacks, and ready meals.  Buyers commented on the good range of products and suppliers and on the growing importance of this sector in years to come. 
   Plant-Based foods are a global trend 

Bakery Ingredient Buyers Mission at IBIE 2022 
Las Vegas, NV
September 17, 2022 
Buyers from Colombia, Chile, Guatemala, Indonesia, Kuwait, St. Vincent and the Grenadines, South Korea, and Vietnam joined this special buyers mission focused on the bakery ingredients sector.  The mission, which takes place every three years, is held in conjunction with the International Bakery Industry Exposition (IBIE) show and is considered the largest trade event for the grains-based food industry in the Western Hemisphere.  Participating U.S. suppliers offered natural sweeteners, soy flours, meat substitutes, flavorings for breads, cereal grains, bakery mixes and dough conditioners.  One supplier participant reported: "I love these programs/opportunities.  Well vetted customers."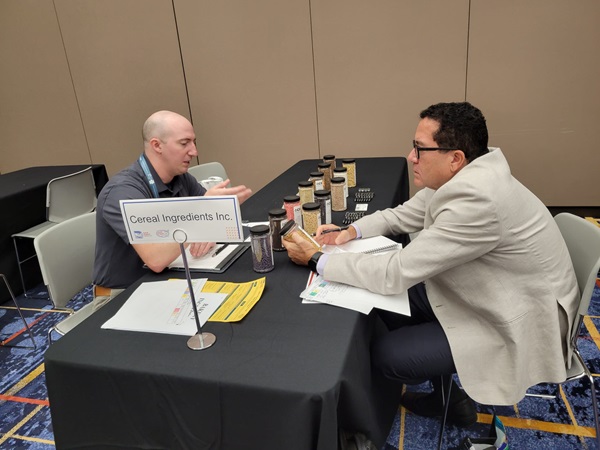 Buyer examining broad range of ingredients on offer from U.S. supplier
Northeast U.S. Seafood Chef Competition  
Hangzhou, China
September 23, 2022 
On the afternoon of September 23, 2022, Food Export-Northeast held a chef competition in Hangzhou featuring American lobster and U.S. Atlantic sea scallops with the ultimate aim of growing utilization of these high-quality seafood products in the region's foodservice outlets. The event was held in conjunction with the Zhejiang Catering Industry Association and, with assistance of the Hangzhou No. 1 Technician College, where the competition was held. A total of 46 chefs participated, representing a range of head sous chefs and executive chefs from Chinese and Western cuisine from area restaurants and starred hotels. The chefs were given 90 minutes to prepare dishes featuring the two ingredients, which were then judged by a panel of three master chefs, rating them on presentation, creativity, and taste.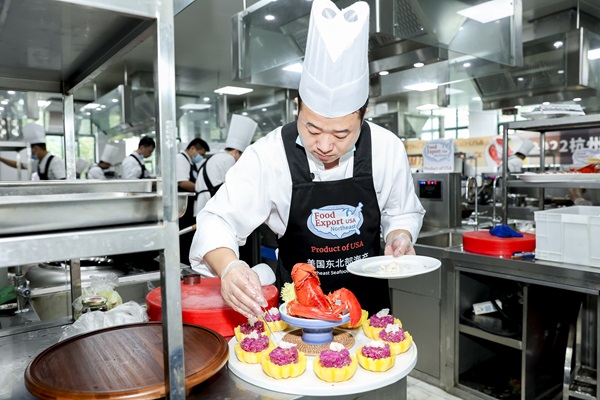 Competing chef putting the finishing touches on his
                                                   American lobster and Atlantic sea scallop dishes. 

Focused Trade Mission to the EU for Shellfish 
Yerseke, the Netherlands and Paris, France
September 26 – 30, 2022 
After more than ten years since a ban on trade between the U.S. and the E.U. for shellfish was put into place due to lack of equivalency on testing standards, five Massachusetts shellfish growers and dealers were excited to join Food Export-Northeast's first Focused Trade Mission to the EU for Shellfish and explore the opportunities within Europe for their unique products. The mission started in Yerseke, the Netherlands where many fish and shellfish importers are based.  One important component of the mission was education to the European trade about the U.S. oyster which is a different species than those grown in Europe.  Experts joined the mission to discuss the U.S. oyster's ability to retain its freshness when stored as well as the process for importing.  Importers could taste the variety of oyster flavor profiles available from Northeast U.S. growers. 
After shellfish farm tours and one-on-one buyer meetings in the Netherlands, U.S. suppliers traveled to Paris stopping at retailers featuring shellfish along the way in order to survey available brands and methods of packaging.  Once in Paris, they participated in presentations on the French shellfish market, met with French buyers and rounded out the day with an evening reception at the historic Tallyrand Hotel for buyers, chefs, and journalists.  Intrepid U.S. shellfish companies arose in the early hours of the next day for a pre-dawn tour of the Rungis wholesale seafood market.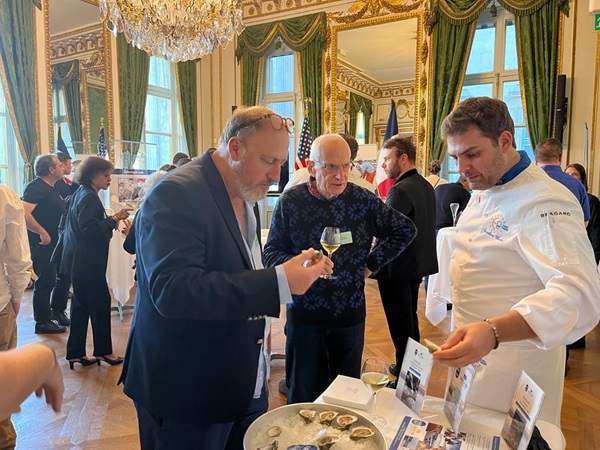 Chefs and journalists getting a fresh taste of U.S. shellfish 

National Association of State Departments of Agriculture (NASDA) Annual Meeting
Saratoga Springs, NY
September 26 – 29, 2022
Food Export-Midwest and Food Export-Northeast Executive Director and CEO Tim Hamilton was honored with the Ambassador's Circle Award at the NASDA 2022 Annual Meeting. The Ambassador's Circle Award recognizes external stakeholders to NASDA who have provided exemplary dedication to advancing NASDA's mission. This year, the NASDA Executive Committee selected Tim to receive this award.
Hamilton has served as Executive Director and CEO of Food Export – Midwest for 30 years and Food Export – Northeast concurrently for 22 years. In making the award, NASDA Board President Ball noted Tim's "establishment of a network of 20 in-country representatives in markets around the globe, introduction of export education programs, dedicated outreach staff and innovative services like Food Show PLUS! the Food Export Helpline, Market Builder and many others. Under his leadership, both Food Export – Midwest and Northeast have developed lasting reputations as reliable and innovative resources for thousands of U.S. agricultural exporters."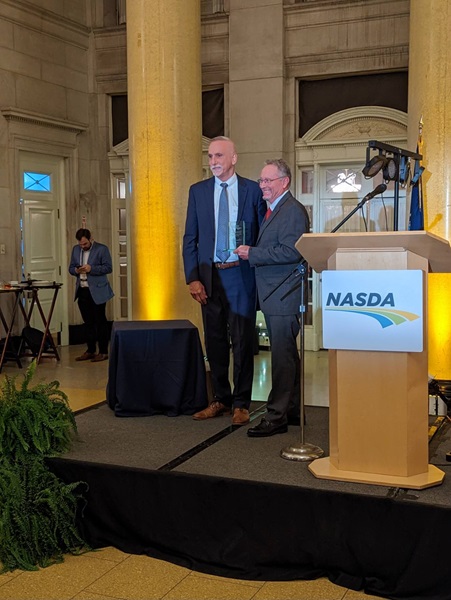 New York Secretary of Agriculture and NASDA Board President Richard A. Ball presents Tim Hamilton with the Ambassador's Circle Award
Natural Products Buyers Mission at the Natural Products Expo East Show 
Philadelphia, PA
September 28 – 29, 2022 
A diverse delegation of 21 international buyers traveled to Philadelphia to participate in pre-arranged meetings with U.S. suppliers at Food Export-Northeast's Natural Products Buyers Mission.  This mission took place in conjunction with the Natural Products Expo East Show in its first in-person East show since the pandemic and excitement levels of both international buyers and U.S. suppliers were high to meet in person once again.   
One question that U.S. suppliers often ask is "how does Food Export select buyers?"  The process starts many months in advance when the calendar of the annual buyer mission activities is shared with Food Export's network of 18 In-Market Representatives.  They are charged with keeping in contact with potential buyers in their markets and nominating the buyers suited for the various missions.   Once Food Export receives these nominations, they are reviewed and prioritized with invitations going out to those with the best fit for each particular mission.   After the mission, Food Export monitors feedback from suppliers carefully, so it was promising to see more than one U.S. supplier who shared a similar sentiment as this supplier about this mission's buyers: "Food Export had assembled a fantastic group of buyers and distributors from a great assortment of countries.  I am very excited about these meetings and think the relationships will really help grow our overseas business."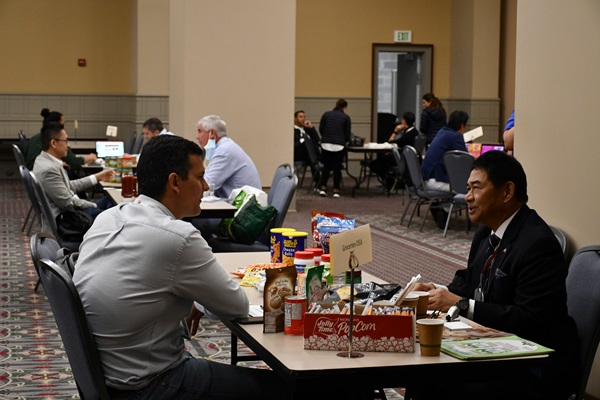 Happy to be meeting in-person again at the Natural Products Buyers Mission in Philadelphia.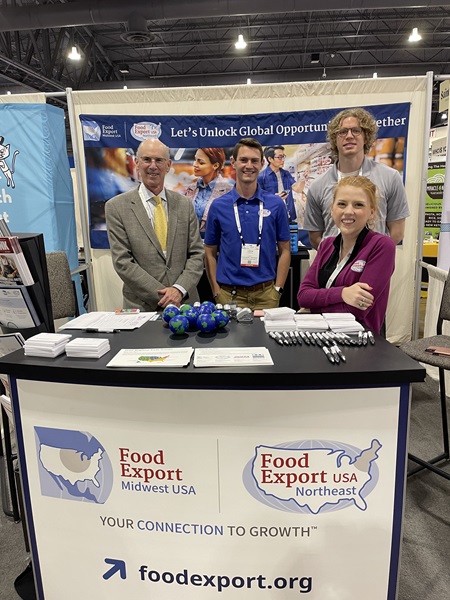 Welcoming smiles from the team at Food Export's show booth.