Food Export – Midwest and Food Export – Northeast's mission has always been to help U.S. companies increase their export sales. One of the main ways we do that is by attending and hosting events around the globe.
In this monthly blog we highlight everywhere we went and everything we did during October 2022! 
Value-Added Feed Ingredients Buyers Mission
2022 World Dairy Expo
Madison, WI
October 5, 2022
At the beginning of October, Food Export – Midwest hosted the annual Value-Feed Ingredients Buyers Mission at the World Dairy Expo in Madison, Wisconsin. This year, buyers from Brazil, Chile, Egypt, Philippines, Vietnam, and two buyers from Jamaica traveled to Wisconsin to meet with nine U.S. suppliers. In addition to their one-on-one meetings and attendance to the Expo, the participating international buyers had the opportunity to visit Rosy Lane Holsteins Dairy Farm in Watertown, WI.
Initial reports show $2,304,000 in projected export sales for U.S. feed suppliers. The World Dairy Expo is the world's largest dairy-focused trade show, making it an excellent venue for suppliers in the feed-ingredient market.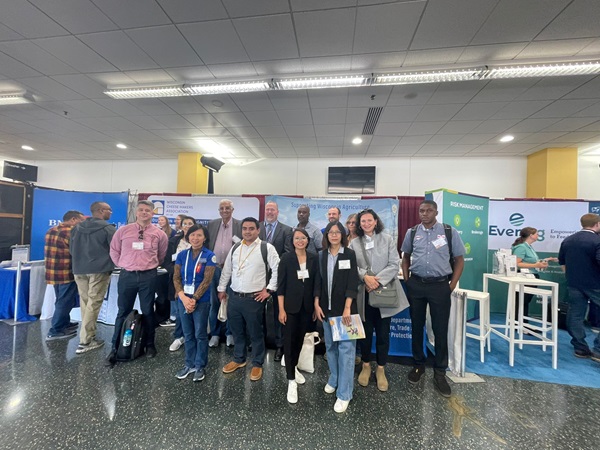 Buyers at the World Dairy Expo

                                        Rosy Lane Holsteins Dairy Farm in Watertown, WI
2022 Food Export Fall Member State Marketing Conference
Chicago, IL
October 10 – 13, 2022
The annual Food Export Member State Marketing Meeting took place in Chicago, Illinois at the Fairmont Hotel from October 10 – 13.
This meeting is a special opportunity for both Food Export-Midwest and Food Export-Northeast staff, state members, activity coordinators, and In-Market Representatives to come together and connect on a variety of topics and issues relating to agriculture and food production. It was of note that this year's meeting hosted the largest Food Export network in years, which included all our In-Market Reps, who traveled from all over the globe to Chicago.
Food Export staff had a chance to share developments in their programs, while In-Market Representatives introduced updates in their respective markets. The conference also included panels that discussed new labeling regulations and their impact on exporters, changes in shipping and logistics practices, trade policy updates, and opportunities for sustainability. The guest speakers included:
Jeanne Bailey, FAS
Teresina Chin, FAS
David Green, US Sustainability Alliance
Beth Power, Altai Systems
Jason Richmond, Dale Carnegie
Lisa Waller, BDG International
This year's meeting was also an occasion to celebrate Tim Hamilton, our Executive Director, and applaud his career and legacy at Food Export. The festivities included a reception, a myriad of anecdotes, and a slideshow showcasing Tim's endeavors with Food Export over the last thirty years.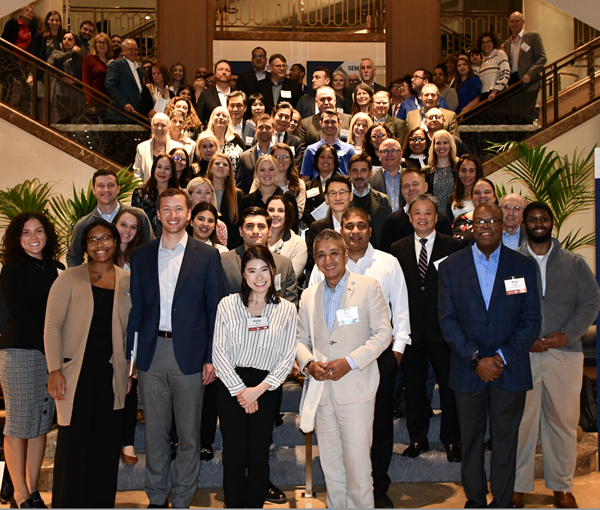 Food Export staff, State Members, and In-Market Representatives
Food Show PLUS!™ at SIAL Paris
Paris, France
October 15-19, 2022
After its postponement in 2020, the biennial Salon International d'Alimentation (SIAL) came back this fall! SIAL Paris is the world's largest food innovation exhibition, bringing together producers, importers, buyers and retailers, media specialists and independent associations. It is a unique opportunity for U.S. suppliers to network and gain insight into the latest trends.
Food Export staff were on-site to facilitate the Food Show PLUS! services offered at the tradeshow. These services range from access to interpreters and one-on-one meetings to post-show lead qualifications and market briefings. This year, twenty-one U.S suppliers traveled to Paris and benefitted from Food Show PLUS!
In addition to the tradeshow, our staff had the opportunity to attend the Cooperator Meetings organized by members of FAS in Europe, which included two panels. The first, Reaching African Markets: Strategies for USDA Cooperators, discussed the developments in the ports of West Africa and the increasing investments in their infrastructure to establish the region as a distribution hub. The second panel, Sustainable Food Systems in the European Union, examined the challenges and opportunities U.S. food and ag suppliers face when entering the E.U. market from a sustainability perspective.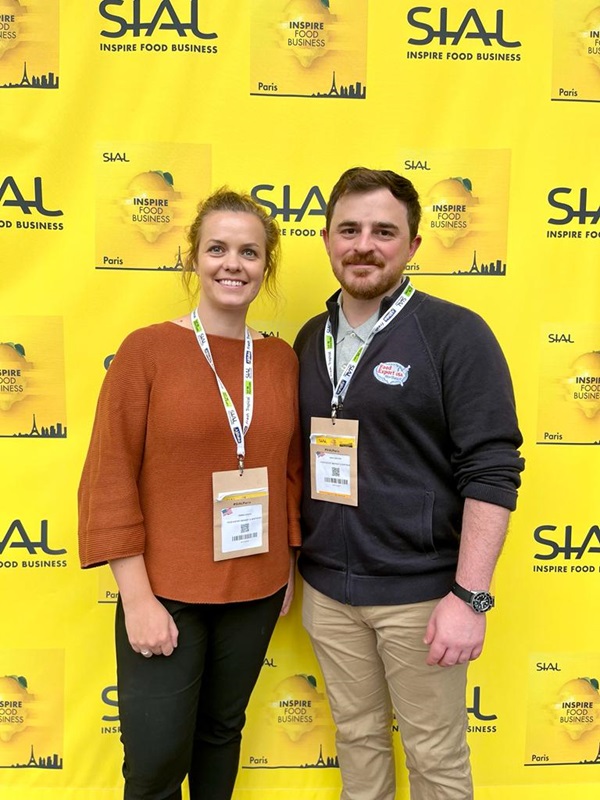 Food Export's Femke and Ben at SIAL Paris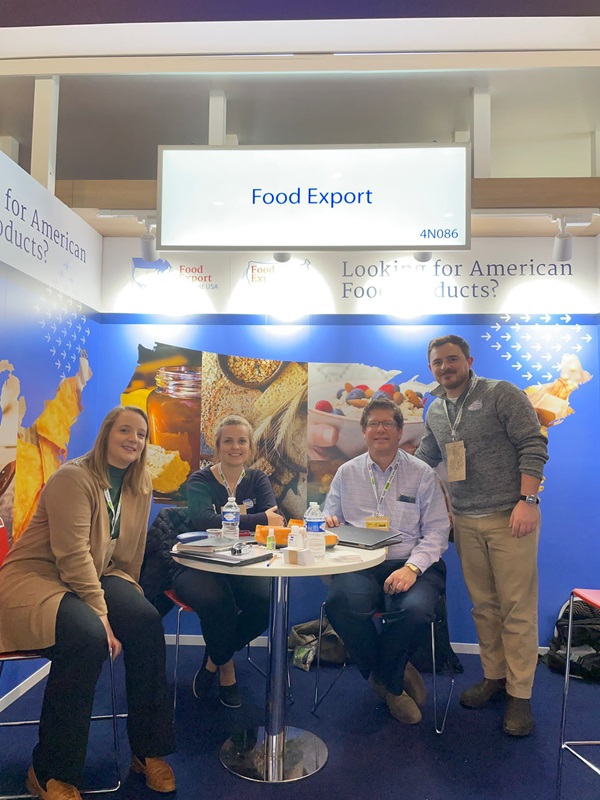 The Food Export Booth at SIAL Paris
Focused Trade Mission to Japan
Tokyo, Japan
October 24-25, 2022
Food Export held a Focused Trade Mission in Tokyo, Japan with thirteen U.S. suppliers participating in the mission. Suppliers attended a market overview session, retail tours, one-on-one meetings with local buyers, and a networking reception. These tools allow suppliers to build new relationships in the industry and create distribution opportunities.
Initial reports project $500,000 in export sales. According to the USDA Agricultural Trade Office (ATO), Japan is the fourth largest market for U.S. exporters. Although Japan maintains strict product regulations, under the U.S.-Japan Free Trade Agreement, nearly 90% of U.S. food and ag imports into Japan are either duty free or receive preferential tariff access.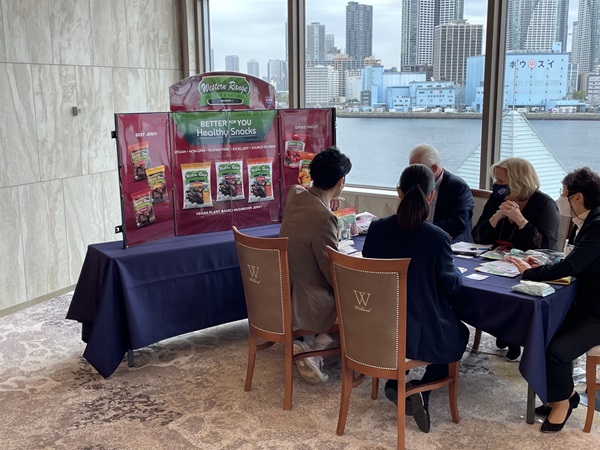 Focused Trade Mission in Japan

                                            Food Export's John at the Focused Trade Mission