In this monthly blog we highlight everywhere we went and everything we did during November 2022! 
USDA Agri-Business Trade Mission to East Africa
Nairobi, Kenya and Zanzibar, Tanzania
October 30 – November 4, 2022
Food Export – Midwest Strategic Partnerships Manager, Teresa Miller, traveled to Kenya and Tanzania to participate in the USDA Agri-Business Trade Mission to East Africa and promote U.S. food and agricultural products in trade, tourism, and technology. The mission included members of the U.S. Department of Agriculture, the U.S. Embassy in Nairobi and Dar es Salaam, and the Office of Agricultural Affairs. State and Regional Trade groups, State Members, and Cooperators also participated in the mission.
The first part of the event took place in Nairobi, Kenya. It included an overview of the agricultural trade environment and briefings with East Africa Market Development Associates, the International Service for the Acquisition of Agri-Biotech Applications, and the Kilimo Center. There was also a site visit to Tatu City to visit a coffee facility and a U.S. e-commerce business.
The second part of the mission was in Zanzibar, Tanzania. Participants attended a session on best practices for doing business in Zanzibar and had meetings with the Zanzibar Chamber of Commerce and the Investment Promotion authority. This was an opportunity for U.S. agribusinesses and state representatives alike to learn about the markets in the African region, as well as engage directly with potential importers and participate in site visits.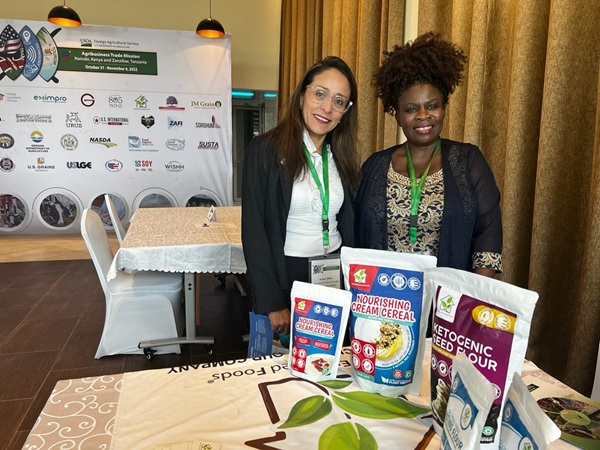 Food Export's Teresa Miller and Caroline Egbelu from Health Enhanced Foods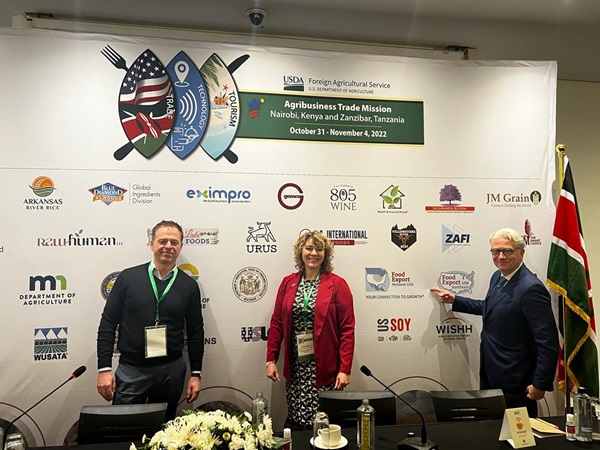 Member States from Minnesota and Wisconsin 
Kosherfest
Secaucus, New Jersey
November 8-9
Food Export – Northeast's Howard Gordon and Logan Zweifel traveled to the Meadowlands Expo Center for the annual Kosherfest show the world's largest and most attended kosher-certified products trade show. They met with current and potential suppliers to discuss Food Export's programs and services. The event featured a variety of products to sample, from meats and cheeses to cookies and ice cream. The products were from small startup manufacturers and large companies alike.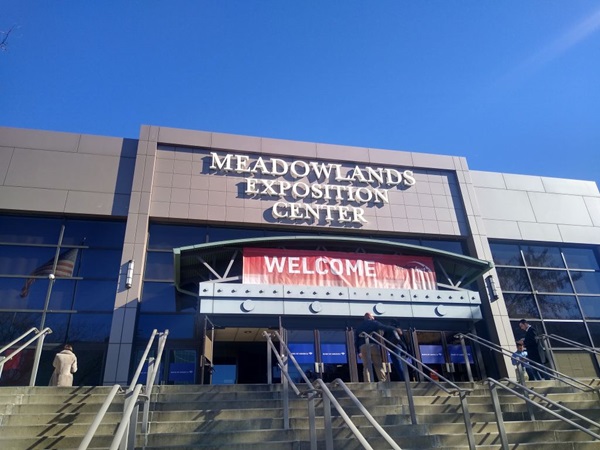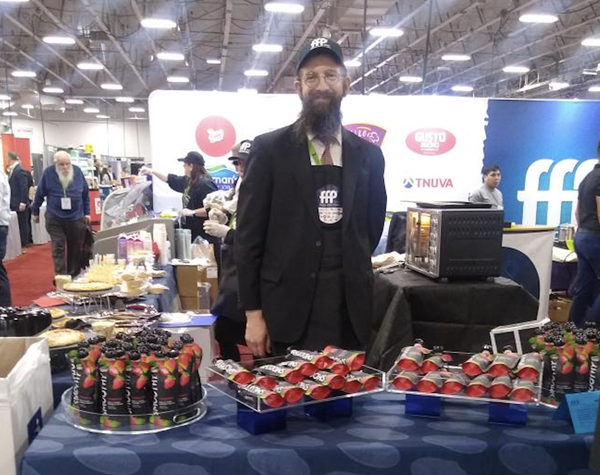 Vendors at the annual Kosherfest Expo
Private Label Buyers Mission at the PLMA Show
Rosemont, IL
November 13-14
The annual Private Label Buyers Mission took place in Rosemont, IL at the PLMA Show in mid-November. The PLMA Show is an excellent venue to meet new vendors, reconnect with current vendors, and discover innovative products. This year we had 27 U.S. suppliers and 14 foreign buyers participate in the mission. The initial reports show 182 new supplier/buyer introductions, more than $1 Million in actual export sales, and over $3 Million in projected export sales.
Private label brands provide consumers with top quality and unique products. As consumers become more informed about the value of their products, private label brands have emerged as an alternative to the big national brands. The private label sector is an attractive market segment for many of the U.S. suppliers that utilize our programs and services since we have several Market Entry Activities that are specific to the Private Label industry. Find out more about our Market Entry Activities on our website.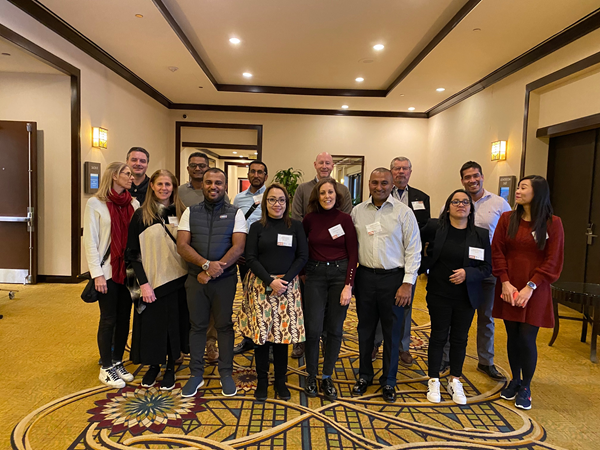 International Buyers at PLMA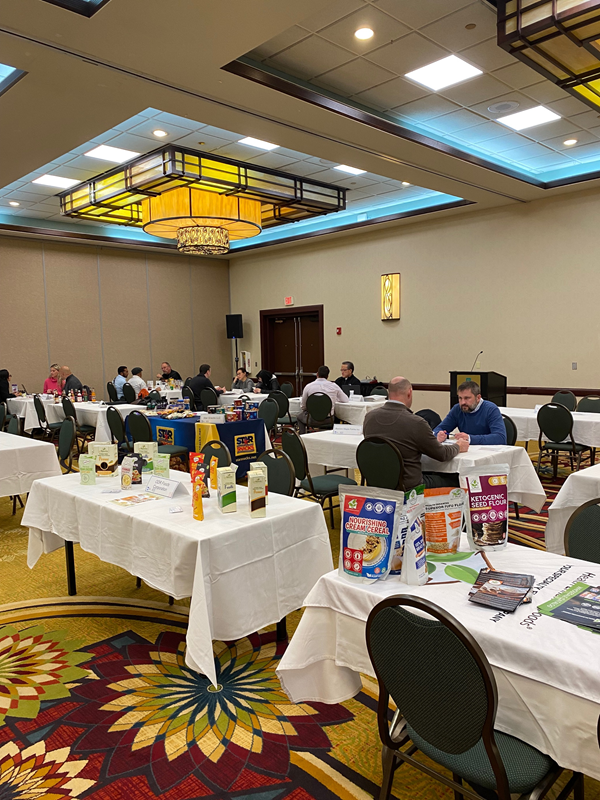 The Private Label Buyers Mission
USAEDC Annual Workshop
Baltimore, MD
November 16-18
Food Export-Midwest and Food Export-Northeast staff members attended the U.S. Agricultural Export Development Council (USAEDC) Annual Workshop in Baltimore. This annual event is always a valuable experience for our staff members, allowing them to stay updated on the developments in the food and agriculture industries, network with other Market Access Program cooperators, and attend educational seminars.
This year, Food Export-Midwest Financial Manager, Robert Lowe, was a featured speaker at the Transitioning to Electronics Systems panel.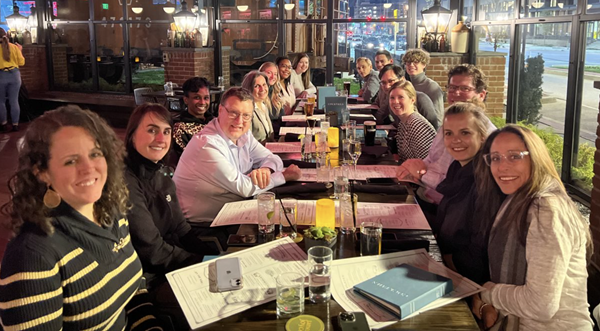 Food Export Staff Dinner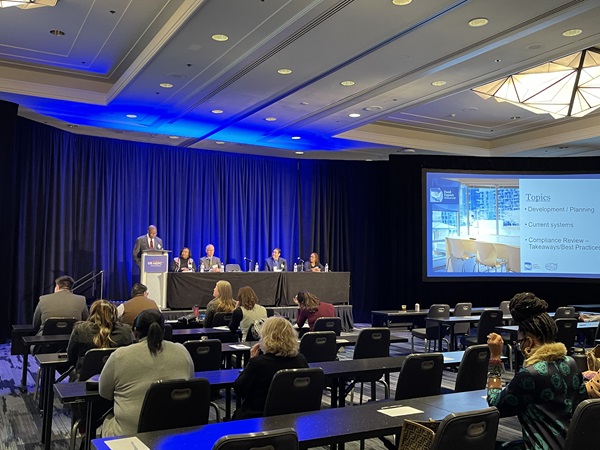 Food Export's Rob Lowe presenting at the Transitioning to Electronics Systems Panel
Product Showcase at Seoul International Café Show
Seoul, South Korea
November 23-26
The 2022  Seoul International Café Show, deemed as Asia's #1 coffee event, took place this November. Among the items exhibited were baked goods, desserts, ice-cream, beverages, and raw materials from both franchises and startups. This year, 4 U.S. suppliers used this venue to showcase their products and gain international exposure. Food Export also had the opportunity to promote our services and facilitate buyer/supplier connections.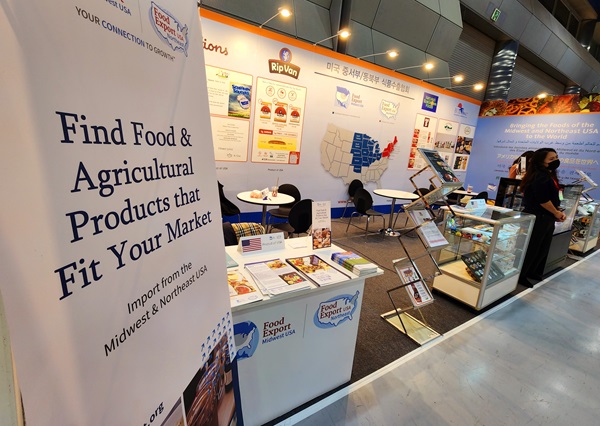 Foo
                                    Food Export's Booth at the Seoul International Café Show

Importer Seminar in Guatemala
Guatemala City, Guatemala
November 28-30
Food Export – Northeast Branded Program Manager, Howard Gordon, traveled to Guatemala to present at a Food Export Importer Seminar. There were many local buyers and importers in attendance and the seminar was a great opportunity to introduce them to Food Export programs and services. Our Central America IMRs, Debbie Corado and Francisco Marcucci, were also in attendance. Debbie Corado presented on best practices for the management, storage, and distribution of frozen food products imported from the U.S. The seminar also gave Food Export a chance to promote U.S. food and ag products in the market.
Thanks to our recent funding from the USDA's Agricultural Trade Promotion Program (ATP), we've had the opportunity to significantly increase the number of importer seminars we conduct around the world.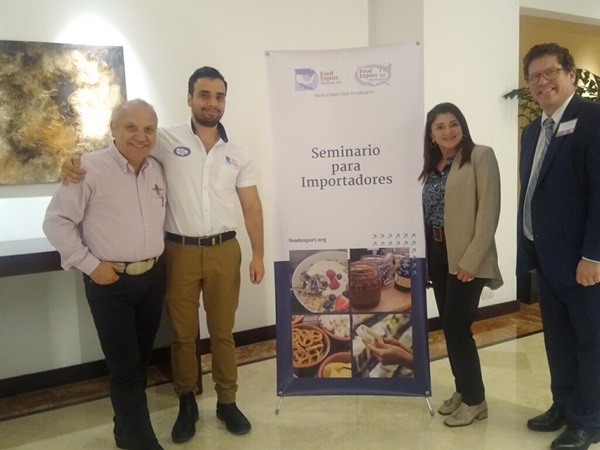 Our Central America IMRs, Debbie Corado and Francisco Marcucci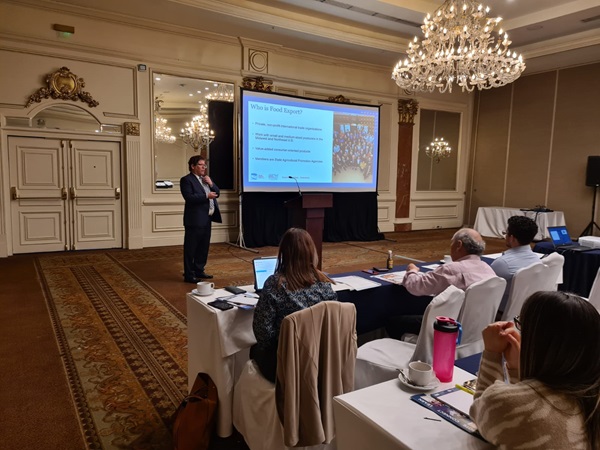 Food Export's Howard Gordon presenting at the Importer Seminar
Seafood Events in France and Singapore
Singapore – November 14-15
Paris, France – November 20-21
Food Export – Northeast hosted two technical seminars in Singapore and Paris that featured American Lobster and Atlantic Sea Scallops. Led by Emily Lane from Blue Lobster Consulting, the seminars showcased a series of seafood dishes prepared by Chef Barton Seaver. The first seminar was at the Goodwood Park Hotel in Singapore. This was a unique opportunity for international buyers in the restaurant industry to see the quality and value of U.S. lobster and scallops.
On November 21, Emily Lane and Chef Barton Seaver held a masterclass at the Lycée Albert de Mun in Paris for importers, chefs, and culinary teachers. The class focused on American Lobster and the usage of the various formats of lobster products now available in France, both cooked and raw, highlighting the versatility of the lobster.
These events were made possible by our recent funding through the Agricultural Trade Promotion Program (ATP), aimed at diversifying export market opportunities for the Northeast suppliers affected by recent trade and tariff regulations.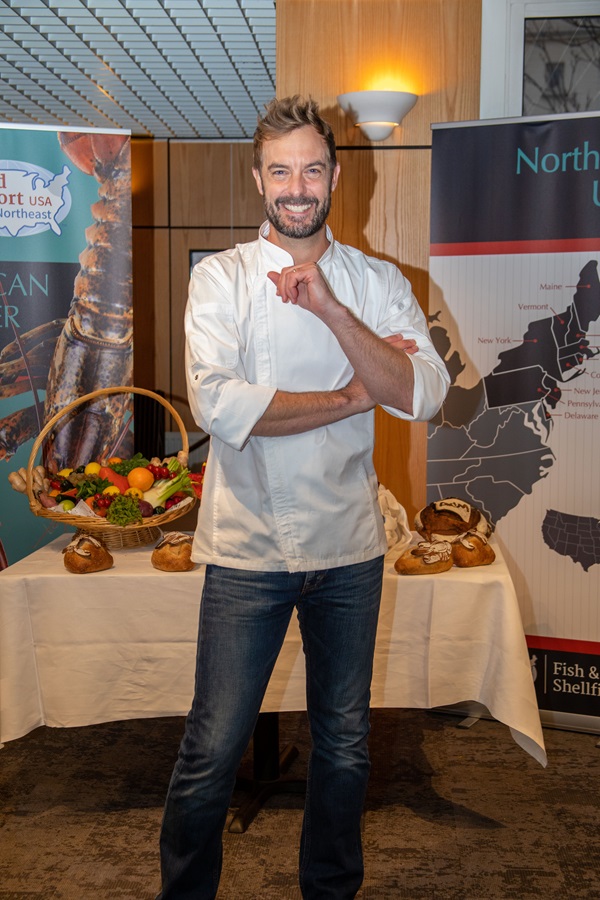 Chef Barton Seaver (Photo Credit: Osmany Tavares)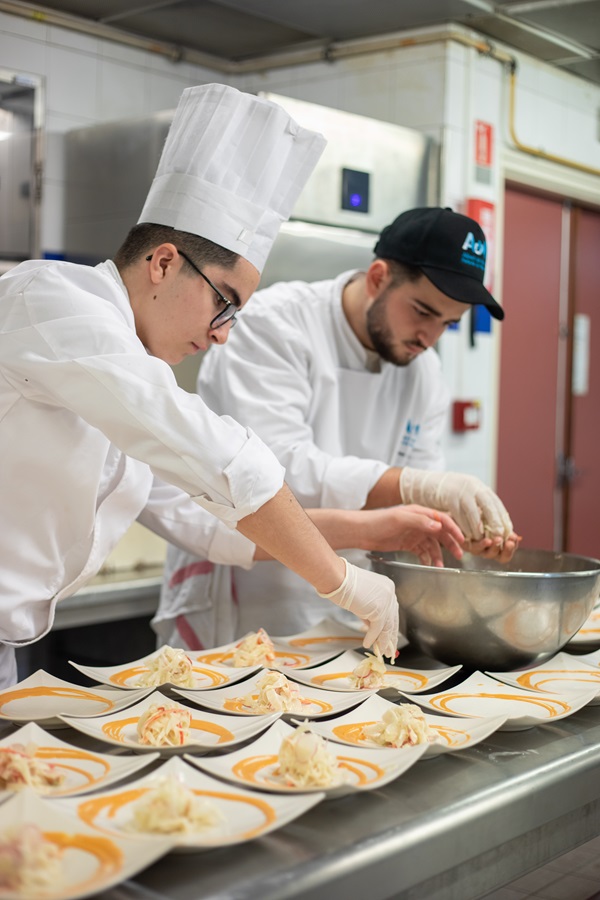 Food Demo (Photo Credit: Osmany Tavares)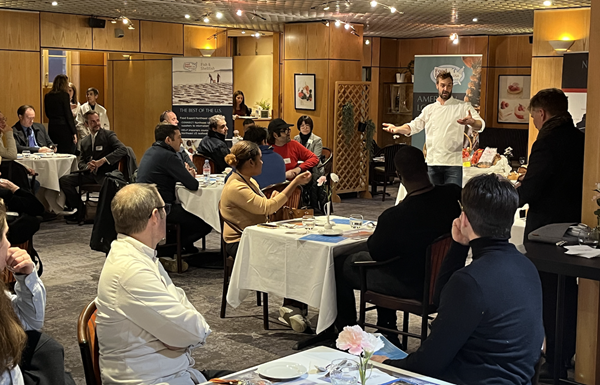 American Lobster Technical Seminar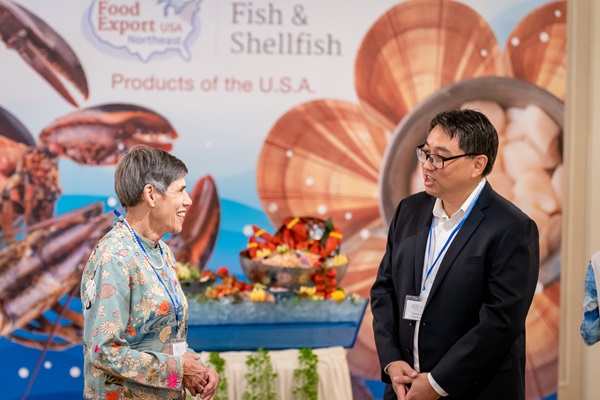 Emily Lane and Thomas Wee, Singapore's IMR (Photo Credit: Osmany Tavares)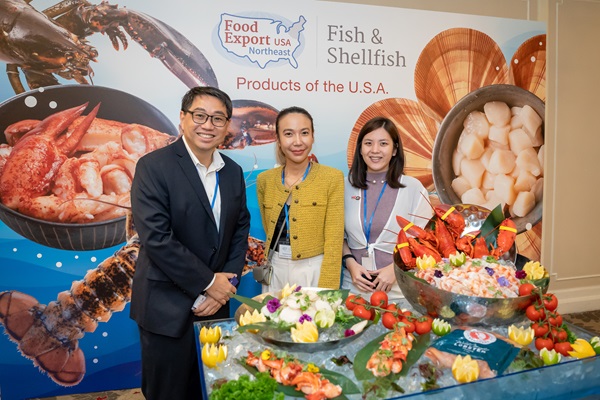 (Photo Credit: Osmany Tavares)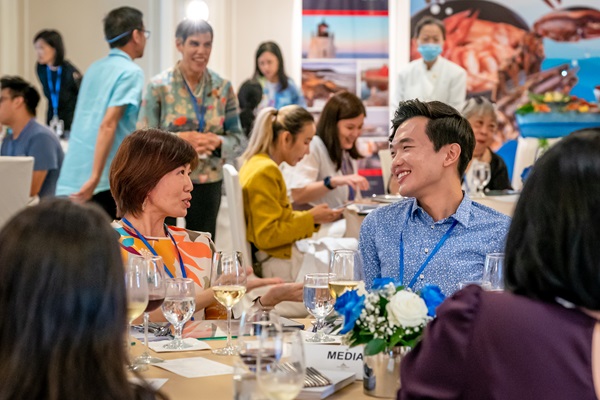 (Photo Credit: Osmany Tavares)