With all that is going on in the world of international trade lately, it's time to get serious about your Export Education and stay up to date with your industry knowledge.
It is now easier than ever with Food Export's updated online education platform!
Our online learning resources have recently gotten a facelift to make them more intuitive and easier to navigate than ever before. With an extensive online directory of recorded webinars and videos there is simply no excuse to keep delaying your Export Education any longer.
The right education and preparation will enhance your export readiness and lead to real world results.
Overview
Let's take a look at our 3 basic tools available to get you started on your Export Education.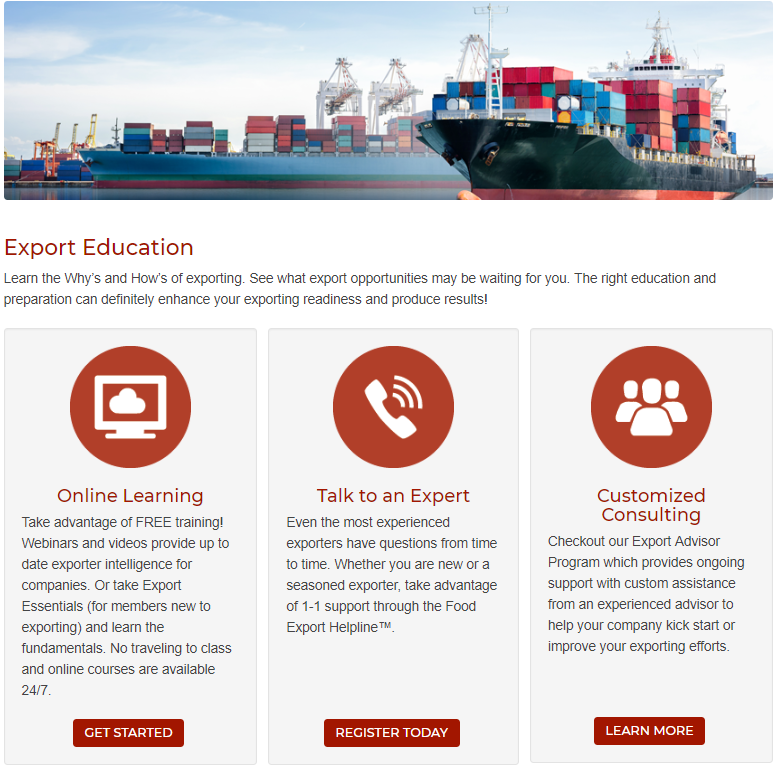 Online Learning – Webinars and videos that provide up to date exporter intelligence for companies. Including our 11 course Export Essentials for members new to exporting!
Talk to an Expert – 1-on-1 support available through the Food Export Helpline.
Customized Consulting – Ongoing Support with custom assistance from an experienced advisor through the Export Advisor Program.
Online Learning
We often hear from our International Buyers that they love U.S. products and companies, but some of them just aren't export ready yet.  Part of our mission at Food Export – Midwest and Food Export – Northeast is to help change that with our available Export Education resources.
Let's take a deeper look at what's available to you with our Online Learning.
Export Essentials – 11 step course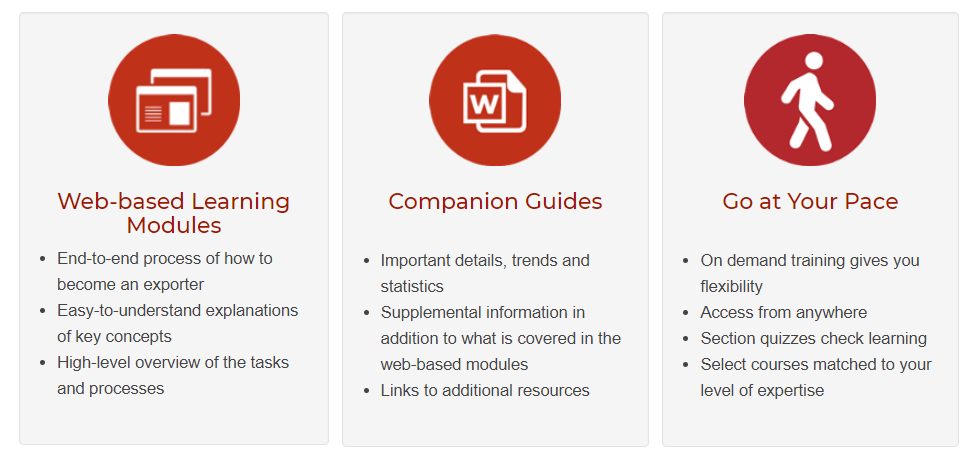 Export Essentials is an online course designed to help small and medium-sized companies understand the process involved in exporting consumer-oriented, value-added food products.  If you are considering exporting, have not exported in some time, or are currently exporting and would like to learn about more opportunities, you will find that the modules in this course offer you a helpful and informative path.
While your favorite feature of our educational resources may be that they are FREE, some other benefits are that you can go at your own pace and use the detailed companion guides for each section.  Note: A Food Export account is required to access Export Essentials Online. New to Food Export? Follow this link for New User Registration.
Webinars and Videos
In addition to the LIVE webinars that we feature monthly, we have a large number of recorded webinars on our website that you can watch at your convenience.  They cover a wide range of topics.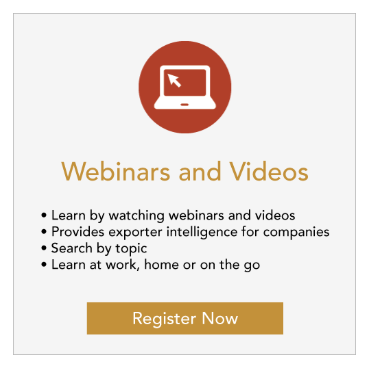 With the new design it is easier than ever to search the topics and find the right one for you when it is convenient.
You can explore the recorded webinars by Topic, Region, Category, or even by using the Search bar at the top right.

Some of the courses have been grouped together under the Topic category to make it easier to find multiple webinars about a similar topic.  Others are grouped by the Category drop down menu on the top right.  If you click the Webinars and Videos link you will be able to see all available webinars in one place for easy access.
Export Intelligence Video Series
Another valuable resource available on our website is the Export Intelligence Video Series. 
This is where we house our library of informational videos on topics ranging from Country Market Profiles, to Branded Program Instructions, to Advantages of Exporting.  It is a great place to go to learn about new potential international markets and to round out your Exporter Education. 
There are also in depth Country Specific Market Profiles with interviews from our In-Market Representatives from all around the world.  It is a great resource for learning more about potential target markets, and a great step before investing in our MarketBuilder service for further market research.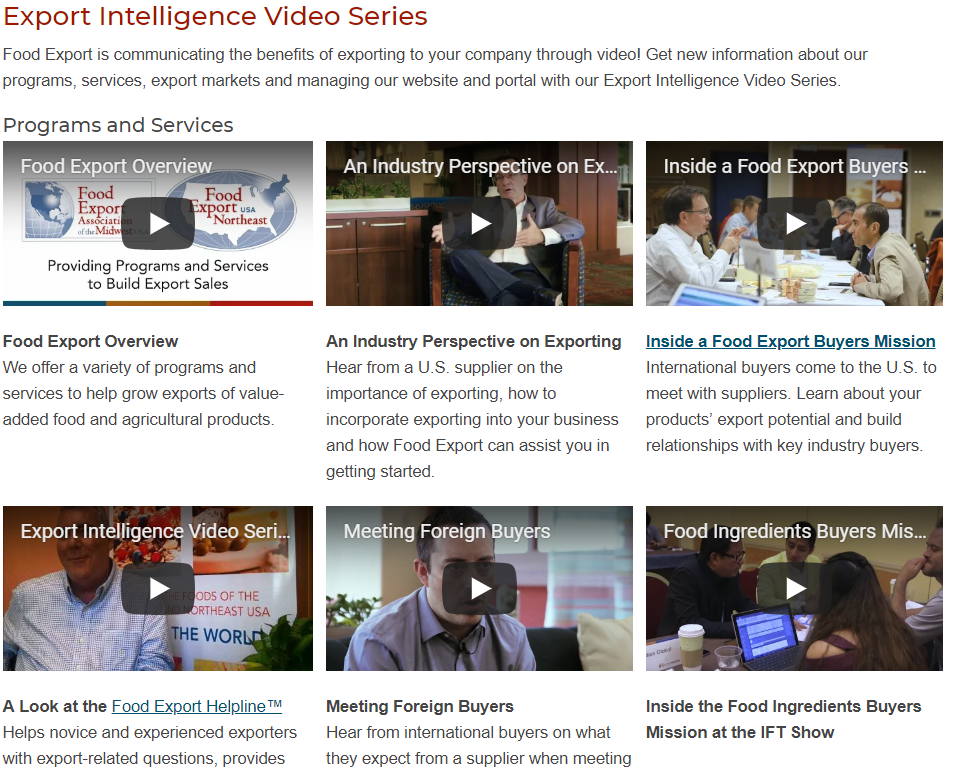 Live Events
Last but certainly not least are our Live Webinar events. Every month Food Export-Midwest and Food Export-Northeast host a webinar surrounding important topics in the trade industry.
We currently have 1 upcoming Webinar available for registration.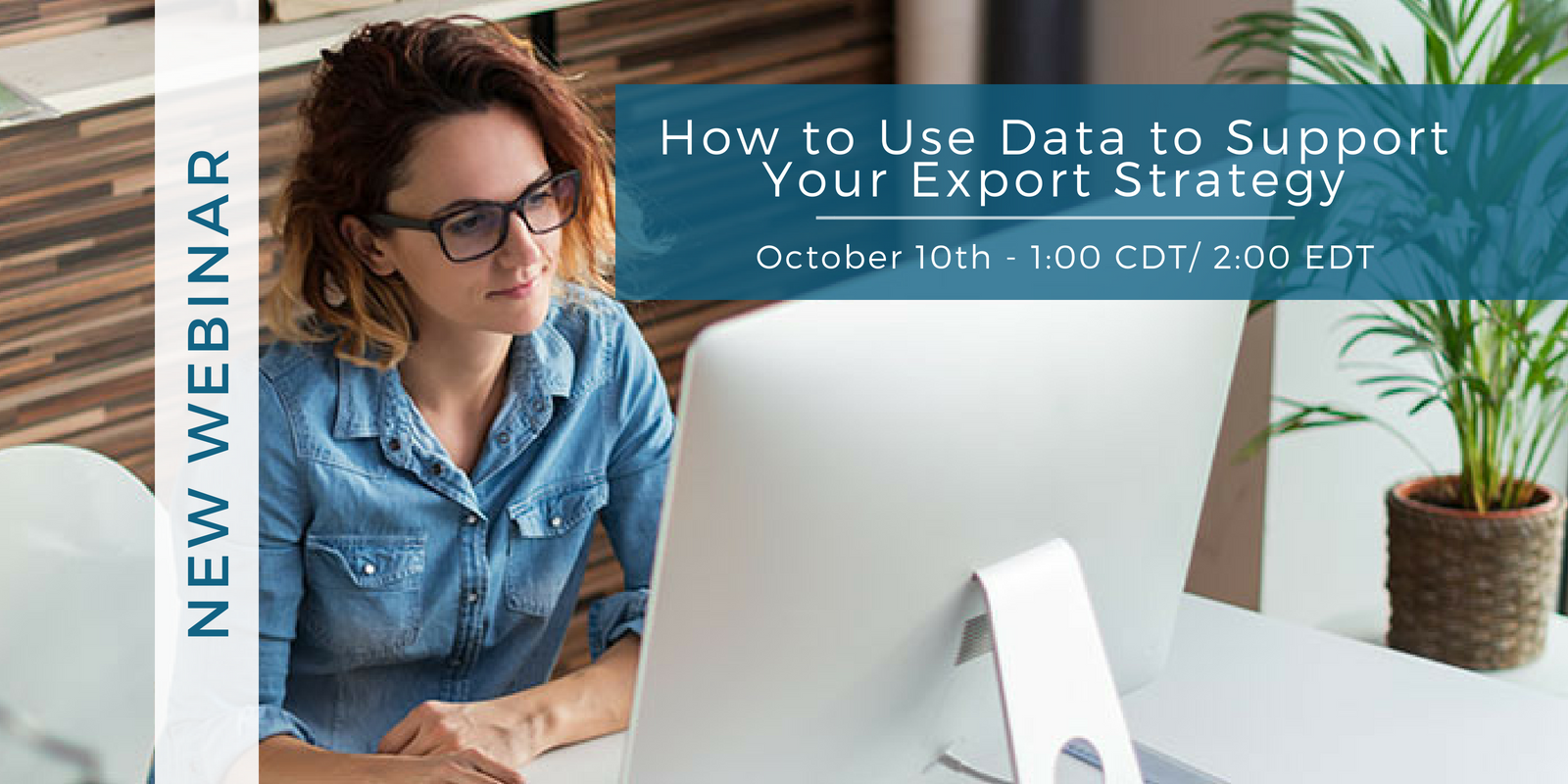 Register for "How to Use Data to Support Your Export Strategy" on October 10th at 1 PM Central/ 2 PM Eastern.
Industry Educational Resources

The FAS GAIN (Global Agricultural Information Network) system provides a number of timely reports and information on the agricultural economy, products, and issues in foreign countries that are likely to have an impact on United States agricultural production and trade.

https://gain.fas.usda.gov/Pages/Default.aspx
For information on countries and regions including specific country data, visit:
https://www.fas.usda.gov/regions
For information on current regulations and requirements when exporting US food products check out:
https://www.fas.usda.gov/topics/regulations-and-requirements
To discover additional resources make sure to visit the Industry Resources page on our website.
Just like any industry keeping as up to date as possible with your export education is of vital importance when it comes to international trade.  That is why we here at Food Export – Midwest and Food Export – Northeast have put significant time and effort into making sure you have the best tools available to you.
Ready to get started on your Export Education?  Just visit the Export Education page of our website and either sign in to your pre-existing account or register for one today.
Is there a topic you don't see any educational material for on our website that you would like us to cover in a future webinar?  Just send us an email to info@foodexport.org to let us know!
Happy Exporting!