IFT Supplier Night

Rosemont, Illinois
November 1st
On Thursday, November 1st  the Institute of Food Technologists (IFT) held their Chicago Section of the IFT Annual Suppliers' Symposium & Expo.  Paul Weiss, Liaison & Recruitment Supervisor, and Lauren Kliethermes, Liaison, from Food Export-Midwest attended the show and met with exhibitors to discuss their export plans for 2019.  As well as answer questions about Food Export's available programs and services.  It was a great opportunity to increase awareness of Food Export's Food Ingredients Buyers Mission taking place at the 2019 IFT Show in New Orleans next June.  This event is a great way to measure the pulse of what's going on in the world of food ingredients and meet with many of our current and prospective export suppliers.
Focused Trade Mission to South Korea and Japan
Seoul, South Korea – November 5 – 7
Tokyo, Japan – November 8 – 9
USDA/FAS and Food Export-Midwest collaborated on a joint trade mission to Seoul, South Korea from November 5 – 7, 2018.  The mission was led by FAS Administrator Ken Isley, and this was his first FAS Ag Trade Mission since being appointed Administrator earlier in 2018.  With the KORUS agreement under consideration by the Korean Government, the future looks bright in the market and this mission was a great opportunity for many U.S. suppliers to have productive meetings, some having 16+ meetings a day.
Over 730+ meetings were scheduled during the course of the event.  The 50+ U.S. suppliers participating were from a variety of industries, sectors, and regions which attracted a large number of local buyers. 
After Seoul, roughly half of the suppliers continued with the mission to Tokyo.  The first day in Japan the group was joined by Morgan Perkins and Barrett Bumpas from the ATO and they provided a thorough and informational market briefing.  There was a lot of good dialogue between the ATO and our U.S. Suppliers, much of which was focused on Free-Trade Agreements (FTA's) with other countries and their potential for impacting trade.  On the second day in Japan meetings between U.S. Suppliers and Japanese buyers continued and there was a surprise visit from Administrator Isley.  He was able to attend various Food Export meetings and see firsthand the work that Food Export-Midwest and Food Export-Northeast are doing in the market.
Jeff Phillips from the Minnesota Department of Agriculture attended the mission, it's always great to have our Member States participating in our market entry activities.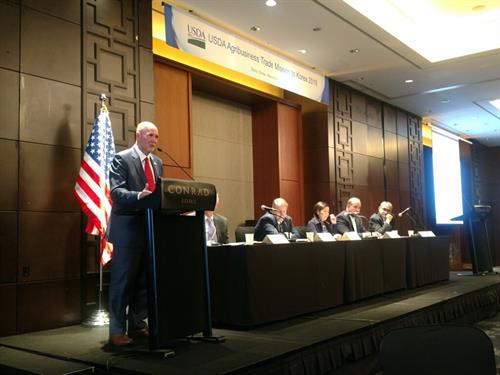 Administrator Isley speaking at the South Korea stop.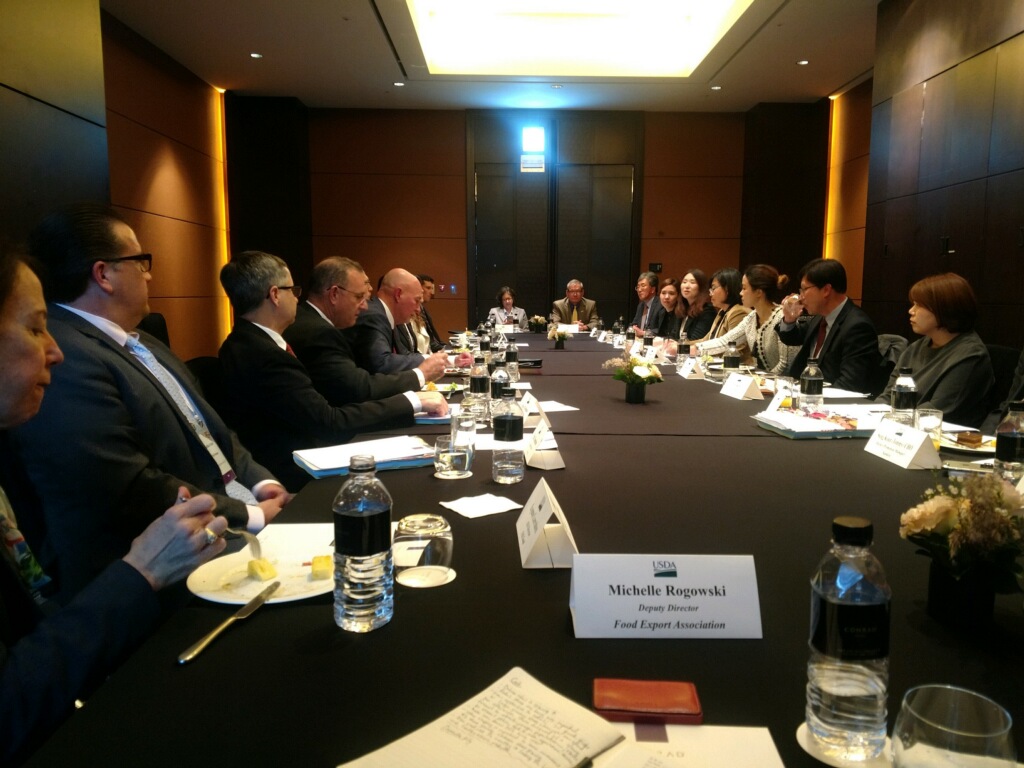 Cooperator Meeting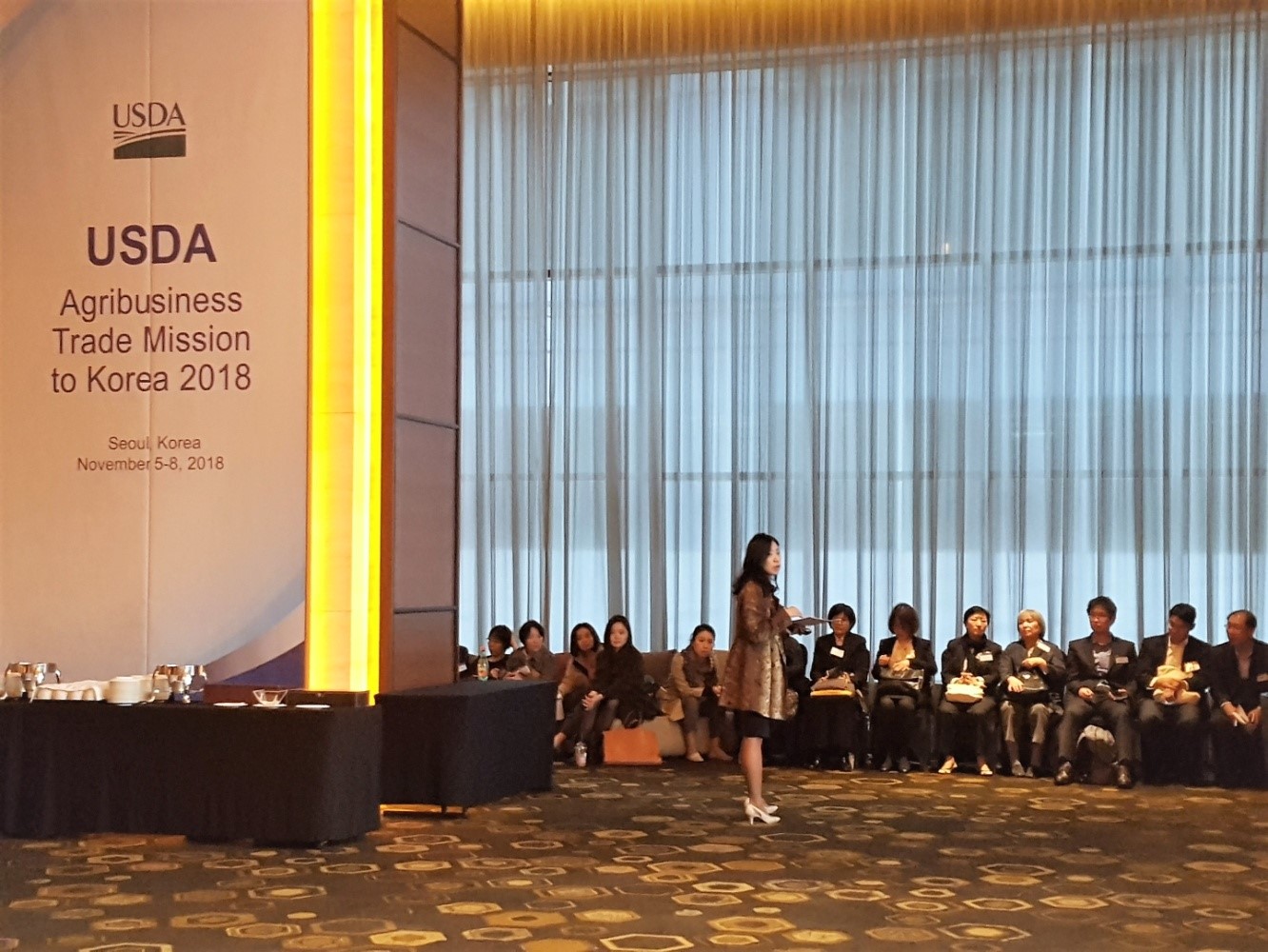 South Korea Agribusiness Trade Mission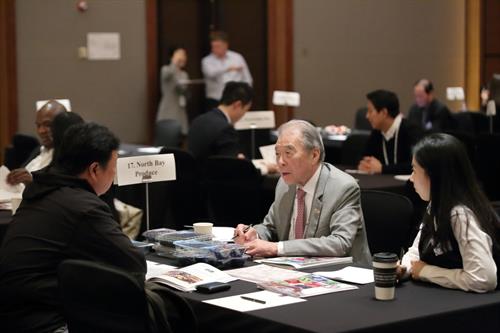 U.S. suppliers meeting with Korean Buyers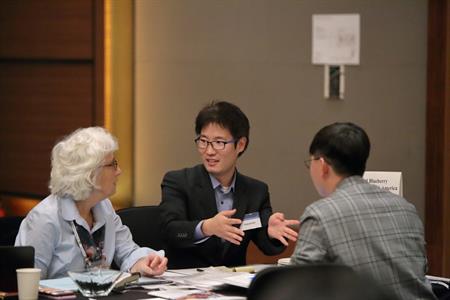 One-on-one meetings with Korean Buyers.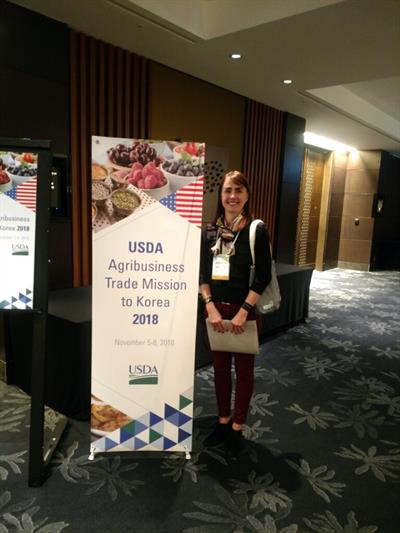 Food Export-Midwest Deputy Director Michelle Rogowski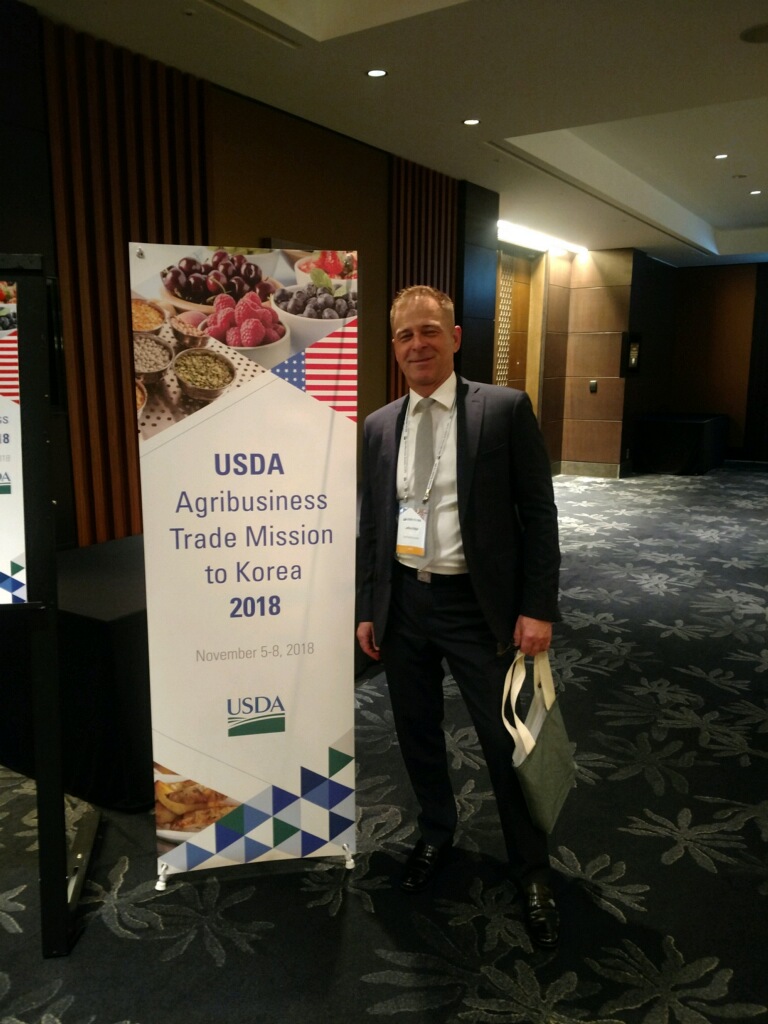 Minnesota Depart of Ag's International Trade Manager –
Food and Agribusiness Sector – Jeff Phillips

Retail Tour – Costco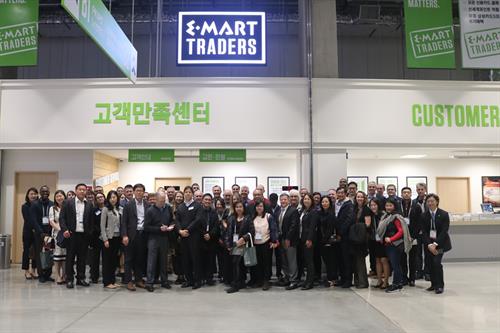 Retail Tour – E-Mart Traders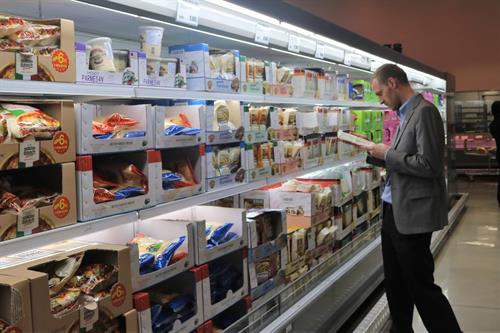 Retail Tour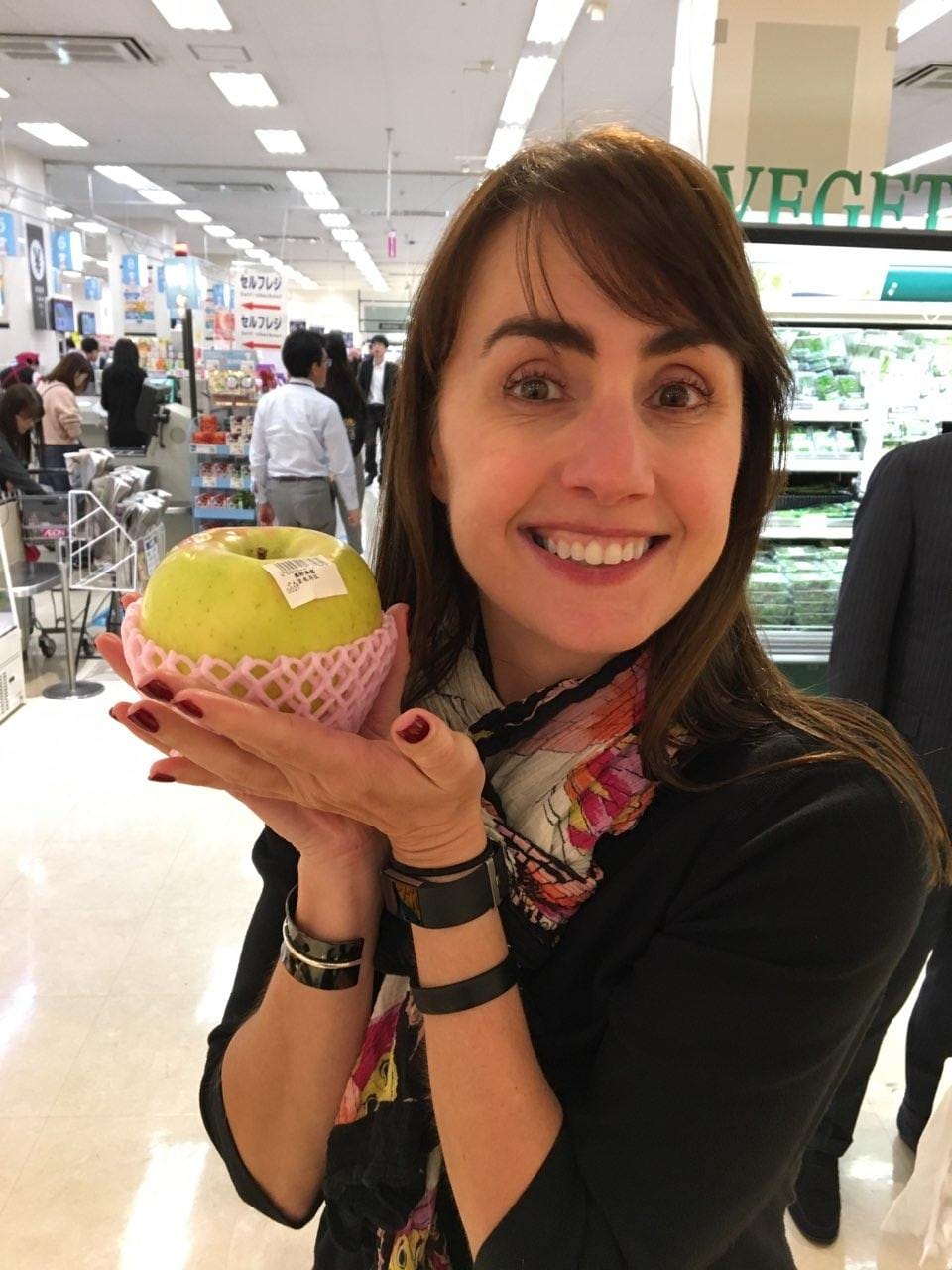 Retail Tour – Michelle with a pear/apple hybrid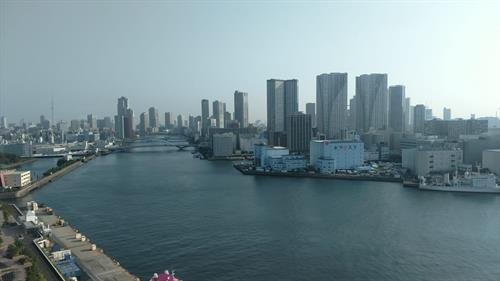 Tokyo skyline during the day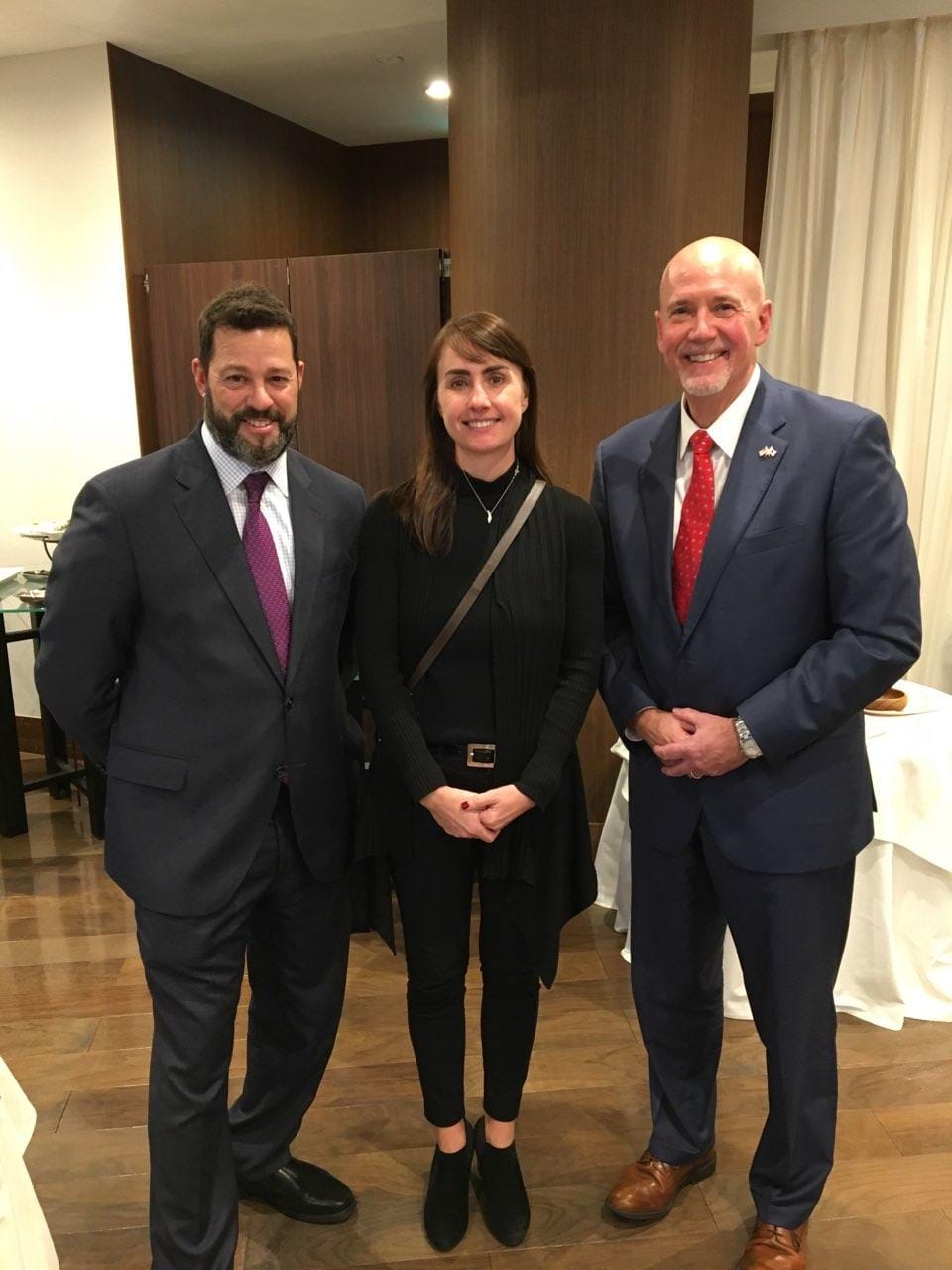 Morgan Perkins, Michelle Rogowski, FAS Administrator Ken Isley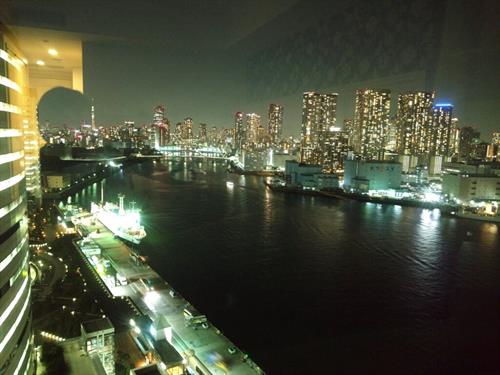 Tokyo skyline at night

Private Label Buyers Mission at PLMA
Rosemont, Illinois
November 10 – 14
Food Export-Midwest held the 2018 Private Label Buyers Mission at the Private Label Manufacturers Association's (PLMA) Show in Rosemont, Illinois from November 10th – 14th.  10 international buyers  from markets all over the globe and 30 U.S. suppliers from the Midwest and Northeast regions of the country participated in the event.
Approximately 300 individual meetings took place and from our initial evaluations we estimate about $20,000,000 in export sales as a result of the event.
While in town for the Buyers Mission our international buyers were kept busy with a Retail Tour to experience the U.S. marketplace first hand including the following stops:
Target
Mariano's
Whole Foods
Trader Joe's
Sam's Farmers Market
After the mission both Buyers and Suppliers attended the PLMA show.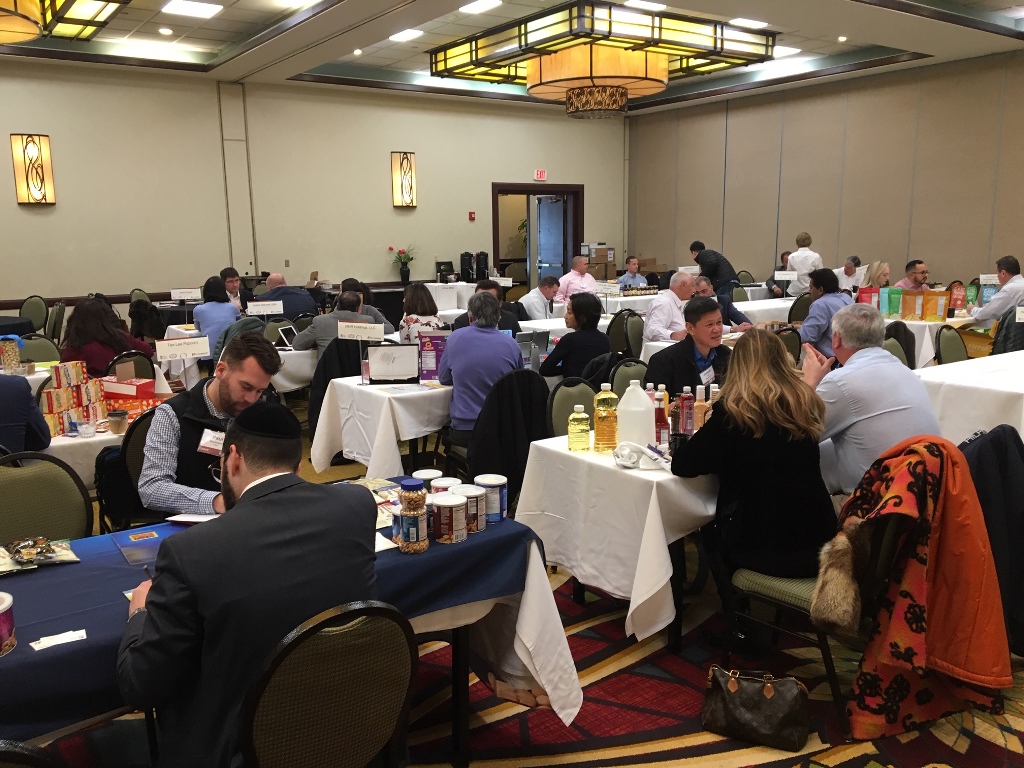 Overview of the Buyer Meetings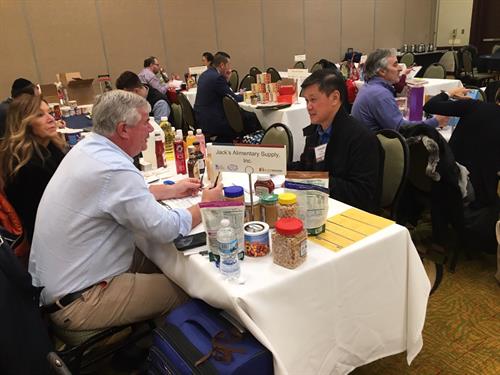 U.S. Suppliers meeting with International Buyers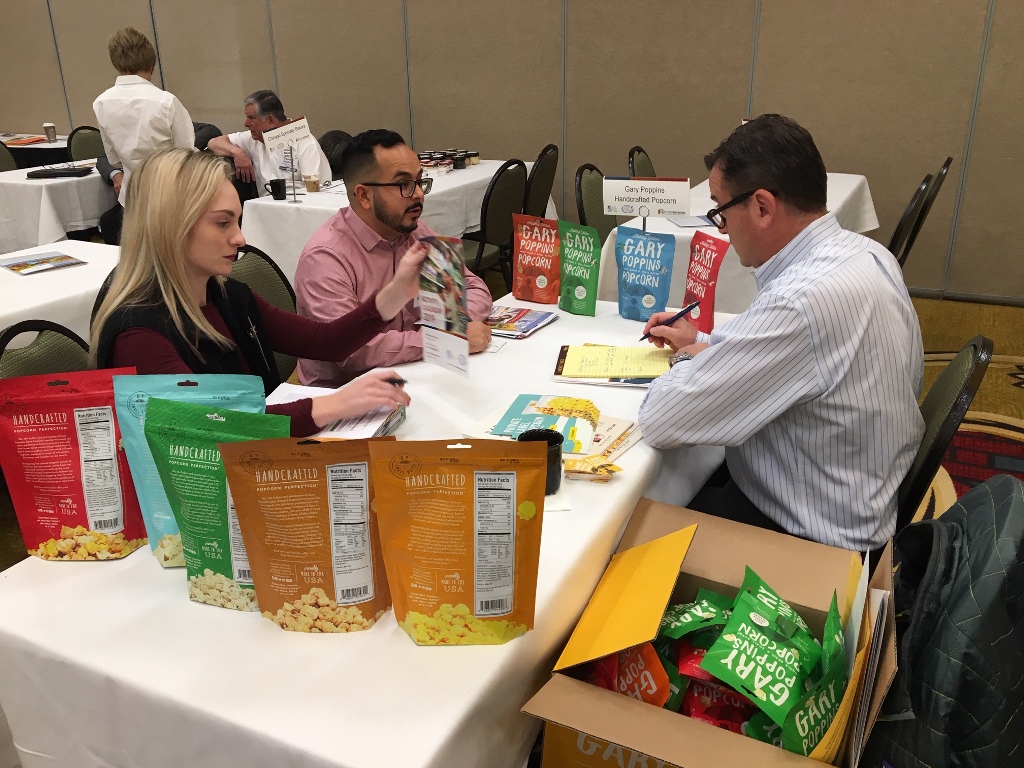 Food Export-Midwest Liaisons, Enrique and Lauren meeting with U.S. supplier

Grid of all the scheduled meetings for PLMA Buyers Mission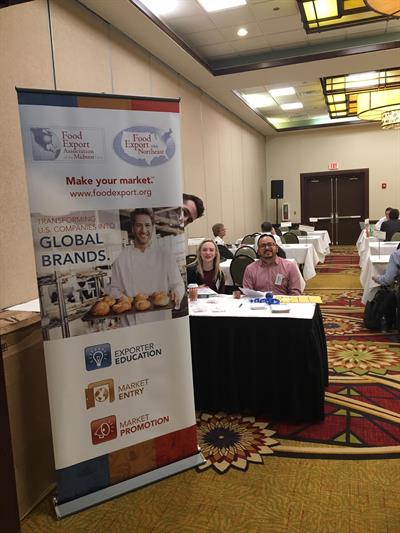 Food Export – Midwest Liaisons Enrique, Lauren, and Paul
manning the registration desk.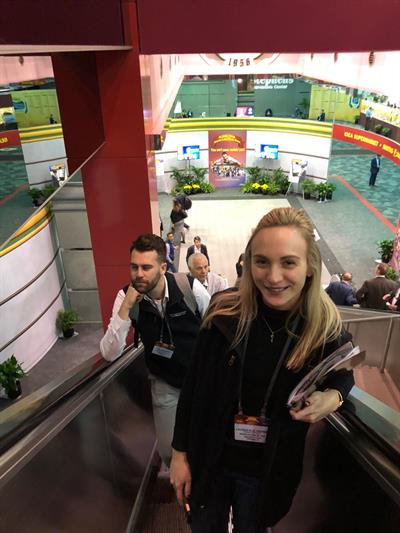 Food Export – Midwest Liaisons Paul and Lauren walking the show floor.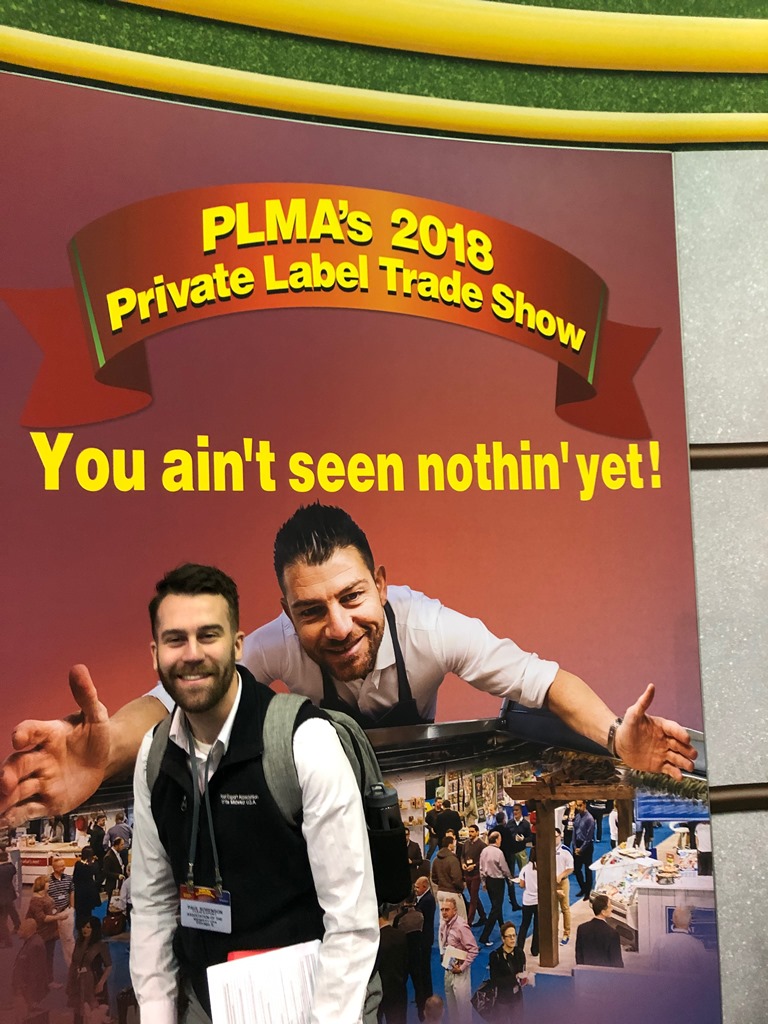 Food Export – Midwest Liaison Paul looks a lot like the PLMA guy…

Food Show PLUS! at Food and Hotel China
Shanghai, China
November 12 – 15
Food Export – Midwest International Marketing Program Senior Coordinator Brendan Wilson traveled to Shanghai from November 12th – 15th to facilitate our Food Show PLUS! services at Food and Hotel China for three US exhibitors.  Participants received one-on-one meetings with qualified food service importers and distributors, onsite interpreters, and other support to maximize their efforts at one of China's premiere trade shows in the industry.  Although the current trade climate was a popular topic of conversation the visitor and exhibitor attendance for the show was at an all-time high.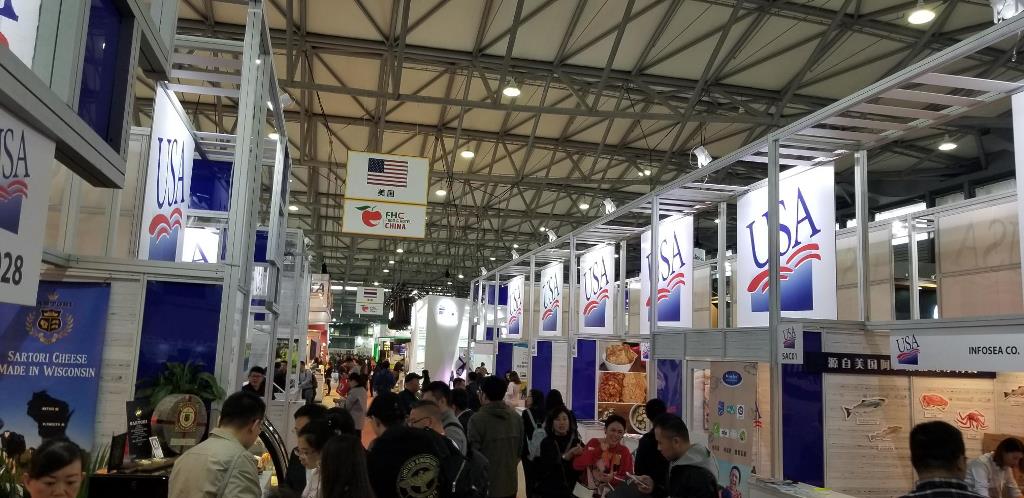 USA Pavilion at FHC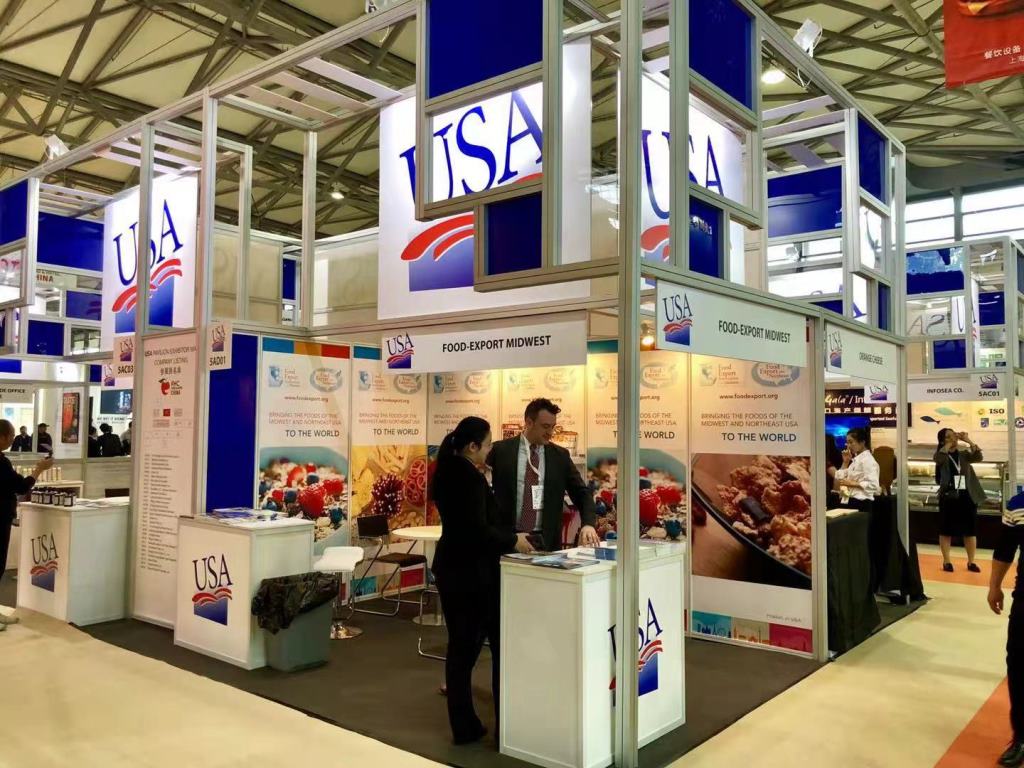 Food Export – Midwest Booth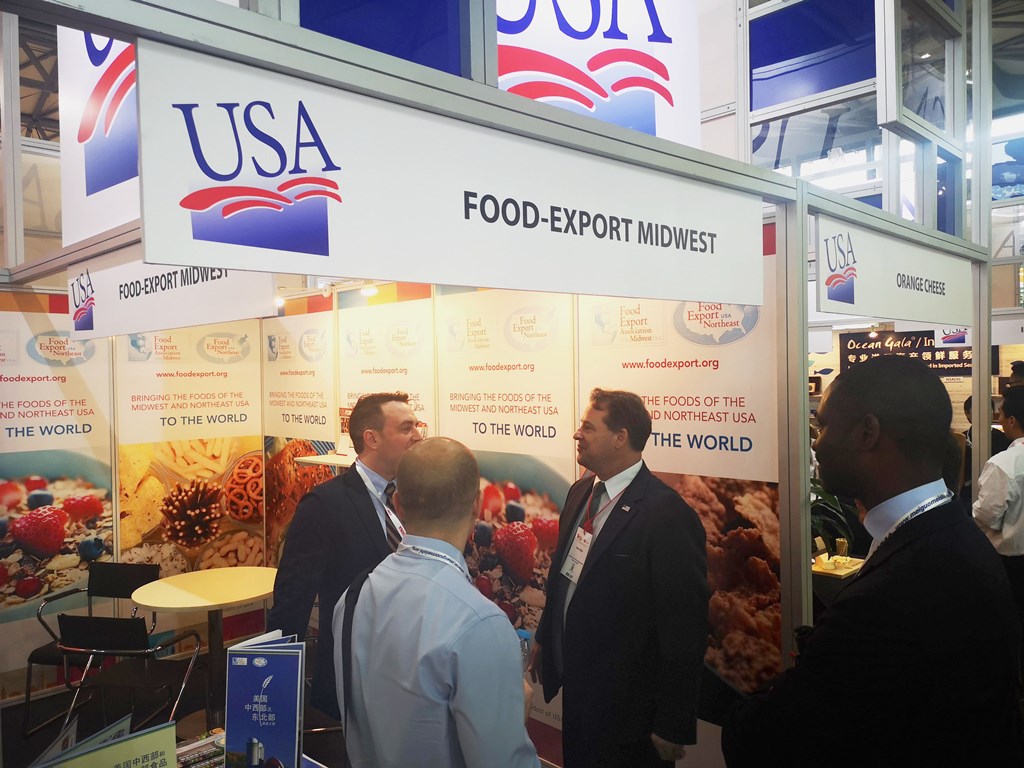 Food Export-Midwest International Marketing Program Senior Coordinator Brendan Wilson
with the Consul General Sean Stein.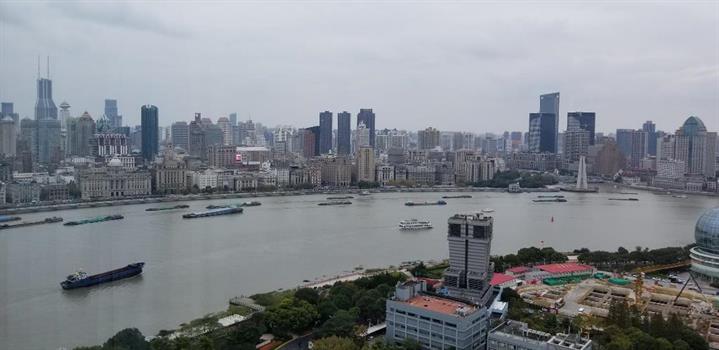 Shanghai skyline

USAEDC Annual Workshop
Baltimore, Maryland
November 13 – 15
A total of 10 staff members from Food Export-Midwest and Food Export-Northeast traveled to Baltimore, Maryland for the U.S. Agricultural Export Development Council (USAEDC) Annual Workshop from November 13th to 15th . It was 3 days of education, networking, and re-connecting with others in the cooperator community.
Our Liaison and Recruitment Supervisor Paul Weiss participated in a panel with the other State Regional Trade Groups (SRTGs) about the upcoming Agricultural Trade Promotion Program (ATP) and our Executive Director Tim Hamilton was a speaker during the "FAS 101" session as well as a tribute to the current USAEDC Executive Director Annie Durbin who is retiring.
The USAEDC Annual Workshop is always a great opportunity for us to connect with others in the cooperator community about the current issues affecting U.S. food and ag and international trade.  Having all the variety of industry professionals in the same place at the same time is very beneficial.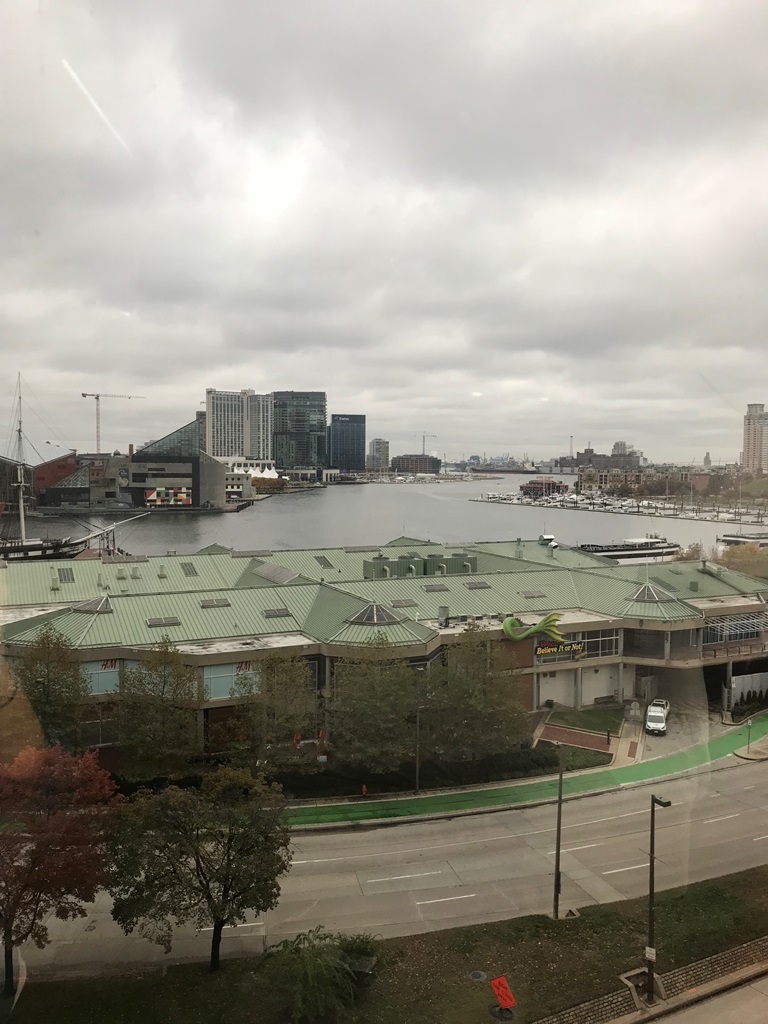 Inner Harbor – Baltimore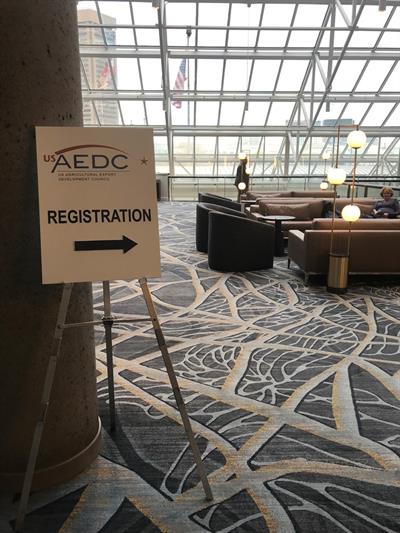 USAEDC Registration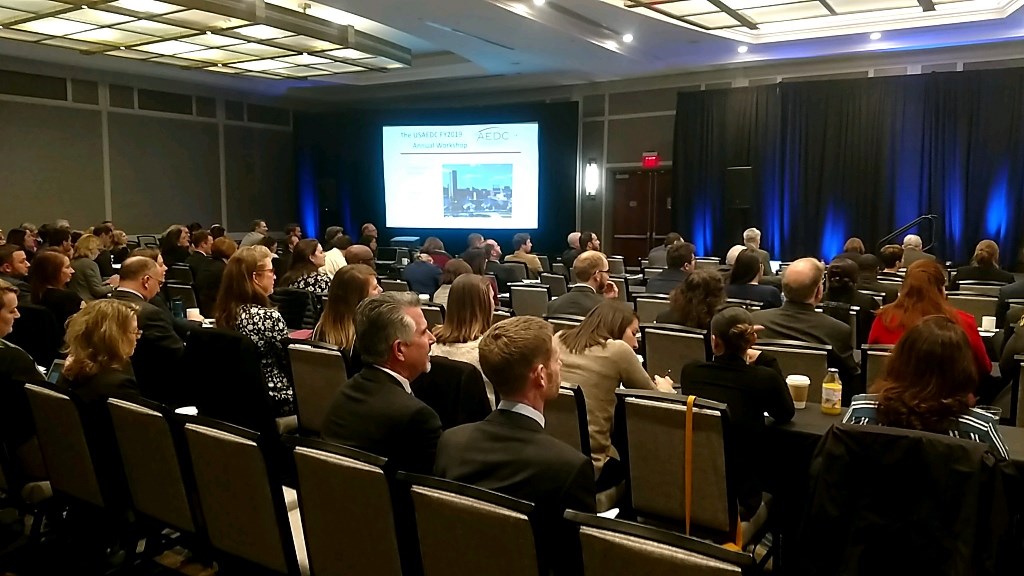 2019 USAEDC Annual Workshop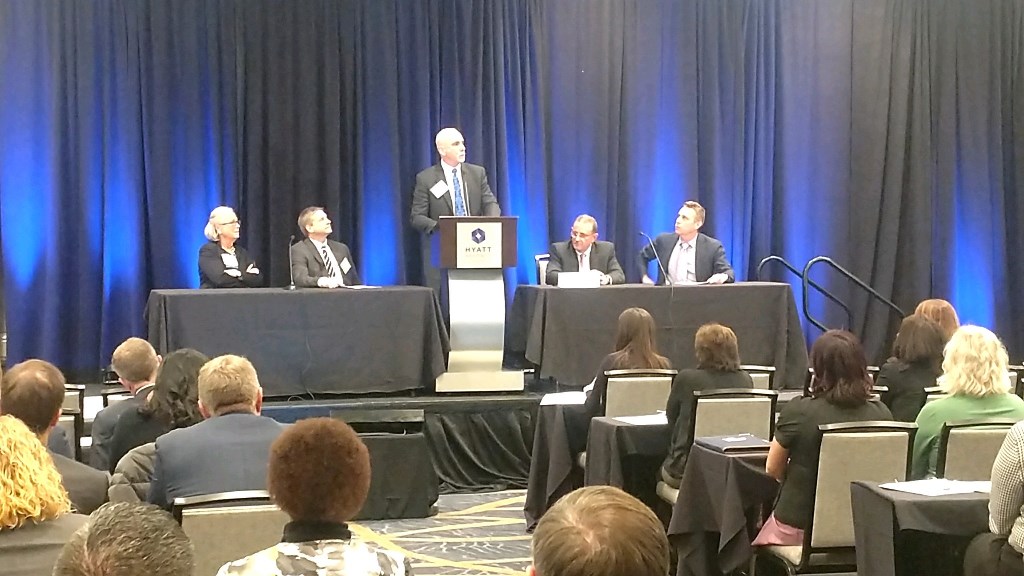 Food Export – Midwest and Food Export – Northeast Executive Director Tim Hamilton
giving a speech in honor of USAEDC Director Annie Durbin.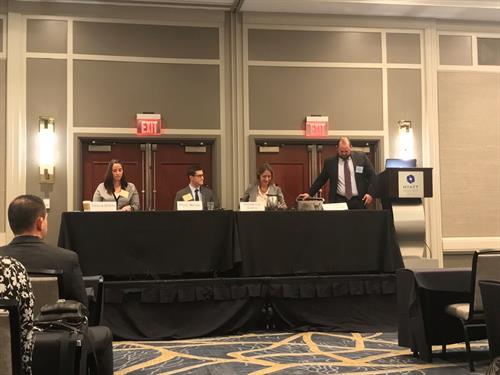 Liaison and Recruitment Supervisor Paul Weiss participating in a panel
with SUSTA and WUSATA about the Agricultural Trade Promotion Program (ATP).
Kosherfest
Secaucus, New Jersey
November 13-14
Food Export-Northeast Liaison Deborah Ingravallo attended Kosherfest in Secaucus, New Jersey on Wednesday November 13th. It was the 30th anniversary of the show and was held at the Meadowlands Expo Center.  The focus, as the name implies, was on Kosher food, and 300+ companies from throughout the U.S. participated.
The event was not open to the public, and identification of a food-related business was required for admission. Attendees were invited to converse with exhibitors and sample their kosher-certified products as well as discuss services offered to the Kosher market. In addition, there were a series of conferences on trending developments within the Kosher market from prominent experts and chefs. It was a great way to connect with our current participating suppliers and network with new contacts as well.  We look forward to attending the show again in 2019!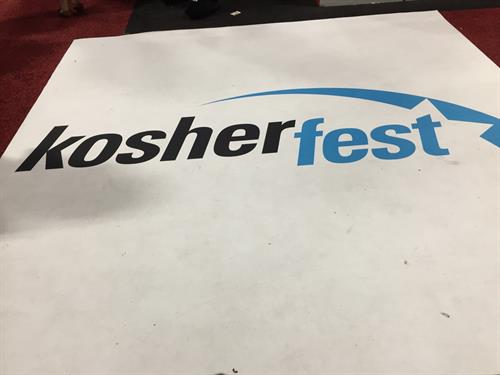 Kosherfest logo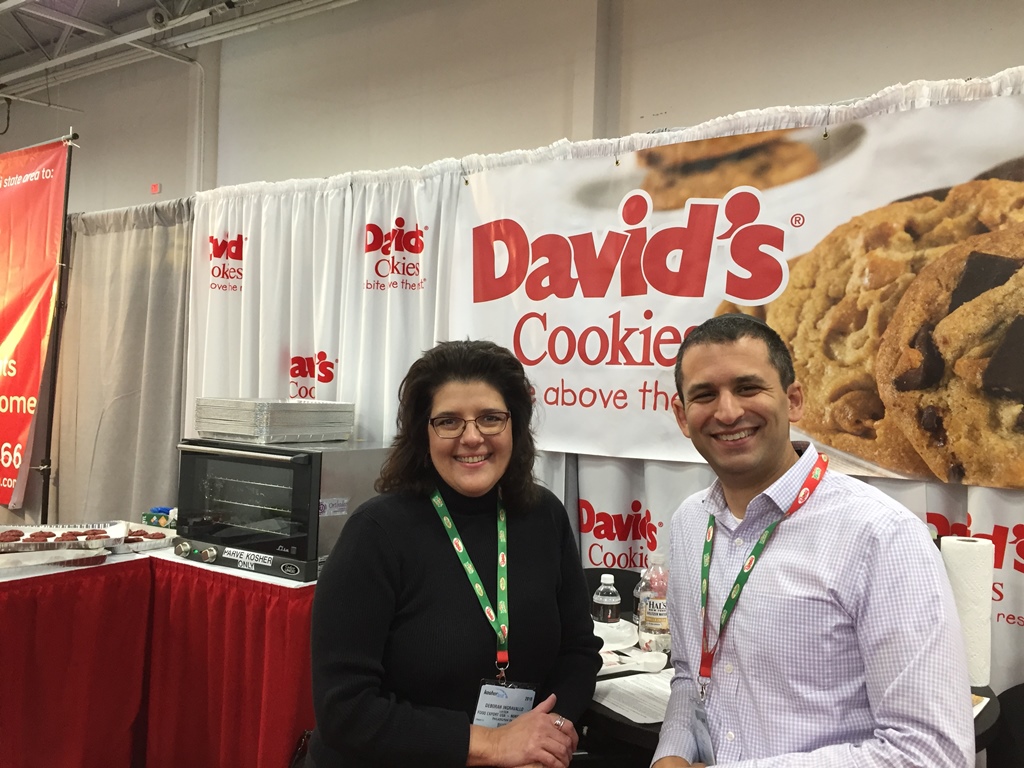 Food Export – Northeast Liaison Deborah  meeting with supplier, David's Cookies.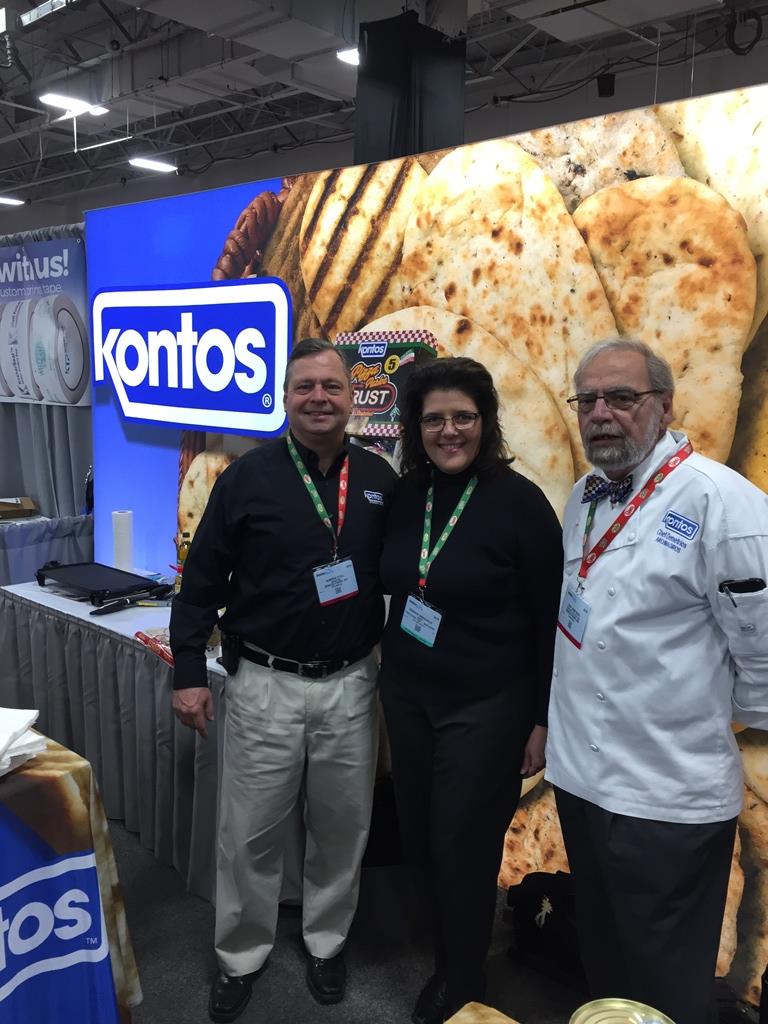 Food Export – Northeast Liaison Deborah meeting with supplier, Kontos.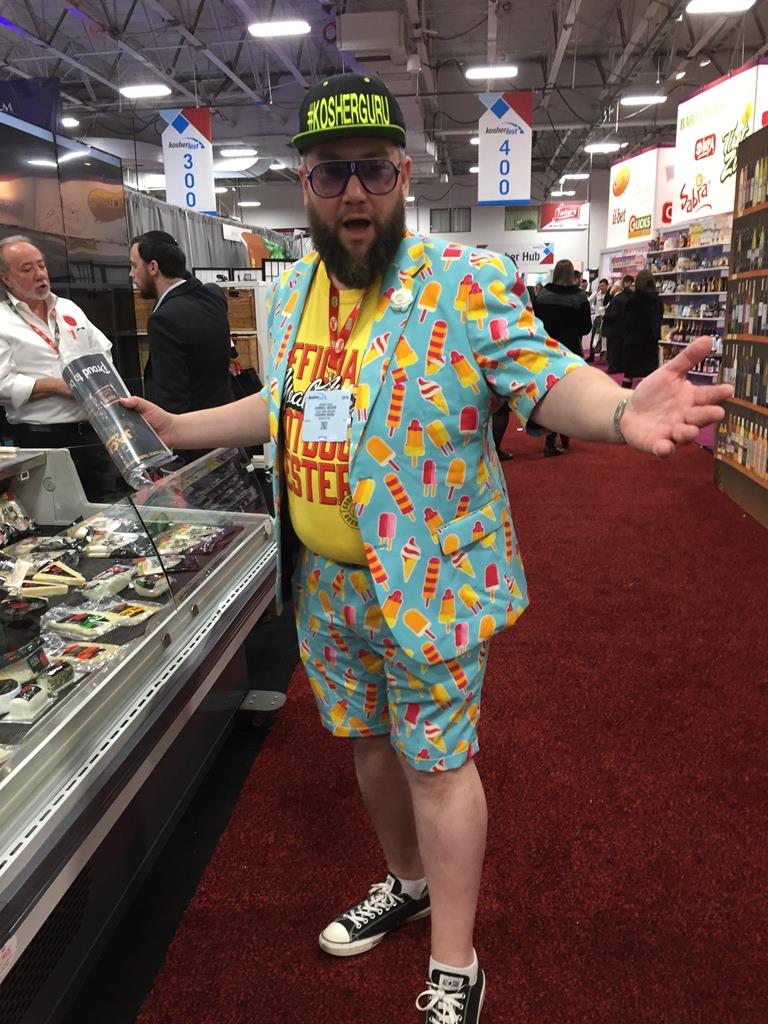 #KOSHERGURU
FAS Europe Strategic Marketing Workshop
The Hauge, Netherlands
November 28 – 30
Food Export-Northeast's International Marketing Program Manager, Suzanne Milshaw traveled to the Netherlands to participate in the FAS Strategic Marketing Workshop from November 28th – 30th.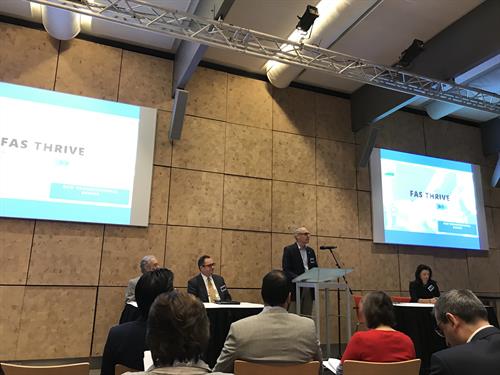 FAS speaking at the FAS Europe Strategic Marketing Workshop
FEAST! Local Foods Marketplace
Rochester, Minnesota
November 30
Food Export-Midwest Liaison Enrique Rubio represented Food Export at the Support Services Mini Expo at the 2018 FEAST! Local Foods Marketplace Tradeshow in Rochester, Minnesota on November 30th.
The goal was for local food suppliers to gain information on expanding sales, accessing new markets, and scaling up their operations.  Enrique truly enjoyed walking the expo floor to meet and sample products from food makers and farmers from Minnesota, Iowa, and Wisconsin!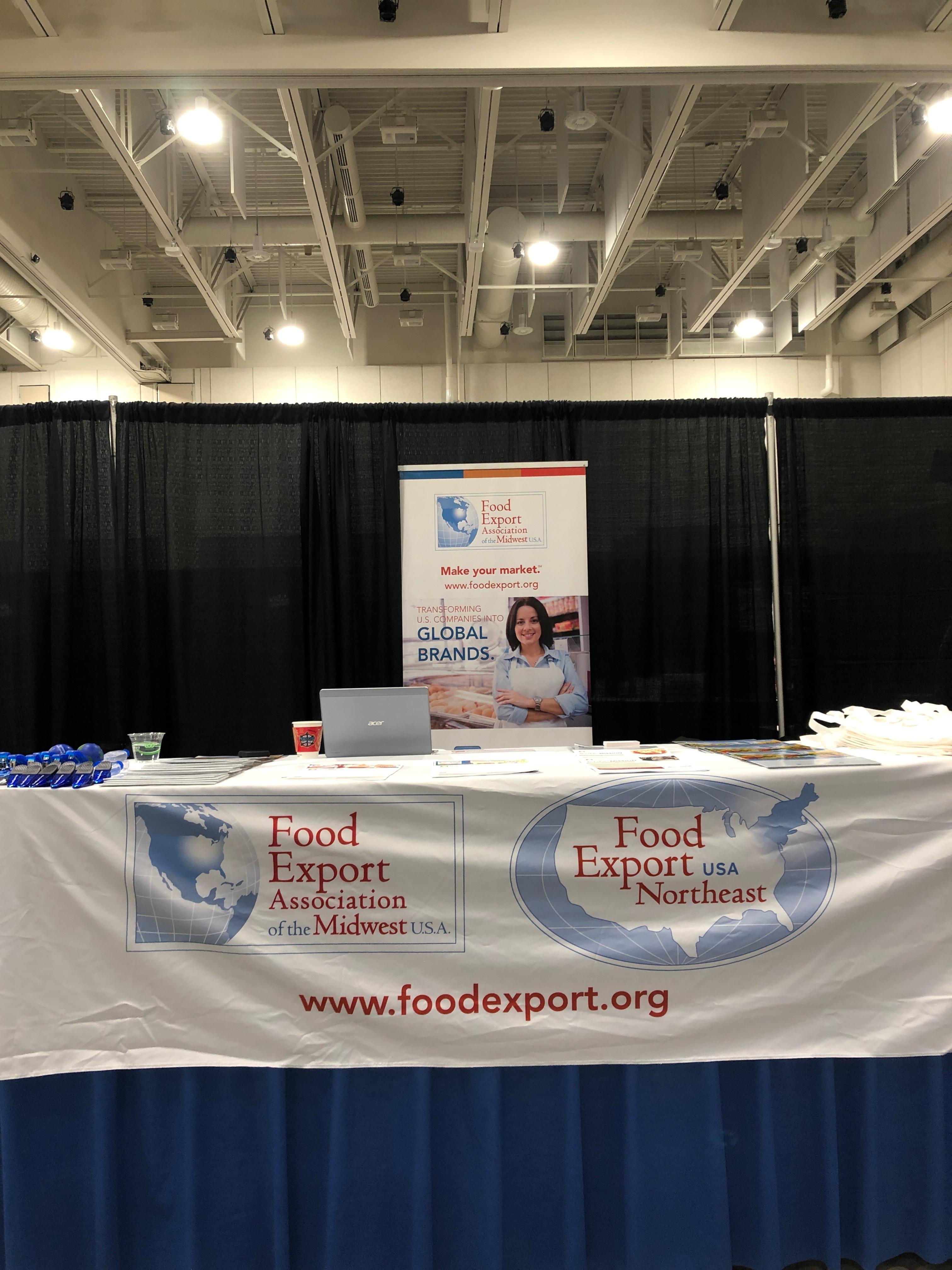 Food Export Booth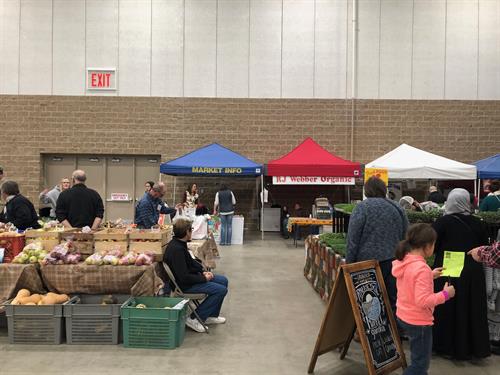 Show Floor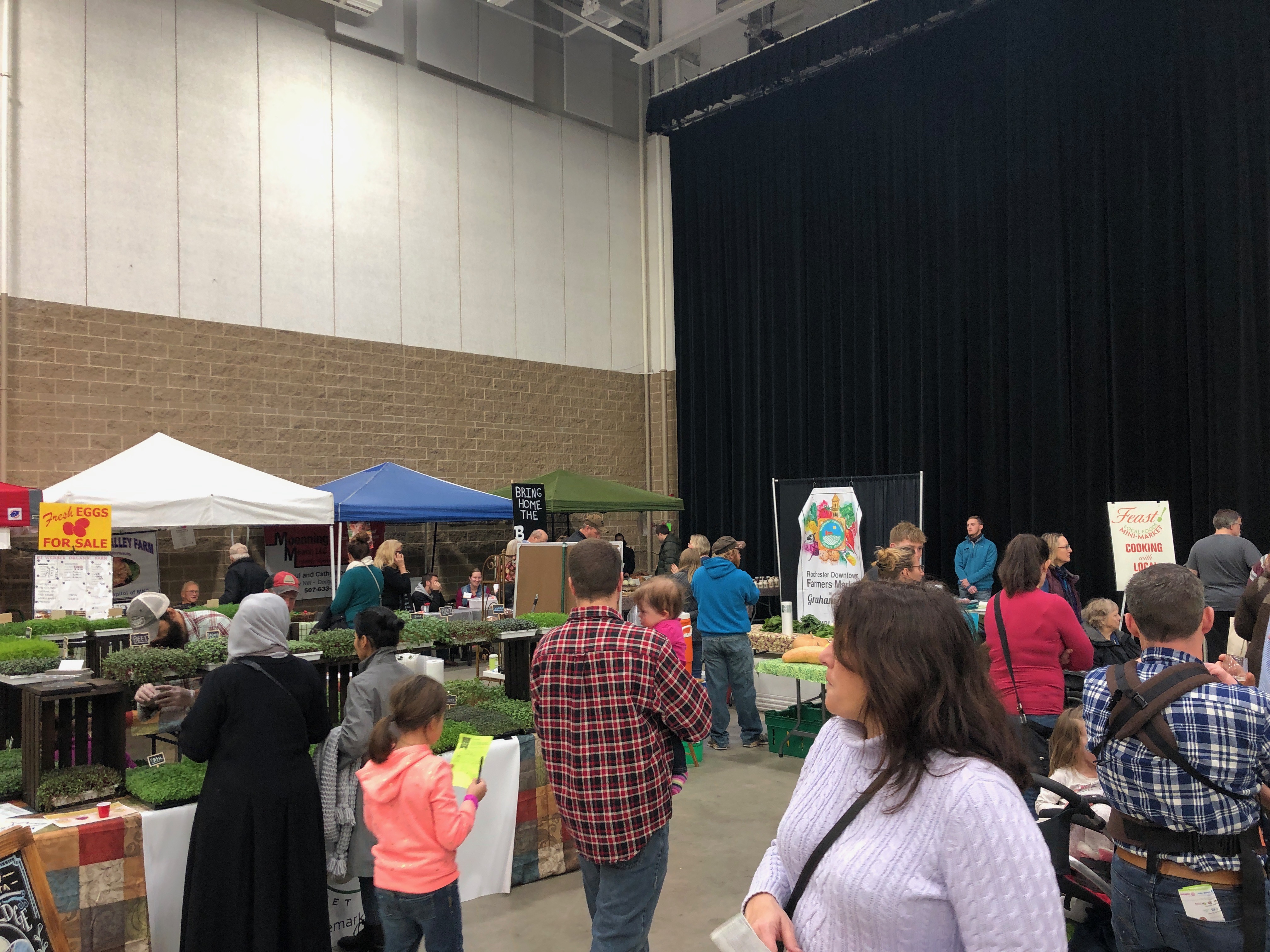 Show Floor Continued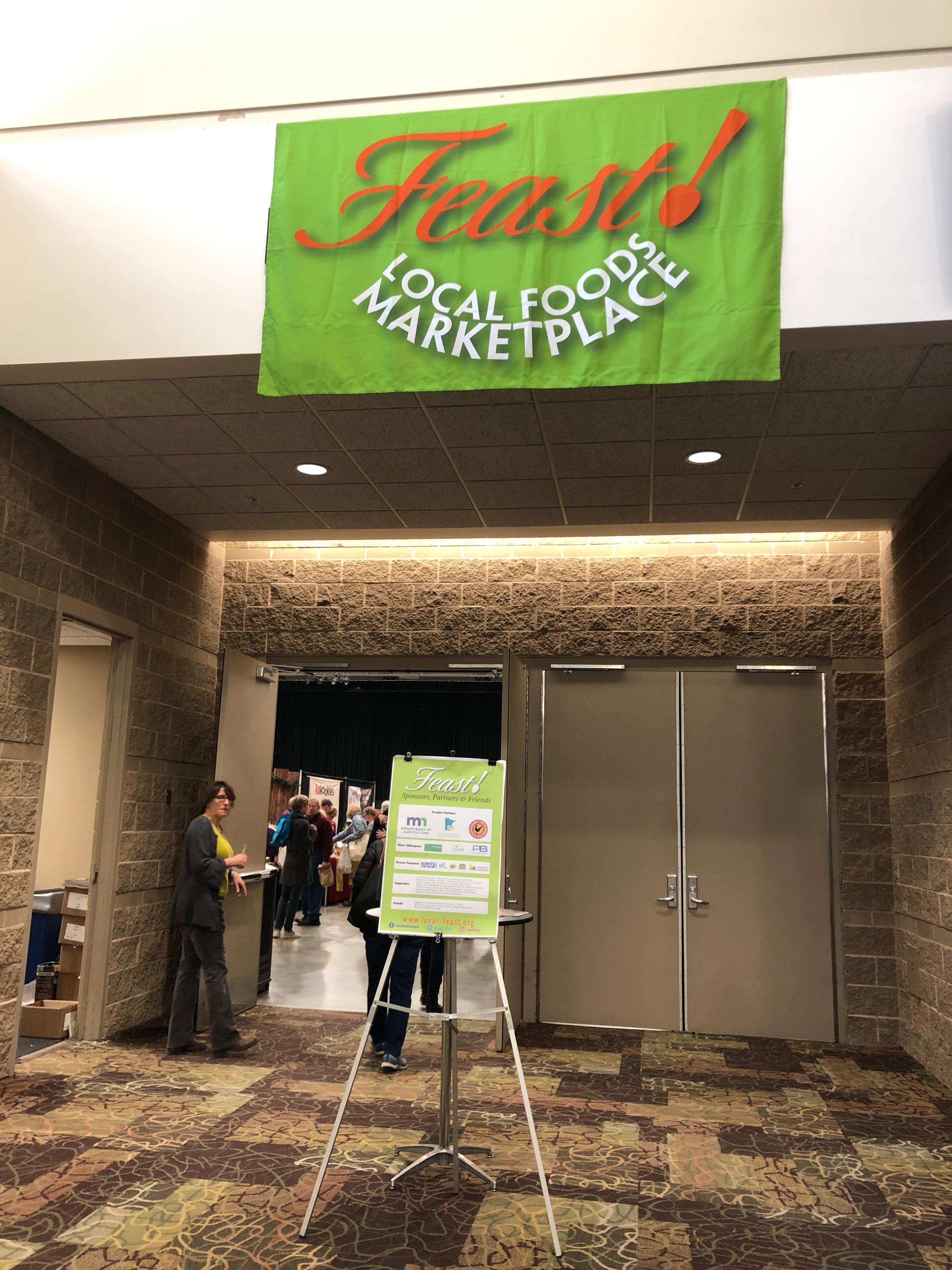 Feast! Local Foods Marketplace Entrance  
COMING UP IN DECEMBER 
Focused Trade Mission to the UAE
Focused Trade Mission to Kuwait
Food Export-Midwest Holiday Party
Food Export-Northeast Holiday Party