Market Overview
Japan is currently the 3rd largest market for U.S. agricultural exports totaling $12.9 Billion in 2018 and the U.S. is Japan's number one agricultural trading partner with 22% of the total import market share.  In the market the U.S. has a strong reputation of being a reliable supplier of safe and high-quality foods.
Japan's agricultural food industries are well-developed and innovative in all sectors including retail, food service, food processing, and distribution.  It is a country which relies heavily on imports, accounting for over 60% of the caloric intake.
As with many other international markets the Japanese market has a growing demand for convenient, ready-to-eat food options, as consumers generally cook fewer meals at home.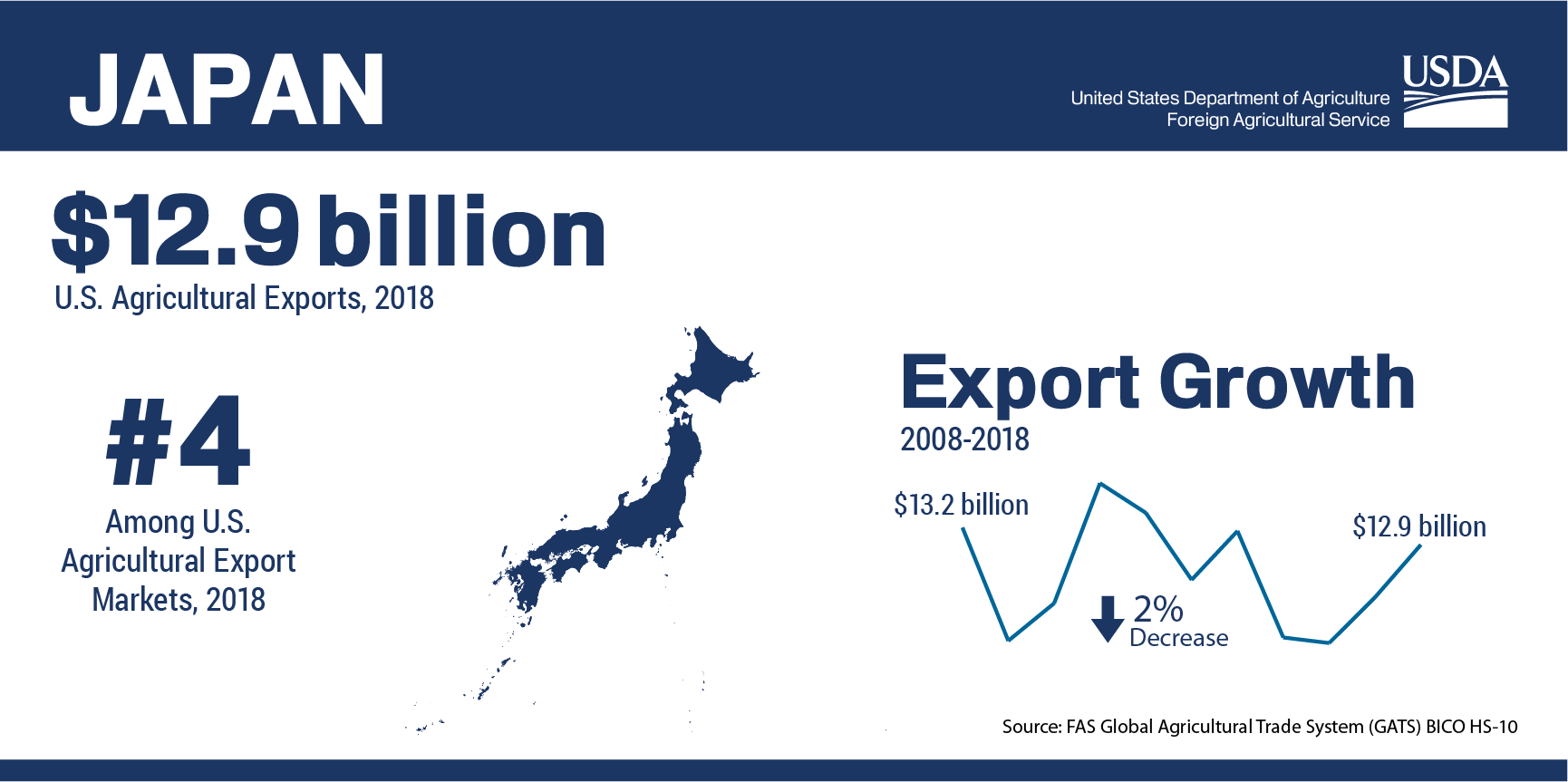 In 2018 U.S. exports of consumer ready foods totaled $6.5 Billion, an increase of 3% over the same period in 2017.  Japan is the 3rd largest market for U.S. consumer food products after Canada and Mexico.  As well as the 3rd largest U.S. export market for processed foods, totaling nearly $2.9 Billion, up 2% from 2017.
Free Trade Agreement
The U.S. and Japan are currently working on a new bi-lateral free trade agreement. 
The announcement of the beginnings of a trade deal were made in September 2018 by President Trump and Prime Minister Abe.  Official negotiations began in April 2019 and on October 7, 2019 USTR Robert Lighthizer and Ambassador of Japan to the U.S. Shinsuke J. Sugiyama signed the agreement.
Learn more about where that process stands on the U.S. – Japan Trade Agreement Negotiations page of the USTR website.
Advantages & Challenges
The Japanese market offers a number of unique benefits to U.S. exporters, but it is not without challenges.
Advantages 
U.S. food cost/quality competitiveness
The wide variety of U.S. food products
Reliable supply of U.S. food products
Advanced U.S. food processing technology
Relatively low U.S. shipping costs
Science-based U.S. food safety procedures
Growing Japanese emulation of U.S. food trends
Japanese food processing industry seeking new ingredients
Changes in the Japanese distribution system, becoming more similar to that of the United States
Japan's dependence on foreign food
Challenges 
Increasing safety concerns on food products among Japanese consumers, and frequent distrust of imports
Long distance from Japan
Consumer antipathy for biotech foods and food additives
High expectations for quality and appearance
Consumers preference for domestic products
High cost of marketing in Japan
High import duties on many products
Competition with other exporting countries, some with lower duties due to free trade agreements with Japan
Importers expectation of long-term involvement and commitment
Retail Sector
Learn more about the Japanese market in our recorded webinar – Japan: Market Updates and Consumer Trends. It's available online, anytime so you can make your export education work for you!
Retail sales in the packaged food market in Japan have been estimated at $182.1 billion in 2018,  a growth of 4.1% 7.2 Billion since 2014. Japan is now the 3rd largest packaged food market in the world after the U.S. and China.  By the year 2023 the retail sales in the packaged food market in Japan is expected to reach $197.8 Billion.
High growth categories in the forecast include:
Soups
Breakfast cereals
Ready meals
Confectionery
Sweet biscuits, snack bars and fruit snacks
Ice cream and frozen desserts
Savory snacks
Dairy products
In 2017 the total value of all retail food and beverage sales in Japan reached $474 Billion. Supermarkets represent the bulk of the retail food sales at 72%.  Consumers appreciate the low prices and broad range of fresh produce that supermarkets can provide. However, supermarkets are beginning to see competition from other store formats including convenience stores because of the increasing popularity of "Sozai" (ready-to-eat-meals).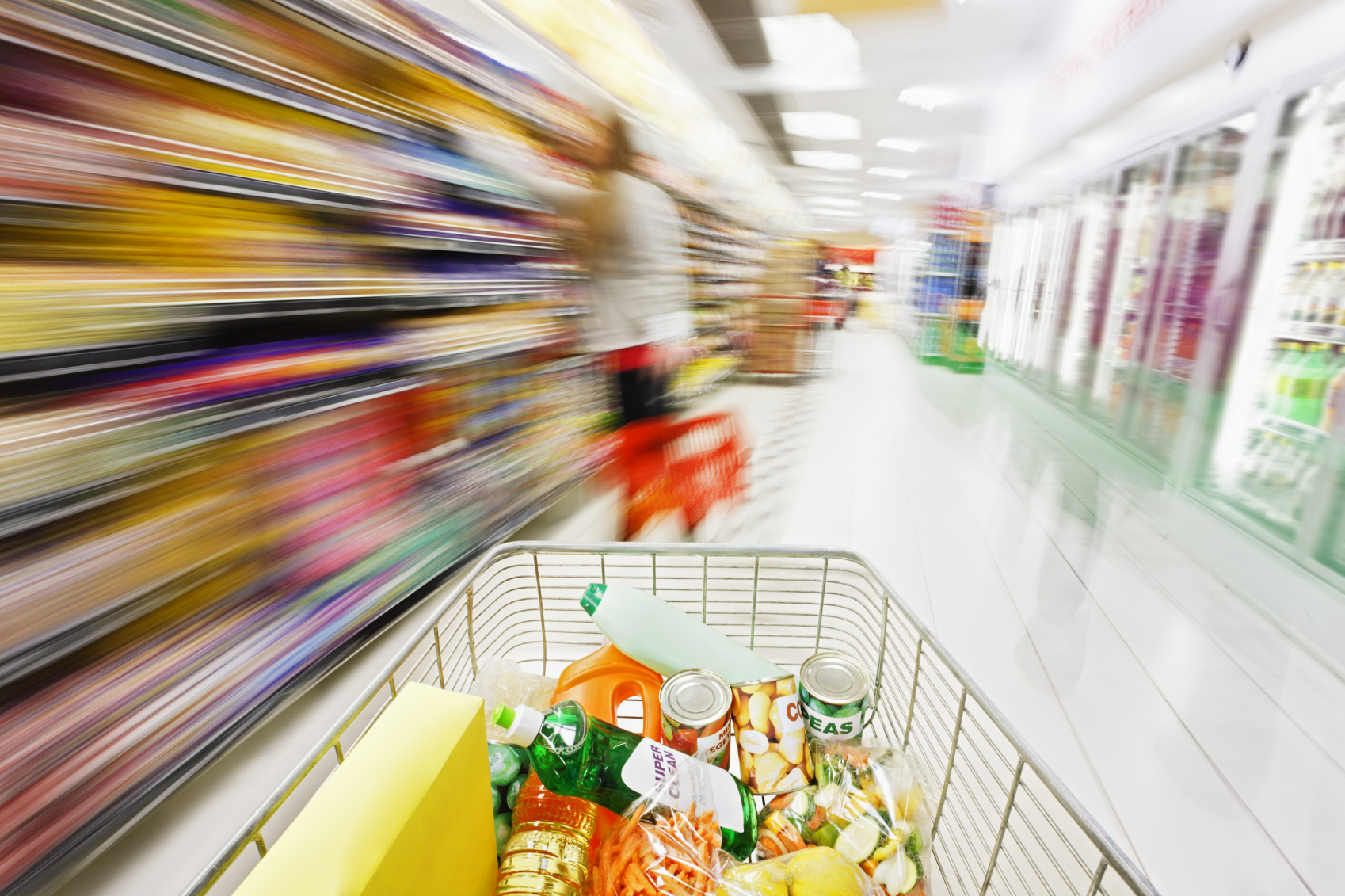 Many stores are beginning to introduce the idea of "grocerants" (grocery + restaurants) into their stores where consumers can order prepared dishes made with ingredients from the same grocery products that are sold in the store.  This enables consumers to purchase the products for home if they enjoy their meal.
The Agricultural Trade Office (ATO) in Osaka reports recent trends of burgeoning growth for Private Brands, Healthy Foods, Ecofriendly or energy saving foods, market consolidation for greater efficiency, and new retail ideas to meet new demands. Energy efficient foods, ready meals, and desserts
Food Service Sector
Japan's hotel, restaurant, and institutional food service industry achieved record high sales of $295.2 Billion in 2017 following six consecutive years of growth. Competition is intense as both Japanese consumers and foreign travelers demand high-quality food and beverages as well as unique eating experiences. U.S. suppliers are well positioned to compete in many product categories, provided they are willing to adjust to market demands.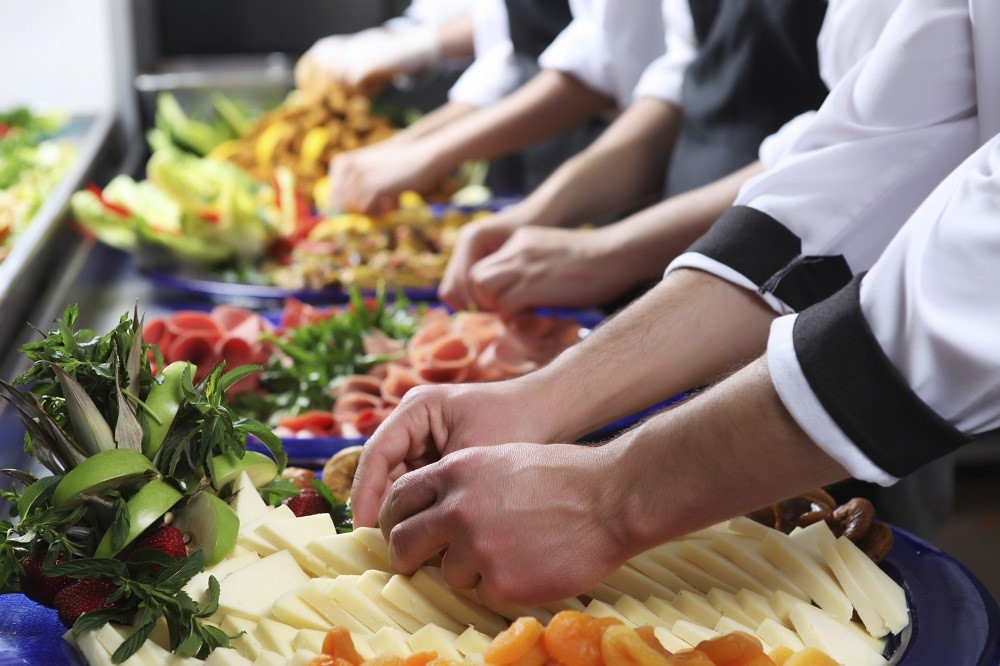 The variety of restaurants and menu items available continues to expand as Japanese consumers are interested in trying new cuisines. Foods from Europe, Asia, Australia, and the Americas are becoming increasingly popular, partly due to the large number of Japanese traveling abroad every year (17.9 million in 2017).  Additionally, the number of inbound tourists has skyrocketed since 2012; rising from 8.4 million to 28.7 million arrivals last year, mostly due to increasing visitors from nearby Asian countries. The total number of tourist days has surged 183%. With the upcoming Olympic Games in 2020, a continued increase of inbound tourists is expected.
General restaurants offer the greatest opportunity for most U.S. food exporters and include casual and family-style restaurants, many of which serve Western dishes or specialize in specific types of food. Their menus rely heavily on imported food products to provide authenticity as well as taste.
The top three consumer-oriented products imported from the U.S. to Japan in value are meat and meat products, frozen and filleted fish, and nuts and dried fruits. For many U.S. exports, Japan is a top 10 or higher market across the spectrum of agricultural product categories.
Food Processing Sector
Post reports that in 2018, Japan's food processing industry manufactured $216.8 billion of food and beverage products.  The food processing industry produces a wide variety of foods, including traditional Japanese foods, Western foods, and health-oriented foods for infants and the elderly. Food producers focus on maintaining market share with traditional product lines while developing creative products to attract consumers who are always on the lookout for new and innovative foods.
Processed foods that are increasing in popularity include yogurt, meat, soups, and ramen. Popular beverages include tea, vegetable juice, distilled spirits, and energy drinks. Frozen foods consumption has doubled over the past two decades and continues to grow due to convenience and improvements in product quality and safety. As consumers are cooking fewer meals at home, convenience and packaging—especially single serving sizes—are critical factors in product development.
Notable trends in convenience-oriented foods include: 
Small-sized packages: With limited kitchen and refrigerator storage, growing elderly population large number of single-member households, demand for individual or small-sized packaging that can be finished in one sitting is strong.
Ready-to-eat or Easy-to-prepare meals: Increased participation of women in the labor force and busy urban lifestyles contribute to a higher demand for convenience foods.
Premixes: The term "premix" is an abbreviation for "prepared mix." According to the Japanese Prepared Mix Association, the production of prepared mixes has increased by 2.3% since 2017. Popular items for 'premix' are pancake, tempura (batter for frying seafood and vegetables), and okonomiyaki (savory, stuffed pancakes). Premixes are increasingly popular among restaurants and supermarkets, which offer souzai (home-meal replacements).
Market Builder
The Food Export In-Market Representative (IMR) for Japan, Market Makers Inc, has represented Food Export – Midwest and Food Export Northeast in the Japanese market since 2004. They are extremely experienced and knowledgeable about the market and the opportunities it holds for U.S. suppliers.
Learn more about the our Market Builder program offering customized individual market research by our IMR about your product in the market below.

Upcoming Activities
Despite the work involved, the Japanese market has enormous potential. Strategies for entering the market vary depending on product characteristics, competition, and the market environment. However, buyers in the food and beverage industry often prefer to find new products at large trade shows, or specially targeted trade shows, where they can look at many products at once. Therefore, participating in one of Japan's many trade shows is highly recommended as a way to learn about the market and meet with potential business partners.
Check out our upcoming activities in the market below.
Webinar: "Japan: US Agriculture's Third Largest Overseas Market"

Webinar: What the New US – Japan Trade Agreement Means for US Exporters

Food Show PLUS! at Super Market Trade Show (SMTS) 2020

Food Show PLUS! at FOODEX JAPAN 2020

Focused Trade Mission to Japan for Emerging Trends, Healthy, and Convenience Foods
Resources
FAS – Exporter Guide
FAS – GAIN Report: Food Processing Ingredients
FAS – GAIN Report: Regional Retail Foods
FAS – Food Service – Hotel Restaurant Institutional
FAS – Browse Data & Analysis