Peru is one of South America's fastest-growing economies over the last 10 years and it is continuing to build momentum. A thriving middle class has emerged, and they are reshaping the nation's consumption patterns.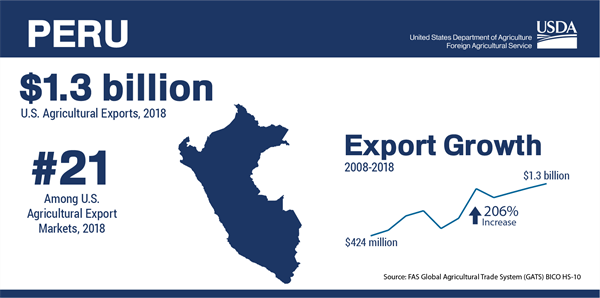 Market Overview
The food industry in Peru accounts for almost 27% of the industrial GDP, and sales were forecasted to reach $14.3 Billion by the end of 2017. In 2018 the population of Peru was $31.3 Million, and more than half of them live near the coast, most in the capital of Lima. Exports are consistently increasing.
The U.S is currently the largest agricultural product supplier to Peru, accounting for 30% of the total market share. And Peru is now the 4th largest export market for agricultural products from the U.S. to South America.
In 2018 U.S. exports of agricultural products to Peru totaled over $1.3 Billion, a new record amount.
————————————————————————————————————–
21% of that or $266 Million were consumer-oriented products
————————————————————————————————————–
The 2018 growth of U.S. processed food exports to Peru was 37% or $264.7 Million.
————————————————————————————————————–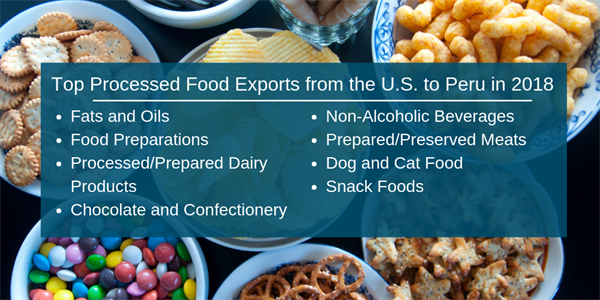 There are both advantages and challenges for U.S. suppliers to consider when looking to export to the Peruvian market.
Advantages:
The U.S. – Peru Trade Promotion Agreement (PTPA) grants duty-free access to two thirds of all U.S. origin food and ag products
An active supermarket industry promotes increased demand for high-value food products
Growth of new supermarket outlets in Lima's suburbs and second tier cities
Appreciation for U.S. food quality and culture
Perception of modern retail outlets as cleaner, convenient, and time saving
Increased health consciousness among the Peruvian population
Middle-class expansion
Challenges:
The traditional channel remains the most important for consumers
Preference to buy fresh produce in traditional markets still remains
Modern retail channel accounts only for 25% of the retail food market share in Lima
New local food brands are appearing in the market at very low prices
Provincial supermarkets are supplied by Lima-based companies
Lack of brand awareness among some consumers
Market access demands higher marketing costs
Domestic producers manufacture more affordable products according to local taste preferences
Cumbersome sanitary registration processes delay the entrance of new food products
Free Trade Agreements
Peru currently has signed trade deals with the following countries: Canada, Chile, China, Costa Rica, European, Union, European Free Trade Association, Honduras, Japan, Korea, Mexico, Panama, Singapore, Thailand, U.S., Venezuela as well as a trade pact with Chile, Colombia, and Mexico called the Pacific Alliance. They have concluded negotiations with Guatemala and begun trade talks with El Salvador, India, and Turkey.  They are also part of the new Comprehensive and Progressive Agreement for Trans-Pacific Partnership (CPTPP) created in 2018 to replace the previous Trans-Pacific Partnership (TPP).
The United States and Peru entered into The United States – Peru Free Trade Agreement (PTPA) in 2009.  According to the United States Trade Representative "The PTPA eliminates tariffs and removes barriers to U.S. service, provides a secure, predictable legal framework for investors, and strengthens protection for intellectual property, workers, and the environment.
Since the U.S. – Peru Trade Promotion Agreement began in 2009, trade between Peru and the U.S. has doubled.
Retail Sector
The growth forecast for the Retail Sector in Peru is very promising. Retail sales in the packaged food market in Peru was estimated to reach $8.9 Billion in 2018 and $11 Billion by 2023.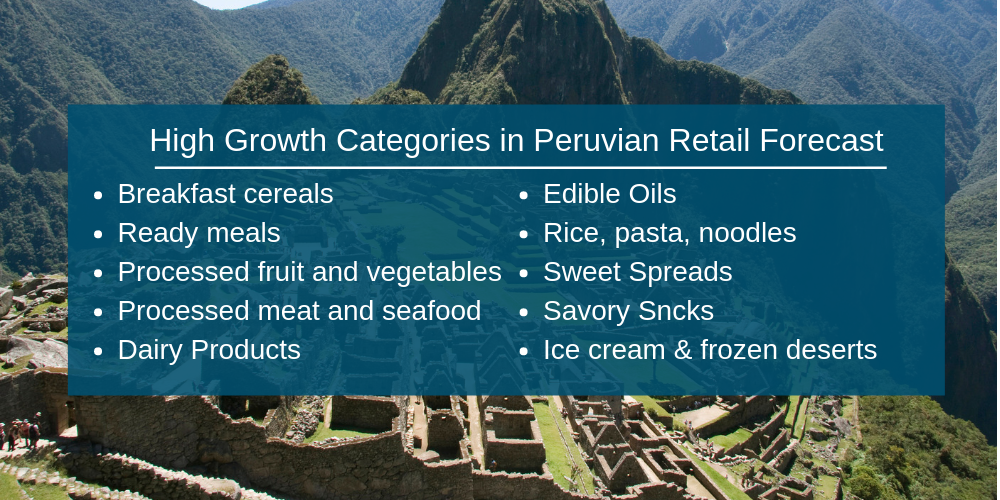 The retail food sector in Peru is comprised of 2 segments:
Modern – supermarkets, convenience, and discount stores

Traditional – open markets and mom and pop stores
The traditional channel makes up approximately 80% of the market, but the modern segment has had high growth in the last 10 years and is gaining popularity. Part of the challenge with the modern segment is the difficulty in finding the land needed for large store formats, like supermarkets, in an around Lima at an affordable price. As an alternative, food retailers have developed other formats, including convenience and discount stores to increase market penetration and ensure competitive pricing. 
With the increasing migration of people from other parts of the world to Peru, especially Europe and the U.S., there is a growing need for more diverse product selections.  Typically, the quantity of imported products is higher in supermarkets with an assortment of products from different parts of the world.  There are also an increasing number of people with special dietary needs, like those with lactose intolerance or celiac disease who require specific products that are not commonly found in traditional Peruvian retailing.
Food Service Sector
Peru is an internationally recognized "foodie destination" with a variety of opportunities for imported complementary food products.  Three Peruvian restaurants were named in The Top 10 List of Latin America's 50 Best Restaurants in 2017, taking 1st, 2nd, and 7th place. And it was recognized as the "World's Leading Culinary Destination" by the World Travel Awards 5 years in a row, from 2012 – 2016.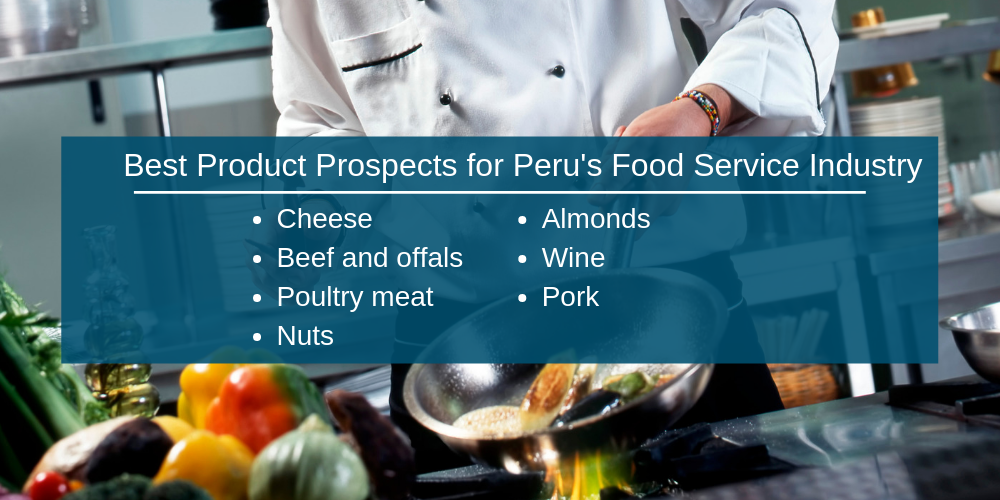 Peru's hotel, restaurant and institutional (HRI) sector was forecasted to grow 2.1% in 2018 based on new restaurant openings, the consolidation of the fast food chains, and the expansion of commercial shopping malls.

Food Processing Sector
Peru's food processing industry is an important dynamic sector of the overall national economy.  Its growth can be linked directly to the development of the food retail and food service sectors. 
Peruvian food product manufacturers source both domestic and imported product ingredients to meet increasing consumer demand for quality food at affordable prices, however local processed food products cover 70% of the market demand.  Local food manufacturers are successfully tailoring products to meet increasing consumer demand for healthier food products.  Small processors rely on local distributors to import their ingredients, while several of the larger processors import products directly from the U.S.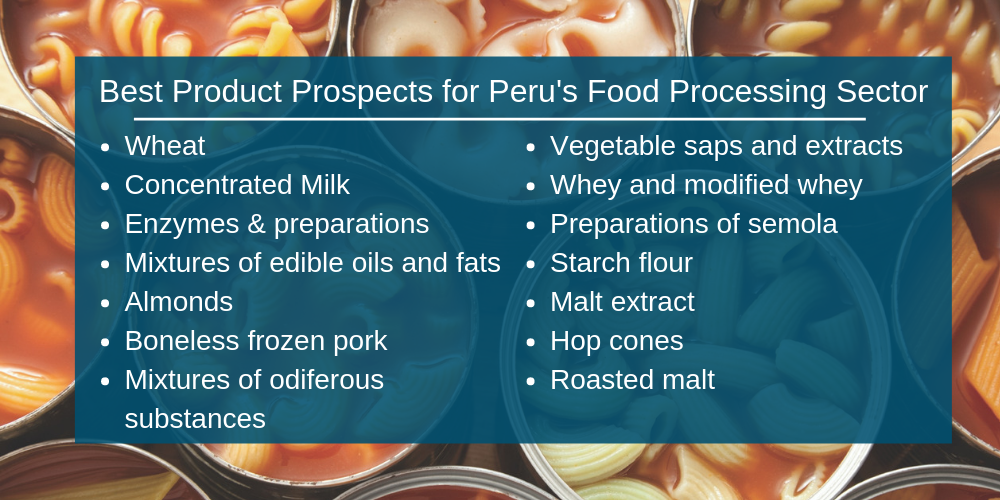 Market Builder
Considering exporting to Peru but looking to do more research before making a decision?   Take advantage of our Market Builder program which provides detailed and customized market research to help your company uncover potential in international markets. 

Upcoming Activities
Register for our upcoming webinar about the Peruvian market which provides a unique learning opportunity for both experienced and new-to-export companies considering expansion to Peru.
The webinar will be presented by Alvaro Loza, Agricultural Market Specialist for USDA Foreign Agricultural Service in Peru.

Interested in visiting the Peruvian market in person?  We have an upcoming Focused Trade Mission happening this September for U.S. suppliers to travel to the market and explore the export opportunities first hand.
Focused Trade Mission to Peru – September 12 – 13, 2019

Note: Peru is the second half of a back-to-back Focused Trade Mission to Chile and Peru.  Make the most out of your international travel by visiting 2 markets at once.  Register before the early deadline and you'll receive each mission for only $325.
Success Stories
Learn from those who have gone before you with this Success Story about a Food Export – Northeast supplier that found export success in the Peruvian market.
New Exports to Peru for Pennsylvania Snack Supplier

Food Export Resources


Enter New Markets

Export Education

Other Resources
FAS – Peru: FAIRS Export Certificate Report
FAS – Peru: FAIRS Country Report
FAS – Peru: Food Service – Hotel Restaurant Institutional