By Katie LaBarge, Branded Program Associate, Food Export-Midwest
International sales are more important than ever to grow your business and diversify risk from the U.S. domestic market. Marketing support is essential to grow those international sales. Food Export's Branded Program recognizes marketing's essential role and helps make it possible by reimbursing Midwest and Northeast food and agricultural suppliers for 50% of their international marketing expenses.
In this blog series we feature a new industry segment each month and give specific examples per segment of how suppliers can utilize the Branded Program to the fullest of its potential.
This installment is all about Hemp downstream products. The USDA has published specific regulations for hemp-derived products which can be found here.
---
Food Export-Midwest and Food Export-Northeast have recently begun working with U.S. suppliers that have a variety of creative hemp-based products in the processed food and agricultural products sectors. Including, but not limited to:
Fibers
Pet food
Cosmetics
Bath Products
Supplements
Protein Bars and Powders
Cooking Oils
Beverages
and more!
Many of these suppliers are starting to explore international markets for their products! 
Popular Hemp Promotions
We reimburse a variety of creative international promotions in the Branded Program, and companies working with hemp are no exception. Here are a few popular types of promotions that hemp companies can benefit from.

Export Packaging & Labeling
Many foreign markets require different labels or stickers for imported products. You may need to change the bottle size, translate your product information into another language, add your importer information, etc. We can reimburse for the design, translation, printing, and stickering of your packaging with the new labels.
Want to learn more about how to make sure your labels comply with different international regulations?  Check out this blog we wrote about it – Develop Foreign Market Compliant Labels with Support from the Branded Program.
Below is an example of a hemp-based beverage product with packaging created in compliance with U.K. standards: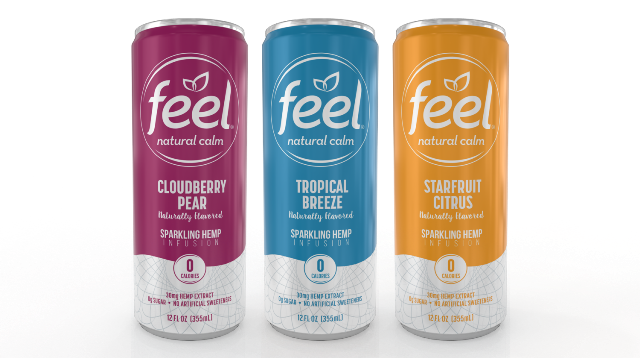 Advertising
Promotional materials for tradeshows and events are popular for companies that promote hemp-based products. Sell sheets, product catalogs, brochures, and banners are all eligible for reimbursement.
The creation, placement, and translation costs of print advertisements in magazines and trade publications, digital ads, videos, photography, and social media content are also eligible for reimbursement.
The costs to advertise your product on B2B online marketplaces may be eligible if directed toward a foreign audience.
Below is an example of a hemp-based product ad placed in an industry publication: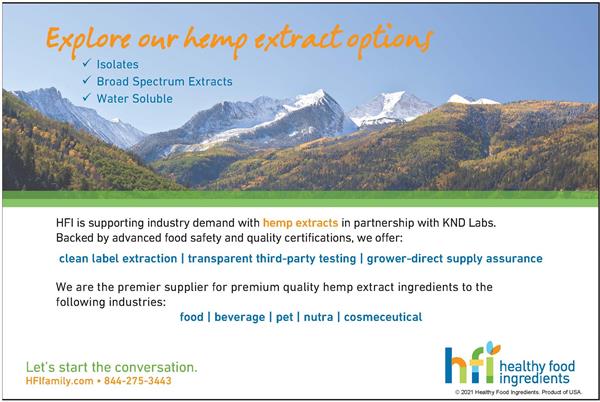 Samples are an important part of allowing importers to see, feel, and test out products before committing to buy them. Especially when it comes to a new product segment like hemp-based products.
We can reimburse for the freight costs of sending samples to potential clients in foreign markets.
There is no cap on the number of sample shipments that you can have reimbursed, as long as they are in your Branded Program application.
Check out this recent video our Branded Team put together that explains a bit about how to get reimbursed for Shipping Samples. 
How Can We Help?
Are you promoting hemp-based products in foreign markets? If so, we'd love to work with you! Get started today with a Branded Program pre-qualification here.
You can learn more about how to grow your potential export markets using the Branded Program with this informational flyer.
We'd also encourage you to reach out to other organizations that offer export development programs focused specifically on your industry:
NHIC works to build global recognition of U.S. industrial hemp and downstream products.  And they are working at the international level to improve the regulatory framework and promoting sustainable growth of the industry internationally. Be sure to check out their website linked above to learn more!