By: Erin Crowley, Food Export-Midwest International Marketing Program Associate
International sales are more important than ever to grow your business and diversify risk from the U.S. domestic market. Marketing support is essential to grow those international sales. Food Export's Branded Program recognizes marketing's essential role and helps make it possible by reimbursing Midwest and Northeast food and agricultural suppliers for 50% of their international marketing expenses.
In this blog series we feature a new industry segment each month and give specific examples per industry segment of how suppliers can utilize the Branded Program to the fullest of its potential.
---
Popular Food Ingredient Branded Program Expenses
We reimburse a variety of creative international promotions in the Branded Program, and promotions of food ingredients and additives are no exception. Here are a few popular types of promotions for food ingredients and additives:
Technical Product Information
Some food ingredients and additives may need explanation or training before use, and we can reimburse for the creation, translation, and printing of technical product literature.
Informational videos directed at a foreign audience, and technical seminars or product demos hosted by the company or their importer are also eligible.
Check out this example video of one of these expenses from one of our suppliers.
Sample Shipments
As in any industry, importers need to see, feel, and test out food ingredients in their products before committing to buy them. We can reimburse for the freight costs of sending samples to potential clients in foreign markets.
There is no cap on the number of sample shipments that you can have reimbursed, as long as they are in your Branded Program application.
Check out this recent video our Branded Team put together about Shipping Samples.
Advertising
Billboards, magazines, television and radio ads, and other traditional forms of marketing are popular for food ingredients companies. Their creation, placement, and translation costs are eligible for reimbursement.
The costs to advertise your product on B2B online marketplaces may be eligible if directed toward a foreign audience.
Product / In-store sampling Events
Product tastings or demonstrations as well as cooking demonstrations in foreign markets are eligible for reimbursement.
Pro tip: Check out this blog for more information on how your importer/distributor can work with you to receive reimbursement (via your U.S. based company) for marketing your company's brands. Contact your Branded Program team for further information.
Website Development
Companies in all industries can benefit from having an importer or international business focused website. The Branded Program can reimburse for the costs of designing, translating, maintaining, and updating a website directed toward a foreign audience. 
Here is an example of an international focused website from one of our suppliers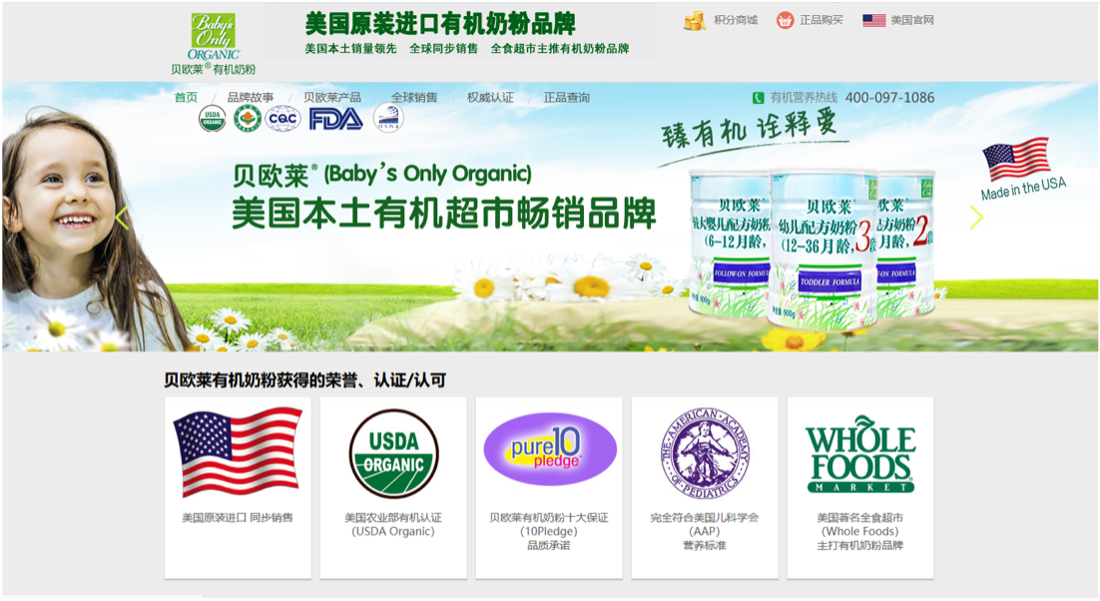 Tradeshows (in-person and virtual)
Success Stories
Check out these companies who've successfully utilized the Branded Program to support their international sales:
In the year of 2020, Mill Haven Foods LLC participated in Food Export – Midwest's Branded Program. Through utilizing their allocated funding to gain brand awareness in the United Arab Emirates by completing a marketing strategy that included shipping product samples, making label/package modifications, creating/distributing promotional literature, and organizing in-market promotional product displays, the Wisconsin Supplier gained $400,000 in export sales while also gaining 20 new foreign buyer contacts, and 3 new agent relationships. They also are projecting to complete $500,000 in sales over the next twelve months.
In 2020, Missouri Northern Pecan Growers, located in Nevada, Missouri, utilized Food Export – Midwest's Branded Program. One of the first markets they exported to was Germany in 2013. Since then, they have exported to Canada, the Netherlands, Germany, and Switzerland where they captured up to 30% of their total sales from exports. 
"I like the cost share program because, we have to invest in it too, and commit that we are paying a portion…it helps small businesses like ourselves take on and develop those markets affordably" said Joe Wilson, Co-Owner and General Manager of Missouri Northern Pecan Growers. Cheshta Sehgal, FSQ Manager, appreciates that the Branded Program will help cover artwork, labeling, translation, advertising, promotional materials, and marketing costs. Because of their increased sales they have hired on 3 additional employees.
How Can We Help?
Are you promoting Food Ingredients & Additives in foreign markets? If so we'd love to work with you! Get started today with a Branded Program pre-qualification here.