International sales are more important than ever to grow your business and diversify risk from the U.S. domestic market. Marketing support is essential to grow those international sales. Food Export's Branded Program recognizes marketing's essential role and helps make it possible by reimbursing Midwest & Northeast food and agricultural suppliers for 50% of their international marketing expenses.
Food Export may be our name, but we assist U.S. exporters with more than just food products! In this blog I will highlight our work in the Branded Program with suppliers and exporters of Animal Feed ingredients and additives.
We reimburse a variety of creative international promotions in the Branded Program, including promotions of feed additives and ingredients. Here are a few popular types of promotions for feed ingredients:
We have reimbursed for exhibition costs for tradeshows and events around the world including:
Travel costs (flight & hotel) to foreign tradeshows for up to 2 people can be reimbursed. We can also reimburse for virtual trade shows and events that promote feed additives and ingredients and aquaculture.
Freight for Samples
Products samples are an important way to make connections with and introduce your products to foreign buyers. We can reimburse the cost of shipping these samples. Find out more here.
Export Packaging & Labeling
Many foreign markets require different labels or stickers for imported feed ingredients. You may to translate your product information into another language, add your importer information, etc. We can reimburse for the design, translation, regulation overview, printing, and stickering of your packages with the new labels. Learn more here.
Promotional Literature & Advertising
Promotional materials for tradeshows and events are popular for feed ingredients. Sell sheets, product catalogs, brochures, and banners are all eligible for reimbursement.
The creation, placement, and translation costs of print advertisements in magazines and trade publications, digital ads, videos, photography, and social media content are also eligible for reimbursement.
Giveaway Items
Giveaway items are important marketing tools, especially at industry events. We can reimburse for t-shirts, pens, and other giveaway items. Don't forget, all reimbursable promotions must include a U.S. origin statement!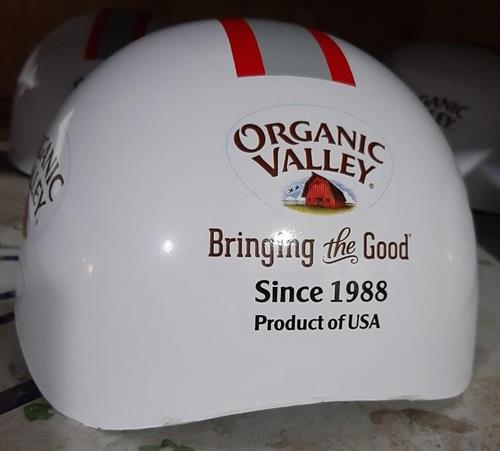 Website Development
Websites and e-commerce pages can be a good way for feed ingredient companies to showcase their products. We can reimburse for website updates that cater to a foreign audience such as content written in a different language, foreign-language product catalogs or sell-sheets, translation functions and more.
We can also reimburse costs associated with creating an e-commerce store or page.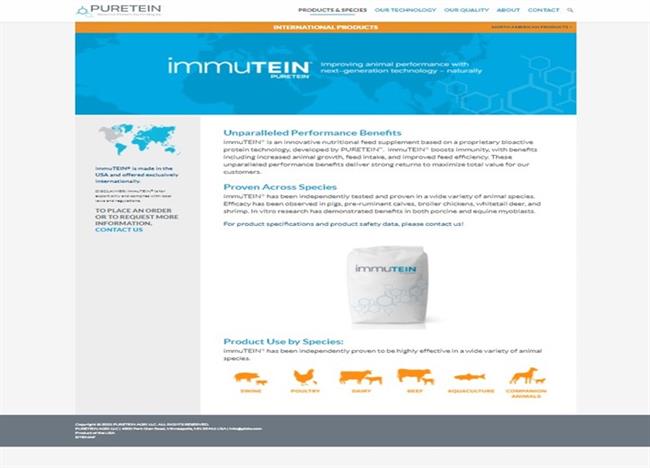 Example – Immutein website developed for international audiences
Success Stories
Check out these companies who have successfully utilized the Branded Program to support their international sales:
Fornazor International of Hillside, New Jersey, used the Branded Program in 2020 to grow their exports using advertising promotions. They gained over $17M in sales to the United Arab Emirates, Thailand, Saudi Arabia, Vietnam, and the Philippines through these activities.
Great Lakes Bio Systems, Inc. of Sturtevant, Wisconsin, started utilizing the Branded Program in 2017. The program has helped them gain foreign buyer contacts and new export sales of their animal feed additives and ingredients. Their participation in the program helped them connect with buyers from Vietnam and Taiwan, resulting in sales of over $200,000 combined in both countries in early 2019. This also marked the company's first export sale to Taiwan.
Prime Performance Nutrition, of Cosby, Missouri, has participated in the Branded Program since 2004. They have used the program to grow exports in many international markets such as the United Kingdom and Kuwait. In 2018, they utilized their allocation to create video products segments to showcase their equine products and gained $100,000 in export sales to Saudi Arabia and the United Arab Emirates.
How Can We Help You?
Are you promoting animal feed ingredients in foreign markets? We'd love to work with you! Get started today with a pre-qualification here.
You can also find US Feedlink, our publication highlighting information about the US animal feed ingredients and additives industries.
We'd also encourage you to reach out to other organizations that offer export development programs focused specifically on your industry. For example, we have been collaborating with American Feed Industry Association (AFIA) in executing international marketing development initiatives for U.S. exporters for some years. These programs have resulted in new businesses with distributors and importers around the world.
Make sure to check out their social media accounts or web-site to get the most up to date info on their efforts in the industry!
Upcoming Food Export Pet Food Events